The HiFi Rose RA180 Integrated Amp Looks Wacky For a Reason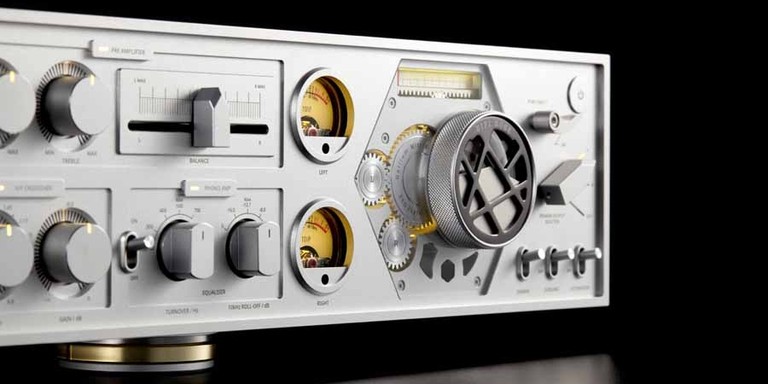 HiFi Rose RA180 Integrated Amp
Summary
Output Power: 200W x 4ch (8 or 4 Ω); 400W x 2ch (8 Ω)
Frequency Response (1W, 0+/-1dB/8Ω): 10HZ - 100KHZ (100W X 2ch)
Damping Factor: >150 (200W X 2ch)
Dimensions (H x W x D): 5.1" x 16.9" x 15.4"
Weight: 36.8 lbs
Executive Overview
If you close your eyes and imagine a stereo integrated amplifier, what do you see? If you're like me, you see a simple metal box with a few buttons and a couple of knobs. That's what my first amp looked like — an inexpensive Cambridge Audio unit with no display and nothing in the way of bells and whistles. There are still integrated amps fitting this general description, such as the Denon PMA-A110, which Gene reviewed last year. Even some expensive integrated amps, such as the $7,600 Pass Labs INT-25 that I've been fantasizing about buying for my girlfriend's living room, look like fancier boxes with nicer buttons and machined aluminum knobs, but the formula is the same. Maybe you picture a tube amp like the Prima Luna Evo 400 Integrated, or a modern all-in-one device dominated by a touchscreen, like the NAD M10. But I doubt you picture anything like the new RA180 integrated amp from South Korean brand HiFi Rose. The relatively new company has so far made a name for itself building sleek, all-screen devices that look not unlike the M10 (if it were stretched horizontally). The brand's RS201E streaming integrated amp ($2,195) could certainly be seen as a direct competitor to NAD's M10 V2, while the HiFi Rose RS150 streaming DAC ($4,995) is sort of like the $6,500 Auralic Altair G2.1, if its entire front panel were one huge touchscreen. HiFi Rose even makes a couple of "wireless media players," which are like Sonos speakers with a screen in the middle. The company has gone so far as to say that the brand's identity is essentially "audio with screen." That starts to make a bit more sense when you consider that HiFi Rose is the audio division of a larger Korean IT software company called Citech, which specializes in touchscreen interfaces, such as those used in interactive retail kiosks.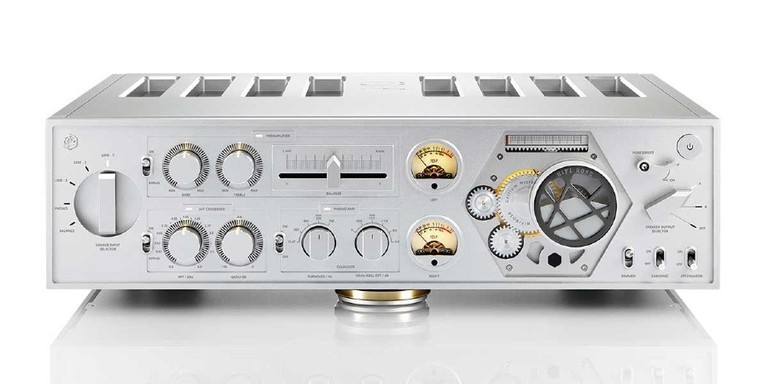 But as soon as I thought that I understood what HiFi Rose was all about, the company threw a big curveball with its latest product, the RA180 integrated amplifier ($6,995). The RA180 doesn't do streaming, or even digital-to-analog conversion. And as you can see, it doesn't have a display screen. Instead, the front panel of the RA180 is covered in wall-to-wall rotary dials, VU-meters, switches, toggles, and even a slider for the channel-balance control. The large, skeletal volume control knob is housed in a hexagonal recess in the front panel, featuring several intricate gears that turn when the volume is adjusted, whether manually or via remote control. Fans of EQ customization will appreciate the bass and treble tone controls, which allow the user to make adjustments centered at 100Hz and 10kHz, respectively, with an impressive ±15dB to play with. A defeatable active crossover can assist in bi-amping (more on that later), and a Pure Direct mode allows purists to pass an audio signal through the preamp and power amplification stages with the balance controls, tone controls, and the active crossover removed from the signal path. The MM/MC phono stage also has adjustable EQ filters, and the home theater bypass mode takes the signal from the "line three" input and sends it directly to the power amplification stage, bypassing the RA180's volume control (and everything else), for easy integration with surround-sound setups. Around back, you'll find one line-level balanced XLR input, three line-level unbalanced RCA inputs, a phono input, a subwoofer output, and a surprising eight pairs of loudspeaker binding posts.
Why so many speaker terminals?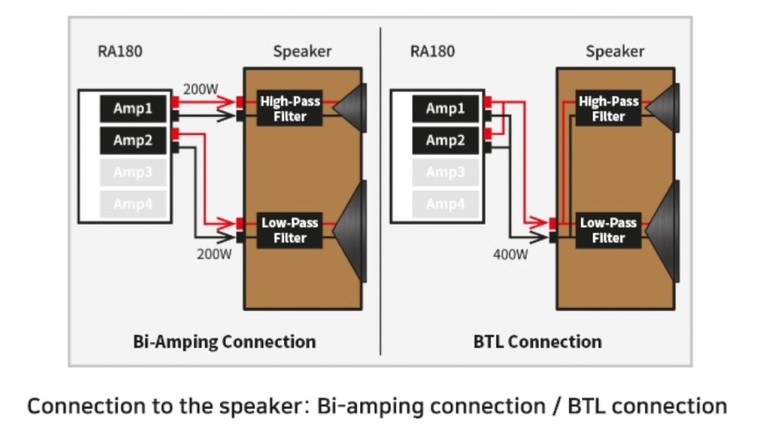 While nearly all integrated amps are two-channel affairs, the HiFi Rose RA180 is actually a four-channel amp, as it contains four mono amplifier modules that can be configured to work in various ways. The most straightforward of these is BTL (Bridge Tied Loads) mode, which combines two modules per side to deliver 400 watts per channel into 8 Ohms. This is what you'll go for if your speakers only have a single set of binding posts, and/or if you want to use a single set of speaker cables. But the RA180 can also be used to bi-amp speakers with two sets of binding posts, in which case each set of binding posts receives 200 watts (into 8 or 4 ohms) from one of the four power amp modules. When divided up this way, the modules offer specialized performance, with two of the amps optimized for stable mid-bass and balance, and the other two optimized for smooth, clean high frequencies way beyond the upper limit of human hearing at 20 kHz. To further control the high frequencies, the RA180 offers an adjustable active crossover, which lets the user set a high-pass frequency (between 600 Hz to 6,000 Hz) for the HF outputs when in bi-amp mode. The high-frequency amplifier module will reportedly support playback up to 100 kHz (-3dB), resulting in a wide and deep sound stage and natural-sounding reproduction of acoustic instruments, according to HiFi Rose.
The human hearing range is known to have an upper limit of 15 – 20 kHz. So why would it be necessary to build an amp with a higher range? Using modern research and experience it's now perhaps a good time to question this belief. Temporary high treble can extend well beyond 20 kHz. For example, the trumpet has a frequency response that expands up to 100KHz. The HiFi Rose RA180 has an output range of 20 Hz – 50 kHz, 100 [email protected], 200 kHz @-6dB. The frequency response range is designed to be wide so that high-resolution sound sources are not filtered. This ability might be beyond human audible range, but at a wide frequency, it faithfully plays the area. The depth and width of the sound and the realism will contribute to the expression.
— HiFi Rose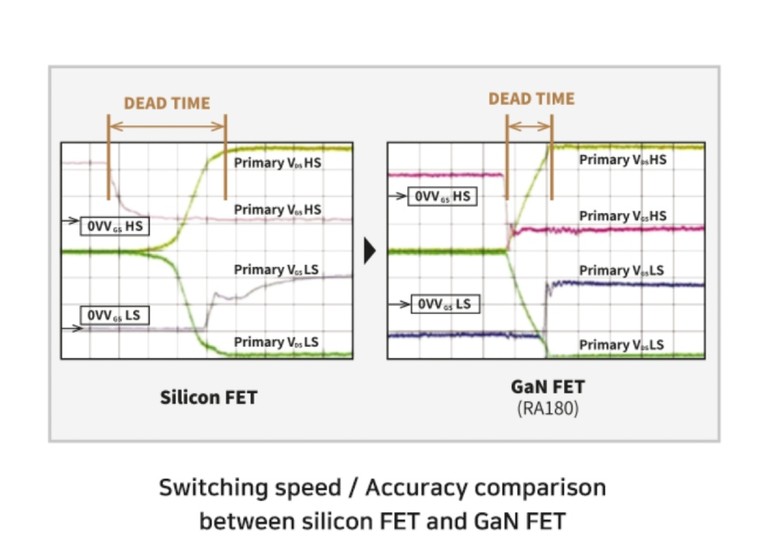 Better than Traditional Class D?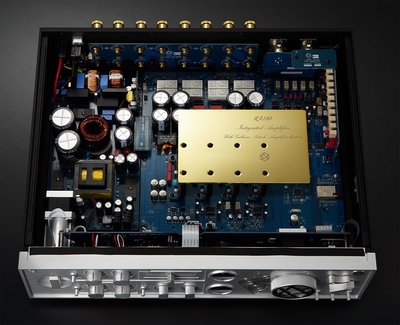 However you use the RA180, it will be pumping out up to 800 total watts of power, using what HiFi Rose calls Class AD, or Advanced Class D. What makes it advanced? The output stage of the power amp modules in the RA180 use GaNFET devices instead of the more common MOSFETs. (Recently, we have seen a few other amps that use GaNFET technology, including the Peachtree Audio GaN400 and the Mytek Empire Monoblocks.) Gallium-nitride-based GaNFETs switch on and off much more quickly than silicon-based MOSFETs, resulting in a "high-speed, perfectly accurate amplification stage" that sounds more natural than traditional Class D amps, "like a pure analog amplifier," according to HiFi Rose. The RA180 uses a custom-designed power supply with 4th-generation Silicon Carbide FET technology, which reportedly lends high voltage support and heat resistance. HiFi Rose says the power supply offers high performance, high output, and high efficiency. HiFi Rose has developed a 2.5 KW Power Factor Circuit (PFC); along with a large capacity capacitor, this is said to allow the amp to be unaffected by sudden load fluctuations. The power supply supports a damping factor of 200 and a total of over 1000W of power.
Sometimes, when a new company enters the world of audio, it can be difficult to know what might make it stand out from the crowd. When a new speaker company comes out of the gates with a compact two-way monitor, for example, even the most generous among us might wonder what it can offer that isn't already available from Focal, KEF, or a dozen other established loudspeaker manufacturers. So it's always interesting to see a company that truly does its own thing, and HiFi Rose definitely qualifies. Both in terms of functionality and in terms of aesthetics, it's clear that HiFi Rose is offering something unusual with the RA180 integrated amplifier. Personally, I love the look. It reminds me of Nagra's classic designs — which I like to describe as "hospital chic" — but with a slightly steampunk edge. Still, I'll be curious to see whether the RA180's unique combination of looks and features will draw buyers away from similarly-priced integrateds from Pass Labs, McIntosh, Mark Levinson, Michi, and so many others.
 What do you think of this striking and unusual amp? Share your thoughts in the related forum thread below.

Unless otherwise indicated, this is a preview article for the featured product. A formal review may or may not follow in the future.
Confused about what AV Gear to buy or how to set it up? Join our Exclusive Audioholics E-Book Membership Program!
FidelisRex posts on October 31, 2022 07:37
A design exercise of Steampunk meets Nagra. I'm intrigued by what I see; suspicious about the glowing PR copy; anxious to see the measurements.
lovinthehd posts on October 24, 2022 23:03
Love to see a bench test. What a weird looking unit, tho….kind of steampunk but not.
MandM posts on October 24, 2022 22:50
I could stare at the internals all day….the outside not so much.:oops:
ryanosaur posts on October 24, 2022 07:54
Cool write up, Jacob. Thank you!!!
gene posts on October 24, 2022 03:48
The distinctive aesthetic of the HiFi Rose RA180 might not be the most interesting thing about this new $7K integrated amp. The RA180 is a 4-channel amp that can be used to bi-amp your speakers with a double-helping of 200 watts for each set of binding posts, or bridged to deliver 400 watts per channel via a single pair of speaker cables. Under the hood, the RA180 uses GaNFET technology for next-gen Class D performance.
58297
Read:
HiFi Rose RA180 Integrated Amp Overview
Post Reply