McIntosh Launches MX180 8K 16CH AV Processor, Two New Brawny Integrated Amps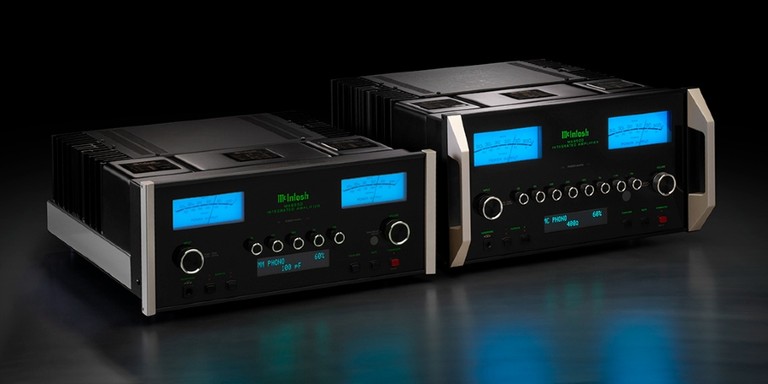 McIntosh Offerings 2022
Summary
Product Name:

MX180 A/V Processor, MA8950 stereo integrated amplifier, MA9500 stereo integrated amplifier

Manufacturer:

McIntosh

Review Date:

May 30, 2022 00:15

MSRP: $17,000 - MX180 A/V Processor, $9,000 - MA8950 stereo integrated amplifier, $12,000 - MA9500 stereo integrated amplifier
First Impression:

Pretty Cool
McIntosh MX180 A/V Processor
Channel Formats: 15.1, 11.1 (7.1.4), 7.1, 5.1, Stereo
Total Harmonic Distortion (DSP Bypass): 0.005%
Dimensions (W x H x D): 17-1/2 x 7-5/8 x 16-1/2 inches
Weight: 30 lbs
McIntosh MA8950 stereo integrated amplifier
Power Output per Channel: 200 Watts
Total Harmonic Distortion: 0.005%
Damping Factor: >40
Frequency Response +0,-0.5dB: 20Hz to 20kHz
Dimensions (W x H x D): 17-1/2 x 7-5/8 x 18-3/4 inches
Weight: 75 lbs
McIntosh MA9500 stereo integrated amplifier
Power Output per Channel: 300 Watts
Total Harmonic Distortion: 0.005%
Damping Factor: >40
Frequency Response +0,-0.5dB: 20Hz to 20kHz
Dimensions (W x H x D): 17-1/2 x 9-7/16 x 19-3/4 inches
Weight: 101 lbs
Executive Overview
You have to hand it to McIntosh. I can't think of another old-school Hi-Fi manufacturer that has more successfully championed its 2-channel heritage, while at the same time welcoming the world of home theater with such open arms. Consider the company's most recent product introductions. First, there's the new flagship MX180 A/V Processor ($17,000), which packs in just about every feature you could hope for in a future-ready home theater component, including 8K video support on all seven HDMI ports (five inputs and two outputs), and balanced outputs for all 16 channels of audio. But, lest you worry that the Binghamton boys have drifted too far from the McIntosh of yesteryear, the company has also recently launched a pair of muscular stereo integrated amps: the MA8950 ($9,000) and MA9500 ($12,000).
McIntosh MX180 A/V Processor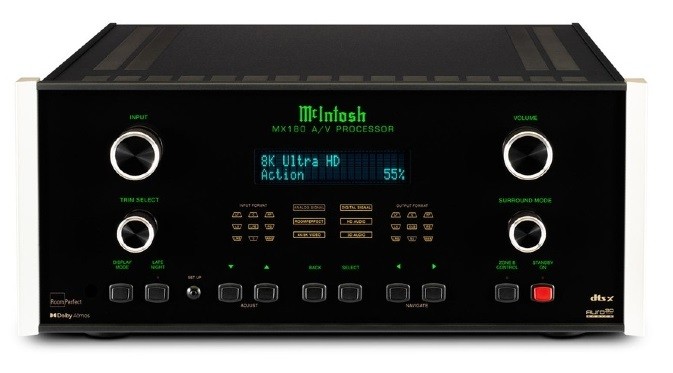 HDMI 2.1 Full Support
Looking first at the MX180 A/V Processor, we see commendably thorough future-proofing in terms of HDMI features, with all ports supporting 8K/60Hz and 4K/120Hz video, with HDCP 2.3, 4:4:4 Color, and Rec. 2020 support. If you've read our HDMI articles on HDMI 2.1, you'll know that you can't assume any new product with HDMI 2.1 ports will actually support the latest enhanced HDMI features, such as Auto Low Latency Mode (ALLM), Quick Frame Transport (QFT), Quick Media Switching (QMS), and Variable Refresh Rate (VRR). But the MX180 handles all of the above, plus numerous HDR (high dynamic range) formats, such as HLG, HDR10+, and Dolby Vision (including low latency). It's worth pointing out that IMAX Enhanced is conspicuously absent from the spec sheet, so keep that in mind if that feature is important to you. The dual HDMI outputs can be used simultaneously, either to send the same video to two separate displays, or to send two separate input signals to two different screens at the same time. One of these HDMI outputs offers Enhanced Audio Return Channel (eARC) functionality.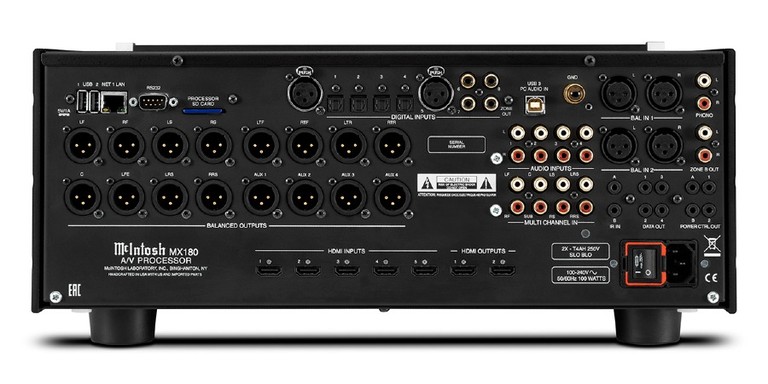 RoomPerfect Room Correction
Other audio features include support for Dolby Atmos, DTS:X Pro, and Auro-3D immersive surround sound formats with 16 channels of processing, all delivered via balanced XLR outputs. The popular 9.1.6-channel surround sound speaker configuration is supported, along with any other setup with 15.1 channels or fewer. Depending on your speaker arrangement, up to four of the outputs can be used for bi-amping some of your speakers, or for accommodating additional subwoofers. To keep all those speakers working harmoniously within your theater space, McIntosh has included Lyngdorf's sophisticated RoomPerfect room-correction technology to measure and adjust the audio output of each channel, and automatically compensate for the unique acoustical characteristics of your listening room (calibration microphone and stand included). RoomPerfect offers an easy way to optimize frequency response, calibrate speaker volumes, and achieve true bass control by intelligently combining your speakers with your subwoofer(s) for the best possible result. RoomPerfect also promises to allow for greater flexibility in speaker selection and placement. It works across all of the MX180's various digital and analog inputs, including the Moving Magnet phono input. For that to work, the MX180 employs "some of the latest analog-to-digital convertor technology to maximize the audio quality of analog sources," according to McIntosh. A two-channel Zone B output can send audio to a second zone elsewhere in your house. McIntosh says that the MX180 is able to run cooler than previous McIntosh home theater processors, thanks to new and more efficient processing power on board. Finally, it offers a "robust and simplified setup program that allows for customization and optimization based on specific home theater and speaker needs."
McIntosh MA8950 and MA9500 Integrated Amplifiers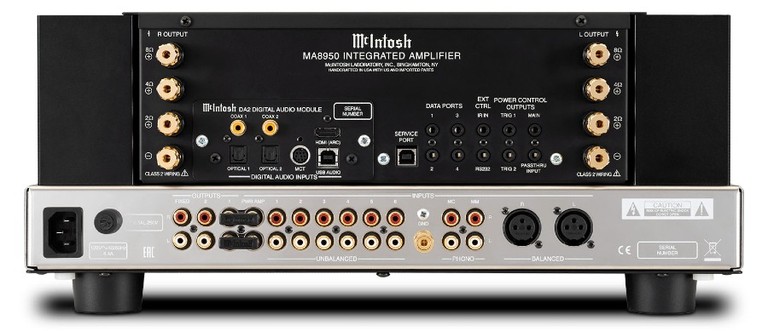 McIntosh MA8950 stereo integrated amp
The new MA8950 and MA9500 stereo integrated amps replace McIntosh's popular MA8900 and MA9000 models, sitting just beneath the brand's flagship tube-hybrid MA12000 integrated amp ($14,000). Like the MA12000 — but unlike their predecessors — the MA8950 and MA9500 include McIntosh's most advanced built-in DAC technology, by way of the DA2 Digital Audio Module. (The MA8900 and MA9000 amps came from the factory with the older and less technically capable DA1 module, though the DA2 became available as an upgrade to be installed by the dealer for an additional $1,000.) McIntosh says that the DA2 is "powered by an audiophile-grade, Quad Balanced, 8-channel, 32-bit Digital-to-Analog Converter that has improvements in both dynamic range and total harmonic distortion compared to the DA1." The DA2 maintains the DA1's 2 coaxial, 2 optical, 1 USB, and 1 proprietary MCT digital inputs, and adds an audio-only HDMI Audio Return Channel (ARC) connection, allowing the user an easy method of routing TV audio through the amp for a high-end stereo home theater experience. (Not everyone has the space, the budget, or even the desire for a 16-channel home theater, but that doesn't mean anyone should have to endure the thin, puny sound that dribbles feebly from today's wafer-thin TVs.) Those who do have a multichannel audio system can use the MA8950 or MA9500 to power their front left and right speakers using the Home Theater PassThru feature.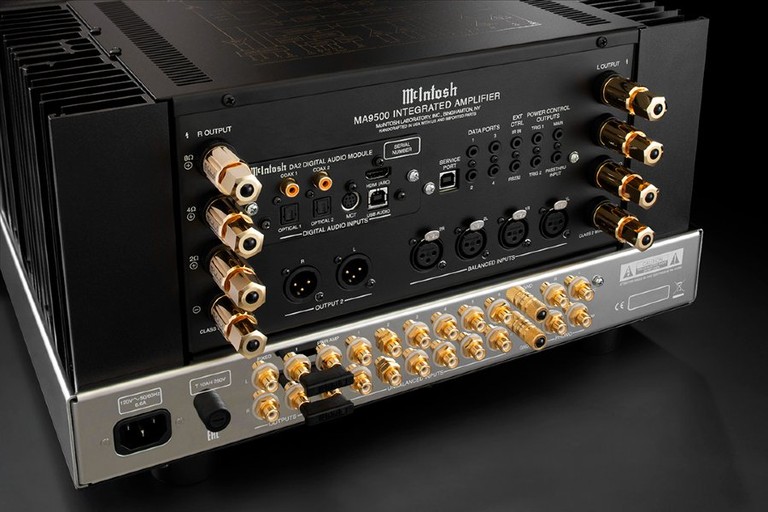 McIntosh MA9500 stereo integrated amp
Amplifier Upgrades & New Features
Features aside, the amplifiers that sit at the heart of the MA8950 and MA9500 have also seen significant upgrades over the outgoing models. The MA8950 delivers 200 watts per channel, while the MA9500 delivers 300 watts of "clean, effortless power," according to McIntosh. The full power of each amplifier is delivered via a pair of McIntosh's proprietary Autoformers, which "guarantees the speakers will always receive the full power regardless (of whether) they have 2, 4, or 8 Ohm impedance." Now sporting double the filter capacity of their predecessors, both amps offer 55% greater dynamic headroom, resulting in enhanced ability to reproduce musical peaks with less distortion, and "more amazing bass playback, low end performance, and overall bass control," according to McIntosh. Upgrades to the components in the power supply have led to a reduction in noise emissions, and have reportedly made the amps more robust, so they shouldn't break a sweat even under the most demanding conditions. McIntosh says that the MA8950 and MA9500 both use "the latest state-of-the-art audio-grade circuit components to produce the best sound possible," along with "powerful control microprocessors for smooth and reliable system operation." Both amps feature McIntosh's Power Guard technology, which continuously monitors input and output signals, and dynamically adjusts input levels in real time to maintain maximum output while simultaneously preventing distortion and clipping, which can lead to harsh sound and potential speaker damage. The MA8950 offers 9 analog inputs: 1 balanced, 6 unbalanced, 1 Moving Coil (with adjustable loading), and 1 Moving Magnet phono input. The MA9500 offers all of the above plus a second balanced input. The MA8950 has unbalanced preamp outputs, while the MA9500 has both balanced and unbalanced outputs.
Both the MA8950 and MA9500 have a couple of unusual features that you wouldn't necessarily expect to find on a competing product. Headphone jacks may have vanished from our smart phones, but it is de rigueur for audio manufacturers to accommodate personal listening on a full-featured integrated amp such as these. What is far less common is McIntosh's High Drive headphone amplifier with Headphone Crossfeed Director (HXD), which promises to bring "an added dimension to headphone listening." (I have long been a fan of headphone amps with crossfeed functionality — especially when listening to the hard-panned stereo mixes of the early Beatles albums — but they're hardly the norm these days.) Another feature of these amps that you don't always see nowadays is multi-band tone control. The MA8950 features a discrete, five-band tone control that allows for advanced manual analog adjustment (±12dB in 2dB increments) at 30Hz, 250Hz, 500Hz, 2kHz, and 10kHz. The MA9500 allows for the same levels of adjustment but at eight different frequencies: 25Hz, 50Hz, 100Hz, 200Hz, 400Hz, 1kHz, 2.5kHz, and 10kHz.
The MX180 A/V Processor, the MA8950, and the MA9500 are all shipping now. For more information, visit  www.mcintoshlabs.com.

Unless otherwise indicated, this is a preview article for the featured product. A formal review may or may not follow in the future.
Confused about what AV Gear to buy or how to set it up? Join our Exclusive Audioholics E-Book Membership Program!