StormAudio ISP MK2 24CH AV Processor Review
StormAudio ISP MK2 24CH AV Processor Review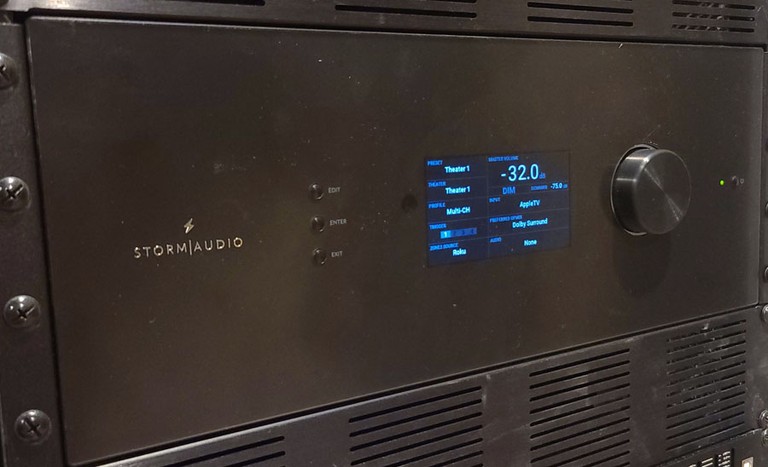 StormAudio ISP MK2
HDMI IN / OUT

7 IN / 2 OUT (ARC/eARC)
HDMI2.0b/HDCP2.2
4K UHD 18 Gbps on all ports
HDR10, Dolby Vision, HLG
AUDIO OUTPUTS
16ch, 24ch or 32ch analog (XLR) - optional
32ch digital (AES/EBU or AES67) - optional
1x XLR Analog (Stereo downmix)
AUDIO INPUTS
16ch digital (AES/EBU) - optional
4x RCA analog (7.1 or stereo)
1x XLR analog (stereo)
3x Coaxial SPDIF
3x Optical Toslink
DECODING
24 decoding/upmixing channels
Dolby Atmos, Auro-3D
DTS:X Pro, IMAX Enhanced Ready

All legacy codecs up to 192 kHz
PROCESSING
Up to 32ch
Multi-theater & multi-room
Multi-way speakers
Multi-subwoofer
20 PEQ per channel
ROOM CORRECTION
Dirac Live with Bass Control module
REW plugin
STREAMING
CONTROL
TCP/IP (ETHERNET), IR
StormRemote iOS/Android Tablet and Smartphone Applications

Web based configuration
Control4, Crestron, RTI, Savant, ELAN drivers
StormAudio ISP MK2 24CH Processor Unboxing Overview
Pros
Unrivaled Configuration Options
Best Bass Management and Routing We've Ever Seen
Digital Audio Outputs for Best Connection to Active Speakers
Upgradeable Architecture Ready for the Future
Cons
HDMI Currently Limited to 4K UHD (18GBPs)
No Analog Bypass
Complex Setup Process
Pricey
StormAudio ISP MK2 Introduction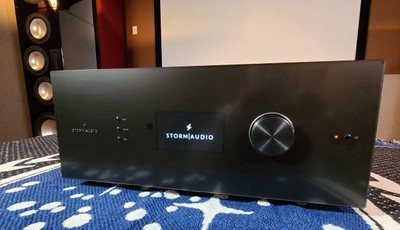 Building the new Audioholics Smarthome provided me a unique opportunity to showcase the accumulation of the knowledge I've learned over the last 20+ years running this website. I wanted to build a theater room that not only surpassed the performance of the AH Showcase home built back in 2005, but also push the envelope of technology. I did my homework searching for an AV processor that had the advanced bass management facilities needed to not only support my RBH Sound SVTRS Active speaker system but also have a higher than 13 channel count to incorporate a conventional 7.2.4 system plus have the widest potential for future expandability. The StormAudio ISP Mk2 doesn't come cheap at about $24k as configured for my unit. But, it does give you virtually limitless configuration options, including the most sophisticated bass management system I've ever seen in an AV processor. How does this all translate to the "ultimate home theater experience?" Read our review to find out.
ISP MK2 Design Overview
The StormAudio ISP MK2 is unlike a conventional AV processor from the big brands. It is not a single CPU PC type platform either. Instead, it's a modular DSP based processor built around a preamp. The Control side (WebUI, TCP/IP…) is running on Linux and ARM platform, while the processing side is running realtime on DSPs (and other SOCs). Storm claims doing it this way ensure there is no possible interaction at the processing level between what happens in the control level and the content processing. This affords Storm incredible configuration flexibility and expandability that would otherwise be impossible to achieve. The ISP MK2 is one of two processors on the market that have the option to add a module for digital outputs. StormAudio offers 16CH, 24CH and 32CH variants of this platform via analog outputs or AES/EBU or AES67 optional digital inputs/outputs. With the ISP MK2, it is capable of processing up to 32 channels with 24 channels of native decoding. All three immersive surround formats (Dolby Atmos, DTS:X Pro and Auro 3D) are supported, with future firmware updates to also support IMAX Enhanced features that are now in the works. The Storm Processor can accept up to 192kHz/24 bit inputs, but does downconvert the sampling rate to 48kHz for post processing such as DIRAC Live and Bass Management.  Storm Audio supports the latest Dirac Live Bass Control module for multiple subwoofers and the state-of-the-art Storm Audio Expert Bass Management with its multiple bass zones definition and selective bass routing. IP AES67 and Dante network devices are supported as well, which makes this unit extremely flexible from an installer's perspective. Imagine having the Processor rack mounted at a central location and having the power amplifiers local to each speaker connected and networked via Ethernet instead of long runs of line level cables. The ISP MK2 currently supports only HDMI 2.0b/HDCP2.2 (ARC and eARC) with 4K UHD 18Gbps on all ports (7 In / 2 Out). HDR10, Dolby Vision and HLG are supported. This product is Roon ready for those that want to take advantage of this slick streaming and music management software.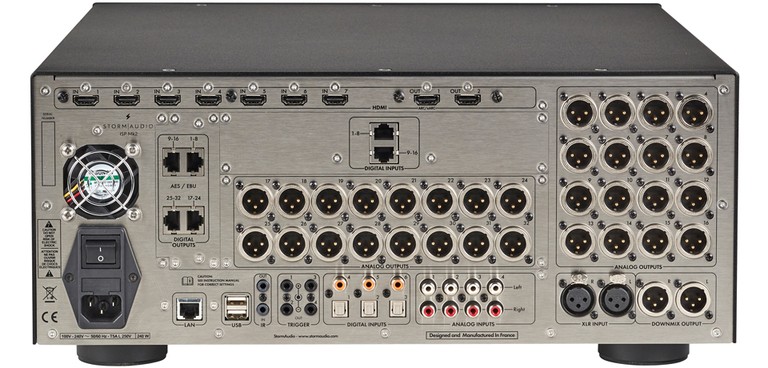 StormAudio ISP MK2 Backpanel
The bass management facilities in the Storm Audio ISP MK2 are what really makes this product stand apart from its competition. The LFE and bass routing options are endless, enabling the end user to assemble a very sophisticated fully active loudspeaker system that can accommodate stereo bass, LFE and bass routed from other speakers set to "small," while still having a dedicated subwoofer channel to supplement the bass for better modal distribution in the room. In my StormAudio ISP MK2 Bass Management Youtube video, I touch upon the basics of this bass management system to give you an idea, but suffice it to say, if you can envision a bass routing scenario you want in your theater system, Storm Audio will surely support it.
The Storm Audio ISP MK2 has provisions for multiple profiles that allow you to fully customize your speaker configuration, bass management, PEQ, and DIRAC. This is useful if you want to copy your current profile before running DIRAC so you can return to the original if you don't like the post DIRAC calibration. It also enables you to switch between profiles for real time listening comparisons. If that's not enough configurability for you, the Storm ISP MK2 also offers multiple preset options to save completely different processor configurations encompassing trigger control input configuration or completely different speaker layouts. You may want one profile to contain your theater configuration and associated speaker layout while a secondary profile is designed to play distributed audio from the in-ceiling speakers around your home.
ISP MK2 Setup
Last year I made the announcement that I was moving the family to the new Audioholics Smarthome we were building and documenting the entire process on our Youtube Channel to showcase the very best technologies to help our audience understand what is possible. I reserved the new dedicated theater room for the very best equipment we could put together to support a full-fledged 9.4.4 speaker layout (7 bed channels, 2 in-ceiling wides with angled baffles, 4 in-ceiling tops, 4 subs). The speakers and subs are all RBH Sound with the fully active DSP driven SVTRS speakers for the fronts and center channels. I wanted an AV processor that could accommodate this layout but also have future expandability. I also wanted the processor to have digital outputs for the front LCRs since I would be running the fully active RBH Sound SVTRS Speaker system. There were only two games in town to offer this flexibility, Trinnov being the other. I chose Storm Audio because I was really impressed with its bass management configuration and routing facilities. With the ISP MK2, I was able to configure my front towers as large, sum all small speakers' bass and LFE to them and the other two powered subs in my system. Incredible!
With the help of our friends at HD2020, we built up my rack consisting of the Storm ISP MK2, Storm 24CH Class D amp, RBH Sound 8CH amp (powers front LCRs) Marani lpp-480f DSP for active FIR correction, Oppo UDP-205 (RIP Oppo), AppleTV 4K and Roku 4K, and Furman IT-Ref 20i and Elite 20pi Power conditioners to provide the clean and safe power from two dedicated 20A outlets. The speaker cables are 1313A Belden 10AWG high strand count cables along with their 1694 Beldon coax for RCA level, and 1800F balanced and Belden series-1 HDMI cables all furnished by Bluejeanscable.com.
The Storm ISP MK2 is the first AV processor I've ever reviewed that didn't come with a remote control. Yes, you heard that right. If you want to control this product, you're gonna have to either:
Use your laptop on the same network
 Download their App (Android and iPhone are supported)
 Integrate the ISP MK2 into your control system

A new option exists for 2021:

You can order the remote for their Core-16 AV processor. The remote control allows for input selection, surround decoder select, info, volume, on/off and some other basic functions.

I used the first 3 options above to control my ISP MK2 and happy to report that I don't miss having the stand-alone remote control. Let's face it, most remote controls included with AV gear today are mediocre at best. Still, it's not a bad option to get their remote control as a backup in case any of the above 3 options aren't available for you while operating your ISP MK2 or if you want quick access to the IR codes to program your universal remote control.
Another thing absent in this processor is a GUI. This has become commonplace with many of today's more sophisticated processors. Anthem and the Monoprice Monolith HTP-1 both lack a GUI. The Storm ISP MK2 does have a basic OSD that displays volume level, audio stream and input selected.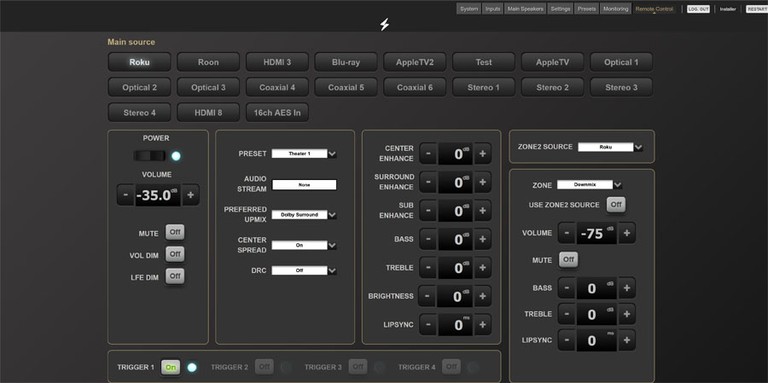 StormAudio ISP MK2 Remote Control App
Before you freak out, I'm here to tell you I don't miss those things. Despite being indoctrinated by those features from AV receivers, I adapted quickly thanks to the StormAudio Phone App available for Android and Apple and the driver for my Control4 automation system that lets me control basic functions (i.e. Input selection, volume, on/off). The App gives you full control of source, listening preset, preferred upmix (i.e. Auro, Dolby or DTS:X) with full adjustments (i.e. Center spread, sub level, etc) and other audio adjustments such as tone control, and zone control. The big thing missing from the phone App is the ability to adjust channel trims, delays and EQ function. Storm Audio feels speaker calibration is best done through the web editor and given the set up complexity they offer, I tend to agree.
Speaker configuration is the most elaborate I've ever encountered in a home theater processor. The graphical interface is very helpful in visualizing your speaker allocations.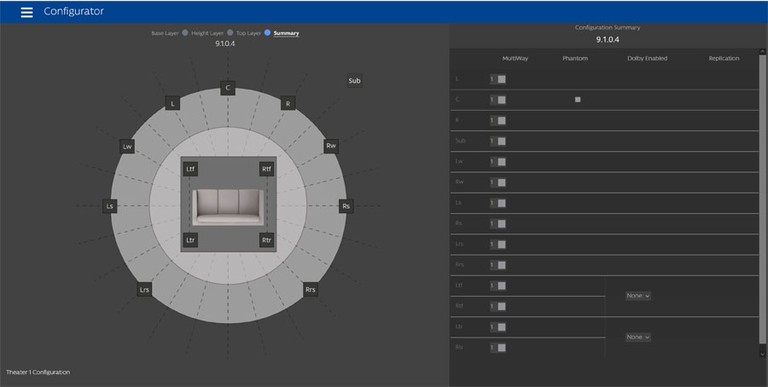 Audioholics Theater System Speaker Configuration Diagram on the StormAudio ISP MK2
As you can see, my layout is 9.1.0.4 ( 9 base, 1 sub CH, 0 heights, 4 tops). This is a very important step that I recommend you to triple check your speaker assignments are as intended BEFORE hitting the save button. Once you create a speaker profile, you cannot edit it. So, if you make a mistake now or plan on adding more channels in the future, you'll have to build a whole new speaker configuration.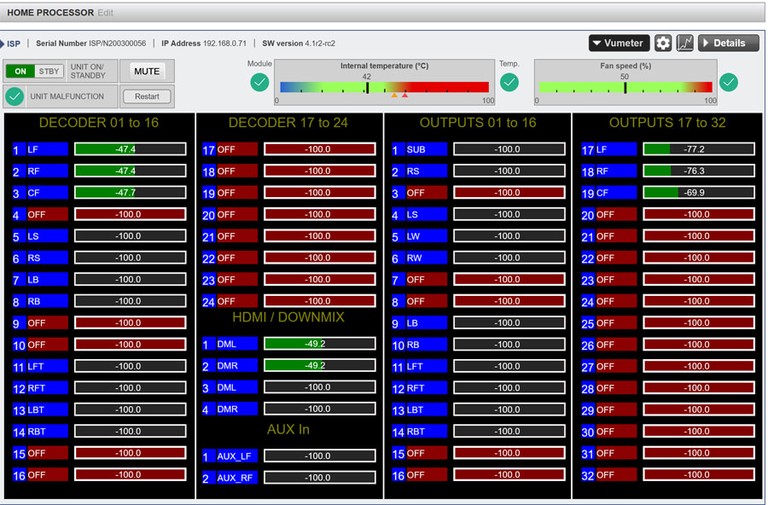 The Storm Audio unit has active monitoring on board to keep track of temperature, operational status and the incoming and post processed signals to verify what channels are active and IF their levels are undistorted or clipped. I found this feature extremely useful when evaluating immersive audio surround tracks to see which channels were active or inactive. I was surprised to see the wide channels utilized in a good majority of the Atmos content I was playing back and glad I installed them.
Calibration
For the initial set up and listening tests in this review, I performed all manual calibration using REW to measure the in-room response of all of the speakers in order to design very precise PEQ filters to enter into the Storm ISP. Most of the optimization was done below the room transition frequency (<500Hz) with minor shelving filters (when needed) for the surrounds and center channel speaker. FIR correction was done via the Marani DSP for the Fronts and Center channels. I will reserve my testing of DIRAC for a future editorial and subsequent Youtube video to share those post calibration results with my manual ones to determine which one yielded better results. I used a laser to calculate precise distances for each speaker and the internal test tones with my measurement microphone to calibrate channel levels.
Two things that really blew my mind about the Storm Audio ISP MK2 were:
The sophisticated bass management and routing options
The precise PEQ filters
For once in my life, I am able to integrate truly full range towers to my system with proper bass routing. In this setup scenario I am routing bass from all channels set "small" + LFE to the main speakers and also routing that bass to two additional subs at the back of the room. The advantage here is the preservation of stereo bass for 2CH music for my main speakers while also taking advantage of the modal averaging of multi-sub playing LFE + mono mix to all bass sources strategically located throughout the room. To add icing on the cake, the PEQ function of the Storm ISP Mk2 is dead balls accurate. If I have a bump at say 25Hz 10Hz wide, simply entering a filter with Fc = 25Hz and Q = 2.5 to squash it works with surgical  precision-like accuracy. Best of all, I never ran out of PEQ filters for each channel since Storm Audio offers 20 per channel!
Listening Tests
Let's start with music since at the end of the day, if you can't do that right, then what's the point from an Audioholics perspective? I do most of my music listening in the theater room by streaming via Apple Music or Tidal. I wanted to see how the various upmixers performed this duty in hopes that my properly calibrated 13CH speaker system could transcend the two-channel barrier.
The Storm ISP MK2 offers excellent adjustability for the upmixers including (center enhance, surround Enhance, sub enhance) which allow you to adjust the balance of sound. The Auromatic upmixer settings are more diverse than I've seen in other processors and you'll want to experiment with room size and effect to taste. The Neural:X upmixer lack of center spread limits its usefulness for 2CH upmixing due to no fault of Storm Audio, but to DTS for releasing an upmixer not quite ready for prime time.
Dominique Fils-Aimé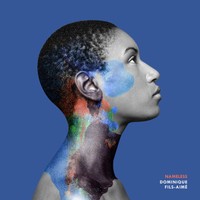 If you don't know who this fabulous singer is, you need to bookmark her on your streaming app of choice BEFORE continuing to read this review.  You will thank me later. Dominique is emerging to be of the great new artists of this decade. I absolutely adore the way she effortlessly merges multiple music genres whether it's the blues sound of her debut album" Nameless," or her jazz sound from her 2nd album, "Stay Tuned." Her vocal layering is mesmerizing in tracks such as "Big Man Do Cry." The percussion is so tight on this track and throwing this through the DSU expanded the soundfield sounded as if I was listening to a native Atmos soundtrack. Dominique's vocals were anchored dead center like she was performing in my space while her layered vocal tracks were off towards the sidewalls, immersing me in harmonic bliss. I switched back and forth between upmixers and found the DSU gave a slightly better effect to the sides and behind me than Auromatic, but both sounded superb. The Neural:X upmixer is not worthy of such great music. It really botches 2CH music since it doesn't have a "center spread" feature like the DSU or the previous DTS codec that had separate music and movie upmix modes. "Birds" is the first song I ever heard from Dominique and it's as much of a treat today as it was the first time I heard it. I love the stand up bass in this track and because the recording is of such high fidelity, you can really hear all of the detail. While this sounds great in 2CH, its absolutely phenomenal upmixed with the DSU or Auromatic. The decay of the transients in the percussion surround you in a way I rarely ever hear from 2CH music. If you sit down your audiophile friends to listen and tell them this is a native Atmos track, they won't know any better. It's that good. The funk in "Sleepy" was laid out so thick it seduced me to just keep cranking up the volume. There's nothing sleepy about the layering of Dominique's voice in this track. This type of music not only sells speakers but makes you a fan as a side benefit. Go listen!
Billie Eilish Happier than Ever in Atmos (left) ; Pink Floyd Dark Side of the Moon in 4.1CH (right)

Billie Eilish Happier than Ever in Dolby Atmos
Billie Eilish is absolutely killing it with her spatial audio mixes on Apple Music. Her latest album "Happier than Ever" is a masterful production. "I Didn't Change My Number" may be my favorite song from this album. The bass, ooh yea, Billie and Finneas understand how to stimulate a bassaholic's pleasure center. The sound effects toward the end of the song panning all around from above makes you realize installing Atmos was all worth the effort. I really get lost in "My Future" for the sentimental aspect of the song but also just the mix is so engaging to the senses. "Oxytocin" is the song you'll want to crank up to showcase the bass capabilities of your system. With all my speakers going, the Storm ISP MK2 transported me into a nightclub, minus the claustrophobia. 
Pink Floyd – Darkside of the Moon DVD-A 4.1
I acquired a rare copy of this classic Pink Floyd album in 4.1 lossless. Normally I'd throw up in my mouth when I hear any track off this record due to a few decades' worth of listener fatigue, but in multi-ch surround sound, it's a whole new experience. The Storm Audio ISP MK2 did a superb job upmixing this album both with the DSU and Auromatic. I found it hard to pick a preference but suffice it to say, the height channels added good ambience. What an enjoyable experience to the senses being immersed with the bass thumping heartbeat and laugh track in "Speak to Me." The speakers melted away within the first guitar and keyboard intro of "Breath." Hearing the cash registers light up in "Money" all around me was a sonic delight. The bass line was so incredibly tight and the stereo effect of the guitars sounded incredibly dynamic and expansive. Thanks to the incredible imaging of my RBH SVTRS active speaker system, David Gilmour's vocals sounded dead center in front of my like he was standing in the room. There's so much going on in this track but the Storm Audio ISP MK2 just plays along effortlessly.
Unbroken UHD Blu-ray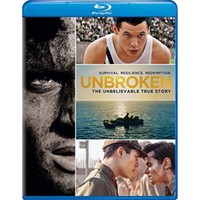 This movie, directed by Angelina Jolie, is criminally underrated. Perhaps I'm just a sucker for WWII movies, but there's some great sound in this one. I must have watched the aerial scene where the USA bombs a Japanese factory a few dozen times, and I was continually in awe of the sound effects. Hearing the engines roar from the B-24 with the music score in the background was a great piece of cinematography that transformed my theater room into the war zone. The vocal intelligibility was crisp and clear even as the action light up ALL of my surround speakers with sounds of guns targeting the bomber. The wide channels really expanded the soundfield allowing me to visualize the airspace and size of the bomber. When the wing of Japanese A6M Zero's came charging in, I really felt like I was part of the action. I couldn't even imagine what this must have felt like being inside the Bomber with bullets flying all around you while essentially being a sitting duck, barely able to defend yourself. This was an impressive demo clip that truly showcases the wonders of Immersive Surround Sound when properly set up with excellent playback equipment.   

Confused about what AV Gear to buy or how to set it up? Join our Exclusive Audioholics E-Book Membership Program!
Recent Forum Posts:
jeffca posts on January 04, 2022 19:33
Damn! Another processor that can't run Dirac at 96K! Very disappointing.
DJ7675 posts on December 30, 2021 10:52
The one feature that doesn't get talked about much with the Storm is their Storm XT. See full description below… but basically what it does is if a speaker is outside of the supported speaker format, it will use that speaker by combining/matrixing it from the nearby speakers. For example, if you use a VOG speaker which will be active for DTSX Pro, and Auro, it would normally be silent when used for Atmos. However, with StormXT it will be active even with Atmos content. Same goes for speakers like Center Height. Another example is the front wides. Currently with the Storm implementation of Dolby Surround Upmixer, FW speakers were not active. But with StormXT they now are. This is something that Trinnov isn't doing that I know of and is a very nice feature.

StormXT – Beyond natively decoding a large number of channels, with the multiple formats available on the market and their different recommended speaker placements, it is not uncommon to have silent speakers when playing certain content. While this can be a choice, it can be frustrating not to use all speakers to improve immersivity. StormAudio engineers have been working on this challenge and developed a proprietary engine called StormXT that works hand in hand with existing upmix algorithms to extract relevant audio signals from nearby speakers and redirect them to silent speakers. This new feature will be coming to the ISP platform free of charge in 2021.
Movie2099 posts on December 15, 2021 10:35
panteragstk, post: 1525099, member: 61217
I'm just eager to see what they do to differentiate themselves from the competition. These uber high end products do have some compelling features that sometimes trickle down.

Agreed. DataSat was the go to processor back in the 90's and early 2000's. Majority of movie studios used DataSat and then it trickled into residential home theaters and was thee top processor. Then Trinnov came out mid 2000's and was the new toy on the market and DataSat didn't respond. So now that ATI owns them and have been working on new processors for the last 3+ years. I have a feeling they're seeing what is happening in the market and waiting for some of the tech (hdmi 2.1) to be more stable. Working on their own PQ processing or with Dirac or both, depending on which processor. I truly think once they hit the market they'll have all the bells and whistles and state of the art tech hardware to fully compete against and possibly surpass the current big dogs Trinnov and Storm Audio. At least that's my hope. We need more competition in the high end processor market.
panteragstk posts on December 15, 2021 10:26
Movie2099, post: 1525095, member: 90678
Wait until the new DataSat gets released…….Might surprise a lot of people.

I'm just eager to see what they do to differentiate themselves from the competition. These uber high end products do have some compelling features that sometimes trickle down.
Movie2099 posts on December 15, 2021 09:52
gene, post: 1525063, member: 4348
Yea I should have either omitted that measurement or better prequalified it. It was odd that Storm didn't really comment on it when I submitted my test results to them other than to tell me they are working on a new high performance DAC. I absolutely love the Storm ISP MK2 even if it isn't as mature as the great Trinnov.

Wait until the new DataSat gets released…….Might surprise a lot of people.
Post Reply