Monoprice Monolith HTP-1 16CH Home Theater Processor Review
Monoprice Monolith HTP-1 16CH Home Theater Processor Review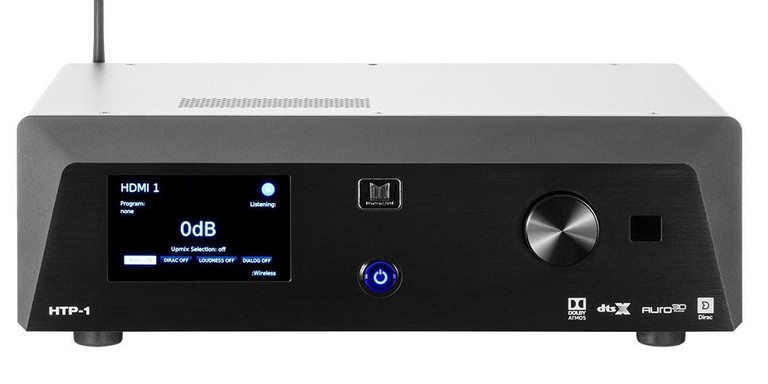 HTP-1
Product Name: Monolith HTP-1 Home Theater Processor
Manufacturer: Monoprice
Performance Rating:
Value Rating:
Review Date: February 22, 2021 09:00
MSRP: $ 4,000
Video Inputs: 8x HDMI
Audio‑Only Inputs: 2x analog stereo RCA, 3x digital coaxial, 3x digital optical, 1x AES/EBU, 1x HDMI ARC/eARC
Streaming Inputs: Bluetooth® and Roon
Video Outputs: 1x HDMI ARC/eARC, 1x HDMI
Audio Outputs: 16-channels balanced XLR line outputs, unbalanced stereo analog RCA
Triggers: 1x 12V trigger input, 4x 12V trigger outputs
HDMI Version: 2.0b
HDCP™ Version: 2.3
Maximum Video Resolution: [email protected] UHD
Audio Frequency Response: 20Hz ~ 20kHz
Supported Audio Codecs: Dolby Atmos, Dolby TrueHD, Dolby Digital, Dolby Surround, DTS:X, DTS Neural:X, DTS-HD Master Audio, Auro-3D, Auro-Matic
Room Correction/Equalization: Dirac Live® (licensed with HTP-1 ownership)
Built‑in Audio Correction: Bass and Treble tone controls, 16-band parametric equalizer with independent speaker control on each band
Connectivity: Wired Gigabit 10/100/1000Mbps Ethernet, Wi-Fi®
Input Power: 100 ~ 240 VAC, 50/60 Hz
Dimensions: 17.1" x 5.7" x 12.0"
Pros
16 channels!
Fully balanced outputs on all channels
State-of-the-art DACs
Lots of channel assignment flexibility
Dirac Live room correction
Lots of support for all major audio format configurations
Extensive equalization abilities
Cons
Firmware upgrade process can be tedious
Touch screen is very insensitive
The marketplace of processors that exceed eleven channels but don't cost as much as a new car is a small one. So, when Monoprice announced the Monolith HTP-1 processor at the 2019 CEDIA, home theater enthusiasts were intrigued. Here was a 16-channel processor with fully balanced outputs, Dirac room equalization, eARC support, and support for all the latest object-oriented sound formats including Auro-3D, DTS-X, and Dolby Atmos. All for only $4k. $4k is a lot of money, but when you consider that many of the other processors with similar features and spec sets are priced in the five-figure range, here was a serious processor that a middle-class home theater enthusiast could afford without needing to take out another mortgage. It is an affordable way of getting more out of modern sound mixes than what can be had from the AVRs from the major audio manufacturers.
At last, we finally have the HTP-1 in for review today. Let's dig in to see if it warrants the online buzz it has caused since its announcement... 
Design Analysis

The design for the HTP-1 positions it as a processor for all-out, state-of-the-art home theaters. It is a bit more focused than most AV processors compared to those from more traditional electronics manufacturers such as Yamaha, Denon, or Marantz. Therefore, it doesn't quite have as many features that go beyond its core mission of a home theater processor for serious cinematic use. It doesn't have processing for other zones, nor does it have gobs of inputs for every conceivable source. It is geared toward processing modern media device output that you would find in home theaters and not a whole lot else. That reduces the complexity of the unit, which is also a reason for the simplicity of its appearance: the only items on the front of the unit are a touchscreen, a volume knob, and a power button. It is not a heavy component, and no attempt is made to artificially increase the weight to give it a luxury feel. The design is straightforward and mostly utilitarian.
16 channels!
As a dedicated processor for heavy-duty home theater use, one of the most significant features of the HTP-1 is its support for 16 channels. These can be configured in a variety of ways, from nine main level channels, six upper channels, and five subwoofers. If you have a large home theater room, this kind of processor can be a real benefit, naturally. However, even if you don't have a large room, there are some advantages, especially with five individually configurable subwoofer outputs. With five individually configurable subwoofer outputs, each sub gets individually calibrated to achieve an overall target response, and that can add up to an extremely fine-tuned bass response for those with multi-sub systems. In other words, such a great degree of control over separate subwoofers should be able to grant the user a magnificently smooth bass response across more listening positions.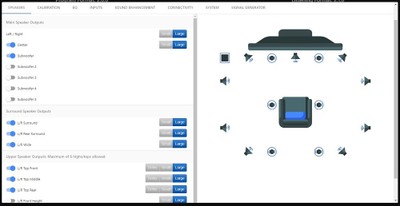 One problem with a processor that goes beyond eleven channels, specifically a 7.1.4 Atmos setup, is that some Atmos mixes are locked into a 7.1.4 sound mix. This is one of the many failures of Dolby Atmos specifically, but, since Atmos is the most prevalent object-oriented sound format in North America, it also becomes a problem for North American home theater enthusiasts who want to expand beyond a 7.1.4 system. This problem is basically relegated to Disney titles at the moment, and hopefully, it will not be a practice adopted outside of Disney. I have often argued for the total abolition of the Disney Corporation in the past, and this is just another point for that argument.
Front Wides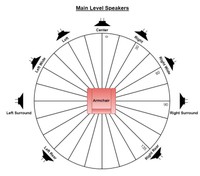 One problem with sound mixes that have a locked 7.1.4 mix is that there is no ability to use the 'front wide' channels that Atmos can accommodate which some processors, such as the HTP-1, support. The front wides are lateral speaker channels with placement between the front left/right channels and the side surrounds. This placement is actually a bit more advantageous than height channels since human hearing is much better able to localize horizontal sound sources than sound sources at the high vertical angle recommended by Dolby for height channels. If you are setting up a larger scale home theater audio system, I would argue that it makes a lot more sense to set up a 9.1.2 system than a 7.1.4 or 7.1.6 system. The audible difference should be more significant on content that supports it.
Sadly, not a whole lot of content does support the front wide channels except for Dolby Atmos sound mixes that haven't been restricted and also some DTS configurations. For this reason, the HTP-1 has a feature called 'Wide Synth' that can simulate content to feed the wide channels by mixing content intended for the front left/right channels and the side surround channels. This feature can be applied to any of the surround modes. It also applies to top middle channels, so if you have six height speakers, but the content only supports four height speakers, the 'Wide Synth' feature will generate sound for the middle height speakers by mixing signal content from the front and rear height speakers.  You get to use ALL of your speakers even if the native format doesn't support it.
Auro-3D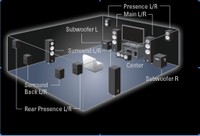 One nice feature of the HTP-1 is the support for Auro-3D. Auro-3D uses an excellent upmixer that many users prefer to those offered by Dolby and DTS. What is more, the speaker placement suggested by Auro-3D makes more sense with respect to human hearing than the speaker placement suggested by Dolby and DTS. The reason is that Auro-3D doesn't hike the speakers up at such a high angle in relation to the listener. As was mentioned before, human hearing is more geared toward detecting and localizing lateral sound sources rather than vertical sound sources. At higher angles, sound becomes more difficult to pinpoint. Strange—what compelled Dolby to use a plethora of height speaker locations at such a high angle where directional differences would be more ambiguous? Auro-3D's speaker placement suggestions are to bring the angle of the height channels down more where the differences are easier to hear, and just use a single 'Voice of God' channel for content that is directly overhead. If I were designing a home theater today, I might be more inclined to follow Auro-3D's placement suggestions rather than Atmos, despite Atmos' popularity in North America. Another point in favor of Auro-3D is that the height speakers can usually be mounted on the wall rather than needing to be mounted in the ceiling, aside from the single 'Voice of God' speaker which the user can choose to install or not. Wall-mounting a speaker is normally a lot easier than installing a speaker in the ceiling.
Dirac Live Calibration and Equalization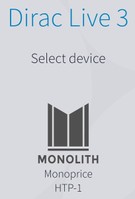 One of the big selling points of the HTP-1 is the Dirac Live room correction system. Dirac Live is considered to be one of the best room corrections systems since it attempts to correct for time-domain problems as well as frequency-domain problems. Most room correction software only deals with frequency problems outside of setting distances of speakers and subs so that the arrival time of sound is synchronous at the listening position. Dirac Live first corrects for time-domain issues by analyzing the system's impulse response and issuing corrections in the frequency domain that do not degrade the time domain behavior. Many users have achieved remarkable adherence to the target response using Dirac Live, especially in bass frequencies, which is the most difficult area for room correction to deal with.
The HTP-1 also comes with support for Dirac's new Bass Management, which, as with Dirac Live, is a far more sophisticated system for automatically calibrating bass response. However, the license for Dirac's Bass Management has to be purchased by the user from Dirac. It is a $349 upgrade for a single subwoofer system and a $500 upgrade for a multi-sub system. Of course, the vast majority of owners of the HTP-1 are likely to be multiple subwoofer owners. Another potentially hidden cost for those who want to use Dirac Live is that the HTP-1 does not come with a measurement microphone needed to use Dirac Live. Dirac does provide a list of recommended mics here, and among them is the Dayton EMM-6, which sells for only $60, so it doesn't have to be an enormous extra expense to get a measurement microphone.
If you are the kind of person who likes to tweak things manually for more hands-on control over system performance, the HTP-1 comes with a 16-channel parametric EQ per channel. That level of control enables you to give your sound system any kind of sonic character you want. It's a degree of fine-tuning that can also allow you to shape the bass response of your system pretty nicely without having to buy Dirac's bass management in order to achieve a flat response. It can also be used in conjunction with Dirac Live, so you can use the PEQ to make changes to the response provided by Dirac. Dirac almost makes this a moot point since it enables you to customize the target curve to whatever shape you want, out to a very fine degree. If you want to adjust your sound but don't want to get into such an intricate equalization system, the HTP-1 also has simpler tone controls. The user can set the corner frequency of the tone controls and also adjust the amount of boost or cut.
User Interface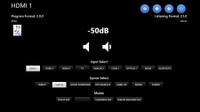 The HTP-1 doesn't have an on-screen display in its video output. It does have a locally hosted webpage that you can configure it from as well as a touch screen on the front panel. The touch screen only displays the basics of the processor's status, and it doesn't have a whole lot of interactive functions, but that is just as well since I found it to be very insensitive. It uses resistive touch instead of capacitive touch, so it is not nearly as sensitive as a screen on a smartphone. I had to repeatedly touch areas of the screen with a good amount of force for it to recognize my actions. The web page is what you really want to use to configure the HTP-1. It requires a physical ethernet connection to use, so make sure you have one available. Once connected to ethernet, it can be configured to use a wifi network, so you only need the ethernet connection to start with. Getting the HTP-1 to be recognized on my ethernet network and later on my wireless network took a lot of trial and error for me. I was ultimately successful, but the process was not exactly smooth. Most user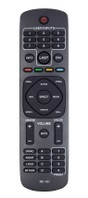 s report a smooth experience of getting the HTP-1 to connect to their network, so the problems I experienced may be particular to my network.
The web configuration page is fairly simple. The front page enables you to change the input, volume level, upmixer, and mode. The configuration page is where you set the system up, calibrate it, and fine-tune it. There is a lot of depth and features within the configuration page, but it is logically laid out, and there is a help button in the upper right corner of the window that explains all of the functions of the controls in each individual page. Those who want a deeper explanation of the functions can always refer to the user manual as well. The user manual is very easy to follow relative to other processors on the market, and I would recommend that new owners go through it.
The HTP-1 also comes with a remote control. It's a simple remote control that is reasonably well laid out and only really exercises control over the basic functions like volume adjustment, input selection, and listening mode activation. Much like the rest of the HTP-1, it is to-the-point and not exactly fancy. It would have been nice to have a remote with backlit buttons for convenient operation in darkened rooms, but it seems to me that Monoprice expects users to mostly use the webpage so they decided not to spend extra for a decked-out remote. Many users have also reported success using the HTP-1 with the Logitech Harmony universal remote control series, so if it is a device you want tied in with a universal remote, that is certainly possible.
Firmware Update Weirdness
I wanted to connect my PC with the HTP-1 using the USB for digital audio. Initial attempts found the HTP-1 unable to process USB audio, but looking closer at the manual, I found the problem was that USB audio support only became available in firmware update 1.8, whereas I was still using 1.7.1. I tried to update the firmware using the information page that can be accessed by clicking on the button labeled "i" in the upper right corner. At the top of the information page, there is a link labeled "Update the system" that I clicked on. The HTP-1 went through some kind of processing that took a long time and then reset itself, which I assumed to mean that the firmware update was complete. However, looking at the information page revealed I was still on version 1.7.1. I went through the process again with the same result.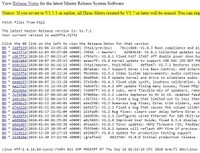 After examining the manual closely, it turns out that the "Update the system" link only updates the system if there is a "Master Release" firmware update available. It also turns out that version 1.8 is a beta update, and the way to update to a beta candidate is to look at the "update history" page in the information page and to click on the hexadecimal number of the newer releases. When I tried this, the update screen warned me that it could take as long as an hour to update the firmware and not to power down the HTP-1 during that time. It really did take an hour, but it did update the firmware, and now the USB audio works.
The entire process of figuring out what was going on was a time-consuming headache. Admittedly the procedure is stated in the manual, but only in the last sentence in the "Updating Firmware" section, and the process isn't very articulately described. My advice to Monoprice*: if there is no Master Release update available, don't have a clickable link on the information page that says "Update the system." Definitely don't allow the HTP-1 to go through a lengthy processing period after having clicked that link that makes the user think the unit is updating. Also, please have a clearer distinction of what release is a Master Release and what is a beta release. Maybe it would also be a good idea to more clearly explain how to update to beta firmware versions within the control panel itself rather than having to decipher cryptic instructions in the user manual. 
*Monoprice has responded that they may be looking into making changes in the firmware update process based on this and other feedback.
Listening Modes
There are four main modes that can be used to modify the sound outside of the upmixers. This is very much in contrast to receivers that have a whole slew of DSP modes that alter the sound in various ways and are mostly used to imitate certain acoustic situations. The HTP-1 doesn't do any of that nonsense. Its four modes are Night Mode, Dirac, Loudness, and Dialogue Enhancement. Night Mode is used to suppress large dynamic swings and also keep bass to a minimum. This is handy for containing sound in the listener's room so as not to disrupt the rest of the household. We have already discussed Dirac's mode, and we will discuss it more later on. The 'Loudness' mode activates a way to scale the volume control in a manner that is smoother to human perception than what is heard by simply raising the amplitude linearly.
The 'Dialogue Enhancement' Mode is an interesting feature that deserves more than a quick mention. In content with DTS-X coding, the dialogue can be boosted in level so users who have a more difficult time understanding speech can follow it better. 'Dialogue Enhancement' does this. In non-DTS-X content, the 'Dialogue Enhancement' button simply elevates the center channel content by up to 6dB. Of course, boosting the dialogue alone is a far better option for increasing dialogue intelligibility. The shame of it is that DTS-X is the only coding scheme that supports this incredibly useful feature, yet DTS-X is hardly used as an encoder. Dolby Atmos has cornered the market on object-oriented sound mixes, and though it ought to be very easy to implement such a feature in that kind of mix, Dolby has yet to do it. DTS-X's 'Dialogue Enhancement' feature is not just a good idea, it is a great idea, and it is one of the major failings of Atmos that this ability of object-oriented sound mixes has been neglected. Dialogue intelligibility is a significant problem for lots of people, and those who want to learn more about why it is such an extensive problem and what can be done to mitigate it should watch this in-depth Audioholics Youtube discussion on the subject.   
Hardware: Inputs and Outputs
Let's talk now about the physical hardware of the HTP-1, and let's start with the inputs and outputs. With respect to inputs, most people are going to be using one or more of the eight HDMI connections that are available. Other digital inputs include six SPDIF inputs consisting of three optical and three coaxial. There is also an AES/EBU input along with a USB audio input for computer connections. The HTP-1 also supports wireless inputs of Roon and Bluetooth streaming input capability. Analog inputs are limited to two pairs of RCAs. There is no analog bypass for those purists who might want to connect vintage sources through the HTP-1. The absence of an analog bypass might bother some folks, but this is not a traditional receiver, and I can appreciate its focus on modern connectivity rather than hiking up manufacturing costs to accommodate sources that are outside the focus of its intended application.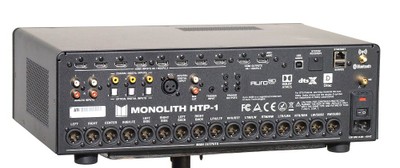 There are sixteen fully-balanced XLR as well as two HDMI outputs. The HDMI outputs are spec'd at HDMI 2.0b and are compliant with the HDCP 2.3 standard. They can output 4K resolution at 60Hz and it's not clear at the time of writing this review what the upgrade path is going forward for 8K or 4K/120Hz resolutions. The XLR outputs, being fully balanced, should ideally be used with amplifiers that have similar balanced inputs. We strongly recommend against connecting these to an amp with unbalanced inputs. Monoprice might also have included unbalanced outputs to make the HTP-1 compatible with a wider range of amplifiers, but that would have raised the price for the inclusion of lesser inputs on what is intended to be a high-value unit intended for higher performance. There isn't much point in including lesser performance connectors in a unit like this, so we are glad that Monoprice decided to keep things simple and ditch unbalanced outputs.
DAC and Potential Supply Issues
The HTP-1 uses state-of-the-art DACs in the form of the AK4493 from AKM. This is an extremely low-noise and low distortion DAC that is considered one of the best that money can buy. One recent development that might have made the choice to use that DAC a mistake is that the factory where it is made has burned down. This puts the future availability of the HTP-1 in question, at least for a little while. While the HTP-1 will continue as a product, it may need some redesign for another DAC if AKM isn't able to quickly rebound manufacturing capacity. If Monoprice decides to redesign the HTP-1 using another DAC, the chances are that DAC won't be quite as good as the AK4493, even though the difference isn't likely to be audible. That decision could make the current crop of AK4493-equipped HTP-1s more sought after, since they'd be in limited supply.
Calibration
Running the setup routine for Dirac Live is a bit more involved than other room EQ programs. The user will need a calibrated measurement microphone along with a computer to run Dirac's calibration. The HTP-1 uses the correction file to adjust its sound output, but it doesn't run the calibration routine itself. I would encourage users to go over the steps carefully before running the calibration. Users are also advised to go over the "Tips for a Successful Dirac Calibration" section in the HTP-1 user manual. There is also this quick start guide on Dirac's website that offers a bit more depth in outlining the steps of calibration than the HTP-1 manual. Running calibration on a full 16-channel system would take a little while, but the fewer channels you have, the fewer measurements are needed for calibration, so a 5.1 system wouldn't take very long to calibrate.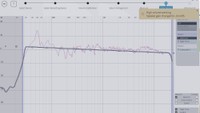 The HTP-1 enables the user to instantly switch between Dirac on, off, and bypass. Dirac bypass keeps the distance and level calibration of the speakers but deactivates all other processing. In my theater room, I ran the calibration on a 2.1 system in my home theater since I only had that many components in there that could handle balanced inputs. Dirac enables the user to shape the target curve into anything they want, but I kept Dirac's target curve except for shaving off a bit of the deepest bass so it didn't attempt to send a boosted signal below the tuning frequency of my ported subwoofer. A single subwoofer rarely produces a great response in-room, so Dirac had its work cut out for it with respect to deep bass. The speakers that I was using, ADAM Audio T7Vs (soon to be raffled for our Patreon supporters!), do not have the flattest response but are amenable to equalization thanks to the consistency of their directivity. These are speakers that should respond well to a room correction system like Dirac. One of the things I did, in order to see how well Dirac could deal with suboptimal conditions, is that I shifted the listening position out of the sweet spot and more to one side of the front stage speakers. I also spaced the speakers more widely apart than what would be optimal for a great sound; this tends to spread out the center image and makes it less focused.
Dirac Comparison

Since the HTP-1 makes it so easy to compare Dirac to uncalibrated responses, that is what I did. I lined up a roster of tracks from artists I was familiar with as well as audiophile staples, and that led to a diverse playlist featuring artists such as The Cure, Diana Krall, operatic pieces from the Amadeus soundtrack, Harry Connick Jr., Janelle Monae, Peter Gabriel, among others. As I listened to the tracks, I flipped between Dirac on, off, and bypass, and the difference between each mode was immediately clear. With Dirac off, the soundstage became a lot more ambiguous and lost a strong center image. Subwoofer bass was also very disconnected from the front stage sound. What is more, Dirac made the sound a lot 'warmer' when active. With Dirc off, the treble was significantly more aggressive, but that was in large part my choice in just having gone with Dirac's default target curve, which gives the sound a slight downward tilt. Needless to say, Dirac made everything a lot better.
One film that I watched with the Dirac calibrated system was the recent release 'Bill and Ted Face the Music.' I had intended to switch between turning Dirac on and off throughout the movie to hear the difference it made, but it wasn't long before I didn't bother anymore since the difference was so stark, especially for content intended to be center-imaged. Pretty much any source of sound that had a specific location had vastly improved imaging with Dirac on. The bass was also 'boomy' by comparison with Dirac off. I learned everything I needed to know about the difference pretty quickly into the movie (it was a fun movie, by the way, I can recommend it for fans of the first two movies).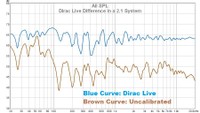 One interesting distinction I found in this exercise is the difference that Dirac bypass makes between Dirac on and off. Going to bypass from Dirac on, much (but not all) of the center imaging is retained. However, the sound isn't as smooth and unified, and the subwoofer bass is still disconnected. Although it should come as no surprise given how human hearing localizes sound, it was still interesting to hear how much of a difference that simple timing delays and level adjustments can make toward improving the soundstage. This is rudimentary calibration that even the simplest auto-EQ systems should be competent at. Going from Dirac bypass to Dirac off, the center image just splatters across the front stage when I had deliberately set the speakers in a sub-optimal arrangement. The simple adjustments in level and timing from the speakers to make them even for an off-center listening position had a major effect in anchoring the center image in a defined location between the speakers.   
Dirac Bass Control
I moved the HTP-1 to my 2.2 bedroom setup where I could better explore its Bass Control feature since my bedroom system had two subs with balanced inputs as opposed to the one in my theater room. This would allow me to better compare the effects of Dirac's Bass Control since it can calibrate multiple subs independently rather than treating all subs as one as standard Dirac Live does. In my bedroom system, I used two powered monitors that I had measured (although not reviewed) which had a significantly flawed response, again giving Dirac an opportunity to show what it could do. I calibrated the system with Dirac, and used one of the HTP-1's calibration slots for standard Dirac Live and another for Dirac Live with Bass Control (there are six slots available).
In comparing Dirac with and without Bass Control, subjectively it did make a difference, and the bass did seem fuller with Bass Control on. Looking at the above measurements showing the difference of the Bass Control feature, it is largely the same as standard Dirac Live except at the upper end of the subwoofer's frequency range where Bass Control is maintaining a much flatter response as well as a much better integration with the speakers at the 80Hz crossover point. Of course, turning off Dirac altogether had a huge impact on the sound for the worse. Imaging was far less focused, and, as with my home theater system, the bass sounded disconnected. With Dirac on, the sound was pretty darn good, especially with Bass Control, but with Dirac turned off, it would take a lot of manual calibration to make it nearly as good.
Confused about what AV Gear to buy or how to set it up? Join our Exclusive Audioholics E-Book Membership Program!
Recent Forum Posts:
PENG posts on March 04, 2021 08:16
If we ignore Amir's narrative part, the measurements do seem very comparable/consistent:
Within +/- 0.5 dB !!
So again, aside from the narrative part, take Amir with a grain of salt, but his measurements so far has been quite consistent to those published by others, including Denon/Marantz, Hometheaterhifi, and now Audioholics.
ASR:
Monoprice HTP-1 Home Theater Processor Review | Audio Science Review (ASR) Forum
45349
Shady's:
I was curious what would happen if I pushed the output, so I raised the level to 4.2 Vrms balanced output or 2.1 Vrms per phase. This was the maximum clean output I could manage before the HTP-1 seemed to fall apart. Performance decreased to a still excellent
-97.5 dB THD+N.
Same for SNR/DR, both reviews measured around 112 dB, not A-weighted.
45350
shadyJ posts on February 28, 2021 18:52
The stuff that ASR dinged the HTP-1 for is stuff that is inconsequential in real-world use for 99.99% of users. There may be some exotic circumstance where the stuff he penalized the HTP-1 could become a problem in certain scenarios, but the vast majority of users will never have to worry, it will perform beautifully.
Erod posts on February 28, 2021 18:35
bombadil, post: 1464503, member: 78088
I may have missed some of this discussion, but I am confused by the fact that Amir gave this unit a headless panther (worst rating) and Audioholics gives it 5 stars. The unit cannot be poor and excellent so I'm guessing there were issues that ASR found important that Audioholics either didn't measure or don't feel are important. If someone cares to explain the different views I'd appreciate it.

Kris Deering gave the HTP-1 a stellar review in Sound & Vision. Always take Amir with a grain of salt.
ryanosaur posts on February 28, 2021 12:04
bombadil, post: 1464512, member: 78088
Thanks. I did review the ASR testing and he did use a lower output and it helped but not much:
"Reducing the level to 2.7 volts which is the max that some other processors/AVRs produce before clipping gave a bit better performance: "
He also found that the unit truncated 24 bit inputs and when a setting was changed truncation was less but the output was still clipped. Jitter was also high:

"Seems like the same shop that supplied the audio subsystem for XMC-1 is behind the same mistaken design in HTP-1. We could forgive the XMC-1 for being old but no such excuse holds for HTP-1. Folks, this is ABCs of design. You verify simple things like whether the device can process 24-bit data. After all, almost all video soundtracks are 24 bits.

EDIT: There is a setting in the menu to override the low level muting. The output clips though. See: https://www.audiosciencereview.com/…me-theater-processor-review.11416/post-326504"

Jitter was another disappointment"

So it seems that there is more to it. I don't want to start an argument, I am neutral in this thing and was hoping the Monolith was a good alternative to the Anthem processors. I was set to get one of the new Anthem processors but of course you know how screwed up that launch has been so just looking at alternatives.

I'm not an owner, have been actively following the HTP-1 owners thread over at that other site, though. I am interested strongly in this device.
With the exception of a very small group of people, almost everybody I have seen comment loves the HTP-1. While there are growing pains with the new device, the HTP-1 seems to be crushing the competition. This includes MANY users who have abandoned Emo and Anthem.
At the end of the day, I'm not a super tech-head so a lot of the stuff Amir comments on is above my pay grade. That said, for pretty much anybody that I've seen comment, there is a lot of disagreement with Amir. Again, to really see the details yourself, you would need to read both those threads in completion to get a feel for the device. Unless you just take the plunge.
bombadil posts on February 28, 2021 11:52
ryanosaur, post: 1464505, member: 86393
short version: Amir insisted that he measure at 4vrms, if I understand correctly, which creates more distortion, however this unit would not be used like that by most (if any!) users, and at 1.6-2 vrms, its distortion ratings are pretty flippin stellar.
Amir's rating is based on his ego rather than common use. Pretty much what it boils down to.

I think if you take the time to research Amir;'s review discussion thread and the HTP-1 Users thread from around that time, you'll find all the info needed!

Keep in mind, he re-measured the Denon 3600? after denon called him on some foolery. He would not devisit the review of the HTP-1, though he may have made an addendum far down in the thread.

Thanks. I did review the ASR testing and he did use a lower output and it helped but not much:
"Reducing the level to 2.7 volts which is the max that some other processors/AVRs produce before clipping gave a bit better performance: "
He also found that the unit truncated 24 bit inputs and when a setting was changed truncation was less but the output was still clipped. Jitter was also high:
"Seems like the same shop that supplied the audio subsystem for XMC-1 is behind the same mistaken design in HTP-1. We could forgive the XMC-1 for being old but no such excuse holds for HTP-1. Folks, this is ABCs of design. You verify simple things like whether the device can process 24-bit data. After all, almost all video soundtracks are 24 bits.
EDIT:
There is a setting in the menu to override the low level muting. The output clips though. See: https://www.audiosciencereview.com/…me-theater-processor-review.11416/post-326504"
Jitter was another disappointment"
So it seems that there is more to it. I don't want to start an argument, I am neutral in this thing and was hoping the Monolith was a good alternative to the Anthem processors. I was set to get one of the new Anthem processors but of course you know how screwed up that launch has been so just looking at alternatives.
Post Reply