Fire Destroys AKM Audio Chip Factory: Can 2020 Get Any Worse?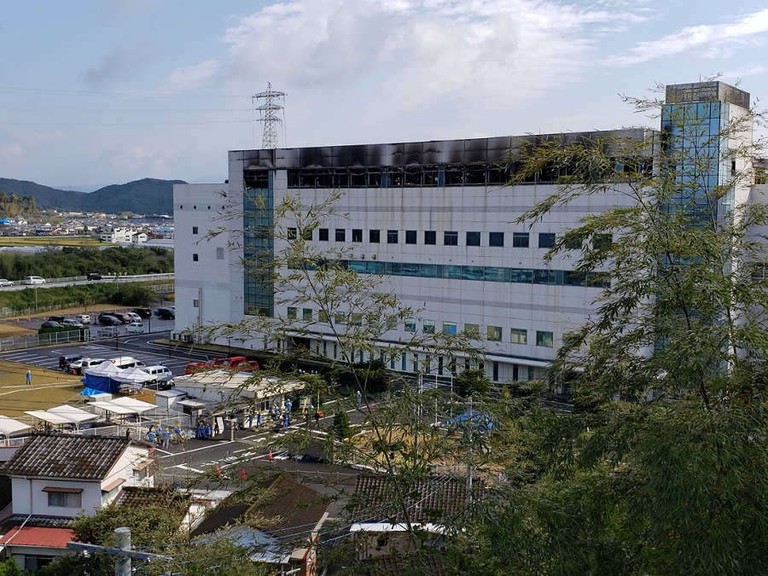 Aftermath of the fire at AKM factory Nobeoka City, Japan.
2020 is playing out like the plot of a strange sci-fi/fantasy story. While plague ravages the lands a cosmic war seems to have broken out between two of the ancient elements that humankind relies on most, for it is a battle of Fire vs. Music. Last February, music's analog realm was devastated by an explosive fire at the Apollo Masters vinyl lacquer plant. Now, fire has struck again in an inferno that raged for three straight days crippling the digital realm by claiming an AKG audio-semiconductor factory. That ancient elemental force we all know as FIRE seems determined to destroy music, in the midst of the year that we all need the calming allure of our favorite music the most. Can 2020 get any worse?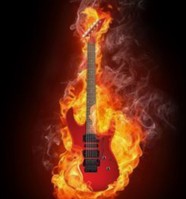 The three-day fire broke out at the semiconductor factory in Nobeoka City, on October 20th. Nobeoka City is a historic industrial town on the coast of Japan's southwestern main island and home to one of Asahi Kasei Microsystem's (AKM) most important chip manufacturing facilities. Many of the audio chips made at that particular facility are made nowhere else for the company and includes AKM's world-renowned DACs and ADCs used in pro-audio and many up-scale consumer audio components. Firefighters battled the factory inferno that raged all the way to October 23rd. The only good news from this story is that all 400 factory employees were safely evacuated as the fire began, no casualties were reported among workers or firefighters. But according to semiconductor new source SemiMedia, the firefighters faced the worst chip factory fire seen in recent memory. On the second straight day of struggle, another fire ignited elsewhere in the building's fifth floor as sections of the walls and roof collapsed into the factory. Meanwhile, the firefighters had to protect themselves against a strong gaseous chemical believed to be hydrogen chloride created by burning electrical cables. But in the closing moments of Day 3, the firefighters had fully extinguished the blaze at around midnight of October 23rd, that's a full 82 hours of war against a determined force of nature.
But sadly, the music could not be saved. SemiMedia says that the fire completely devastated the site and it's likely to remain completely offline for at least six months as AKM rebuilds. Impact on the audio-chip supply chain was immediate as companies using AKM parts began panic buying, increasing orders in an effort not to be caught short in the near future.
The Market Reacts


AKM Group has said that it will try to escalate outsourcing to meet some of the demand for its parts, but there will be shortages in the kinds of specialized audio chips the company made at the plant. The overall IC market won't be affected by the fire, so your basic memory cards, flash memory and processors should remain readily available as you scan the aisles at your local PC shop. However, the fire will likely cause a ripple effect across the audio industry as it directly compromises the supply chain for pro-audio components and certain parts of consumer audio, especially in higher-end equipment. AKM is one of the world's largest suppliers of DACs and ADCs used in everything from recording, sampling and creating music by artists and DJs, recording albums and even creating digital sound-effects and soundtracks in film. The whole industry may begin to see some shortages and price hikes. Only a week ago a pro-audio equipment manufacturer out of Germany, SPL released a new line of monitor controllers featuring AKM semiconductors, the Control One and Marc One, let's hope they've got plenty of stock in the pipeline, because it may be awhile before they're making new units. Many of your favorite consumer audio brands such as Denon, Marantz, Anthem, Onkyo and Monoprice use AKM DAC's in their AV receivers and Processors. These aren't parts that can easily be swapped out for an alternative without a PWB level hardware change. How will these companies adapt with a potential parts shortage looming especially with product shipment delays and shortages due to COVID-19?
On the home audio side of the market, few companies were as concerned about the effects of the fire in Nobeoka City as Sound United with both Marantz and Denon releasing new AV receivers just this year. Senior VP of Product Development from Sound United told Audioholics.
"We were saddened to have heard the news of the fire at the AKM factory in Japan. Having been long-time partners and personal friends with the AKM team in North America and in Japan, we sympathize with AKM as they work through this challenge. The good news is we have the parts we need to ensure our dealer partners have products to sell during the holiday buying season this year, and into 2021. Further, we're in talks with multiple parties to better understand the longer-term effect on our product supply with an eye towards mitigating potential shortages in the future. That picture is coming into clearer view, but still requires much due diligence.
Let's remember that after the 2011 Japanese earthquake there was significant damage to our Shirakawa factory, yet we bounced back from that in short order. We believe that level of resiliency is shared among our friends and colleagues at AKM and we look forward to them being operational in the future."
- Brendon Stead, Senior Vice President of Product Development at Sound United
La Grou is the CEO of Millennia Media, a large professional audio component manufacturer that makes equipment used by both record and film industries. Millennia's equipment is so widely embedded into the industries that make sound that the company's unofficial motto says:
"Millennia has likely played a role in some of the music you've listened to today."
Speaking about the devastation to his company's supply chain in the wake of the AKG fire, Grou recently said:
"Every AKM part we use—ADCs, DACs, ASRCs and Receivers—is made exclusively in the Nobeoka plant… Of course, all AKM audio parts immediately disappeared from front-line distributors [such as] Digikey, Mouser, etc. And now the after-market brokers are selling AKM parts at horrific mark-ups. We saw one $5 AKM part being offered at $110 each."
- La Grou, CEO of Millennia Media
Get Em While They're Hot! (no pun intended)
One niche in the consumer audio industry that will be particularly hard-hit by a temporary loss of AKM parts is the one that serves high-end headphone enthusiasts. Many of that community's favorite DAC/Amps and DAPs for both stationary in-home and portable hi-fi headphone listening are likely to feel shortages in coming months. Beloved brands like Schiit, JDS Labs, SMSL, Topping, Monoprice and Fiio are all well-known for making excellent products that use AKM chips to bring high-end sound to headphones at a variety of price ranges. Monolith is well-known among headphone aficionados for its accessories, like the legendary Monolith portable headphone DAC/Amp and is already warning customers about possible shipping delays for select products that feature AKM DACs. So, if you've been thinking about buying any audio products that are liable to carry AKM's DACs, you'd better check for available stock and act fast, it could be awhile before we see them return to stores.
Damn you, FIRE! Okay, I'll admit it, I love that flame gives us grilled meat and I need its warmth in the winter, but I love music and fine audio too. Here's hoping that this cosmic war between the forces of fire and music can find peace, along with an end to this plague—the sooner the better!
Recent Forum Posts:
Matthew J Poes posts on November 26, 2020 21:58
Gmoney, post: 1437464, member: 89454
So if I'm reading this right, this will cause a shortage of AVR and other audio gear?

Yes.
the major manufacturers will be ok for at least one more quarter. It all depends on how much they had on hand and if they rely on AKM parts. The top of the line velvet series will be most impacted since they were already more limited production. A company like Yamaha or Sound United has big buying power (and I don't believe Yamaha uses any AKM parts) and might be able to secure more parts at cheap enough prices to continue a while longer. Small companies are already pulling products. A lot is going out of stock as we speak.
so yes, electronics using AKM parts will become a bit harder to get. For those of you who like ESS DACs, I would expect a lot of new products to rely on those. We may also see more products using TI BB, AD, and CS chips, which hasn't been as popular lately. It's not such a bad thing, CS and AD have some new lines that are really nice. Even TI has introduced some new chips that are really good. They don't have as wide a range, but enough to be interesting. The biggest holdup was that they weren't using precision trimmers as precise as AKM in as wide a range of products. I think they are starting to do so. I just don't know how price competitive those are. The newest TI BB chips are very expensive, only something I would expect in audiophile products. Think $5 a chip vs $2 for a similar AKM.
Gmoney posts on November 26, 2020 17:34
So if I'm reading this right, this will cause a shortage of AVR and other audio gear?
Matthew J Poes posts on November 26, 2020 15:59
Erod, post: 1434011, member: 89019
Part of the slow response on this thread regarding this is that it happened a couple of weeks ago.

I wonder how badly this will impact the Anthem rollout. Perhaps they have a dozens boxes of AKM DACs, but maybe not. I suspect they may be limited in producing the AVM 90 in large numbers right now.

I thought there was supposed to be a youtube video about this last night from Audioholics?

we posted this late because the initial word from AKM wasn't all that newsworthy. When I first got word that this happened, we were told the fire wasn't all that bad. They told manufacturers that they would have chips Available within a few months. That production would be shifted to other facilities. Sucks! But is it news worthy?
Then I was contacted by a manufacturer who told me that AKM just fessed up to how bad the damage really was. His words to me was that AKM lied initially. Bold words to use. He told me that they first corrected the event as suggesting 6 months to get back up and running. Eventually it was clarified as 12 months to begin supplying DACS, ADCS, and other related chipsets. I asked just how bad this would be. He told me that they had enough parts for a quarter and that's it. All née product development would have to be canceled or shelved. I asked why they would cancel? Because it wouldn't make sense to design a product based on today's chips if that may not be what is available in a year.
so I dug a bit deeper, asked more contacts. What I found was manufacturers all telling me they had supply for about 1-2 quarters on existing products. All indicated that new products would have to be put on hold or canceled. Many expected to redesign new products around ESS Sabre DACs. Not drop in replacements. Three different companies told me that AKM told them 12 months to get up and running but 18 months to hit sufficient quantity. No word on if the DACS today are what they will make. They may choose to use these 18 months to develop a new line. It would make sense. Especially since the entire manufacturing line And specialized equipment was destroyed.
I asked an engineer friend why AKM couldn't produce these audio related chips Elsewhere. He told me they use very special custom made precision laser trimmers. Required to achieve today's low noise and distortion and not needed for many other chips. The only place AKM has them is this factory and so no other factory can make the chips. The laser trimmers are custom made so they can't be quickly replaced. Worse yet, there Are still backlog and shortages of parts needed to make the laser trimmers, so the exact delay is unknown.
small manufacturers willing to be more open and honest are now reporting on their websites that they don't expect to begin manufacturing AKM based products for 18 months. That's bad. For most companies that Is most of an entire lifecycle.
so while some have suggested this is no big deal and old news, it's important to understand that the news 3-4 weeks ago was wrong. I can't say it was a lie, maybe AKM truly Didn't know how bad it would be. Maybe it was a lie? Maybe they didn't want to spook the industry too much. In any case, the reality Changed 2 weeks ago when AKM finally came clean and told manufacturers to:
Expect no news chips for 12-18 months

Begin designing new products around competitors chips

Expect uncertainty on what chips will be available in 12-18 montbs

That is a pretty substantial shift and makes for a pretty serious problem.
we probably should have made clear that the news shifted, but we were rushing to get this out. What we were being told was pretty outlandish, that AKM had lied, and so there was a desire to simply tell the facts we know to be true.
I suspect a lot of folks don't really grasp just how big this is. AKM is by far the largest manufacturer of and most widely used audio semiconductor company. In the pro audio world, their ADC's are the industry standard used by nearly everyone. The TI Burrbrown chips are old and not widely used on current designs. ESS stopped making their ADC. AKM is basically it.
their DAC chips are used by most companies today as well. ESS is used by some, but on a limited number of products. The AKM is far more widely used by Denon, Marantz, Onkyo, Pioneer, and others. As I understand it, an ESS chip won't drop in because the designs are too different. It means the products using AKM will need to be substantially redesigned to use ESS. On top of that, some don't like using ESS and feel the sound is worse.
then you have their volume chips, DSP chips, etc. Analog Devices is more widely used but AKM released new chipsets that were being built into new platforms and now won't make it to market. The AD chips are old and problematic, as are the TI chips. Im sure the AD will remain ubiquitous because of this. I really had hoped that AKM might have forced the competition to upgrade their chips.
lovinthehd posts on November 20, 2020 15:22
Big-Q, post: 1435179, member: 91457
It is only a concern if you are in the market for new gear. I am not and will not be for a couple of years. The fire at the record/vinyl production plant was more of a concern for me and my LP buying.

Could matter to the guys producing the lps even if you don't use their dacs in final playback…..
Big-Q posts on November 20, 2020 15:12
It is only a concern if you are in the market for new gear. I am not and will not be for a couple of years. The fire at the record/vinyl production plant was more of a concern for me and my LP buying.
Post Reply