Yamaha AVENTAGE 5200 Series 11CH Processor/Amplifier Review
Yamaha AVENTAGE 5200 Series 11CH Processor/Amplifier Review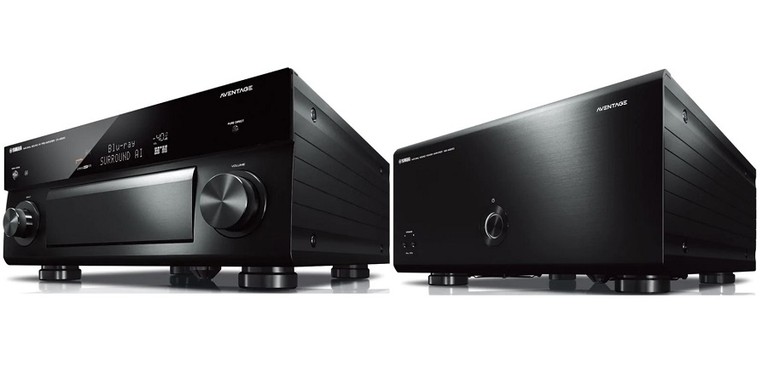 Product Name: CX-A5200 and MX-A5200 11CH Processor & Amplifier
Manufacturer: Yamaha
Performance Rating:
Value Rating:
Review Date: January 10, 2020 09:00
MSRP: $ 2,699 CX-A5200, $2,899 MX-A5200
CX-A5200 Preamplifier
DTS:X: Yes

Auro-3D: No

YPAO Multi-point Measurement: Yes with R.S.C. (Reflected Sound Control), 3D, 64-bit high precision EQ calculation and angle measurement

DA Converter: ESS 384 kHz / 32-bit SABRE PRO Premier DAC™ ES9026PRO x 2 (for all channels incl. presence speakers)

4K Ultra HD Pass-through and Upscaling: Yes (4K / 60p, 4:4:4)

HDMI eARC: Yes (via future firmware update)

HDMI Upscaling: Yes (analog to HDMI / HDMI to HDMI)

HDMI Input/Output: 7 / 3 (HDCP2.2, HDR10 / Dolby Vision / HLG and BT.2020 compatible)

Dimensions (W x H x D): 17-1/8" x 7-1/2" x 18-5/8"

Weight: 33.5 lbs.
MX-A5200 Amplifier
Channels: 11
Rated Output Power (20Hz-20kHz, 2ch driven): 170 W (6 ohm, 0.06% THD), 150 W (8 ohm, 0.06% THD)
Rated Output Power (20Hz-20kHz, 2ch driven, bridged connection): 200 W (8 ohm, 0.06% THD)
Power Consumption: 650 watts
Dimensions (W x H x D): 17-1/8" x 8-1/4" x 18-1/8"
Weight: 58.2 lbs.
Pros
Excellent sound quality for every mode of operation
Tons of configuration options
MusicCast is a powerful tool to easily manage your music streaming needs
Cons
Non SOTA performance for Front L/R XLR outputs of CX-A5200
YPAO still needs work to equal rivals
Yamaha AVENTAGE 5200 Series Introduction
Yamaha is on their 3rd generation of separates in the Aventage line and we got our hands on their new CX-A5200 11-channel AV Processor and MX-A5200 11-channel amplifier. With their predecessors in our Audioholics Showcase home rack for the last year, we have a great reference to see just how much Yamaha has refined this package with their latest technological advancements. Are the 5200 series models a worthy successor to those they replace? Read on to find out.
Yamaha CX-A5200 & MX-A5200 Unboxing YouTube Video

Build Quality and Features
The build quality of Yamaha Aventage products is excellent. Flip the top off the CX-A5200 and you will notice their H-beam construction to add rigidity to the chassis, a nice-sized toroidal power supply and a clean layout of the circuit boards with separated digital and analog sections. Yamaha claims to have made some significant improvements in build quality with the 5200 series over its predecessor models such as a thicker plate under the transformers to reduce mechanical vibrations.

The MX-A5200 offers similarly impressive build quality with ample dual row heatsinks to keep ALL eleven 150-watt channels running cool. Like the MX-A5000, the MX-A5200 is has a symmetrical power amplifier layout, with left and right sides physically and electrically isolated to improve channel separation. The MX-A5200 features a Bridge Tied Load (BTL) option to boost output to the front-left and front-right channels to enhance fidelity and volume. The large toroidal power supply stands proud with two soda can sized power supply capacitors.

The CX-A5200 upgraded the digital section with two ESS SABRE PRO Premier DACs (ES9026 PRO), delivering 32-bit performance and balanced XLR preamp-level inputs and outputs.  Balanced XLR connections are available to connect the CX-A5200 to the MX-A5200 amplifier and source components such as high-end SACD and CD players.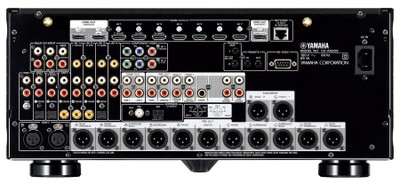 Yamaha CX-A5200 Backpanel View
The CX-A5200 backpanel looks virtually indistinguishable from this model's predecessor. The only major differences are the inclusion of an HDMI output for another zone yielding a total of 3 HDMI outputs and one less component video input for a total of 2 on the CX-A5200 model.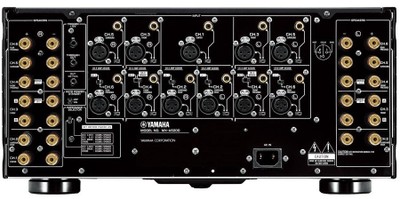 Yamaha MX-A5200 Backpanel View
To the untrained eye the MX-A5200 looks identical to the older MX-A5000 model it replaces. However, there is a difference. The MX-A5200 has a bridge mode option for the front left and right channels to increase available output power to those channels while reducing the amplifier channel count from 11 to 9.
Note: You see that impedance selector switch? Leave it in the default 8-ohm position and never look at it, touch it or think about it again. The low setting robs your speakers of power by derating the power so this amp can get a 4-ohm safe rating from UL by meeting their heat dissipation requirements. See the cautionary note in the bench test results for more information.
Menu System & Set Up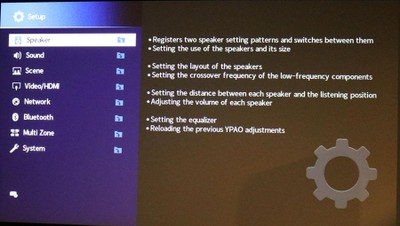 Yamaha CX-A5200 OSD
Yamaha refreshed their OSD for the 5200 series and I must say it's well done. Hitting the gear icon on the remote control pulls up the above screen where you can configure your bass management and multi-zone assignments, make video adjustments and other system options including networking and Bluetooth streaming.
Yamaha CX-A5200 Speaker Configuration
Like previous models, the CX-A5200 allows for independent crossover settings per speaker group. Oddly if you set the main speakers to "small", the CX-A5200 still lets you configure other speakers to "large". I personally feel if the main speakers are "small" then ALL other speakers in the system should default to "small" as well. This will ensure the user didn't accidentally forget to set up the bass management correctly for the rest of their speaker assignments. Yamaha made a big deal out of me running YPAO to get the correct angle measurements essential for AI to work optimally. I honestly don't really know if it made a difference and find it peculiar that you can manually set every speaker parameter such as level, delay, bass management but you can't do that for angle. I couldn't even find where the angle settings were saved in the web editor app.

I have to give props to YPAO as it correctly identified one of my height channels as being out of phase. If I didn't run auto setup, I may have missed this wiring mistake during installation. YPAO did identify my front speakers out of phase which is common in some 3-way speaker designs that invert the polarity of a HF driver for proper summation. In this case, I ignored the warning message and proceeded.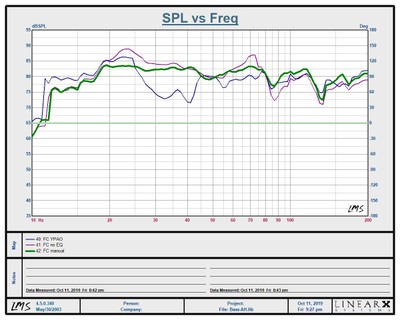 Yamaha CX-A5200 Bass Calibration Results
Blue - with YPAO, Purple - No EQ, Green - manual EQ
For comparative purposes, I measured the bass response of the front center seat of my main speakers plus subs with and without YPAO vs my manual EQ settings. As you can see YPAO caused a significant suckout in the 30-40Hz range that was audible as a thinning of bass response compared to YPAO being disabled. The best bass was achieved with my manual EQ'ing using the web setup feature. It takes time to manually calculate, tweak, and measure but the efforts are well worth it. With Yamaha's manual PEQ and my 5-subwoofer system, I was able to achieve bass response ± 6dB from 12Hz to 100Hz for all 6 seats across two rows. If Vader were an audiophile, I'm sure he'd say "Impressive. Most impressive!" 
Yamaha CX-A5200 Manual PEQ (left pic: OSD, right pic: web editor)

The left pic shows a graphical representation of the manual PEQ filters I engaged for my large front speakers while the right pic shows the actual filter settings I entered into the web interface. All you need to do is enter the processor's IP address/setup (ie. 192.168.1.64/setup) into your PC browser configured on the same network and you're good to tweak. What I really liked about this setup was that I could manually adjust filter settings on the fly each time I pulled a new measurement, all from the comforts of my office chair located in a different room from my theater. Yamaha provides 7 fully adjustable bands from -20dB to +6dB for each channel. They give you finely adjustable predetermined filter settings, but in the future I'd like to see the ability to enter any frequency of your choosing for even more flexibility.
Editorial Note about Filter Settings:
These predeterminated filter settings are actually the center frequencies of a common 31-band graphical equalizer, at 1/3 octave resolution.
Speaker Set-Up & Bass Management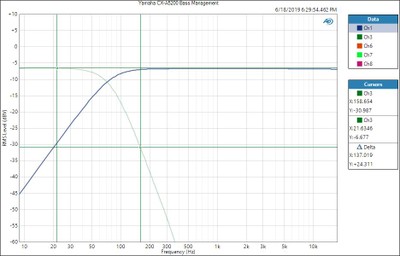 Yamaha CX-A5200 Frequency Response with Bass Management Engaged
The Yamaha CX-A5200 exhibited perfect 24dB/octave LPF for the sub out and 12dB/octave HPF for the bass-managed speakers. Fc tracked correctly so if I set the crossover for 80Hz, I measured its roll-off at 80Hz.
Editorial Note About Yamaha Bass Management:


There is no independent crossover setting for the subwoofer so it defaults to whatever you set the main channels at even if you set them large afterwards for 2CH music listening. If you want the sub to activate for 2CH when the mains are set to large, you will have to enable the "extra bass" feature. There is no LFE crossover setting but Yamaha defaults this to 120Hz for anyone wondering. If you set the main L/R channels to small, you can still set other channels large which is odd logic, but Yamaha has carried this through on predecessor products as well.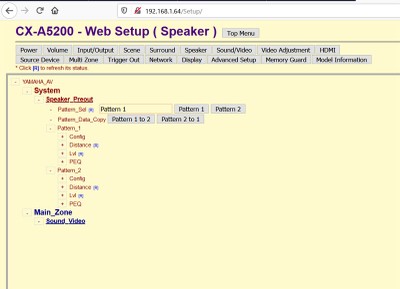 Yamaha "Patterns" Settings Accessible via Web Editor

It is possible to further customize for bass management settings for 2CH and multi-channel independently by utilizing their "Patterns" option found in their web browser setup. You can have a completely different speaker setup stored for Pattern 1 and Pattern 2 which can then also be assinged to different scenes and inputs. This is particularly useful if you decide you want to listen to 2CH music with fullrange speakers and no subwoofer or if you want to have two different seating locations with optimized delays and trims.

Yamaha Surround:AI
Yamaha makes a big deal of their new Surround:AI with their latest xx80 series AV receivers and 5200 series Aventage separates. The "AI" stands for Artificial Intelligence and Yamaha claims it analyzes and optimizes the DSP parameters for each scene of a movie five times per second. They claim their system instantaneously analyzes each scene in real time, focusing on distinct sound elements (such as dialogue, background music, ambient sounds and sound effects), and automatically optimizes the overall surround effect for your home theater. Yamaha goes on to tout that their Surround:AI system enhances the enveloping immersion of the soundtrack while also anchoring the center channel dialogue. 

I put this system to the test initially while listening to two-channel music and the results were less than stellar. I noted a decrease in bass response and an overall collapsing of the soundstage for my front speakers. Switching to the Dolby Surround Upmixer (DSU) provided much better sonic results while also preserving the bass levels.
Bass Response at Listening Position
Blue: 2CH; Purple: DSU; Green: AI
As you can see in the above graph, with the Surround:AI engaged, the bass levels dropped about 6dB from the regular two-channel levels whereas with DSU engaged, the levels experienced a slight elevation in bass.

I sent this to Yamaha and they informed me that their Surround:AI system should only be engaged for discrete multi-channel audio signals, specifically for movies and sporting events, not music. Oddly if you look at the audio information displayed via the OSD once Surround:AI is engaged, it reads "Neo:6 Cinema" for two-channel sources so it's no wonder why it sounds bad for music sources.  However, when Surround:AI is engaged for multi-channel sources, it reads "Surround:AI" and even shows a graphical readout of the location the audio information is being steered around the immersive surround field. I didn't see this mentioned in Yamaha's literature about the adjustability or suitability for Surround:AI, but going forward, I reserved my listening tests with Surround:AI engaged to just multi-channel movie program material. 
4K HDMI Video Compatibility
The CX-A5200 is fully HDMI 2.0 and HDCP 2.3 compliant which should cover all of your UHD video needs, at least currently. However, I did run into an HDMI sync issue on my 4K sources that is worth mentioning as I didn't have this problem with the CX-A5100 on the same sources, using the same HDMI cables. Both my Oppo UDP-205 and XBOX One S experienced intermittent connections and when they did connect, the picture was extremely grainy along with constant audio dropouts. Lowering the video inputs to HDCP 1.4 did NOT resolve this problem.

To resolve this problem, I had to switch the HDMI 4K Signal Format in the advanced settings from the default Mode 1 to Mode 2. If you experience a similar issue for 4K signals, make sure you alter this setting before mistakenly thinking there's a problem with the product like I initially did.

Yamaha RAV571 Remote Control
Remote Control
I really liked the backlit silver remote of the CX-A5100 with flip down access to more configuration options. I must admit when I first glanced at the slimmer black RAV571 remote for the CX-A5200 I thought it was a cost cutting measure by Yamaha since most manufacturers place less emphasis on fancy remotes these days as they assume the end user will be using a 3rd party universal remote or control system. After spending some time using it, I was quite fond of the motion-activated backlit feature and the intuitive button layout that was easy to navigate even in a dark theater room. The buttons had the retro look and feel of the old Intellivision joysticks; perhaps that nostalgia also scored some points with me too.  Unlike the remote for the CX-A5100, this remote does NOT have a small LCD display window for easy identification of what source you have selected or remote function you are using but strangely I didn't really miss it. That being said, you will still ultimately want to opt for a good universal remote or control system but keep the RAV571 handy any time you wish to dig into the advanced menus for setup or tweaking.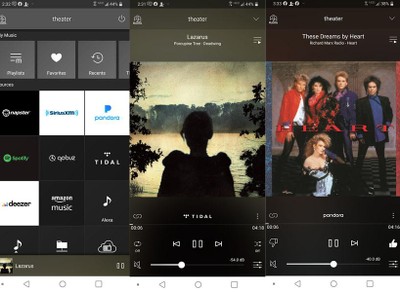 Yamaha MusicCast App
Yamaha MusicCast App
Yamaha has been incorporating a very powerful music management system into their AVENTAGE products for quite awhile now and they seem to keep refining it with each new generation. Although there is no hot key for MusicCast on the handheld remote, you can access this feature via a downloadable App for your iPhone or Android. Once set up, the CX-A5200 acts as a whole-home audio solution giving you the ability to push audio from Tidal, Qobuz, Pandora, Spotify, Amazon Music, a network drive, Bluetooth, AirPlay, etc. all from the comforts of your smart device to every zone of your home without ever having to turn on your display or projector.  Yamaha also has an IP based controller App allowing full function of the CX-A5200 from anywhere in your home as long as you're smartphone or tablet is on the same network. Amazon Alexa Skill is also compatible with voice functionality allowing you to turn the CX-A5200 on/off and some basic control for MusicCAST Skill if you're invested in that ecosystem.
Listening Tests
For the listening tests I installed the CX-A5200 and MX-A5200 into the Audioholics Showcase Home Theater system. The MX-A5200 bridged channels were connected to my side surrounds while the rest of the amplifiers powered all but my main front left/right speakers which were instead powered by the Anthem STR two-channel amplifier. Cables were all Blue Jeans interconnects and speaker cables except for the front LCR's which were wired with Kimber 8TC.

My listening tests started out with two-channel music upmixed with the DSU with center spread turned on to preserve the stereo imaging of the front left/right channels. I recommend always engaging center spread when playing back two-channel music but then turning it off when upmixing two-channel TV program material to emphasize the center channel more for vocals.

Tidal: Various Artists Upmixed with DSU
I've really been enjoying streaming Tidal with the Dolby Atmos upmixer.
I was enthralled with the dynamics and clean sound even when driving the 5200 series to its limits.
I started out with George Benson "Give me the Night" and noted how the Yamaha CX-A5200 projected great ambience of the backing vocals through my surround system with Benson's guitar anchored towards the front of the room. What a groove he had going on this song. "The Ghetto" had my theater room rockin'. Bass was sublime pumping through my multi-sub system properly calibrated and EQ'ed with the manual PEQ function. The MX-A5200 had no problem pumping concert level sound into my 6,000 cubic foot theater room. Listening to George Benson's tasty riffs as he's simultaneously vocalizing it is just surreal. I know of no other guitarist that does this with such mastery and it's no wonder that today's greats like Pat Metheny hold him in such high regard.

To really test the abilities of this Yamaha combo, I played the song "When I was Older" by Billie Eilish. She is literally an overnight success, being nominated for 6 Grammy's in 2019 at the age 17 years old. This song really sounds fabulous upmixed to Dolby Surround. You could hear a ticking clock in the right-side speaker with layers of ambient sounds immersing you. There is a prodigious amount of bass that digs deep testing the limits of your subwoofers. I did NOT use the volume sparingly on this track and just cut loose. I was enthralled with the dynamics and clean sound even when driving this system to its limits.


Streaming music from my network drive, I put on Lyle Lovett - I Love Everybody. The Yamaha combo had me appreciating the vocals on the "Skinny Legs" with the bass notes sounding tight and distinct with manual EQ engaged. The snare drums in "Penguins" were vibrant with a great snap to them. I loved the added reverb I was hearing with the DSU engaged and the trumpets sounded clear and crisp. Lyle's vocals when he was singing "penguins are so sensitive" were anchored dead center even though I had the center spread feature turned on to preserve the stereo imaging without forcing center pan that the DSU does on two-channel sources with center spread turned off.

The Yamaha combo maintained good composure overall. In fact, I noted that I was enjoying upmixed two-channel music more on the 5200 series separates from Yamaha than the 5100 series it replaces. I can't really attest to why this was the case, but I found myself doing most of my two-channel listening with the DSU engaged as everything just sounded right about it. Perhaps the upgraded DACs of the CX-A5200 over the CX-A5100 are partly responsible for this, or I'm deluding myself, or a combination of both?

UHD Blu-ray: Avengers - End Game
Avengers Endgame was perhaps the most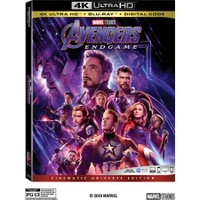 anticipated movie of 2019 and it didn't disappoint. I first saw this at the local theater with my family and enjoyed it almost as much as the first Avengers movie. However, I wasn't blown away by the sound mostly due to the mediocre system at my local cinema. I was eager to get the Ultra HD Blu-ray fired up in my reference system. The Yamaha CX-A5200 showed off its superb Atmos decoding capabilities with this movie and the MX-A5200 provided theatrical level power to my speaker system. I spent a good portion of my listening tests comparing straight 7.1.4 Atmos with and without Surround:AI engaged and was somewhat disappointed that the audible differences were minor at best. For normal dialogue scenes, I could NOT discern any differences at all toggling Surround:AI on/off. However, there was a scene in chapter 7 "Assembling Avengers" where I felt the music was more enveloping with Surround:AI engaged. I was honestly expecting to hear a bigger differences with action scenes during surround pans but they were subtle or not perceptual in A/B comparisons. I guess I was relieved that Surround:AI didn't sound gimmicky like most of Yamaha's DSP modes, and the bass was not negatively audibly impacted with Surround:AI engaged for multi-channel mixes like it was for two-channel music sources.

It wasn't until I tried out a few 5.1 Dolby Digital surround tracks on FIOS that I noted more obvious audible effects of the Surround:AI engaged. It seemed the subtle sounds were more pronounced with Surround:AI engaged over loud action scenes with a lot going on in the soundtrack that drowned out any possible audible benefits. I particularly noticed how the nature sounds in the movie Electra, starring Jennifer Garner, were more fluidic and detailed with Surround:AI engaged. From the crackle of the fireplace where Electra was having dinner with a family on Christmas day to the rain coming down on their cabin, everything just seemed to pop a bit more with detail and vibrancy with Surround:AI engaged. After a few dozen comparisons, I felt confident just leaving Surround:AI engaged and enjoying the movie.
Confused about what AV Gear to buy or how to set it up? Join our Exclusive Audioholics E-Book Membership Program!
Recent Forum Posts:
AcuDefTechGuy posts on January 28, 2020 17:50
red_5ive, post: 1365840, member: 42081
I won't argue that logic. The 5200 will be ready for pick up at my dealer on Feb 6th.

Congrats on your CX-A5200. I believe you will be extremely happy with it as I am with my CX-A5100.
Feels good to be part of the Few, the Proud, the Audio Separatists.
I think AVR sound great and there is absolutely nothing wrong with just using AVR. But I've been using separates since the start of my audio hobby.
red_5ive posts on January 28, 2020 12:19
AcuDefTechGuy, post: 1364914, member: 26997
Some of us gotta have separates NO MATTER WHAT!

Going separates makes sense for you because you already have the external amp, which just begs for a pre-pro.

I won't argue that logic. The 5200 will be ready for pick up at my dealer on Feb 6th.
AcuDefTechGuy posts on January 24, 2020 14:51
red_5ive, post: 1364910, member: 42081
I guess that's the magic word right there. It definitely looks like this will be a preference thing for me, and for sure it would get rid of my chronic awareness of the internal amps always being on. It'd be nice to get back to a dedicated pre-pro, been almost 10 years since my last one.

Thanks, folks. I'll holler back when I make the decision, but if anyone else has any input I'm all ears… or eyes, rather.

Some of us gotta have separates NO MATTER WHAT!
Going separates makes sense for you because you already have the external amp, which just begs for a pre-pro.
red_5ive posts on January 24, 2020 14:45
everettT, post: 1364904, member: 78951
Most likely splitting hairs. The 5100/200 has the better specs but whether your ears can discern the difference is impossible to tell.

The main reason for me would be longevity. I use a denon x3500 for a preamp on my 2 ch setup, and have zero complaints.

Yeah, I seriously doubt I'd be able to tell the difference. On that note, I had an RX-
V
2085 (consumer version of the RX-A2080) temporarily in my main room (now in the mancave) before getting the A3080, and I can't tell the difference in sound using the same outboard amps. They both sound equally excellent as a preamp to my ears. I guess the jury's no longer out on the 5th foot (j/k).
So by longevity you mean the processor, right?
AcuDefTechGuy, post: 1364905, member: 26997
The build quality may favor the CX-A5100 and 5200, but I don't think there is a difference in sound quality.

It's mainly just a difference in preference.

For my main system, I prefer using "separates". For all other systems, I use AVRs, which to me sound as awesome at the end of the day.

I guess that's the magic word right there. It definitely looks like this will be a preference thing for me, and for sure it would get rid of my chronic awareness of the internal amps always being on. It'd be nice to get back to a dedicated pre-pro, been almost 10 years since my last one.
Thanks, folks. I'll holler back when I make the decision, but if anyone else has any input I'm all ears… or eyes, rather.
AcuDefTechGuy posts on January 24, 2020 14:23
red_5ive, post: 1364900, member: 42081
Cost aside, can anyone give me a compelling reason to "upgrade" from an RX-A3080 (which I use as a preamp) to the CX-A5200? One of the reasons I''d prefer the 5200 is not having the power consumption overhead of the internal amps of an AVR vs a dedicated pre-pro, assuming that the 3080 itself does not shut off the internal amps when an outboard amp is used (I'm not sure if this is the case or not).

I'm not as critical with music as I once was, but that said the 3080 sounds EXCELLENT to my ears in terms of overall sound quality with both music and movies. However, I swear every time I fire up the 3080, I always think about the unnecessary power consumpton of the internal amps, to the point that it's probably chronic, and moreso when I'm listening to 2-channel music since I have a dedicated 2-channel amp for the mains. I realize this might be a silly reason to upgrade, but either way I've always preferred a dedicated processor anyway. But if there's a noticeable difference in audio quality between the 3080 as a preamp and the 5200, then that'd definitely push me toward the 5200.

Thoughts?

The build quality may favor the CX-A5100 and 5200, but I don't think there is a difference in sound quality.
It's mainly just a difference in preference.
For my main system, I prefer using "separates". For all other systems, I use AVRs, which to me sound as awesome at the end of the day.
Post Reply