Classe Delta SSP-800 AV Surround Sound Preamp/Processor Review
Classe Delta SSP-800 AV Surround Sound Preamp/Processor Review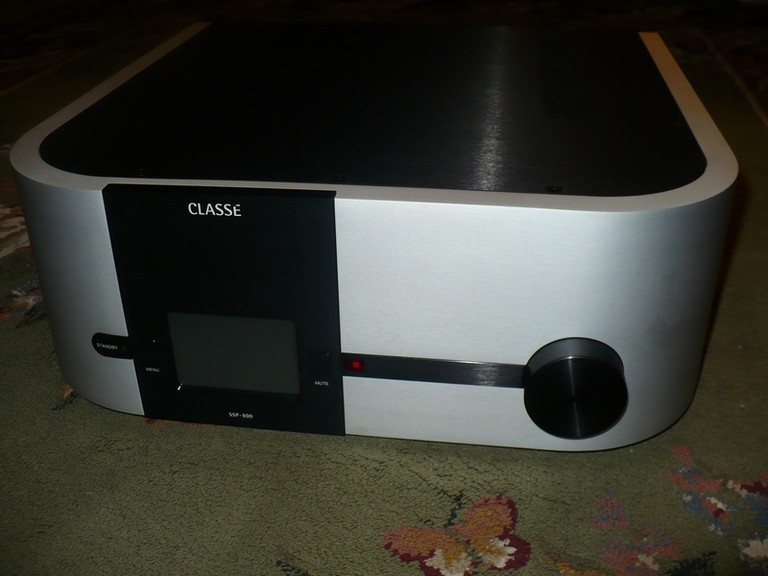 Connectivity
20 programmable source settings that can be configured with any available inputs:
HDMI: 5 in; 2 out
Component Video: 2 in; 1 out
Composite Video: 2 in
Digital (Coax/Optical): 4/4 in; 1/1 out
Analog (RCA/XLR): 7.1/na in, 2/1 stereo in; 7.1 + 2 aux out/7.1 + 2 aux out
DC trigger: 2 out
IR: 1 in; 1 out
CAN Bus: 1 in; 1 out
USB: 1
RS-232: 1
Video measurements
Input impedance: 75 Ω composite/component
Output impedance: 75 Ω componentd
HDMI: v1.4a supporting 2D/3D video with resolutions up to 1080p @ 24/50/60 fps, HDMI Ethernet Channel (HEC), Audio Return Channel (ARC), Deep Color and x.v.Color(xvYCC)
Audio measurements
Maximum Output (Vrms): 8/15 (RCA/XLR)

Maximum Input (Vrms): 2/6 (RCA via DSP/Bypass); 4/12 (XLR via DSP/Bypass)
Output impedance (Ω): 56
Input impedance (kΩ): 100
THD: 0.001% digital/bypassed analog source; 0.002% processed analog source
Frequency response: 20Hz–200kHz <0.1dB stereo analog bypass; 20Hz–20kHz <0.2dB all other sources
Signal to Noise Ratio (THD+N @ 10Vrms input, unweighted): 102dB bypassed analog source; 100dB processed analog source; 105dB digital source
Channel Separation: >100dB
Crosstalk (any input to any output): >-120dB @ 1kHz
Gain Range: -100dB to +14dB
Audio Formats
Dolby Digital: Digital 5.1, Surround EX, Digital Plus, TrueHD
DTS: ES discrete, 3/2/1, 96/24, High Resolution Audio, Master Audio
PCM: 24bit/32-192kHz
Post Processing Modes
Dolby Pro Logic IIx
DTS-ES Matrix, Neo:6
Music Plus, Movie Plus
Stereo Down Mix
Mono, Mono plus, Party
Video Transcoding
Composite to Component and HDMI
Component (up to 720p-1080i) to Component and HDMI
HDMI to HDMI
Power Consumption
Power Consumption: 75W
Mains Voltage: fixed per country
Over/under voltage protection circuitry
Dimensions (SSP-800 / CT-SSP)
Width (including faceplate): 17.5" (445mm) / 19" (482mm)
Depth (excluding connectors): 16.5" (419mm) / 14.91" (378.71mm)
Height: 6.75" (172mm) / 6.97" (177mm)
Shipping weight: 38 lbs (17 kg) / 49 lbs (22 kg)
Net weight: 29 lbs (13 kg) / 33 lbs (15 kg)
Pros
Statement level audio performance for two and multichannel audio
Unique setup features to switch between different numbers of channels
History of upgrades made available by Classe to keep the investment relevant
Cons
A heavy burden on the wallet that few will be able to carry
Rudimentary video processing features and no up scaling
Some slight fit up issues but on an unusual case geometry
Classe SSP-800 Introduction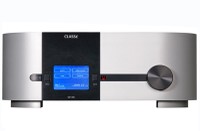 My familiarity with Classe Audio dates back to college where they were carried at my hi-fi shop of choice back in those days.  The impression that I had, at the time, was of high quality components that straddled the space between high value, bang for the buck hi-fi gear and the gear that soared into the price stratosphere.  In the years since, Classe, along with Rotel, was purchased by Bowers and Wilkins and the new owners have subsequently pushed the company closer to stratosphere while filling the resulting gap with Rotel's offerings.
In the end, all Audioholics lust for the gear that hovers in the stratosphere—even if being of more modest means—limit the ability to obtain such gear.  So when Gene asked, I was more than happy to take him up on the review and have a closer look at just what Classe has been up to more recently.
In the intervening years, multi-channel audio has gone from its infancy to becoming the dominant player in home audio.  Every high-end audio company that wants to show it is still worth its salt to the audiophile crowd still produces stereo gear.  But, they also produce multi-channel gear now as well.  And in true high-end fashion, these companies tend to change more slowly and maintain the minimalist mantra focused on sound quality in the face of the mass-market rush for every bell, whistle, and blinking light that comes along.
Playing the part, the Delta series SSP-800 Surround Sound Processor, originally released in 2008, was Classe's first foray into the world of HDMI audio and video several years after hitting the mass market with advent of HD-DVD and Blu-Ray.  During the intervening years, the original SSP-800 that was limited to only decoding LPCM audio in the early days has been updated to include Dolby TrueHD and DTS Master Audio and then a full implementation of HDMI v1.4, while maintaining its core focus on the output of uncompromised analog sound quality. 
The SSP-800 is a statement preamplifier/processor that looks to strike a balance between embracing many of the newest technologies while maintaining enough minimalist focus on two channel audio purity to satisfy the expectations of the target clientele.

Confused about what AV Gear to buy or how to set it up? Join our Exclusive Audioholics E-Book Membership Program!
Recent Forum Posts:
surveyor posts on August 24, 2013 06:10
And you can obtain this for just $327.59 a pound!
surveyor, post: 983921
Classe- waste of money, IMO!
surveyor posts on August 22, 2013 12:25
3db, post: 983902
Nice shiny box….
Classe- waste of money, IMO!
3db posts on August 22, 2013 10:46
Nice shiny box….
Post Reply