New AudioControl AV Processors and Receivers up to 16CH Processing & Auro 3D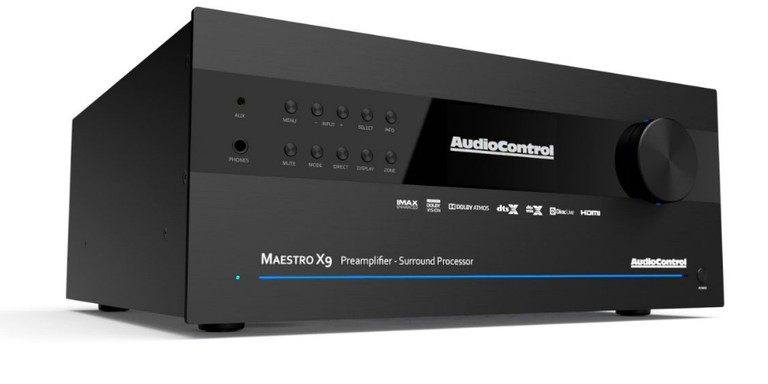 AudioControl Maestro X9 AV Processor
Summary
Product Name:

Maestro and Concert Series

Manufacturer:

AudioControl

Review Date:

September 19, 2019 09:00

MSRP: $9,600 X9; $6,600 X7; $6,600 XR-8; $4,600 XR-6; $3,600 XR-4
First Impression:

Pretty Cool
Executive Overview
AudioControl, the Seattle-based maker of high-performance home theater electronics, has announced two new A/V processors and three new A/V receivers that will replace existing models in the company's lineup. The new Maestro Series processors and Concert Series AVRs will begin shipping during the last quarter of 2019, with retail prices just announced at the show. The new 16CH X9 AV processor retails for $9,600, X7 for $6,600 X7; the XR-8 16CH AV receiver is also $6,600, XR-6 for $4,600 XR-6 and the 12CH XR-4 is $3,600.
AudioControl 16CH Auro 3D AV Processors & Receivers @ CEDIA 2019 YouTube Video Overview

The new Maestro X9 and Maestro X7 processors sport AudioControl's signature sleek black aesthetic, as do the new Concert XR-8, Concert XR-6, and Concert XR-4 receivers. The company says that the "completely new industrial design (distinguishes) AudioControl's home cinema… lineup from any other solution." But of course, it's what is behind those shiny faceplates that really counts. As with the last generation of AudioControl gear, there is more than a passing resemblance between the physical designs and on-paper capabilities of these units with those of the latest Arcam-branded AVRs and pre/pros. It's certainly possible that the two companies have shared intellectual property or have otherwise collaborated to some extent, but this is merely speculation. Given AudioControl's reputation for excellent engineering, and for building all of its products in the USA, it's unlikely that the company merely slapped an AudioControl faceplate on an existing Arcam product (though such a thing is not unprecedented, as remorseful buyers of the Lexicon BD-30 blu-ray player will be quick to remind you). In any case, these new AudioControl products look pretty cool, and will almost certainly deliver superb performance.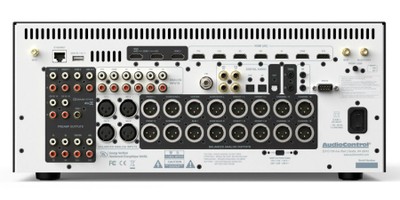 AudioControl X9 Backpanel View - note all of the XLR's

"AudioControl has a 40-plus-year history of creating award-winning Made in USA products for integrators and backing them up with superior customer service as well as a 5-year warranty. Engineered and manufactured in the Pacific Northwest, these newly unveiled theater processors (and) receivers… are prime examples of best-in-class, innovative product designs from AudioControl."
- AudioControl
The new Maestro Series preamp/processors "deliver new levels of precision, power, and control," according to AudioControl. The company has added support for the immersive audio format Auro 3D to the Maestros' extensive bag of tricks, which also includes 9.1.6-channel Dolby Atmos and DTS:X, along with certification for the IMAX Enhanced standard. Both the Maestro X9 and Maestro X7 will offer 16-channels of balanced and unbalanced preamp outputs, along with a full suite of analog and digital inputs, including 7 HDMI 2.0b inputs, which support 4K UHD and HDR video. Also on board is what AudioControl describes as "the very latest in audio and video processing technology." What exactly does that include? For starters, both units employ ESS Sabre DACs for digital-to-analog conversion, though the exact chips used are not specified. Presumably, the ESS chips represent a performance upgrade over the Burr Brown DACs used in the previous generation of Maestro processors; AudioControl says that the new DACs "ensure unprecedented levels of detail and clarity along with earth-shaking, authoritative bass response." The new Maestro Series processors also feature Dirac Live room correction, as well as Dirac's new bass management program to keep multiple subwoofers in phase with the main speakers and ideally adapted to the acoustical environment. The Maestro X9 and Maestro X7 processors offer app-based control, integrated web-based configuration, and support for a long list of wireless/streaming connectivity options, including Google Cast, Apple Airplay 2, and aptX Bluetooth. What is not immediately clear is what separates the flagship Maestro X9 from the step-down Maestro X7; we'll just have to wait for more detailed specs to know for sure. The new processors can be paired with any brand of amplifier, but AudioControl would certainly guide customers toward the company's latest "G4 Series" amplifiers: the 7-channel Savoy G4, the 5-channel Pantages G4, and the 4/3/2-channel Avalon G4.
AudioControl Concerta X6 Backpanel
If you're looking for a premium one-box home theater solution, the new Concert Series AVRs would certainly fit the bill. The Concert XR-8, Concert XR-6, and Concert XR-4 all include Dirac room correction, and Auro 3D is supported in the top two models. All three feature up to six channels of user-configurable line-level outputs, which can be used for height channels, additional subwoofers, or high-pass speakers. The XR-8 and XR-6 can output up to 16 total channels of line-level audio from immersive 9.1.6-channel surround formats, and the XR-4 delivers up to 12-channels of output. All three have 7-channels of amplification on board, at varying levels of power. The Concert XR-8 uses high-current class H amps rated at 200 watts into 4 ohms. The 8-ohm power spec isn't listed, but if it matches its predecessor, the Concert AVR-9, it should deliver 120 watts into 8 ohms. The Concert XR-6 has 7-channels of class AB amplification, rated at 100 watts per channel into 8 ohms. The class AB Concert XR-4 delivers 60 watts per channel into 8 ohms. It's important to note that AudioControl rates All Channels Driven and thus meet our TiP requirement for power ratings in AV receivers. AudioControl says that these new receivers have been painstakingly engineered to be "the foundation of a premium home cinema," and "the perfect entertainment hub for everyone in the home."
Will their performance justify their undoubtedly high asking prices? Share your thoughts in the related forum thread below.
Confused about what AV Gear to buy or how to set it up? Join our Exclusive Audioholics E-Book Membership Program!
Recent Forum Posts:
gene posts on October 09, 2019 02:20
Savant Smart Soundbar, Precision Audio Meets Ultimate Home-Connectivity
gene posts on October 06, 2019 22:36
_Y6zjojfJBQ
utopianemo posts on October 02, 2019 13:54
I'll have to check that end clip out at home on my dual 18" sub setup. I love how the low frequency waves cancel out all other sounds. At home, on certain very low frequency-heavy clips, those large sine waves literally cancel out my voice. I'll talk to somebody ten feet away and almost no sound I'm making reaches them.
hangin7 posts on October 01, 2019 18:55
CyberAthlete, post: 1341296, member: 56538
Doesn't sound like (pun intended) that they're any different in drivers than the ones they're replacing. Just an aesthetic over haul but that's about it.
Your joking right,aesthetic overhaul better reread dude!!!!!
VonMagnum posts on October 01, 2019 07:42
Sadly, according to the Monoprice web site, that "beast" only supports 11.1 DTS:X. With 15.1 support, it really NEEDS DTS:X Pro….

Edit: I've been told elsewhere it WILL be getting DTS:X Pro early next year. That would improve things quite a lot.
Post Reply