Monoprice Undercuts Industry with $4k HTP-1 16CH Immersive Surround AV Processor
Summary
Audio Codecs Supported
Dolby ATMOS
Includes support for Dolby TrueHD and Dolby Digital
Up to 16 output channels with flexible speaker assignment.
9.1.6 (add wide channels, and upper front and rear)
7.3.6 (3 subwoofers instead of wide channels)
7.5.4 (5 subwoofers, only 4 upper)
Dolby Surround Upmix (replaces Dolby Pro Logic)
DTS:X
Includes support for DTS-HD Master Audio
Up to 12 DTS:X channels (7.1.4)
Bass management can produce 7.5.4
DTS Neural:X Upmix (replaces DTS Neo:X)
Auro-3D Support Just announced!
Streaming Audio Source Support

Roon Endpoint
Ships with a Google Chromecast dongle for basic Ethernet Audio like Spotify, etc.
Bluetooth
Audio Enhancements
Dirac Live Room Correction
Bass Management
Up to 5 Subwoofers
4th Order Linkwitz-Riley Crossovers
5 band manual fully adjustable PEQ
Tone Control
Dynamic Range Control
AV Inputs/Outputs
Video Inputs
HDMI 2.0b with HDCP 2.2 HDR10, HDR10+, Dolby Vision (upgradable to HDMI 2.1 in the future) x7

Video Outputs
HDMI 2.0b with HDCP 2.2 with HDMI eARC
HDMI 2.0b with HDCP 2.2
Audio Inputs
Toslink x3
Coaxial x3
AES/EBU
USB Audio (24bit/192khz)
2 Stereo Pairs RCA
Other Inputs
Trigger in
USB Service Port
Ethernet
Alexa Compatibility (Requires Echo or other Amazon Device)
Audio Outputs
16 Balanced XLR Connectors (primary)
1 Pair Stereo RCA Unbalanced (stereo mixdown)
Other Outputs
Trigger Out x4
Chassis
Size: 17.1"W x 5.7" H x 12" D
Front panel touch screen 4.3 inch diagonal, RGB 480 × 272
Executive Overview
Internet direct technology giant Monoprice is best known for their low-cost cables, but in the last few years they have expanded their reach into all sorts of technology; from audiophile quality amplifiers and headphone preamps, to loudspeakers and all the way to fitness equipment and cooking supplies! Since launching their Monolith line three years ago, Monoprice has continued to deliver and expand its high-grade audio solutions. This year at CES in Las Vegas, Monoprice will introduce several new products to its Monolith line, but most notably is the release of a 16 Channel Processor the HTP-1. Although the $4k price point may seem pricey to some, it is by far the lowest priced 16 channel Atmos enabled processor coming in at $1,000 less than the comparable Emotiva RMC-1 that we previewed at CES 2018.
The Monolith HTP-1 Home Theater Processor is a state of the art, 16 channel processor and looks to be engineered for the most demanding audiophile. There is a very lively thread on our forum where enthusiasts are pondering if this product is a joint venture between Monoprice and ATI owned DataSAT. If that proves to be true, than enthusiasts will be pleased in the performance to value Monoprice is bringing to the table through their sales channel especially since the HTP-1 offers up to date features that the DataSat doesn't.
The HTP-1 features the latest in multichannel surround sound with Dolby Atmos, DTS:X and Auro 3D decoding for a variety of speaker arrangements, including max deployments of 9.1.6, 7.3.6, and 7.5.4 for Dolby Atmos, and 7.1.4 or 7.5.4 for DTS:X.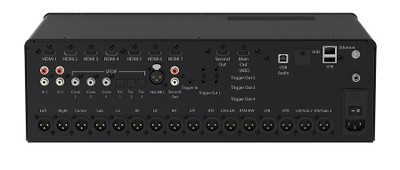 Monolith HTP-1 Backview

The rear of the HTP-1 features a plethora of connections including seven upgradable HDMI 2.0b input modules with compatibility for current 4K video technologies, including HDR10+ and Dolby Vision, along with a host of digital but only two analog input options.  The HTP-1 also offers two HDMI 2.0b outputs, with one capable of delivering Enhanced Audio Return Channel (eARC) performance for immersive sound. Other outputs include 16 balanced XLR connectors for primary subwoofer and amplifier connections. It's clear by the backpanel that the main thrust of this product is geared towards digital sources but we'd like to see at least one balanced analog input added. Monoprice has no plans on adding a phono input stage so if you want to play you're vinyl, you're gonna have to buy an external phono preamp or one of the Denon's turntables with one integrated.
Q&A Interview with Hobie Sechrest, Business Unit Manager of Monoprice
Q: Is the HTP-1 manufactured overseas or in the USA?
A: The HTP-1 is made in the USA with globally sourced parts.
          
Q: Does the HTP-1 have OSD overlay via HDMI?
A: No, the unit is configured via PC and Tablet like many of the high end processors on the market.
Q: Can you assign LFE to the main channels even if the subwoofer channel is engaged?
A: Yes you can. You can also configure 5 independent subwoofers and run a full 7.5.4 speaker layout or do 3 subs in a 7.3.6 configuration.

Q: What version of DIRAC is included with the HTP-1 and does it come with a calibrated mic?
A: Dirac Live, and at this time no mic is included. We are working with Dirac to be able to have the customer purchase additional modules if they want, like the new Bass Correction they just announced.
Q:  How many bands is the manual PEQ and is it fully adjustable (fs, Q, etc)?
A: Right now, there are 3 bands and fully adjustable. But, based on your suggestion, we are looking to expand it to 5 bands.
Q: What is the max unclipped Voltage output from the balanced outputs?
A: The max unclipped output is 24dBu (12Vrms). 

Q: Is the power supply in the HTP-1  linear or SMPS?
A: Right now it is an SMPS, but we might change it to an LPS. This is still TBD. We think the noise floor with the SMPS is good at over -110db, but if we feel using an LPS we can make the switch before production.
Q: Does the HTP-1 support Auro 3D or will there be a firmware upgrade to support it?
A:  The hardware is already inside to support it so it would just be a firmware update to add it.  Auro 3D will be supported on the HTP-1 as just announced at CES 2019!
Q: Does the HTP-1 allow cross surround upmixing between formats or does it follow the new Dolby protocol to restrict codec upmixing?
A: The HTP-1 will follow the new protocol.
What We Think
We think that Monoprice could earn several technology awards at CES for their
HTP-1 or at later tradeshow showings as the product gets closer to production. We like that the HTP-1 comes with one of the most advanced room correction software available with Dirac Live and the latest generation AKM4493 DACs. The flexible bass management and full 16 channels of processing at only $4k makes them a lone wolf in the industry and they've just undercut their closet competitor by $1k doing it.
We're still seeing a push for smart home integration at CES and the HTP-1 doesn't disappoint with Alexa compatibility. In addition the HTC-1 ships with a Chromcast dongle for basic Ethernet Audio like Pandora, Spotify, etc and it can be used as a Roon endpoint. The Monoprice Monolith HTP-1 Processor will be available this fall for $3,999.99. We expect many great things from this processor and plan to do a full review once production samples are shipping so stay tuned.
For audio enthusiasts that also love cars, we leave you with this question to ponder. With the launch and expansion of the Monolith brand, is Monoprice becoming the Genesis of Hyundai in the car industry? People are no longer discounting Hyundai as a serious car maker and we are getting the same vibe from Monoprice with their Monolith brand too based on all of the excellent products they've been releasing and we've been giving glowing reviews of.  
Confused about what AV Gear to buy or how to set it up? Join our Exclusive Audioholics E-Book Membership Program!