Will Yamaha's AVENTAGE CX-A5200/MX-A5200 AI Seduce You to Upgrade?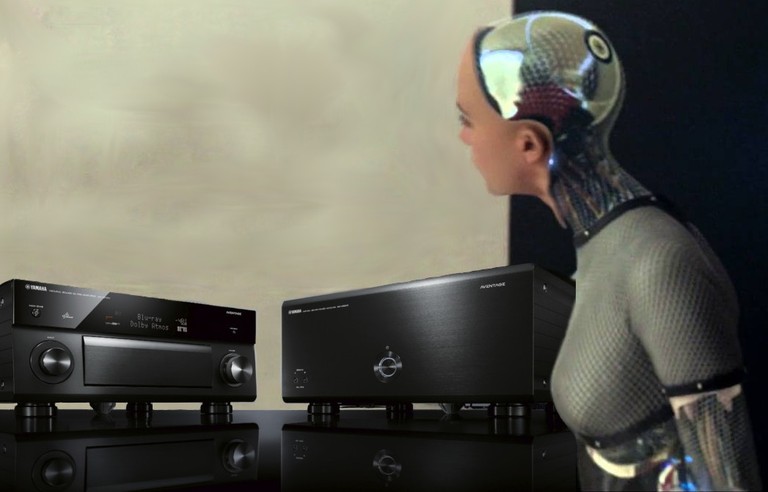 CX-A5200 and MX-A5200
Summary
CX-A5200 Preamplifier

Surround:AI: Yes
Cinema DSP: Yes (HD3)
Dolby Atmos: Yes
DTS:X: Yes
Auro 3D: No
YPAO Multi-point Measurement: Yes with R.S.C. (Reflected Sound Control) , 3D, 64-bit high precision EQ calculation and angle measurement
DA Converter: ESS 384 kHz / 32-bit SABRE PRO Premier DAC™ ES9026PRO x 2 (for all channels incl. presence speakers)
4K Ultra HD Pass-through and Upscaling: Yes (4K / 60p, 4:4:4)
HDMI eARC: Yes (via future firmware update)
HDMI Upscaling: Yes (analog to HDMI / HDMI to HDMI)
HDMI Input/Output: 7 / 3 (HDCP2.2, HDR10 / Dolby Vision / HLG and BT.2020 compatible)
Dimensions (W x H x D): 17-1/8" x 7-1/2" x 18-5/8"
Weight: 33.5 lbs.
MX-A5200 Amplifier
Channels: 11
Rated Output Power (20Hz-20kHz, 2ch driven): 170 W (6 ohm, 0.06% THD), 150 W (8 ohm, 0.06% THD)
Rated Output Power (20Hz-20kHz, 2ch driven, bridged connection): 200 W (8 ohm, 0.06% THD)
Power Consumption: 650 watts

Dimensions (W x H x D): 17-1/8" x 8-1/4" x 18-1/8"
Weight: 58.2 lbs.
Executive Overview
Audioholics recently did a full review of Yamaha's CX-A5100 11.2CH Dolby Atmos/DTS:X AV Processor paired to their MX-A5000 11-channel power amplifier reviewed favorably in our showcase home. This year at CEDIA in San Diego Yamaha will be introducing their third-generation AVENTAGE-series separates, the CX-A5200 AV preamplifier and 11-channel AVENTAGE MX-A5200 amplifier. Both products get a boost in power supply over their predecessors and a new and improved chassis, but the biggest gain comes with the addition of Surround AI to the pre/pro to optimize 3D sound.
Yamaha CX-A5200 11.2CH Atmos/DTS:X AV Processor Unboxing

AVENTAGE represents the ultimate in home theater, and now with Surround:AI, our new artificial intelligence sound processing built into these flagship AV separates, Yamaha stands alone at the pinnacle of ultra-high-performance components. The new CX-A5200 and MX-A5200 represent the highest expression of the AVENTAGE concept, which combines fine craftsmanship, innovative technologies and a multitude of no-compromise design, engineering and construction refinements to produce the purest sound with unrivaled sonic realism.
- Robert Goedken General Manager, AV division, Yamaha Corporation of America.
AVENTAGE CX-A5200 AV Preamplifier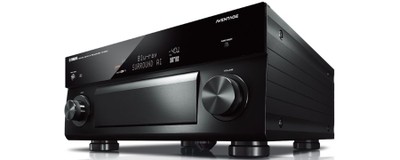 Like the RX-A80 series of Yamaha A/V Receivers we recently previewed, the CX-A5200 gets intelligent surround via DSP technology. The AV preamplifier, in real time, automatically optimizes surround-sound performance for each scene in a movie or any piece of content. Surround:AI analyzes a scene's audio characteristics, focusing on soundtrack elements such as dynamic range, amount of dialog, the degree of sound effects, background music, and channel balance. Surround:AI then compares the scene's audio characteristics to a reference database of movie scenes and automatically processes the scene's sound to optimize performance.
Surround:AI is designed to make dialog more intelligible in scenes with lots of background noise, as well as deliver massive, full-bodied sound for scenes with immersive sound effects all the while ensuring that you hear softly spoken dialog and soft background sounds.
Like most processors these days we see that the CX-A5200 features immersive 3D Dolby Atmos and DTS:X surround sound decoding with up to 7.2.4-channel processing. What we DON'T see is Auro 3D surround processing, something we hoped to see over their CX-A5100. We're also a bit disappointed Yamaha hasn't upgrade to 13CH of processing like their closest competitor has in the Marantz AV8805. But for those not going beyond a 7.1.4 speaker layout, this should be of little consequence.
With Dolby Atmos and DTS:X, the CX-A5200 has the ability to reproduce two to four height channels. Yamaha further heightens the sense of realism with its improved Cinema DSP HD3 signal-processing algorithms to enhance the sound field's vertical dimension.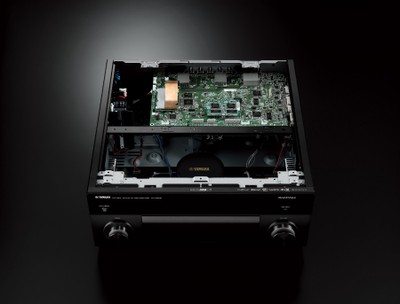 Yamaha CX-A5200 Top View

We really liked the CX-A5200's redesigned power transformer which should deliver deep, powerful sound, as well as the sturdy construction that will help suppress vibrations that tend to degrade clarity and definition. Yamaha AVENTAGE products are built to very high standards and their latest iteration here seems to follow in that tradition.
For room correction, Yamaha is using their 64-bit Yamaha Parametric room Acoustic Optimizer (YPAO). In addition, the CX-A5200 uses YPAO – R.S.C. (Reflected Sound Control) to help reduce the adverse impact of early sound reflections – sound reflected off the furniture and walls near a speaker that can "muddy" up audio clarity and reduce the ability to convey the precise spatial locations of sounds in 3D sound tracks.
Other significant performance-enhancing features include two ESS SABRE PRO Premier DACs (ES9026 PRO), delivering 32-bit performance and balanced XLR preamp-level inputs and outputs.  Balanced XLR connections are available to connect the CX-A5200 to the MX-A5200 amplifier and to connect the CX-A5200 to source components such as high-end SACD and CD players.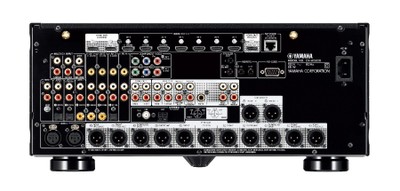 Yamaha CX-A5200 Backpanel

For connections and video, the CX-A5200 features three HDMI outputs: two for home theater rooms equipped with a flat-screen TV or video projector. The third distributes 4K video and audio to a TV in another room.
The preamplifier integrates with installed home-control systems from Control4, ELAN Home Systems, RTI, and others. To AV integrators looking to diagnose issues, the CX-A5200 can be monitored remotely using the Domotz and Ihiji solutions.
The preamplifier's lengthy roster of capabilities also includes seven 4K Ultra HD HDMI inputs with HDCP 2.2 copy protection. Through its HDMI inputs and outputs, the CX-A5200 passes BT.2020 wide color gamut (WCG) video in three high dynamic range (HDR) formats − HDR 10, Dolby Vision and Hybrid Log-Gamma formats − from 4K sources to compatible TVs.
The CX-A5200 also supports Yamaha's MusicCast which lets you stream your favorite music to MusicCast-enabled products throughout the house from thousands of internet radio stations, popular streaming services, networked music libraries, and externally connected sources − all controlled from the Yamaha MusicCast app. Supported streaming services include Pandora, Spotify, SiriusXM Internet Radio, TIDAL, Deezer, Napster and more.
Other key features of the CX-A5200 include Wi-Fi, Bluetooth, Apple AirPlay, Spotify Connect and voice control of commonly used functions via Amazon Alexa-equipped devices.
MX-A5200 Amplifier
When we auditioned Yamaha's MX-A5000 amplifier we found it to be a competent amplifier that performed better than expected with enough flexibility for installers that have clients with challenging demands.  We see the same with Yamaha's new MX-A5200.  It delivers a powerful 150 watts per channel (8 ohms, 20Hz - 20kHz, 0.06% THD, 2 channels driven) which is the same as the MX-A5000 however, the front channels can be bridged for increased performance and power (200 watts per channel).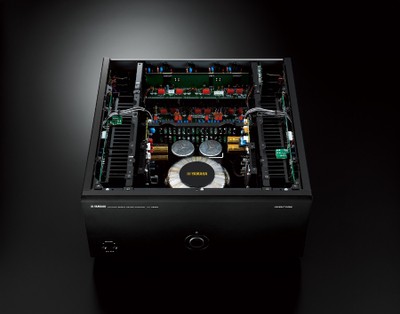 Yamaha MX-A5200 Top View

The MX-A5000 has a large high-output toroidal transformer and two specially developed high-capacity block capacitors provide massive power with generous headroom. A new specially designed chassis with rigid-frame construction and double bottom will help eliminate the transmission of sound-degrading vibrations from the amplifier's large power-supply transformer and other components. A symmetrical power amplifier layout, with left and right sides physically and electrically isolated, will help with channel separation and should allow for a significant boost in signal-to-noise ratio to deliver a high quality output and an expansive sound stage.
Yamaha MX-A5200 Backpanel

The MX-A5200 is as flexible as it is powerful. AV integrators can dedicate some channels to driving a home theater system while assigning other channels to distribute music to in-wall and in-ceiling speakers in different rooms. A Bridge Tied Load (BTL) option boosts output to the front-left and front-right channels to enhance fidelity and volume. Likewise, the amplifier can be configured to bi-amplify up to five speakers to improve sonic accuracy and bass response.
What We Think
We were really hoping to see Auro-3D processing in the CX-A5200 and the availability of 13.2 channels in the pair, and if the unit will eventually support HDMI 2.1, but aside from those minor gripes we are still excited about Yamaha's upgrades to their A5000 series of separates. The CX-A5200 and MX-A5200 should easily handle most 7.2.4 setups with the option of adding another amplifier for really heavy loaded front speakers. The AVENTAGE CX-A5200 AV preamplifier will be available in September for $2,700 and the MX-A5200 amplifier will be available in December for $2,900. For under $6k, you're getting a true separates solution with Yamaha quality and reliability. That's a winning combo in our book.

Confused about what AV Gear to buy or how to set it up? Join our Exclusive Audioholics E-Book Membership Program!