Best Loudspeakers of AXPONA 2022 Show Report
Best Loudspeakers of AXPONA 2022 Show Report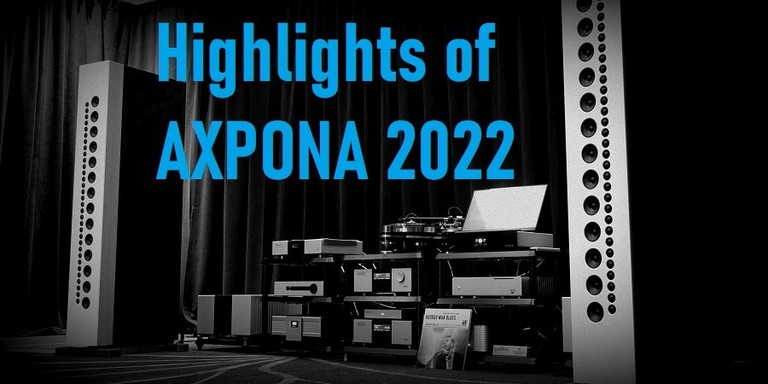 AXPONA 2022
After a two-and-a-half-year hiatus, Audio Expo North America, better known as AXPONA, is back. Audio trade shows were gone for so long that they felt like a product of a bygone era, especially with the end of the venerable Rocky Mountain Audio Fest. However, with this year's resumption of the Florida Audio Expo, Montreal Audio Fest, and now AXPONA, it looks as if the trade show element of the audio hobby is back, and not a moment too soon. While hi-fi audio is a relatively solitary hobby, it is always good to socialize with like-minded enthusiasts face-to-face once in a while, and trade shows are a great outlet toward that end. With the return of so many familiar brands and faces and with such a smooth and successful show, AXPONA resumed as though there had never been such a lengthy interruption.
This year's show featured a lot of interesting new products, and it showed what many of these audio companies were busy concocting while they were isolated in their laboratories for these last couple of years. They have not been idle, and there were a lot of very impressive and innovative products on display. In fact, there was so much cool stuff that we can't cover everything, so in this report, we will just look at some highlights that grabbed our attention.
Loudspeakers @ AXPONA 2022 Youtube Discussion

Focal

Focal has always brought an impressive exhibition, and this year was no exception. Their centerpiece was the Maestro Utopia EVO, an art exhibit with a loudspeaker with a sound that matched its gorgeous looks (and a price tag as well at $76k/pair). The Utopia series has always impressed me as well as many other reviewers, and they are one of the few ultra-high-end speakers that have been measured to have an extremely accurate sound. These three-way beauties feature two 11" bass drivers, a 6 ½" midrange, and a 1" beryllium dome tweeter, and mounted in such a large enclosure, that kind of layout promises some serious output and deep bass extension. Their cost doesn't just come in dollars but also weight; they weigh in at 255 lbs. each. They were powered by Naim's insane flagship Statement, a $300k system that uses two monoblocks sandwiching a preamp. The Statement uses a class-A preamp section and class AB amps capable of 746W at 8 ohms and 1.45kW at 4 ohms. I am not sure that even if I had money to burn, I would spend three-hundred large on audio electronics, but I can't say it wouldn't be tempting on account of the Statement's sexy curved heatsink fins.
Focal also brought their flagship in-wall speakers, the 1000 IWLCR Utopias ($4,995 each). This is among the beefier in-walls available, as a three-way "WWMTMWW" design in a D'Appolito configuration that uses four 6 ½" inch bass drivers, two 3 ⅛" midranges, and a 1" beryllium dome tweeter. Such a layout, if executed correctly, should restrict much of the sound on the vertical axis so it shouldn't be reflecting off of the floors and ceiling. Underneath the 1000 IWLCR speakers were Focal IWSUB in-wall subwoofers ($2,799 each). This is a passive sub that uses three 6.5" bass drivers, which have a combined cone area approximately equal to a 10" woofer. The combination of the 1000 IWLCR in-wall speakers along with the 1000 IWSUB subs proved to be a wildly dynamic speaker system that sounded terrific. I don't normally get excited by in-wall speakers, but these put out a serious sound that would rival many high-end external speakers.

In the back of the Focal room, they had a Chora speaker set running with two Focal 600P subwoofers. The 600P ($1,399) is an attractive 12" sub powered by a 300 watt RMS class-D amp. One interesting feature that I noticed with the Chora speaker setup was the top of the front left and right speakers which were Chora 826-Ds. The 826-D has a built-in Dolby Atmos module speaker on the top, and it seems to have addressed a problem that is prevalent among these speakers with top-mounted Atmos modules. The problem with so many of these designs is that the Atmos driver is so small that it can't help but radiate sound out at a very wide angle, so the sound of the speaker hits the user directly before it can reflect off of the ceiling as it is intended to do, and this ruins that "height" effect. Focal has put some fins in the waveguide of the Atmos module presumably to counter that effect; this approach looks like it will curve more of the sound upward instead of forward so that the "height" sound effect is preserved.
Legacy Audio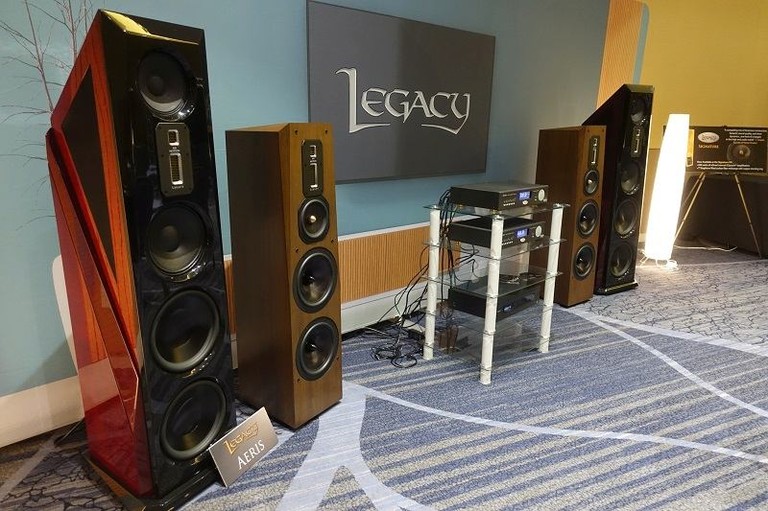 Next door to Focal's room was Legacy Audio with an impressive array of systems. Legacy didn't bring any new revolutionary design as they have done in the past, but they are so far ahead in the loudspeaker design game that most speaker manufacturers are playing catch-up to designs that Legacy has had available for years now. The centerpiece of Legacy's room was undoubtedly a pair of their flagship Valor speakers. Audioholics has had fairly close contact with the Legacy Valors in the past and another experience with those fantastic speakers is always welcome. I also had the chance to hear the Aeris ($21.5k/pair) as well as their Focus SE ($12k/pair) speakers, and both sounded terrific, which is par for the course for Legacy. New for this year was a fully active version of the Focus SE with some high-quality ICE Power class-D amps onboard, so no outboard amplifiers are needed. I had an opportunity to hear each of these systems, and they all had the detailed, smooth sound yet with a punchy, full-bodied bass that we have become accustomed to with Legacy products. There are many ingredients they use to achieve this in their loudspeaker design, including an active bass section and, in their higher-end offerings, tightly controlled directivity with a higher ratio of late to early acoustic reflections than how typical speakers perform.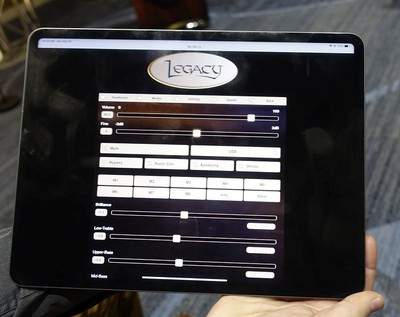 They also use Bohmer sound correction, which is likely the most advanced equalization system in the industry. This sophisticated system uses wavelet analysis to make corrections in both the frequency and time domains so that the speakers have the best possible calibration to the room. This makes it a great solution for those who do not want to dress up their rooms with a lot of expensive and unsightly acoustic treatments for a first-class sound. Indeed, every system in the Legacy room had Bohmer's room correction running. Legacy demonstrated the effects of their room correction algorithm by switching it on and off in the middle of several types of music. This can be done easily via Legacy's app that comes with all of their products with this type of processing. One thing that I noticed right away was that the bass tightened up considerably with the room correction on. It was an impressive improvement, and it certainly made the case for itself. For all the expensive tweaks that audiophiles will do for the sake of an improved sound, this was one of the few that actually had an immediate and obvious effect on the sound.
JBL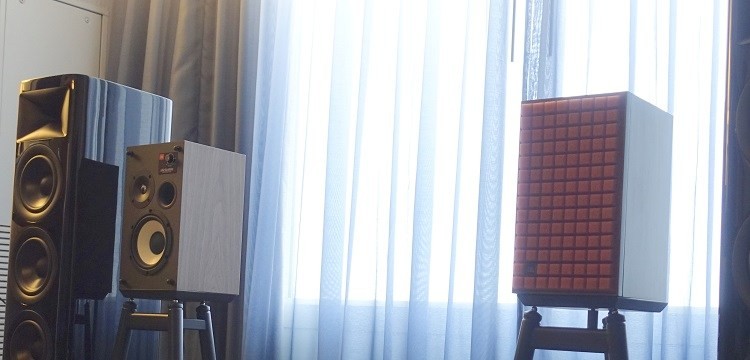 JBL's room sounded great, which is not surprising since they have been such a reliably good loudspeaker manufacturer for so many years now. In their room were a pair of HDI-3600s ($4.2k/pair) which are a step smaller sibling to the terrific HDI-3800s that we reviewed a little while ago. One intriguing little speaker that they had running was the new L52 Classics, which looked like baby L100 Classics, another speaker we reviewed not that long ago. The L52 Classic ($1k/pair) is a two-way design using a ¾" titanium dome tweeter and a 5 ¼" pulp cone woofer. It shares many of the same design cues from the L100 Classic, including the retro grille. Because of this, we expect it to be a very competent speaker and a great solution for those who like the sound and style of the L100 Classics but can not handle their size or $4.2k/pair pricing. This is a speaker that could see a review in the future here at Audioholics, so stay tuned for much deeper coverage on the L52 Classics!
SVS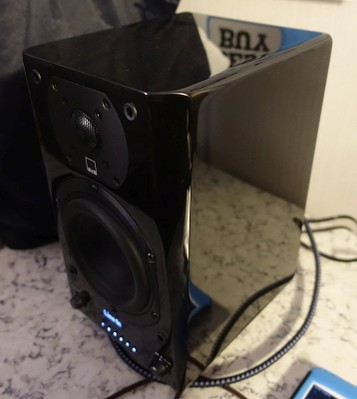 Another reliably good manufacturer of audio products, SVS, had a rocking room with an Atmos sound system featuring their SVS Prime Pinnacle towers ($1.8k/pair), their Ultra Center speaker ($900 each), Prime Bookshelf side and rear surrounds ($600/pair), Prime Satellites for the height channels ($175 each), and two SB-3000 subs ($1.1k each). The whole setup sounded fantastic, and there was a lot more bass than one would think that two 13" sealed subwoofers could produce. Having reviewed the Prime Pinnacle speakers and SB-3000 subs, I knew what they were capable of, so it was no surprise to me that SVS's room sounded as good as it did. Officially speaking, SVS brought nothing new except for some additions to their SoundPath cable line where they now have some optical cables and some balanced XLR cables. However, unofficially, SVS gave me a peek at their next version of their Prime Wireless Powered speaker system. We reviewed the original Prime Wireless system with high marks in fidelity, and the new version 2 has not officially been announced and will launch in the summer, but SVS tells me it is improved and will actually have an HDMI input, and that to me, is a real game-changer in powered speakers. Now, you can have a real speaker and subwoofer system connected directly to your display but using the versatility of HDMI instead of being restricted to TOSLINK. We are hoping to get our hands on a pair for review near its release, so stay tuned to Audioholics to see how much further SVS has pushed technology in their active speaker line. 
Sound United (Denon/Marantz/Polk/Definitive Technology)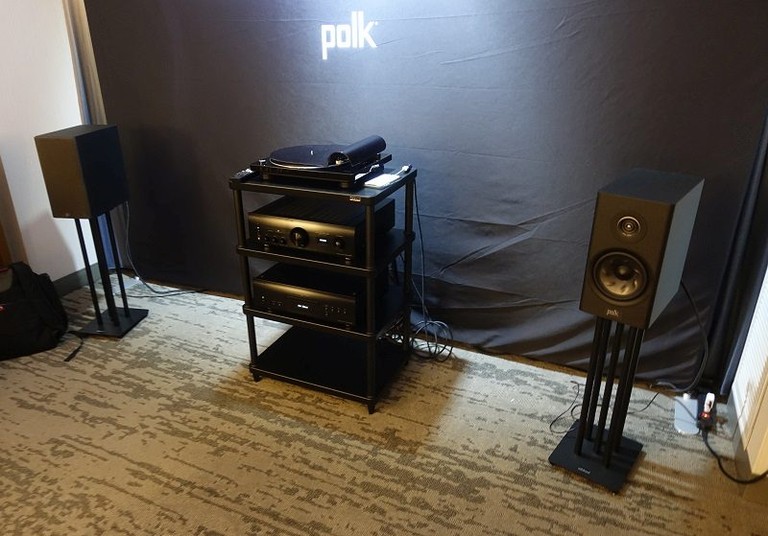 Denon's room was powering a pair of Polk R200s ($750/pair) with the PMA-1600NE integrated amp ($2.1k) along with the DCD-1600NE CD player ($1.5k). This room sounded great, yet was using one of the most modest loudspeaker setups at the entire show. But just because something is inexpensive does not mean it is bad, and Polk's Reserve series is a serious overachiever, as we saw in our review of the R700s.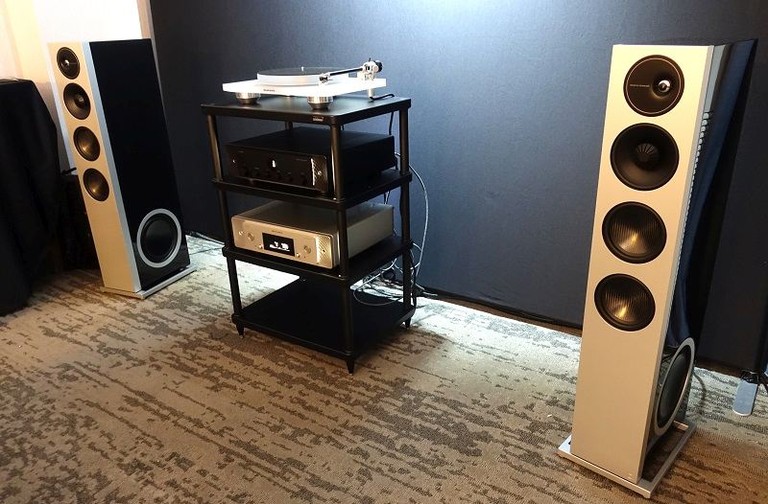 In Marantz's room, they were using their new Model 40N integrated amp ($2.5k) to power a pair of Definitive Technology Demand D17 speakers ($3.5k/pair). The source was an SACD 30N SACD player/streamer ($3k each). Having reviewed the  Demand D15 speakers, my expectations were high for the D17s, and I was not disappointed. As for the Model 40N, we attended the launch back in February and were suitably impressed with this integrated amp. This was, however, the first we have seen of the SACD 30N in person. It has the same gorgeous front panel design as the Model 30N but can process a wide assortment of media, both physical and purely digital, wired and wireless. 
Parts Express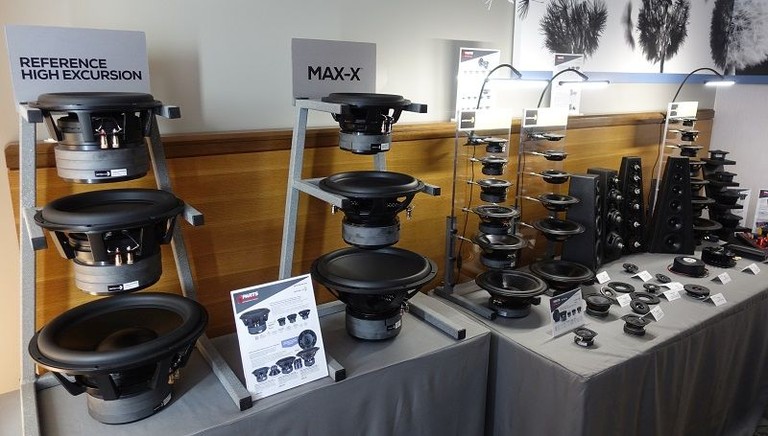 For loudspeaker DIYers, being in the Parts Express room was like being a kid in a candy store. They had a wide assortment of every kind of component needed to construct a hi-fi speaker, and the only limit for the kind of speaker you would want to build is your own imagination. Ok, that isn't true at all that you are limited by your imagination, since you are also limited by what you can afford, what you can physically handle, and also how skilled you are in woodworking projects, among other limitations, but that imagination line sounded pretty good. Two items that drew my attention in the Part Express room were displays for newer subwoofer drivers, Dayton Audio's "Reference High Excursion" line, and the "MAX-X" line. The Reference High Excursion series takes Dayton's popular Reference series driver line and gives the subwoofer drivers an enormous boost in displacement and power-handling. The Reference High Excursion series features 10", 12", and 15" drivers, and has them achieving large excursions by giving them a triple magnet stack motor along with a 3" diameter voice coil. They also use a large half-roll surround as well as dual spiders to allow huge excursion while making sure it can't self-destruct from bottoming out the voice coil former.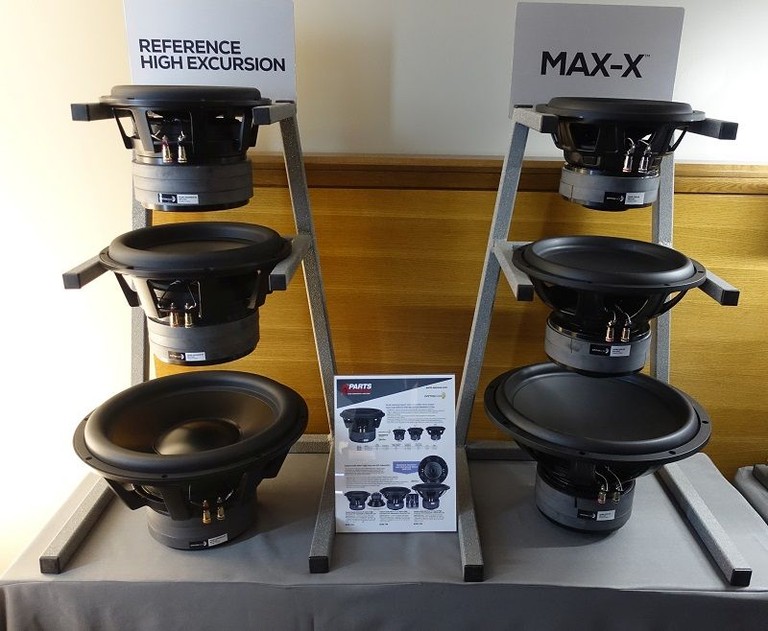 The Reference High Excursion series is now Dayton's highest-end subwoofer drivers on account of their tremendous displacement combined with their exceptional linearity. The "MAX-X" series is essentially a lower-cost version of Dayton's popular Ultimax series that keeps much of the Ultimax performance while shedding a sizeable chunk of the cost. That all sounds like a big win for DIYers in my book, and, as a subwoofer reviewer, it makes me want to take a stab at a subwoofer design or two of my own to see what I can cook up. 
Perlisten Audio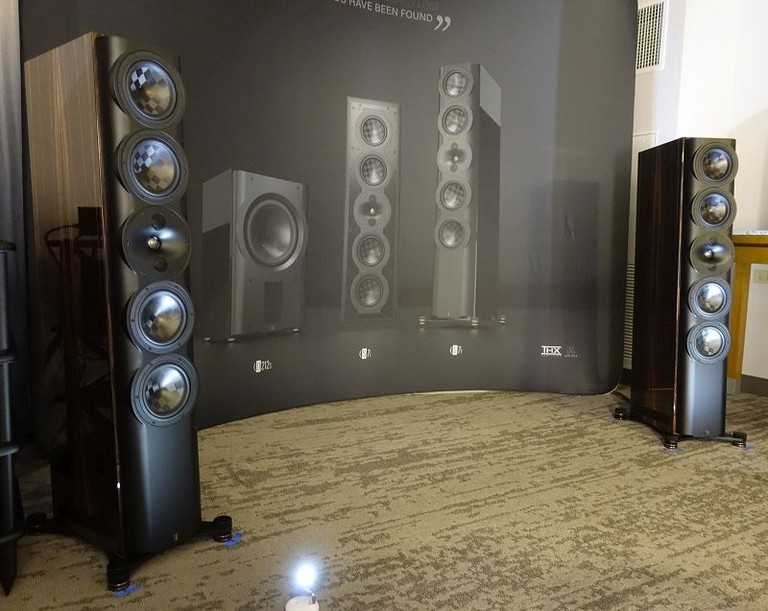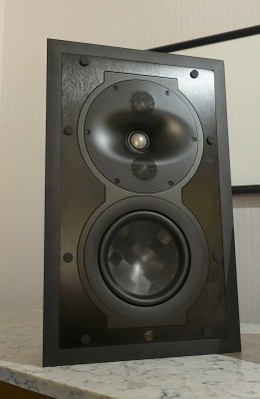 I reviewed the Perlisten Audio S7ts about a year ago, and they remain one of the best all-around loudspeakers that I have encountered as a reviewer. So it was nice to reunite with them in Perlisten's room at AXPONA. They still had the same combination of power and accuracy that has since helped Perlisten make a name for itself as a brand in a relatively short time. Our coverage of the S7ts has been extensive in both print and video, so I won't go on about them here, but Perlisten brought a sample of a new in-wall series they are developing based on the Signature series. The in-wall that I saw uses the same driver outlay as the S4b speaker that I reviewed late last year and essentially puts that speaker into an in-wall form factor. One thing that surprised me about this in-wall, called the 4i LCRS, was how heavy-duty the backbox was for it, although perhaps I should not have been so surprised given the build quality in all the Perlisten products I have seen so far. The entire speaker had a thick aluminum housing and had the most robust build quality for an in-wall speaker that I have ever seen. It was seriously heavy at 24 lbs. Perlisten plans to bring in-wall speaker variants of free-standing speakers from the Signature line, and presumably, they will all have this level of build. There are a lot of high-cost in-walls whose prices do not seem justified, but the Perlisten in-walls are certainly not among those.
Cabasse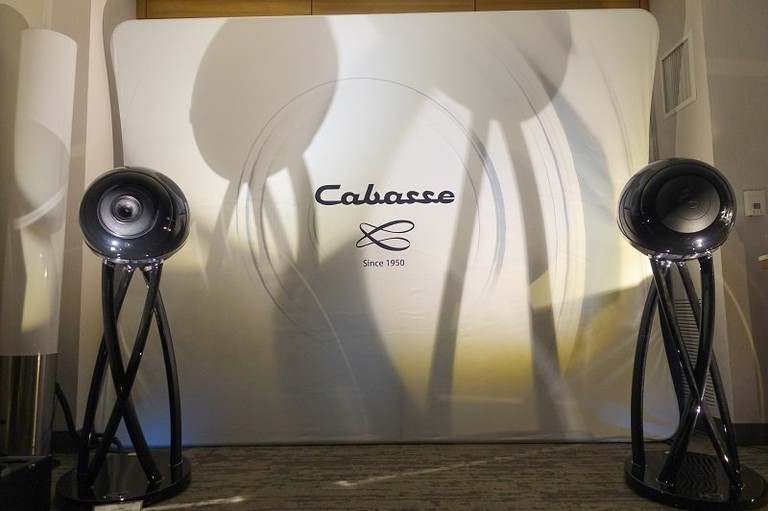 French manufacturer Cabasse has embraced active speaker designs with vigor and brought a slew of powered speakers to the show. While they had some passive speakers on display, active designs were certainly the focus of their rooms. Their centerpiece exhibit was their Pearl Pelegrina speakers, a $30k active spherical speaker set that is as much art as they are functional speakers. Their functionality is extensive, because they, as with the rest of their "Pearl" speaker series, are an entire self-contained sound system in a stereo pair of speakers. They are not only self-amplified, but they also have DAC and processing capabilities for a wide range of sources including Bluetooth, Wi-Fi, Ethernet, Micro USB, TOSLINK, and analog inputs. It can decode every major audio format as well, including DSD, FLAC, MP3, and a bunch of others, and has ready compatibility with most major streaming services including Tidal, Qobuz, Deezer, Spotify, and others. It also has built-in automated room correction with an included calibration microphone. This four-way speaker features a tri-coaxial driver with a tweeter embedded in a midrange embedded in a midwoofer. There are 12" subwoofers on the back of the units, which are driven by 1,850 watt RMS amps. All the electronics for The Pearl Pelegrina are packed into the back of the speaker stand, so the appearance is kept very clean. The system sounded very nice, with crisp treble and punchy bass. 

The rest of "The Pearl" speaker series were there including "The Pearl" ($7k/pair), "The Pearl Akoya" ($3.8k/pair), and "The Pearl Keshi" ($3k system cost). The Pearl Akoya and The Pearl are basically scaled-down versions of The Pearl Pelegrina, with the electronics built in the spheres instead of in a stand base. The Pearl Keshi is a 2.1 system with small satellite speakers and a separate sub that Cabasse is pushing as a substitute for soundbars, but I think they would make for a great sound system for a desktop in situations where space is at a premium. The Pearl Keshi sounded surprisingly full for such small speakers in my listening dem
Magnapan

Magnapan had a room where they showed off their revamped LRS speakers called the LRS+ speakers ($1k/pair). They were paired with a new dipole subwoofer system that they developed which uses a stack of four 6.5" bass drivers for a tall and very slender subwoofer that can be discreetly tucked into the corner and nearly disappear. It was a nifty way to add bass to the LRS speakers which, as smaller planar speakers, I would have guessed would have been a bit bass shy on their own. I was surprised that the speakers had a nice bass sound on their own when the subs were deactivated. In fact, it was one of the few demos where the low frequencies didn't sound like they were overloading the room. In many other rooms, the bass sounded like it was running hot to my ears. Audiophiles often deride the "showroom" sound signature of hot bass and hot treble, but many of the show attendees as exhibitors seemed pretty delighted by the inflated bass in so many of the rooms. However, some of the most natural-sounding bass came from these small and affordable planar speakers, and this came as a surprise to me. It's possible that the low frequencies of the LRS+ speakers would be lost in a larger room or at higher loudness levels, but my experience showed me that even the additional stacked subwoofer system was not needed to make the speakers sound balanced on the low end. 
Orchestall

One unusual exhibit that interested me was from a Korean manufacturer called Orchestall, which made metal loudspeakers where the drivers were segregated into individual metal enclosures. There were many striking and unusual designs at the show, and these were among them. One proprietor was an orchestral conductor and wanted to build a speaker that could sound like an orchestra, so these are a loudspeaker set intended mainly for orchestral music. While these speakers broke all kinds of rules for traditional loudspeaker design, the sound in the room was nonetheless engaging and pleasant. Their designs reminded me of Swiss manufacturer Goldmund's speakers, although the projected cost of the Orchestall speakers is far below those of Goldmund, so these look to be a good alternative for those who want a Goldmund-styled speaker without having to spend near six figures for a speaker set.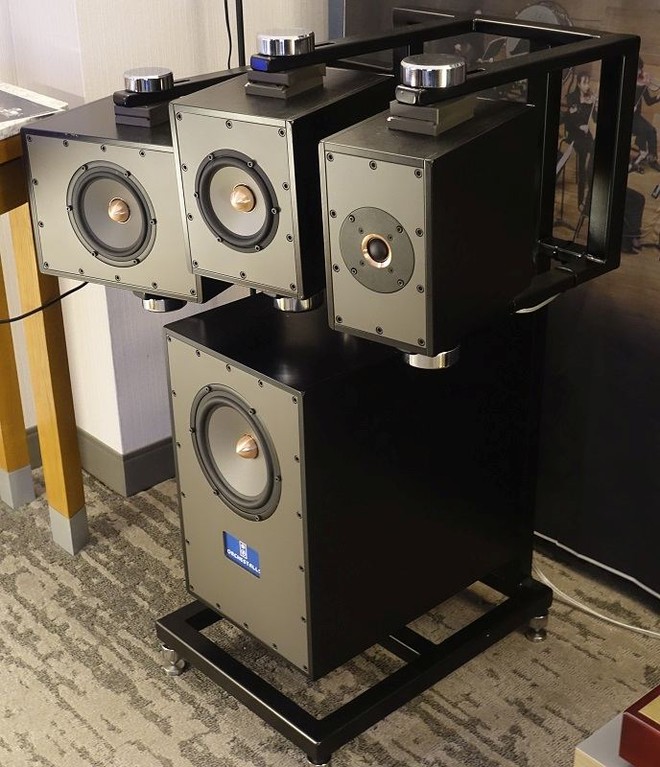 The thick metal enclosures of the Orchestall speakers are surely extreme overkill for vibration suppression, but it has the added benefit of giving you secure cover in case you ever get into a gun battle around your sound system; these speakers are almost certainly literally bulletproof. Such a robust construction will make these speakers long-lasting as well since the enclosures are sure to age better than standard MDF. The life of an MDF enclosure could only be measured in decades at best, but Orchestall's enclosures could easily last centuries. In that sense, these are true heirloom items in a manner that few other audio devices could match. While the speaker design here was unconventional, to say the least, I liked the Orchestall speakers and hope that they do become a greater presence in western markets.
Conclusion
Audio trade shows have been an important facet of the audio hobby for decades now, and their return has to be like taking a deep breath after being underwater for a long time for those manufacturers who thrive on personal reactions and interactions. My time at Axpona was fun, and I discovered a lot of new and interesting products, as I always do there. My guess is that next year the show will be even bigger and better as it regrows from out of the pandemic hibernation. I am certainly looking forward to attending!
See also:
Confused about what AV Gear to buy or how to set it up? Join our Exclusive Audioholics E-Book Membership Program!
Recent Forum Posts:
lovinthehd posts on May 06, 2022 23:22
mono-bloc, post: 1556169, member: 97870


The main problem with all the publications you speak off is the plethora of advertising, Every other page in some cases. I did notice you failed to speak of Stereophile, which I'm sure you will agree is the best example of both advertising and writers who lay claim to over state the truth. There-by keeping there jobs and keeping there advertiser masters happy.

One such publication you did not list was HiFi Critic https://www.hificritic.com/ which is published four times a year and is completely devoid of advertising. They also have a forum.



I just took a look at the site you linked, he should be ashamed of himself. What crap for the most part.
lovinthehd posts on May 06, 2022 23:11
mono-bloc, post: 1556169, member: 97870


The main problem with all the publications you speak off is the plethora of advertising, Every other page in some cases. I did notice you failed to speak of Stereophile, which I'm sure you will agree is the best example of both advertising and writers who lay claim to over state the truth. There-by keeping there jobs and keeping there advertiser masters happy.

One such publication you did not list was HiFi Critic https://www.hificritic.com/ which is published four times a year and is completely devoid of advertising. They also have a forum.



Oh Stereophile isn't exempt, I just forget to name them. They do still have measurements to their credit in some cases, tho. I'm not huge on advertising/marketing efforts myself. Overstating truth or just making sh*t up? F*ck the advertisers.
mono-bloc posts on May 06, 2022 23:09
lovinthehd, post: 1556153, member: 61636
are just served up on a platter by ridiculous blogs like The Absolute Sound, What Hi-fi, 6 Moons, Positive Feedback, etc

The main problem with all the publications you speak off is the plethora of advertising, Every other page in some cases. I did notice you failed to speak of Stereophile, which I'm sure you will agree is the best example of both advertising and writers who lay claim to over state the truth. There-by keeping there jobs and keeping there advertiser masters happy.
One such publication you did not list was HiFi Critic
https://www.hificritic.com/
which is published four times a year and is completely devoid of advertising. They also have a forum.
lovinthehd posts on May 06, 2022 22:21
Cos, post: 1556159, member: 14477
After seeing that award, I don't want to support AXPONA next year lol. At least I got my ticket for $5.00 due to their promo code error. Even when I notified them, they didn't care

My fault tho, that's another company separate from Axpona (except the participating kind I suppose, but in terms of ownership/management….my first search showed me some stuff leading me to believe otherwise). My apologies. AVShowrooms of course is a farce, especially PeterB. Then again this fits into what some expect in going to an audio show of this type….
Cos posts on May 06, 2022 21:51
After seeing that award, I don't want to support AXPONA next year lol. At least I got my ticket for $5.00 due to their promo code error. Even when I notified them, they didn't care
Post Reply