Subwoofers of AXPONA 2019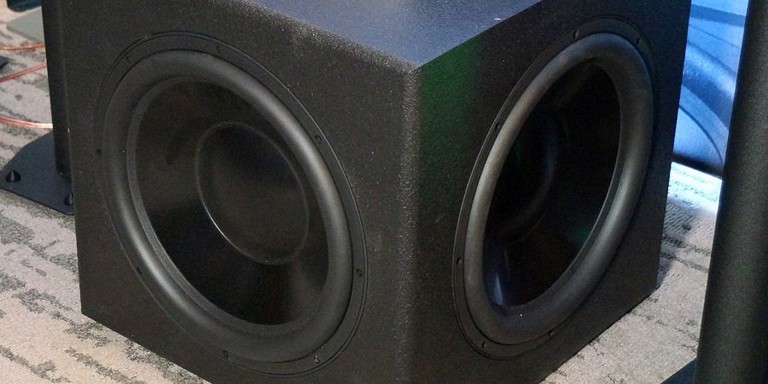 20019 AXPONA Subwoofers
Summary
Product Name:

DB1D, Persona SUB, Passive Reference 15" With Dual Passive Radiator Subwoofer Kit, SB-3000, Q-Sub 18, Super-secret Prototype

Manufacturer:

B&W, Paradigm, Dayton Audio, SVS, Magico, Hsu Research

Review Date:

April 24, 2019 09:00

MSRP: $4,500 - DB1D; $6,500 - Persona SUB; $549 - Passive Reference 15" With Dual Passive Radiator Subwoofer Kit; $1,000 - SB-3000; $36,000 - Q-Sub 18, To be determined - Super-secret Prototype
First Impression:

Gotta Have It!
Executive Overview
Even though AXPONA focuses on two-channel setups, there were still a fair number of subwoofers on display at the 2019 show, and it may be a sign that audiophiles are becoming more receptive to the inclusion of subwoofers in their systems. AXPONA is also growing increasingly popular among the home theater crowd where subwoofers are nearly mandatory. In our final segment of our AXPONA 2019 coverage, we looked at a selection of the subs that were exhibited at the show. These subs range from affordable and reasonably sized to insanely expensive and gigantic. They run the gamut from high value to luxury brands. There is a sub for everyone at AXPONA 2019, so maybe one of these subs would be a great fit for your system.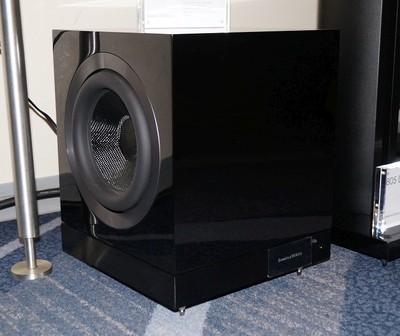 At AXPONA 2019, I finally had the chance to hear B&W's DB1D that we previewed a few years ago. Two of these subs were set up in a very large room with the B&W 800 D3s, and they managed to energize this space with a rich, full bass sound. The DB1D is a relatively high-end sub: there are pricier options out there but there are also far more affordable options. But unlike some other high-end subs, you do get a significant amount of sub for the money: two long-throw drivers in a dual-opposed configuration powered by an amp capable of up to 2,000 watts maximum output (RMS wattage may be half that) all wrapped up in a gorgeously finished piano black cabinet that is built like a tank. If these could create such a powerful sound in a large exhibition room, I can only imagine what they could do in a small to medium domestic room like so many of us have. If you need a sub with both beauty and brawn, this is one you should keep on your shortlist.
MSRP: $6,500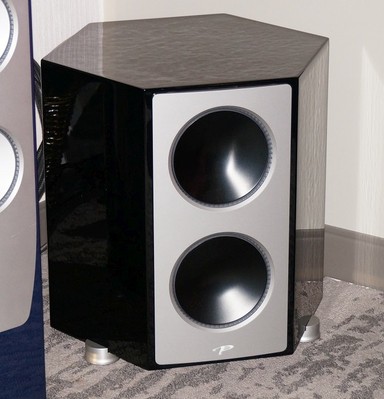 Spotted in Paradigm's room was their Persona SUB to go along with the Persona 7F speakers on exhibit. The Persona SUB is something of a successor to the Signature Sub 2 that rocked Audioholics in our review back in 2006. The Persona SUB uses a very similar design but with more refined technologies developed since then. Six 8" woofers are arranged in a triangular opposed configuration, and that much cone area is equal to that of a single 19" cone, so it could be thought of as a clever way to stuff a 19" driver in a reasonably sized enclosure. This is backed with 1,700 watts of continuous power, so the Persona SUB has a serious amount of displacement potential on tap. The Persona SUB is a great looking and unique subwoofer as well, however, at $6,500, one certainly has the right to expect the fine finish that it comes in. The Persona SUB is a great choice for those looking for high-end performance combined with high-tech looks and is the perfect compliment to a set of the Persona speakers. An outstanding system!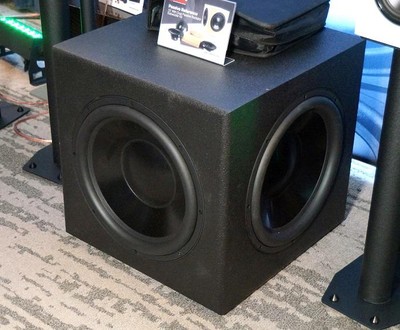 One subwoofer at AXPONA 2019 that I really liked turned out to be a kit from Dayton Audio. This is a passive kit using a front-firing 15" driver in a 4-ohm configuration with two passive radiators on the sides. The design is a great way to get a lot of deep bass out of a relatively small enclosure. The performance should be on par with a ported 15" but without the huge cabinet. Since it is a kit, some elbow grease is involved in assembling it, especially if a nice finish is desired, but the cost savings are enormous for those willing to substitute effort for expense. The kit cost is $549, and a nicely matching amp can be had for less than $300. Total cost would be well under $1k but could offer a powerful sub with performance unmatched until much higher prices. The driver is the highly-regarded Dayton Audio RSS390HO-4 which has tremendously wide-band and excellent linearity for a subwoofer driver. It could be used as a mid-bass driver if needed. One way to even further the value is to get two or more of these kits to consolidate construction time and then use a multi-channel amp for more watts for the dollar. A multiple sub system using these kits would be a blazingly powerful system and a bargain that would have a huge output/size ratio.

 
One subwoofer line I had been eager to get a peek at since its announcement was SVS's 3000 series that Audioholics ran a preview of late last year. I finally had the opportunity to experience an SB-3000 in SVS's room at AXPONA. It was physically smaller than I expected, yet it sounded larger than I expected as well. This small, sealed cube somehow managed to shake the room. I don't know how SVS managed to wring so much power out of a small container, but they did. I asked to SVS Vice President of Marketing Nicholas Brown if he had accrued any complaints from neighboring exhibitors about the bass levels during the show, and unsurprisingly they did. It says something about how much performance SVS can get out of a small enclosure that it could rock not only their room but other rooms as well. Audioholics will be running a full review of the 3000 subs, and I am eagerly awaiting the chance to hear what they can do in my own room.
MSRP: $36,000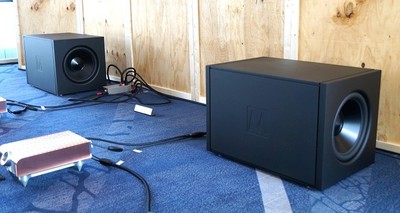 The Magico Q-Subs were undoubtedly the most expensive and heavily-built subs at AXPONA. With an individual cost of $36,000 and 550 lbs. weight, these subs aren't for everyone, but for those who want the most solidly built sub in the world, the Q-Sub 18 should fit that bill. The Q-Sub 18 uses two 18" drivers in a dual opposed configuration along with a 4,000-watt amplifier (though Magico does not specify if that amplification is peak, RMS, or some other measure of wattage). The Q-Sub 18s use the Aurasound NS18 drivers which are some of the most linear 18" subwoofer drivers ever manufactured. The cabinet is made with solid aluminum paneling which accounts for the tremendous weight. Despite the extremely robust build quality, the Q-Subs proved not to be invulnerable when the Magico reps allowed a guest to play an organ recording that had some low-frequency notes that managed to bottom out all of the drivers. The Q-Sub enclosures might literally be bulletproof, but the allowed excursion levels of the drivers turned out not to be protected from over-driving. For thirty-six large, one would hope for a more effective limiter. Perhaps more work is needed on their part to make this design more ironclad before asking audiophiles to lay down 36 big ones.
Hsu Research Super-secret Prototype!
MSRP: T.B.D.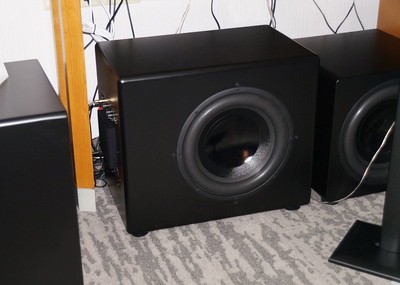 Hsu Research's room was pounding with bass this year; they were running a scene from the recent film 'Aquaman,' and the deep bass hit so hard that their room felt like a pressure chamber. Indeed, one patron exclaimed, "I think my soul got knocked out of my body!" The component causing all of this ruckus was a secret prototype sub that was tucked away in their room and is still in development at Hsu but presently takes the form of a dual-opposed sealed 15" with a 1kW amplifier. Given how powerful Hsu's single sealed 15" was measured to be in our review, a subwoofer that promises to nearly double its performance is going to be insanity. Two 15"s woofers have the same surface area of a 21" woofer, so this prototype is almost like a sealed 21" subwoofer. This work-in-progress does not have a spec sheet or tentative pricing yet, or even a name, and availability isn't expected until Q4 of 2019. But, like I said, this is a secret prototype, and I am not supposed to be talking about it, so keep all of this to yourself!
The above is a picture of Dr. Hsu making me promise not to write about his prototype sub!
Conclusion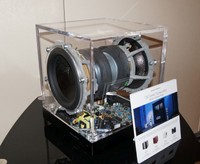 As a bass 'connoisseur', I am gladdened by the growing recognition of the difference that a good subwoofer system can make. Hopefully, this trend continues with ever more subwoofers at future shows. Few full-range speakers can match any of the above-mentioned subwoofers in terms of low-frequency performance, and those that can are huge, expensive, and impractically heavy. Another advantage that subs have is that the best location for a good bass response in-room is rarely also the best place for upper-frequency ranges. So while subwoofers have become not as rare at audio shows such as AXPONA as they used to be, I have a feeling that we will be seeing a lot more of them at shows to come.
Unless otherwise indicated, this is a preview article for the featured product. A formal review may or may not follow in the future.