Perlisten S4b Brings Flagship Performance Bookshelf Speaker Review
Perlisten S4b Brings Flagship Performance Bookshelf Speaker Review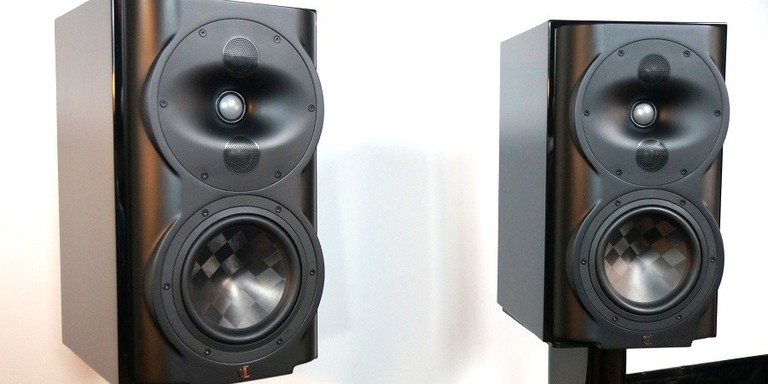 Perlisten S4b Bookshelf Speaker
Enclosure alignment: 3-way acoustic suspension
Drivers:
Tweeter: 28mm Beryllium
Midrange: 28mm(2) Textreme TPCD
Woofer: 180mm Textreme TPCD
Sensitivity: 85.4dB / 2.83v / 1.0m
Frequency Response (+/-1.5dB): 100 - 20kHz listening window
Impedance: 4Ω nominal/3.2Ω min
Frequency Response (-10dB): 36 - 37kHz
Certification:THX Dominus
Recommended Amplifier Power: 50 - 300W RMS
Finish options: Piano black, Gloss white, Cherry (gloss or matte), Mahogany (gloss or matte), Oak (gloss or matte), Ebony (gloss or matte)
Weight: 11.0 kg (24.2 lbs.)
Size(HxWxD): 16.5 x 9.5 x 7.3"
Perlisten S4b Bookshelf Speaker Youtube Discussion
Pros
Ruthlessly accurate tonality
Far above-average dynamic range
Outstanding directivity control
Great build quality
Stylish appearance
Perlisten S4b Bookshelf Speaker Introduction
Perlisten left a tremendous impression on us when we reviewed their flagship tower S7t speakers earlier this year. It was a speaker that pushed passive loudspeaker technology forward in a big way. It had a huge dynamic range, near-perfect on-axis response, outstanding directivity control, subwoofer-level bass extension, and a cool, futuristic look. One of its only potential problems was that it was a fairly large loudspeaker, and what if you wanted that technology without the size or weight? Enter the Perlisten S4b.
We had seen what Perlisten could do in a large tower speaker, but how well would their technology lend itself to a much smaller form factor? That was the question that prompted me to inquire about the possibility of reviewing a pair of the S4b bookshelf speakers. Sure, it isn't likely to have the dynamic range of the S7t speakers, nor the subsonic bass extension, but it's a speaker that doesn't become a logistical challenge for those who don't have several able-bodied adults handy if the speakers need to be moved. It also doesn't have the presence of the S7t for those who don't want the speakers to be such an imposing visual element of the room. The S7t is a lot of speaker, and there are certainly those out there who are interested in Perlisten's design technology but don't need that much speaker. The S4b looks to be an answer to that, but how much of the S7t's sound is left when it is squeezed into a bookshelf speaker form factor? Let's take a deep dive to find out…
Appearance
Stylistically, the S4b speakers remain the same as the S7ts. It has the same characteristic checkered woofer, the same waveguide, same grilles, and the same rounded front baffle design. I described the appearance of many of these same components in detail in my review of the S7t, so I won't repeat all of that here, suffice it to say that the S4b speakers look like an excised mid-section of the S7ts. That's not a bad thing since the S7ts looked so cool. The pair that I was sent had a gloss black cabinet, but it also comes in gloss white or a few different real wood veneers such as ebony or cherry. The wood veneers can be had in either a gloss or matte finish.
Perlisten also sent me their bookshelf speaker stands for the speakers, and these have to be the nicest looking stands I have seen to date. They have a steel floor base that has a curved cutout to wrap around the feet. The feet are the same seen on the S7ts: some round metal pieces that have some polished brass rings as well as polished brass spike tips. The top platform is held up by a gloss,-rounded metal support column. These speaker stands are a great aesthetic match for the S4b speakers and would flatter any other speaker that you could use them with.
The S4b speakers are high-end bookshelf speakers and look the role, especially with Perlisten's speaker stands. As with the S7ts, I felt that the grilles did not improve their appearance, so unless there are rowdy children or pets afoot, I would keep the grilles off.
Design Analysis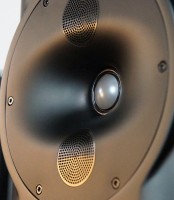 The Perlisten S4b retains much of the same technology and components as the S7t speakers, merely deployed on a smaller scale. This being the case, we will be quoting ourselves a fair amount from relevant portions of the S7t review to describe design elements of the S4b. We will start our discussion of the S4b with one of the most distinguishing design elements of the Perlisten speakers, the DPC waveguide. As the name suggests, the DPC waveguide is used to control vertical dispersion, but it does so in a much more sophisticated manner than traditional waveguides. In addition to just using a physical boundary to compress pressure waves into a specific dispersion profile, the DPC waveguide uses transducers to help guide sound waves by way of beamforming. Beamforming occurs when multiple drivers transmit the same signal in a way such that constructive interference strengthens the signal and certain angles and destructive interference negates the signal at other angles.
How does Perlisten accomplish this? To quote from our prior review:
...the drivers form an array where they largely work with each other rather than in their own separate frequency bands, so there is a lot of overlapping bandwidths in the crossover filters. This is done to create an acoustic beamforming effect where all the drivers sum up on an intended listening angle and subtract elsewhere. In order to accomplish this, the drivers in the array do not operate at the same amplitude levels or even the same phase angle. In fact, to make the beamforming work, the spacing of the drivers must be precise, both in height and width, and also in depth, and this is why the midrange drivers are mounted ahead of the tweeter in spatial positioning. The advantage of this beamforming is a whole lot of output delivery to a specific direction without needing to throw sound everywhere at a high level.
The restricting of vertical dispersion offers another advantage in that there are fewer floor and ceiling acoustic reflections to contend with, and some research has suggested that this can help make the speaker's lateral positions less localizable.
The tweeter/midrange section of the S4b that forms the DPC Waveguide is exactly the same as in the S7t. Quoting from our original description:
The tweeter is a 1.1" beryllium dome which produces a strong response well above the range of human hearing. Beryllium is the best tweeter diaphragm that can be deployed on cones or domes on account of its extreme rigidity combined with its very low weight. It's not used a whole lot since it's so expensive, but Perlisten wanted to make the best possible speaker in the S7ts, so a beryllium tweeter wasn't something they could compromise on. A well-made beryllium tweeter will hold its shape out to frequencies far exceeding human hearing, and that means it will have a smooth, well-controlled behavior for any sound that even the finest human hearing can discern. This beryllium dome is propelled by a very powerful magnet in the motor that is far more powerful than what is found in conventional tweeters.

The midrange drivers are two 1.1" domes that use Textreme's thin-ply carbon diaphragms (hereafter called TPCD). The bass drivers also use this TPCD material as well. These are very light but exceptionally rigid materials that are superb for loudspeaker cones or domes. TPCD is a broad weave of carbon fibers that has the strength of metal diaphragms but not the total material uniformity at every point in the construction. This is an advantage in that it doesn't bend as sharply at higher frequencies. At a high enough frequency, all loudspeaker diaphragms will start to bend and flex since the force driving the motion isn't uniformly applied at all points of the diaphragm. This behavior is called 'break-up,' and it results in a very erratic frequency response that can sound harsh. So a key challenge for driver engineers is to move those break-up modes into as high frequencies as possible where they can be more easily filtered out. Driver engineers are always on the lookout for a material that can hold its shape for as wide of a frequency band as possible. The TDCP drivers do this well. To be sure, they do run into break-up modes, also called 'ringing,' but the modes are heavily mitigated thanks to the structure of the diaphragm, and so the severity of the break-up modes are greatly reduced resulting in higher performance for a wider range of frequencies.
The S4b speakers only have one bass driver, so it isn't able to extend the beamforming array below the frequency band of the midrange drivers. The bass driver is the same as the S7t, so the same Textreme TDCP cone and same monster motor section. It is a very powerful driver and also a very linear one. The engineering of the bass driver is packed with high-performance elements that we go into with plenty of depth in the S7t review, so those who want the gory details should refer to that article. The woofer takes the range up to about 1kHz, and the three 1.1" domes take over above that point. The Textreme midrange drivers play up to 4kHz while the Beryllium tweeter plays well into ultrasonic frequency ranges, so the midrange domes do have an overlapping band with the tweeter- one of the key ingredients in creating the beamforming dispersion pattern as well as having a wider dynamic range than normal.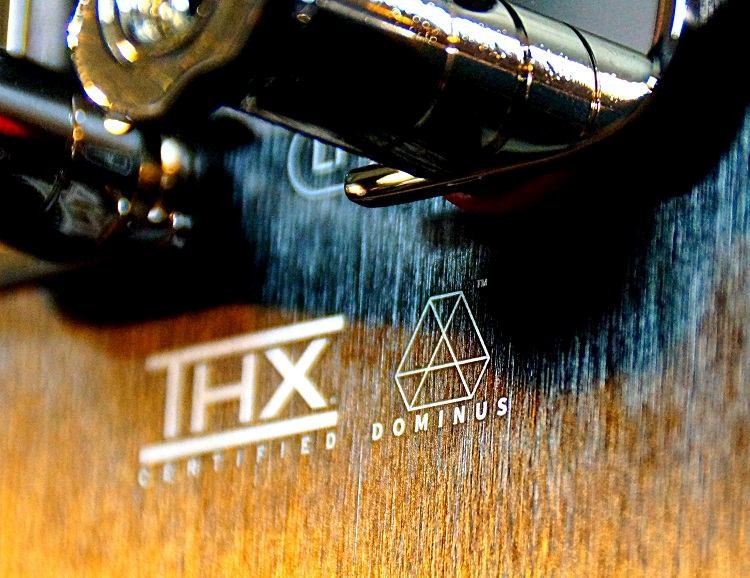 THX gives the S4b 'Dominus' certification but for a 'Surround' role. Unfortunately, THX does not make their certifications clear for the specific role that a loudspeaker plays within the system on their own website. The S4b speakers are not 'Dominus' certified for front LCR speakers. Still, they need to be fairly powerful to serve as surround speakers for a Dominus rating which indicates they can handle surround channels roles in a 6,500 cubic foot room. The demands may not be as strenuous as for the front LCR speakers, but it is still significant and far more stringent than what many bookshelf speakers can bear. Given the sealed design of the S4bs, they are expected to be mated with a subwoofer. They are not intended to be run as full-range speakers. Some might complain that such expensive speakers should have some deep bass extension, but to do that would give up dynamic range, and wouldn't be a worthwhile trade-off for the intended roles of these speakers. It would also likely disqualify them for certification for a Dominus system. Besides that, anyone who can afford these speakers can also afford a decent subwoofer and Perlisten makes ridiculously "decent" subwoofers too.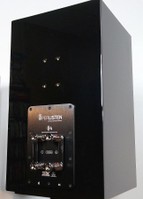 The cabinet is very heavily built and comprises the bulk of the 24 lbs. weight. The side panels and bracing are made from 1" thick HDF, and the front driver mounting piece is a curved 2" piece carved out of an HDF block and mated with the main enclosure for an incredible 3" thick front baffle. The enclosure is crammed with polyfill, and there is a rubbery damping layer lining the side panels. A widowpane brace adds rigidity to the cabinet's vertical midsection. This caliber of construction should add up to an extraordinarily inert cabinet. The included grilles might not be the prettiest I've seen, but they do a very good job of protecting the drivers. The grilles are made from perforated aluminum and held in place by some fairly grippy magnets. They should be able to withstand domestic projectiles as well as curious children's fingers.
There are four screw holes in the back as well as the bottom of the cabinet so they can be firmly affixed by a wall mount on either side. Since the speakers weigh quite a bit, any wall mount that would hold them needs to be very heavy duty and capable of supporting 25 lbs. Perlisten does sell a tilt/swivel bracket that mates with the screw hole pattern on the back for $99 each. Given the vertical dispersion pattern these speakers will have, they would also need to be angled to face the listening position. The terminal plate and binding posts are the same heavy-duty polished brass pieces that were used in the S7ts. They do allow for the option of bi-wiring/bi-amping, but those configurations aren't as useful on the S4bs as they would be on the S7t speakers. The S7t bass section could take way more power, and it makes sense for bi-amping them if you have an extra amp, but a more down-to-earth amplifier should be enough to fulfill the S4b's output potential. I think a single set of binding posts would have been sufficient for the S4bs. However, the additional binding posts do not add much more expense, so it's not a big deal. 
The aforementioned Perlisten speaker stands that can be purchased with the S4b speakers are of formidable construction in themselves. They weigh at least as much as the speaker, if not more. They have matching mounting screw holes to the bottom of the S4b speakers, so the S4bs can be held in place by some included heavy-duty machine screws. The stands are very bottom-heavy, so they would not be easy to knock over. And, if the S4bs are screwed in place, they would have an extremely stable platform. The stands have a 20" height that elevates the tweeter to about 32" which should be roughly level with most ear-level listening positions.
All of this sophisticated design should add up to a bookshelf speaker with an above-average dynamic range with a neutral response- both on and off-axis, as well as a resonance-free cabinet. As with the Perlisten S7t speakers, they should have a fairly controlled vertical response, although not to as low frequencies. It's a recipe for a good speaker, but let's see how it sounds in practice…
Listening Sessions
In my 24' by 13' (approximately) listening room, I set up the speakers with a few feet of stand-off distances between the back wall and sidewall and equal distance between speakers and listening position. I angled the speakers to face the listening position. The listening distance from the speakers was about 9 feet. Amplification was handled by a Pioneer SC-55. No room correction equalization was used. Subwoofers were used with an 80Hz crossover frequency.
Music Listening
The Perlisten S4b's give you front row seats to the performance..
It may be thought of as stuffy and high-brow music, but opera is a terrific genre for exhibiting a sound system's capabilities in tonality and imaging. One terrific new opera that I found was a performance of a reconstruction of "Argippo" by Vivaldi. Antonio Vivaldi's version of "Argippo," which was produced in 1730, has been lost in time in its original form. However, pieces of it survive in what is called pasticcios, musical works that are comprised of different works of other composers, sometimes unauthorized, to form a new opera. Through painstaking research, Vivaldi's original version has been reconstructed based on the best available materials and is performed here by the Italian period-instrument baroque orchestra Europa Galante along with a bevy of distinguished opera singers. This 2020 release on the Naive Classique label can be streamed from Qobuz in a hi-res 24-bit/88.2kHz sampling rate and boasts a very high level of recording and production quality.
I started listening at a moderate level, and everything sounded so clear and lucid that I decided to crank the volume to a relatively loud level to see if that clarity could be retained. The S4bs relished the high playback levels, not to say they sounded at all lacking at lower levels. The vocal solos soared on these speakers; they sounded sonorous and crisp but without any piercing harshness. This recording on these speakers put me in close proximity to the performance, which is how I imagine it was recorded. Imaging placed the singers at precise positions within the soundstage as well as the instrumentalists. Some recordings in symphonic halls tend to image the orchestra as a blended group as if the listener was seated further back so that individual instrumental positions aren't really discernable, and the intent is to emphasize the performance as a group. but this recording gives the listener a front-row seat where all the details can be heard, and that intent comes through with fine distinction on the S4b speakers. The overall reproduction was lifelike and didn't seem compromised at all, despite being replayed through fairly normal-sized bookshelf speakers. The tonal balance and precise imaging combined with the wide dynamic range made for spectacular realism. The S4bs brought this opera into my family room with a nearly tangible verisimilitude, and anyone looking for bookshelf speakers for highly dynamic classical or operatic recordings has a rock-solid option in these speakers.
The overall reproduction was life-like, without compromise...
For something that focuses more on a select group of instruments, I found a high-quality recording in "Silver Lining Suite" by acclaimed pianist and composer Hiromi Uehara. This recent release came about as Hiromi's emotional reaction to COVID-19's devastation on the music scene, particularly in the realm of live music performances. While Hiromi is mostly known as a jazz pianist, many of the compositions on "Silver Lining Suite" depart from modern jazz toward classical jazz reminiscent of George Gershwin. She is joined by a string quartet featuring a violinist, a violist, and a cellist, as well as other guest instrumentalists on several other tracks. The musical artistry on display here is first-rate, as are the technical aspects of production from the Concord Jazz label. This album can be streamed from Qobuz in a 24-bit/192kHz resolution and would be an exemplary album for hi-fi demos.  
One aspect of the recording that was easy to perceive right away was how the instruments were recorded. Everything was close mic'd thereby giving the listener the sense that they were sitting among the performers. The piano spread across the soundstage with higher-pitched keys shifted toward the right side much like what would be heard if seated at a piano, and the string players were mixed in for their own positions to the sides of the piano. The S4bs made the sound engineer's intent vividly clear, and the imaging had pinpoint precision. As anyone who plays piano or who attends piano concerts can attest, pianos can have a very wide dynamic range, and on this 24-bit recording, none of that was lost on the S4b speakers. Indeed many of the key strikes popped with a visceral impact. The timbre of the piano and stringed instruments sounded natural and faithful to the real thing. This recording was reproduced with verve on the S4b speakers, which put the players in my room as though it were a personal concert played for me alone. Seeing as how the genesis of this album was a response to the isolation brought about by COVID-19, perhaps that is the most appropriate effect that it should have.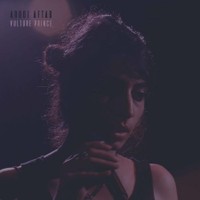 For something that emphasizes a solitary human voice, I found a new album by Arooj Aftab, a Pakistani-American musician/singer who is heavily inspired by Sufi music. Her 2021 release, "Vulture Prince," has a serene and calm instrumental backup for her singing in her mellow, lower-pitched voice. This album's simplicity serves as a microscope for her voice since there is not much studio processing on it nor is there much instrumental busyness to interfere with the pristine vocal recording.
From the start, this album sounded lovely, and there were many details and soundstage cues that the S4b speakers caught that I had missed when listening to "Vulture Prince" on my desktop PC system. The detail of sound was comparable to a headphone experience, yet the soundstage was exquisitely rendered, which is not something headphones are capable of. Arooj's voice was anchored dead center in the soundstage with instruments given a broader staging with a touch of reverb. Arooj was abetted by piano, harp, violins, and a subtle french horn, although she is always front and center, and rightfully so. On the S4bs, the instruments had a layered depth with piano and harp in the front and bowed strings and brass in the distant rear. I can't imagine a finer presentation of this album than what was given by the S4b speakers, and anyone seeking an utterly unclouded reproduction of well-recorded vocals or instrumentals need look no further if these speakers are within their budget.
To see how the S4b speakers would perform on something in terms of dynamics, I loaded up an album by Chee entitled "Eddy Morphine." The 2017 dubstep release uses all kinds of inventive lead electronic sounds demands to be played loudly. It is not a quiet album nor is it maximally compressed at all times like some pop music can be. At a high listening level, this album can answer the question of whether the speaker can hold up to party levels.
I can't imagine a finer presentation of this album than what was given by the S4b speakers.
Only moments into the album, I realized that these speakers could rock to a degree that belies their size. They could get truly loud seemingly without any constrictions. The S4b's dynamics reminded me of large floor-standing speakers. The caveat here is that they are not attempting deep bass at all, so all the bass was supplied by a capable sub- and they would need a capable sub indeed that could keep up with their dynamic range. The snares and claps could hit so hard that they induced an involuntary wince. Lead synths cut through the air with a near corporeal quality (the synths on track 5, "Pedigrief," sounded as thick as molasses). While I wouldn't task these speakers with filling a club, at my listening distance, they could produce club-like SPLs without trouble. Not a hint of compression or distortion could be heard, and it may be that my 140-watt/channel amplifier wouldn't be enough to push them close to any breaking point. It was enough to push my ears to the breaking point, however, and I backed down on the volume to give my ears a break. If you can supply a good sub or two, listening to "Eddy Morphine" at such a high volume left no doubt that the S4b speakers can satisfy anyone looking for serious dynamics from a normal-sized bookshelf speaker.
Movie Watching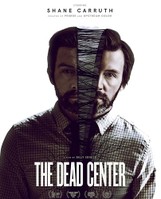 One movie I watched using the S4b speakers was "The Dead Center," a 2018 horror film about a psychiatrist who has an amnesiac patient who insists that he has come back from the afterlife with something nasty. With a premise like that along with many positive reviews, I couldn't resist it. While this reality-bending nightmare is not a mega-budget Hollywood studio film, it is not a micro-budget indie either and has good production values along with expert sound engineering. It seemed like it would be a good test of traditional movie sound mixes with an emphasis on music and effects sounds that are so critical to a successful horror film.
This movie turned out to be a 'slow burner' that makes its supernatural premise seem plausible with very realistic settings, characters, cinematography, and sound design. The sound mix was very intricate at times, with simultaneous elements of patients' raving, medical staff discussion, environmental noise, as well as less diegetic sounds used to indicate a character's state of mind. The S4b speakers were able to keep everything coherent and unambiguous. Dialogue intelligibility was never a problem. The speakers were also able to startle with bursts of violence such as the scenes with the "attacks." Jordan Lehning's pulsating music score was given an appropriate menace by the speakers and subwoofer. "The Dead Center" turned out to be a terrifically unsettling film that pays to be viewed with a proper sound system, and the S4b speakers more than qualify for executing this unnerving sound mix properly. Highly recommended!
For a sense of larger-scale cinematic sound mixes, I watched "The Outpost," a Netflix film about the Battle of Kamdesh, which is based on a true account where a small unit of American soldiers in a remote Afghanistan outpost are besieged by far larger Taliban force. I couldn't say how much this film depiction resembles the events it is based on, but war movies are always a great opportunity for exposing the dynamic range capabilities of a sound system. With the volume cranked high, I set out to see what the S4bs could do in reproducing the sounds of modern battle. The sound of modern war was relayed by the S4b speakers with bombast, and yet again surprised me by how such a modestly sized package could deliver such a big sound. Small arms fire snapped like a fireworks show, and the larger weapons such as mortars and RPGs had a concussive thundercrack that delivered a tangible blastwave that could be felt as well as heard. The S4b speakers gave "The Outpost" a big-screen sound that one would have expected from a commercial cinema. Despite all of the aural pandemonium of battle, dialogue intelligibility was never a problem. The rich profanity of army life was clearly imparted by the S4b speakers, and every F-bomb was splendidly audible. In the end, I enjoyed "The Outpost," and it deserves the presentation of clarity and wide dynamics that the S4bs were capable of.

Confused about what AV Gear to buy or how to set it up? Join our Exclusive Audioholics E-Book Membership Program!
Recent Forum Posts:
adk highlander posts on November 17, 2021 12:32
Mikado463, post: 1517439, member: 78272
Nice write up in Stereophile this month by Kal Rubinson and JA on the S4B's big brother S7t.

The new kid on the block has made quite a 'splash' !

Interesting. I thought Kal had retired so I let my subscription lapse. I enjoy his reviews and writing.
Mikado463 posts on November 17, 2021 10:04
Nice write up in Stereophile this month by Kal Rubinson and JA on the S4B's big brother S7t.

The new kid on the block has made quite a 'splash' !
Golfx posts on November 10, 2021 17:08
BTW nicely done review


Sent from my iPad using Tapatalk
ErinH posts on November 04, 2021 12:18
Here's my video review (data can be found on my site if interested)

XMiavksmOCA
ryanosaur posts on November 03, 2021 09:53
Matthew J Poes, post: 1514417, member: 85392
Hah! I can say it if you want. It would be pretty meaningless.

I've had prospective clients who compared the purchase of the Perlistens to a current classic speaker they own. They will wax poetic about the current speaker. How much better it was than anything that they have heard since. Sometimes the speaker will be just too old to compare with current designs. Again with the cars, a bit like comparing a sports car of the 90's to one today. Obviously the new one will be better, that's what technological advancements do. But will it be better for that owner? I am not so sure. I think these individuals get so attached to what they have that nothing will be able to have the same place in their heart.

Wise words, good sir.
Post Reply