Focal Sopra N°1 Bookshelf & Center Speaker Review: Looks that Kill!
Focal Sopra N°1 Bookshelf & Center Speaker Review: Looks that Kill!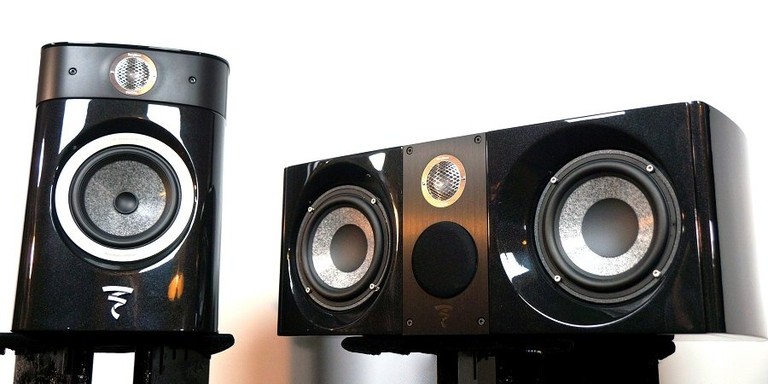 Focal Sopra N°1
Sopra N°1:
Type: 2-way bass-reflex bookshelf speaker
6.5" "W" bass midrange with "TMD" suspension & "NIC" motor
1" "IHL" Beryllium inverted dome tweeter
Frequency response (+/- 3dB): 45Hz - 40kHz
Low-frequency point -6dB: 41Hz
Sensitivity (2.83v/1m): 89dB
Nominal impedance: 8 Ohms
Minimum impedance: 3.9 Ohms
Crossover frequency: 2.2kHz
Recommended amplifier power: 25 - 150W
Dimensions: 16 ¾"H x 11"W x 15 ⅝"D
Weight (each): 41.89lbs (19kg)
Sopra Center:
Type: 3-way bass-reflex center speaker
2 x 6.5" "W" cone woofers
3" "W" cone midrange
1" pure Beryllium "IAL" inverted dome tweeter
Frequency response (+/- 3dB): 55Hz - 40kHz
Low-frequency point -6dB: 50Hz
Sensitivity (2.83v/1m): 91dB
Nominal impedance: 8 Ohms
Minimum impedance: 4.1 Ohms
Crossover frequency: 500Hz / 2.2kHz
Recommended amplifier power: 40 - 200W
Dimensions: 9 ¼" H x 24"W x 13 ¾" D
Weight: 41.8lbs (19kg)
Pros
Superbly neutral frequency response
Excellent off-axis performance
Very good electrical behavior
Fantastic build quality
Drop-dead gorgeous
Cons
Expensive (but fairly priced)
Focal Sopra N°1 Bookshelf Speaker Introduction

On the many occasions that I have heard Focal speakers, I have always been left impressed by the sound, but I never thought I would get some in for review to spend serious time with them. Perhaps the reason is that Focal is a European brand, and I have just spent a lot more time with American, British, and Japanese brands than European manufacturers. Hopefully, that can now change, and this review will start a trend for dealing with European brands. Not only do I now have an opportunity to dig into some Focal speakers, but I have been sent some advanced high-end designs for review as well in the Sopra series.
Focal Sopra No1 Bookshelf Speaker YouTube Review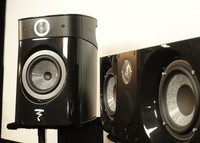 Today's review will be covering the Sopra N°1 bookshelf speaker and Sopra Center speaker, Focal's highest-end line next to the Utopia series. Both of these speakers cram cutting-edge loudspeaker engineering into an extremely attractive package. Needless to say, high-end performance combined with high-end looks often commands a high-end price tag, and, at nearly $10k for the bookshelf speaker pair and $4k for the center speaker, these do, but that doesn't mean they aren't a good value. If you want attention to detail in every facet of your sound system, with no compromises outside of the form factor itself, that takes some extreme engineering and manufacturing processes, and it isn't inexpensive to do all of that. Such a product is priced high for a good reason, and the question that we have to ask when we have high-cost products in for review is that pricing justified by the caliber of the product? Let's now take a close look at the Sopra speakers to get an answer…
Appearance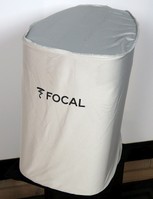 The Sopra No 1 arrived in a very tough cardboard box with thick polyurethane foam blocks providing a good cushion from shock and space from the box sides. Inside that, they were wrapped in a luxurious rayon drawstring sack to protect against moisture and scuffing. Once out of the sack, the speakers were revealed to be a stunningly beautiful design. The Sopra bookshelf speakers had a rounded enclosure with an angle at the portion continuing the tweeter. The tweeter's housing was made from black brushed aluminum, and in the back, there was an aluminum wireframe protecting an opening (whose function we will describe in the 'Design Analysis' section). The main bulk of the cabinet was finished in a very fine gloss black with a slight scintillation that you might find in a luxury car finish. The Sopra bookshelf speakers were topped off with a glass piece with gently beveled edges.
The tweeter was protected by a built-in aluminum wireframe grille, but the woofers have a removable grille that is just a fabric-covered round plastic frame. However, the woofers look so gorgeous (as woofers go) that I wouldn't dare hide them with a grille. The woofers are sunk fairly deep into the cabinet, and the cones have a marble look to them. They are encircled by a nice brushed aluminum trim ring. The Sopra center is mostly the same except it doesn't have a separate chunk of the cabinet for the tweeter, nor does it have the Sopra bookshelf speaker's tweeter 'vent.' It is a three-way design using the same kind of marble looking midrange cone as the bass drivers. The Sopra center has the midrange driver and tweeter set into a black brushed aluminum panel on the front baffle.
All in all, the Sopra speaker set has a truly high-end demeanor, both in looks and in feel. These are heavy for their size; the Sopra bookshelf speakers weigh nearly 42 lbs each. The build quality is clearly at a very high level. These speakers are drop-dead gorgeous and among the nicest I have dealt with yet. They are not cheap speakers, but, at least in feel and appearance, you really are getting your money's worth. These speakers are manufactured in France, and there is pride in craftsmanship in every corner.
Design Analysis
Focal has packed a lot of technology into the Sopra speakers, and so we have a lot to unpack in our design analysis. The Sopra No 1 bookshelf is a two-way design using a 1" dome tweeter and 6.5" woofer, a very common design on the face of it, but the details -and there are many details- are what separates it from other bookshelf speakers of the same basic spec set. The Sopra Center is a three-way using a 1" dome tweeter, 3" midrange, and two 6.5" woofers. That is not an unusual spec set for a center speaker, but again, it is how Focal goes about achieving these specs that elevate the Sopra Center. These speakers take traditional loudspeaker designs and boost them to the nth degree.
Let's start our discussion of the design of the Sopra speakers at the top with the tweeter. The Sopras use an inverted beryllium dome tweeter. Beryllium is a great material for a tweeter diaphragm for the reason that it is a very light metal (30% lighter than Aluminum) and extremely stiff (4 times stiffer than Aluminum) with good damping characteristics. Other metals such as aluminum and titanium being heavier and less stiff bend and flex in rapid motions more easily than beryllium. This means that cones made out of aluminum and titanium lose their uniform motion at lower frequency oscillations than beryllium. Or, to put it another way, aluminum and titanium cones will start to bend and flex at frequencies that beryllium is able to maintain its shape. In layman's terms, beryllium is more "pistonic" over a wider frequency bandwidth than those other metals.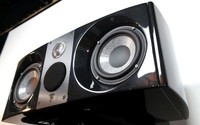 Beryllium's ability to hold its shape for a greater frequency band is a big advantage for driver performance. When cones start to flex, this is called breakup, and it can have serious negative consequences for sound reproduction. What is normally seen when cones, domes, and other transducer diaphragms begin to break up is a very erratic frequency response: large spikes of upper-frequency resonance that can sound pretty bad. For soft materials like fabric domes, the breakup resonances can be mild, but as a result of that material's softness, they usually do not play high frequencies nearly as well as stiffer metal domes. What can be had with beryllium is a driver that can play to relatively high frequencies without the intrusion of breakup.  
Beryllium is more "pistonic" over a wider frequency bandwidth than those other metals.
The reason beryllium is seldom used in loudspeakers despite being a superior diaphragm material is the expense of manufacturing it. In its unprocessed form, it is very toxic, so it takes special procedures to safely handle versus traditional diaphragm metals. Owners of speakers using beryllium do NOT have to be alarmed about its toxicity since once it is formed into a solid shape, it is no longer hazardous (unless you try to eat it). However, the safe manufacturing procedures make it far more expensive than other tweeter types.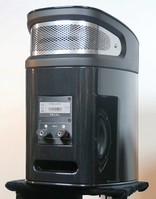 Focal uses an inverted dome rather than a typical convex dome because they claim it achieves a "better mechanical interface between the voice coil and dome, ensuring that all of the vibrational energy is transmitted into the dome and radiated as sound rather than partially lost as heat in the dome surround," to quote Focal's white paper. In other words, they claim it is more efficient. I don't know that it really is more efficient, but I don't think that Focal would just decide to do that without some reason to believe it is the better choice, so I think their claim is plausible. 
The Sopra No 1 bookshelf speakers house the tweeters in an unusual compartment which has the objective of eliminating backwave acoustic radiation from interfering with the movement of the tweeter dome. I have seen other manufacturers deal with the backwave radiation from a tweeter in a number of different ways, but Focal seems to have gone the furthest in addressing this problem. The acoustic output of the rear side of the tweeter is thrown into a specially shaped compartment that absorbs it. The backwave acoustic output is reduced so that it does not reflect back, hitting the tweeter dome, thereby causing unwanted motion -and thus sound - from the tweeter. Many manufacturers will just put some soft damping materials behind the tweeter diaphragm, but the efficacy of that is normally quite frequency-dependent. Focal has gone to extremes to rid the tweeter of acoustic interference from backwave radiation, but that is the kind of attention to detail one would expect at this price point. Details can be read in Focal's Sopra white paper linked to above.  
Moving down to the woofers, the Sopras use Focal's vaunted 'W Sandwich' cone composition. This cone material sandwiches structural foam with fiberglass tissue surfaces. It is an evolution of sandwich cones that Focal has been making since the 1980s. Focal claims it is very light and rigid but also has good damping characteristics compared to cones using a single material. Focal is not the only manufacturer making these types of layered cones in an effort to make something that is light, rigid, yet well-damped, but their solution of using structural foam does seem to be an inspired choice. 
Moving out from the cone to the surround, Focal uses the principles of a tuned mass dampener in the design of the surround. A tuned mass dampener is where a weight is attached to a heavier object with a spring, and the weight combined with the spring is tuned to counterbalance the resonant frequency of the attached object. Many structures use this mechanical principle to inhibit resonant frequencies from causing instability. Focal uses this principle in the surround design by adding circular beads of mass that line the surround which is specifically placed to neutralize the resonant frequencies of the surrounds. Resonances in the surround can affect the motion of the cone resulting in distortion. In their Sopra white paper, Focal has graphs illustrating the efficacy of their implementation of tuned mass damping by reducing distortion and extending the upper-frequency. They tested over 100 different prototypes to optimize the tuned mass damping in their surround design.
Focal has also gone to great lengths to reduce induction in the motor and is quite proud of the optimization done in the implementation of shorting rings toward that end. In loudspeaker motors, induction is an unintended current caused by the motion of the voice coil within the magnetic field. It can degrade the frequency response and cause nonlinear distortion. Shorting rings (also known as 'Faraday Rings') have an induced current that creates a magnetic field that helps to neutralize the effects of induction in the voice coil. Focal ran through many simulations of common implementations of shorting rings through sophisticated computer modeling and found the one that works best. In their white paper, they show a multitude of graphs that demonstrates the lower inductance of their designs as well as the improvements in frequency response linearity that it yields.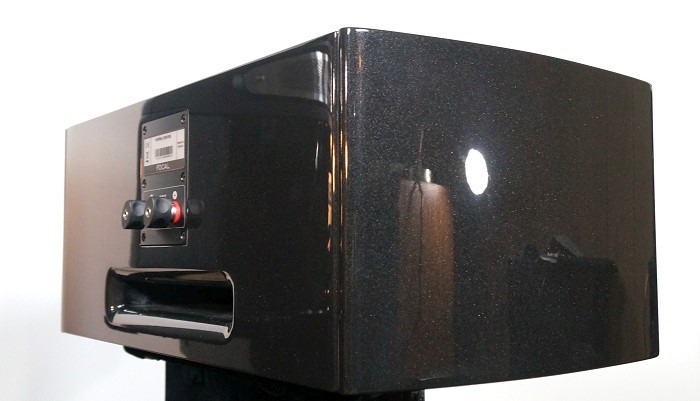 The cabinets for the Sopra speakers use what Focal calls the "Gamma Structure." Diving into the literature, this is just a fancy term for practices that many other high-end loudspeaker manufacturers are doing as well. It indicates a combination of extensive internal bracing, thick front baffle, and curved side panels. Focal says that the front baffle on the Sopra speakers is 69mm thick (approx 2.7" thick). That is extremely thick, obviously, but given how deeply the woofer is set in the front baffle, it is plausible. Focal uses MDF for all wood components. While it might seem pedestrian to use MDF in a speaker at this price point instead of a more exotic material, one aspect of MDF that makes it such a great loudspeaker enclosure material is that it is tough while having good damping properties. A material that is too stiff can be more susceptible to resonances. Furthermore, MDF is thicker on the sides than the center, and this difference in density can also mitigate resonances. The heavy finish of the Sopras will no doubt contribute to this effect since it likely required many layers of lacquer to attain. The extensive use of MDF, as well as the aluminum and glass pieces, are pretty good assurance that the Sopra enclosures will be inert. The Sopra bookshelf speakers weigh nearly 42 lbs. each, even though they are not especially large, and that is evidence of the extraordinary level of build quality in them.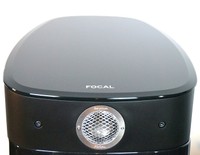 Both the Sopra No1 and Sopra Center are ported loudspeakers with slot ports on the back of each speaker. The port is built into the cabinet, at least as far as the panel extends, and there is a slight flaring on the outer edges. Both speakers include foam port plugs for those who want to seal the ports. Sealing the ports could help the speakers integrate with subwoofers better since ports can cause some odd phase behavior that isn't as easy to match at the sub crossover point. Sealing the center speaker may also be a good idea if the center has to be placed in a more enclosed space where boundary gain can really bump up the bass levels. Elevated mid-bass can hurt speech intelligibility so it's something to avoid in a center channel speaker. Outside of these circumstances though, I don't see a good reason to seal the ports.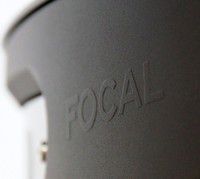 The Sopra No 1 Bookshelf speakers have their crossover frequency at 2.2 kHz, and the Sopra Center speaker has its crossovers at 500Hz and 2.2kHz. One nice thing about the Sopras is that Focal doesn't give you the option of bi-amping or bi-wiring, so there is only one set of binding posts. The reason why that is good is that it would be absurd to bi-amp or bi-wire these speakers. A case can be made for bi-amping large speakers with a formidable bass section, but there are no practical gains to be made to bi-amp speakers in this product class. Focal could very easily have pandered to misguided audiophiles and included that, but they choose to be sensible about the inclusion of that feature. Most users are more likely to do more harm than good when bi-amping or bi-wiring speakers like these.
The Sopras have very heavy-duty binding posts. They are large five-way binding posts and have some big knobs to tighten the caps. I did encounter some small problems with these posts. The banana plug tips on my speaker wire were too small to fit in the banana plug holes for two different types of banana plugs that I had on hand. Furthermore, the cap knobs were so large that they couldn't tighten the banana plugs when I inserted them into the cross hole because the banana plug base got in the way of the knob rotation. I would say users should just make it easy on themselves and use a bare wire connection. The Sopra speakers do not come with feet, but they do come with some small adhesive soft dimples that the user can choose to attach to the bottom if they don't want the speakers to rest on a surface directly. There are three screw holes on the bottom of the Sopra bookshelf speakers, but they are intended for mounting on Focal's stand that can be additionally purchased. 
Altogether, the Sopra No 1 bookshelf speakers and Sopra Center speaker have a level of build quality and immaculate attention to detail in every facet of design that is befitting their cost. Loudspeaker design is interesting and all, but it only serves the purpose of sound, so now it is time to give them a listen to hear what all this sophisticated design adds up to…
Listening Sessions
In my 24' by 13' (approximately) listening room, I set up the speakers with stand-off distances between the back wall and sidewall, and equal distance between speakers and listening position. I angled the speakers to face directly at the listening position. Listening distance from the speakers was about nine feet. Amplification and processing were handled by a Pioneer Elite SC-55. No room correction equalization was used. Subwoofers were not used unless otherwise noted.
Music Listening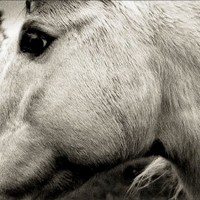 Starting with an album that emphasizes vocals, I found a pristinely recorded folk music production in an album entitled 'Bonny Light Horseman' from a new group of the same name. Bonny Light Horsemen is comprised of three veteran musicians from rock, indie, and folk music who came together to perform some very old and simpler compositions. Much of the music performed on this album was written centuries ago, and Bonny Light Horseman keeps the simplicity intact but does update some of the lyrics to be more resonant in this modern era, but without losing the spirit of the original music. This production keeps the music on an intimate level with only a slight reverb suggesting a larger space. The vocals and instruments are beautifully recorded, and the separate performers are integrated wonderfully without getting lost in the mix in this masterful production.
...vocals were portrayed with lifeline presence on the Focals.

The Sopra No 1 bookshelf speakers proved to be a fantastic match for 'Bonny Light Horseman.' The instruments and vocals especially were exquisitely detailed but without the excess treble that lesser loudspeakers use to create a sense of detail. On the Sopra speakers, the vocals of the leads were so well-defined that it was as if the performers were singing in my living room. They had a lifelike presence. The natural tonality was certainly aided by their sublime imaging. Through the speakers, it was easy to sense that the performances were all microphoned at a close distance and that the soundstage that was created was largely a matter of mixing choices. This didn't lead to a natural soundstage across the width of the speakers but rather a centered performance that cohered in a space between the speakers. The effect accentuates the harmony of the players more than concrete positioning for each player. I would guess that suited this music more than trying to render a realistic stage. Nonetheless, the recording sounded fabulous, and I am eager to use it on future speaker reviews to see how well it would compare to the Sopras, which surely sets a high reference point.
For music on a grander scale, I found a marvelous recording of Igor Stravinsky's 'Persephone', an opera written for ballet in 1934 about Zeus's daughter of the album's name. It is now considered one of Stravinsky's greatest works, although it wasn't that well-received at the time of its release. This is a varied work with many different musical elements that were considered uneven. However, it makes for a good demonstration of a sound system's ability due to the sheer diversity of styles within the work. It has choral segments, vocal and instrumental solos, as well as complex orchestral passages. The recording I listened to was released on the PentaTone label in 2018 and was performed by the Finish National Opera led by Esa-Pekka Salonen and joined by lead tenor Andrew Staples and actress Pauline Cheviller. The recording has superb sound quality especially considering it is a live recording of the performance at a classical music festival. I streamed this from Qobuz at a 24-bit/96kHz rate.
On the Sopra speakers, it sounded as if I had the best seat in the house. It was as if I were sitting in a forward position but not so close where the choral and orchestral elements lose cohesion. Solo moments had clearly defined positions, and it was easy to distinguish the sections of the orchestra, yet the overall recording put the listener very much in the center of the concert hall. Orchestral and choral parts had a lush yet vivid sound, and the soloists were terrifically detailed even though it was evident that the performance was not recorded with close mic'ing. The Sopra speakers were able to give life to the louder moments while not losing any detail on the quieter moments. The bass ability was surprising for a mere bookshelf speaker, and I didn't feel as if I had missed anything by not using a subwoofer. Perhaps I shouldn't be so surprised that the Sopra's were so capable given the level of technology, build quality, and cost. However, I was nonetheless impressed by the big sound that I received from such modestly sized speakers. I am sure that classical music fans would be very happy with a pair of Sopra bookshelf speakers, especially those who don't have room for tower speakers or subwoofers.   
Going back to something more tightly focused on a singular human voice, Ghalia Benali's 'Romeo and Leila' is a simple and uncluttered recording of a female vocalist backed by a handful of instruments. This 2006 release puts Ghalia's voice front and center with one or two layers of instruments supporting her. This recording, sung in Arabic, tells an autobiographical story of Ghalia in terms of established myths such as Rubaiyat of Omar Khayyam. However, since I don't understand Arabic, it could be a recipe for an egg-salad sandwich for all I know, but if it is, it is the most beautifully narrated recipe that I have heard. Ghalia's range and dexterity are magnificently displayed on this recording, much more so than other recordings that she is featured on since there is not a big instrumental section to mask her voice. This allows for a more detailed exhibition of Ghalia's talent and also makes 'Romeo and Leila' a good album to demo for a sound system. 
On the Sopra speakers, Ghalia's singing was presented with an uncanny realism whether she was whispering, shouting, celebrating, or lamenting. Her delicate voice was anchored at dead center in the soundstage with no ambiguity. Similarly, the instruments accompanied her with well-defined placement. Nothing sounded unnatural or colored in any discernible way. I could only imagine that this is what this recording is intended to sound like. The Sopra speakers add or subtract nothing and only recreate what was present in the signal. If you want to hear the musical performance as though you are in the same room as the performers, these speakers are a great choice. 'Romeo and Leila' was a mesmerizing listening experience on the Sopra speakers, and that is a common occurrence when you combine tremendous musical talent with expert sound recording and a high-fidelity sound system.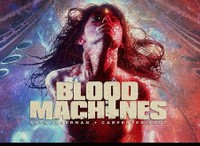 Taking a radically different turn, I decided to listen to something bombastic that would push these speakers quite a bit harder. Towards this end, one nifty soundtrack that I found on Qobuz was Carpenter Brut's score for the 2019 science fiction movie 'Blood Machines.' "Blood Machines' is a very strange but colorful and energetic film that is perfectly accompanied by a similarly colorful and energetic music score. The music is all electronic and has a retro vibe, clearly taking influence from 80's synth scores from the likes of John Carpenter's scores for his own movies (doubtlessly the homage in the 'Carpenter Brut' stage name) or Goblin's scores for Dario Argento's horror films. This score is an epic, pulsating, kaleidoscopic tour de force; it is bass-heavy, atmospheric, and has a relentless and memorable arpeggiated sequence at its core that demands to be played loud.
The Sopra speakers add or subtract nothing and only recreate what was present in the signal.
I cranked the volume up to see what the Sopra No. 1 bookshelf speakers could handle. The first thing that I noticed is just how capable these speakers are in bass frequencies. The 'Blood Machines' score has a lot of bass, and these bookshelf speakers with their seemingly modest 6.5" woofers were handling it all just fine. It could be that I was pushing these speakers right up to their limits and was just a hair away from over-driving them, but I was listening as loud as I was comfortable with and the Sopra speakers didn't seem to mind at all. The inclusion of a subwoofer might have given the lowest octave a bit more punch, but the Sopras didn't sound like they needed any help. This bass was satisfyingly loud and punchy. Along with their superlative bass performance, I never heard a hint of compression, distortion, or anything to suggest that the speakers were outside of their comfort zone. The 'Blood Machines' score has a lot going on but the sound was never muddy or confused; in fact, this was as good a presentation as I have ever heard (memo to self: listen to this album at least once more on the Sopras before returning them). On the 'Blood Machines' score, the Sopras proved that though they look elegant and refined, they could rock hard when commanded. Maybe it is more than just serendipity that Carpenter Brut's music sounded so good on the Sopras since he is a French artist being replayed on French-made speakers, but I think the case is rather that these speakers will make any good recording sound terrific.
Movie Watching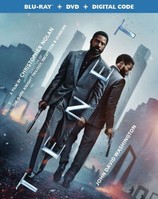 One movie I finally had a chance to see was Christopher Nolan's recent science fiction opus 'Tenet.' Tenet is a complicated movie about time travel, and I won't say more than that so as not to spoil the plot developments for those who haven't seen it. As with other major Hollywood tentpole movies, 'Tenet' is filled with large action set pieces and a massive orchestral score, so, with the Blu-ray disc in hand, I figured it would be a good chance to show off the Sopra's chops with something that had a very wide dynamic range. I also decided to use certain segments with the subwoofer active versus the speakers running full range, to see how much a sub could bring to material that was sure to have plentiful deep bass. Along with other Christopher Nolan productions, 'Tenet' has been criticized for having unintelligible dialogue due to the loudness of the music and effects noises. Would the Sopra speakers be able to save speech intelligibility in a Christopher Nolan movie? I decided to find out.
After watching the movie, I was quite impressed with the Sopras' performance, although they weren't able to completely make all the dialogue decipherable. For example, in scenes where the characters were talking through respirator masks, it could be difficult to understand what they were saying at times, but I don't think that any sound system could have made that intelligible. On the other hand, in action scenes where music and effects sounds can drown out the dialogue, I didn't have a problem following what the characters were saying. I watched the movie at a loud level, and I never felt as though the speakers were strained, so they seemed to handle the dynamics very well. Gunshots, explosions, and car crashes all had liveliness, and the music score had that big-screen feel one would hope for in such an epic movie. As for bass, the speakers did very well on their own, but they don't fully capture the lowest reaches nor do they have the visceral punch that subwoofers can provide. With a -6dB point of 41Hz, that was as expected. However, these bookshelf speakers were able to sound a lot larger than they were. In an upscale living room that doesn't have room for a subwoofer, it would still be very easy to enjoy big Hollywood movies, even if earthquake scenes might not be as lifelike were a subwoofer in use. It's worth noting that since these speakers are quite adept at bass on their own, a higher-performing subwoofer with serious extension down to 20Hz should be used to accompany them, or else the sub might not add enough to be worth it.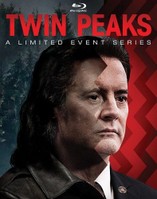 A Blu-ray disc set that I had had for some time but hadn't got around to watching was 'Twin Peaks: The Return.' One of my all-time favorite television shows is the original 'Twin Peaks,' so I was very excited about the return of 'Twin Peaks,' but the 'Return' series is 18 episodes and each an hour-long, which is quite a time commitment these days. Nonetheless, I carved out some space in my schedule, turned off my phone, and spent 1,030 minutes watching 'Twin Peaks: The Return' since I had the Sopras in house and used this review as an excuse to finally watch this series under the rationalization that I was "working on a project." However, it would be a good test of the Sopra Center's ability to reproduce speech since 'The Return' would doubtlessly be heavy in dialogue, and it would also be great to hear Angelo Badalamenti's always wonderful score through the Sopra bookshelf speakers. And so, back I went to David Lynch's fascinating logging-based township.
'Twin Peaks: The Return' turned out to be a more sonically immersive experience than I expected, and I was glad to have had such capable speakers to enjoy it with. It really does benefit from a high-fidelity sound system, more so than most shows. Each episode ends with a live musical performance in the 'Bang Bang Bar' by a diverse line-up of distinguished musicians such as Rebecca Del Rio, Nine Inch Nails, Eddie Vedder, Julie Cruise (whom Twin Peaks fans will remember for doing the vocals from the original Twin Peaks music), and Moby, among others. Every performance was a delight to hear on the Sopras. Furthermore, the sound design for the entire series was done by David Lynch himself, and sound plays a big role in establishing the peculiar atmosphere of 'Twin Peaks: The Return.' Large sections of the sound mix are just complex effects sounds mixed with music since much of it occurs in an abstract realm of dream logic. It all sounded fantastic on the Sopra speakers. Speech intelligibility was never a problem as well (except in the 'Black Lodge' where dialogue was recorded backward but replayed in reverse for an eerie effect). Badalamenti's music sounded as great as ever, from the familiar plucks of the guitar in the main theme to the newer compositions, which was a mixture of jazz, dreamy 50's-esque pop music, and electronic ambiance. Sound plays such an important role in 'Twin Peaks: The Return' that viewers would really be missing out without a truly good sound system, and I am happy to report that the Focal Sopras easily qualifies as components for just such a system.

See also:
Confused about what AV Gear to buy or how to set it up? Join our Exclusive Audioholics E-Book Membership Program!
Recent Forum Posts:
Mark A posts on June 14, 2021 19:49
I went with Focal speakers for my car. CLEARLY not the same thing, but they do sound amazing.
Big-Q posts on June 14, 2021 17:39
Great review as usual. Thanks
Beave posts on June 10, 2021 01:24
shadyJ, post: 1488583, member: 20472
As far as sound goes, I would need to do an A/B comparison to really say. The Revel PerformaBe speakers are pretty darn good as are the Sopras. As far as build quality goes, the Sopras are unquestionably on another level. The Revels are very good, but the Sopras are "holy sh!t" good, just spectacular. As for the measurements, the Revels have a more consistent dispersion pattern out to a higher frequency, but the Sopras have a more neutral response on-axis. Both boast a terrific set of measurements.

Thanks. The Revels look quite nice, but they're pedestrian when compared to the looks of the Focals.
shadyJ posts on June 09, 2021 23:29
lovinthehd, post: 1488566, member: 61636
Just saw a comment on an asr thread that shadyj's measurements aren't up to those of the Klippel system Amir uses….

Pfff!
lovinthehd, post: 1488570, member: 61636
So Magico up next?

Nope. I don't have any way of dealing with speakers as heavy as they are.
shadyJ posts on June 09, 2021 23:27
Beave, post: 1488565, member: 77067
How would you rate these against the Revel M126Bes?

As far as sound goes, I would need to do an A/B comparison to really say. The Revel PerformaBe speakers are pretty darn good as are the Sopras. As far as build quality goes, the Sopras are unquestionably on another level. The Revels are very good, but the Sopras are "holy sh!t" good, just spectacular. As for the measurements, the Revels have a more consistent dispersion pattern out to a higher frequency, but the Sopras have a more neutral response on-axis. Both boast a terrific set of measurements.
Post Reply