Bookshelf Speaker Roundup of 2017 AXPONA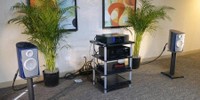 Anyone searching for new bookshelf speakers would do well to take a look at what's happening at AXPONA, which is rapidly becoming the premiere audio show for North America. AXPONA (Audio Expo North America) rolled into the Chicagoland area again where we were ready and waiting to take in all the new sights and sounds of high-end audio products. In this segment of our coverage, we look at a handful of bookshelf speakers in the low three-figure range to the low five-figure range. But, they all have something in common: we thought they sounded good enough that they deserved your attention. Read on to find out who made the cut in our coverage of the bookshelf speakers of AXPONA 2017.
Check out our preview of our favorite bookshelf speakers we saw at 2017 AXPONA in Chicago. The speakers range from the low three-figures to the low five-figures, but all offered high sound quality.