Janszen Carmelita Active Speakers Preview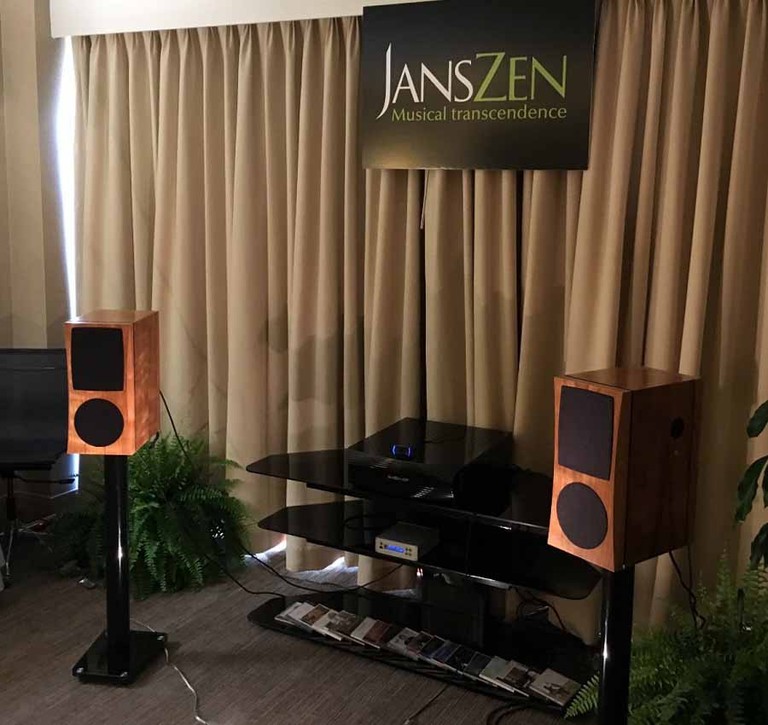 Janszen Carmelita Active Speaker System
Summary
Frequency response -- 20 Hz - 32 kHz ±3 dB
Peak SPL (pair in medium sized room): 104 dB
Amplificiation -- Dual 190W/8 Ohms each
Input -- Balanced

Crossover -- DSP, asymmetrical 1st/2nd order

ESL panels -- Dual 20H x 18W cm [8x7"]

Woofers -- 6.5" neo with extreme excursion
Dimensions: 43H x 22W x 33D cm [17x8.5x13"]
Weight: 16 kg [35 lb] each
Power -- 100 - 250VAC, power factor corrected, 10W at idle, 95% efficient at full power

Executive Overview
One happy trend which seemed to be emerging at AXPONA was the growth in the number of self-amplified speakers. There are a number of advantages to this approach with few disadvantages compared to passive designs. To name just a few of these advantages: more efficiency with absence of a passive crossover network, less intermodulation distortion, and far more flexibility and precision in determining frequency response characteristics. Janszen Audio has released a new line of active speakers which brings all these improvements to their already exceptional electrostatic designs. The charmingly named Carmelita in its active version made its debut at the 2016 AXPONA show. Visually, it resembles its passive counterpart but uses two 190w/8 ohm amplifiers in each cabinet for bi-amplification. It also differs from its passive sister by using one high-excursion sealed bass driver instead of two medium excursion drivers, for which a 30 Hz extension is made possible by the digital signal processing on-board the amplifiers.
The Carmalita (a much better name than the originally planned name "zA1.1a") is a powerful bookshelf speaker using an electrostatic tweeter and heavy-duty 6.5" bass driver. It also has an optional side-firing tweeter which can be turned on or off via a rear switch. The side-firing tweeter adds ambience and also makes some treble audible at a standing height, as the electrostatic tweeter very tightly controls vertical dispersion. For those listening at a sitting position, tightly controlled vertical dispersion has a significant advantage in reducing floor and ceiling acoustic reflections, which may be especially advantageous in rooms with hard floors. The horizontal dispersion is wider than the vertical although still tightly controlled, and maintains a linear response off the direct axis. One design choice that greatly assists in the controlling the directivity in the Carmelita is an electrostatic speaker with a monopolar radiation pattern, which is an unconventional design for an electrostats. This allows for much greater placement flexibility for achieving good sound than typical dipole electrostatic speakers which need large stand-off distances from walls for optimal sound. The large 7"x8" electrostatic tweeter is very capable down to mid frequencies and allows for a low 500 Hz crossover point, which itself permits the woofer to be better optimized for bass playback, having been alleviated of the demands of midrange playback. The low crossover point also makes off-axis dispersion more consistent over a greater range of frequencies.
Janszen Carmelita Active Speaker
So How Did They Sound?
With the time spent with the Carmelita at Axpona, we can confirm that all of these design choices add up to a terrific sounding speaker with precise imaging, tightly controlled bass, and a detailed enough sound to approach great headphones. As with all products produced by Janszen Audio, the design and construction of the Carmelitas are done with longevity in mind. To begin with, they are warrantied for five years on all parts. The electrostatic panel itself is relatively durable; it is protecting against arcing. The ESL membrane is made to remain tight for decades unlike other ESL membranes which can lose tension and sag. The ESL driver used in the Carmelita speaker system is insulated against overloads, and an acoustically transparent membrane protects the high voltage components from humidity and dust. Heirloom quality materials and finishes are used throughout. It is no wonder that the Janszen speakers are built intended with a lifetime of use, as the Janszen namesake was the progenitor of electrostatic loudspeakers. The original Janszen electrostatic loudspeakers were regarded as one of the first truly high-fidelity speakers, and some are still in use almost sixty years later. The Carmelitas walk in this tradition with excellent sound quality in a speaker that is built to last.
The active Carmelita is priced at $7,495 a pair and can only be purchased direct from Janszen Audio.

Unless otherwise indicated, this is a preview article for the featured product. A formal review may or may not follow in the future.