6 Best Bookshelf Speakers for Under $100/Pair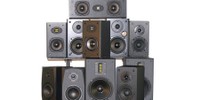 Audioholics has recently completed a string of reviews of ultra-affordable bookshelf speakers from Monoprice, Dayton Audio and Polk that we thought could possibly punch above their price points. These speakers are priced in the $45 to $100 per pair range and bear some signs that the engineers who created them were really trying to get good sound out of modest components. In this article, we summarize our findings and discuss the advantages that each design brings to the table.
Looking for a pair of bookshelf speakers in the $45 - $100 range with sound quality good enough for an audioholic on a budget? Check out our roundup of 6 budget speakers to see how they compared.