Dayton Audio B452-AIR Bookshelf and C452-AIR Center Speaker Review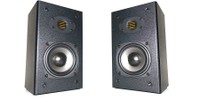 Would you believe that you can get a reasonably good sound from a $45 pair of bookshelf speakers? What's more, would you believe that speakers of this cost actually use sophisticated AMT tweeters? In this review, we look at the least expensive speakers that Audioholics has ever covered, the Dayton Audio B452-AIR bookshelf and C452-AIR center. Read our review to see why you don't need to spend thousands of dollars or even hundreds of dollars to get a better sound.
Dayton Audio just shattered the price barrier with their B452-Air speakers armed with an AMT tweeter for only $45/pair. Read our review to see how they performed.