Andrew Jones Is Leaving Elac - Unveils Solano Series
Elac BS 283 2-way Bookshelf Speakers
Summary
Product Name:

BS 283 2-way Bookshelf, FS 287 2.5-way Floor-Standing, CC 281 Center Channel,

Manufacturer:

Elac

Review Date:

August 30, 2021 01:00

MSRP: $2,000/pair - BS 283 2-way Bookshelf, $4,000/pair - FS 287 2.5-way Floor-Standing, $1,200/pair - CC 281 Center Channel
First Impression:

Pretty Cool
Elac BS 283 2-way Bookshelf Speakers
Frequency Range: 41 – 50000 Hz
Sensitivity: 85 dB at 2.83 V/m
Nominal Impedance: 4 Ω
Minimum Impedance: 3.2 Ω
Dimensions (Height x Width x Depth): 13 x 7.5 x 9.8 inches
Weight: 17.6 lbs
Elac FS 287 2.5-way Floor-Standing Speakers
Frequency Range: 30 – 50000 Hz
Sensitivity: 87 dB at 2.83 V/m
Nominal Impedance: 4 Ω
Minimum Impedance: 3.5 Ω
Dimensions (Height x Width x Depth): 38.8 x 10.2 x 11.8
Weight: 41.9 lbs
Elac CC 281 Center Channel Speaker
Frequency Range: 34 – 50000 Hz
Sensitivity: 87.5 dB at 2.83 V/m
Nominal Impedance: 4 Ω
Minimum Impedance: 3.6 Ω
Dimensions (Height x Width x Depth): 7.5 x 19.7 x 9.8 inches
Weight: 26.5 lbs
Executive Overview
On July 18th of this year, we published an article about the Elac Uni-Fi Reference loudspeakers, the latest work by speaker designer Andrew Jones. As it turns out, the Uni-Fi Reference isn't just the latest Elac speaker from Jones — it's also the last. That very same day, Jones took to Facebook and made a surprising declaration: he's leaving Elac after an incredibly successful 6-year run. Right away, online audio forums were abuzz with the news, with the same questions on everyone's minds. What's next for Andrew Jones? And what's next for Elac?
It is with great excitement that I announce the next chapter in my life and career. After a fun and fulfilling 6 years with ELAC I have left to pursue a fantastic opportunity that has presented itself. More details will follow in due course. I leave behind at ELAC friends that came with me and new friends I made, and a team that has great talent and a bright future. I am very grateful to have been a part of the amazing success that everyone achieved. It was an amazing experience. I now look forward to new adventures, new designs and interesting times!
— Andrew Jones
What's Next for Elac?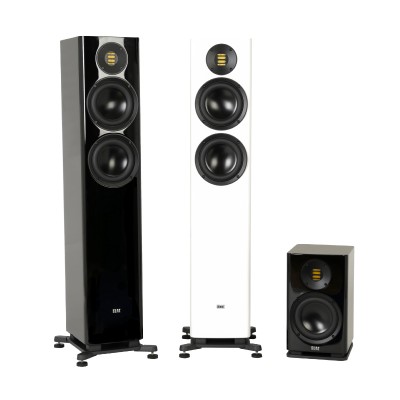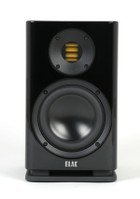 Not long after Andrew Jones made his bombshell announcement about leaving Elac, the company released some news of its own: the arrival of yet another new series of loudspeakers, called Solano. On the price/performance ladder, the three-strong Solano lineup sits above the existing Carina series (which was the only Andrew Jones design to use an Air Motion Transformer tweeter) and beneath the Vela series, which was introduced alongside Carina in 2019. The new Solano series was not designed by Jones, but by Rolf Janke, the Head of Research and Development at Elac's headquarters in Kiel, Germany. In fact, the whole time that Jones and his team were designing in the California offices of Elac Americas, Janke was working on a different set of projects back in Kiel, aimed largely at the European market. In addition to designing Elac's extravagant flagship Concentro series, Janke designed the aforementioned Vela speakers, which at the time were the least expensive to use Elac's signature JET5 tweeter. Unlike the less costly AMT tweeter sourced for the Jones-designed Carina speakers, the JET5 AMT is made by hand, in-house, at Elac's own manufacturing facility in Germany. Now the JET5 appears in the (slightly) more affordable Solano series, which includes the BS 283 bookshelf speakers ($1,999.98/pair), the FS 287 floor-standers ($3,999.96/pair), and the CC 281 center channel speaker ($1,199.98 each). 
Our new Solano series brings the performance benefits of our iconic JET5 tweeter and the meticulous craftsmanship of German manufacturing to an all-new affordable price point.
— James Krodel, Senior Vice President of Sales, Elac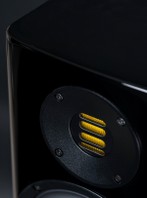 Elac has been using AMTs since the 1980s, so it's no surprise to see the company's latest and greatest JET tweeter in the first speaker launched in the post-Jones era. But it's not the only proprietary Elac technology in the Solano speakers. The 6-inch mid-woofers may look like pure anodized aluminum cones, but they are actually made with Elac's AS-XR (Aluminum Sandwich eXtended Range) material, which layers aluminum on top of paper utilizing a proprietary gluing process. The resulting cone is "stiff, precise, linear, and lightweight," according to Elac, delivering clean, clear, and powerful midrange and bass frequencies. That's the "AS" in AS-XR. The "XR" or eXtended Range component has to do with the way the voice coil is mounted to the driver. Instead of only being joined to the neck of the paper cone (which would be a more traditional design) the voice coil in an AS-XR driver is also joined to the bottom of the aluminum dome. According to Elac, "this design results in the expansion of the transmission range of the respective woofers or midrange drivers by nearly an octave. Therefore the abbreviation "XR" (eXtended Range) has been introduced." All drivers in the Solano series also benefit from cast chassis, which are said to minimize reflections back to the cone, resulting in improved clarity. The simple, rectangular MDF cabinets feature beautifully curved edges and premium painted finishes, either high-gloss black or high-gloss white. The bookshelf and floor-standing models also feature cast aluminum bases that hide down-firing ports. Standing just under 39 inches tall, the FS 287 floor-stander is a 2.5-way design, employing a pair of 6-inch mid-woofers crossed over at 450Hz and 2400Hz, respectively. The 2.5-way CC 281 center-channel has the same driver complement with the same crossover frequencies. The 2-way BS 283 bookshelf speaker stands 13 inches tall, and has just one 6-inch mid-woofer, crossed over to the JET5 tweeter at 2400Hz. All three models should be available by the time this article is published.
What's Next for Andrew Jones?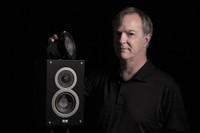 We don't know yet. The most popular theory online is that Jones, with help from some deep-pocketed investors, is starting his own loudspeaker company. It isn't hard to imagine that "Jones Audio" might one day be mentioned in the same breath as Wilson, Vandersteen, or any other distinguished audio brand that depends entirely upon the expertise and legacy of a namesake founder for its success. And ever since Pioneer began selling speakers with Andrew Jones's actual signature on the back, it has been clear that Jones is proud of his work, and happy for the audio-loving masses to know his name. Of course, starting a company from scratch is not without significant risk, and as Jerry Del Colliano pointed out earlier this year, there is a high barrier to entry for new brands in the audio world. But Jones enjoys an unusually high level of name recognition, a proven track-record of success, and a reputation of being well-liked by pretty much everyone in the audio industry. If he can't do it, who can?
Still, there may be an entirely different "fantastic opportunity" luring Jones away from Elac. Perhaps another speaker company has hired him to do precisely what he did for Elac: revitalize the brand with a new generation of designs. Here's an example. About a year and a half ago, AudioQuest founder and CEO Bill Low acquired one of my favorite speaker companies, GoldenEar Technology. Since then, GoldenEar founder Sandy Gross has stepped down from his leadership position, and the company has coasted along, enjoying an improved distribution network, but not making announcements about any new products. In the past, when AudioQuest has entered new product categories, Bill Low has been quick to recruit top talent from other companies in order to ensure success. For example, when AudioQuest got into DACs with the hugely popular DragonFly products, the company turned to digital audio guru Gordon Rankin, who knocked it out of the park. When AQ decided to develop high-end power conditioners, Furman's Garth Powell got snapped up, and the resulting Niagara power conditioners (not to mention some absurdly expensive power cables) have been quite successful as well. Now that AudioQuest owns a loudspeaker company, it's easy to imagine that Bill Low might choose to place it in the hands of a rockstar speaker designer like Andrew Jones. Of course, this is all just speculation on my part. What's certain is that there are several well-funded loudspeaker companies out there that could benefit from Jones's skill and prestige.
Finally, Jones might usher in a ghost of audio past. In the last few years, we've seen a handful of once-iconic but essentially defunct audio brands get relaunched with a new identity. Think KLH, or Leak Audio. Karl-Heinz Fink purchased the EPOS brand last year, and is readying a new loudspeaker design to be launched before the end of 2021. Maybe Jones will be reviving one of the great loudspeaker companies of yesteryear? Infinity used to be one of the world's preeminent speaker manufacturers, with high-end models selling for tens of thousands of dollars back in the 1980s. Now owned by Harman, the brand is a shadow of its former self. I'm not at all happy to recall that the last Infinity speaker I heard was part of the factory-installed audio system in my dad's old Chrysler minivan. But it doesn't have to be this way! How cool would it be to see Infinity rebooted with Jones at the helm? (Side note, Jones actually worked at Infinity before his 17-year stint at Pioneer.) Harman was already a big and prosperous company before it got gobbled up by Samsung, but now the possibilities are practically endless. And of course, there are numerous other bygone loudspeaker companies that deserve a second chance. (I'm still bitter that I never got to own a pair of the Thiel Audio CS3.7 limited edition speakers with the Gibson Les Paul Signature sunburst finish.)
What classic loudspeaker brand would you like to see brought back from the dead? And what do you think we'll see next from Andrew Jones? We'd love to hear your thoughts in the forum thread below. 

Confused about what AV Gear to buy or how to set it up? Join our Exclusive Audioholics E-Book Membership Program!
Recent Forum Posts:
Kingnoob posts on October 24, 2021 15:46
gene, post: 1506753, member: 4348
It would be nice if Andrew Jones could make a speaker with a sensitivity rating of at least 90dB at 1 meter/2.83V and also be able to play loud in a large room. The problem with most of his designs for Elac is they rely on a 5" mid with 1" coax tweeter which really limits dynamic range.
Similar issues with the cheapos when he worked for pioneer he made that budget line. Figures he quit probably go to another company I wonder feel like will finally have better speakers if someone else designs them.
His TAD and I'll try and speakers must be only thing he's really good at, which I can dream of never able to afford it.
Never heard the Pionero elite line so I can't say how good those are. Elac should at least be on par with svs and similar prices brands .
Sent from my iPhone using Tapatalk
gene posts on September 27, 2021 15:11
It would be nice if Andrew Jones could make a speaker with a sensitivity rating of at least 90dB at 1 meter/2.83V and also be able to play loud in a large room. The problem with most of his designs for Elac is they rely on a 5" mid with 1" coax tweeter which really limits dynamic range.
prerich posts on September 27, 2021 15:07
I would like to see him bring back Infinity and an updated version of the Composition Prelude P-FR (the high efficiency model with the benefit of DSP on the base module)
lovinthehd posts on August 30, 2021 20:15
Movie2099, post: 1501884, member: 90678
I'm guessing everyone that has Goldenear Speakers will be throwing them away, now that they know they're owned by AudioQuest……

They didn't appeal in the first place but now that fraudioquest owns 'em, definitely not a consideration from here on out….
lovinthehd posts on August 30, 2021 20:13
Did he make enough cash to start something of his own (or at least more of his than Pioneer or Elac were)? Or will he just join someone existing once again for a salary but a fatter one (hard to know what the opportunity mentioned is)? How long before his non-compete deal (assuming there's one) expires? The suspense isn't killing me one way or the other but wish him luck/success….
Post Reply