The New Uni-Fi Reference Loudspeakers: Elac's Best Yet?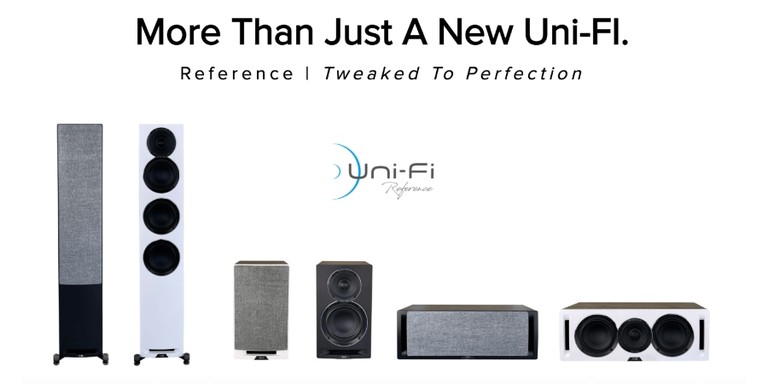 Elac Uni-Fi Reference
Summary
Product Name:

Uni-Fi UBR62 3-way bookshelf speaker, UFR52 3-way floor-standing speaker, UCR52 3-way center-channel speaker

Manufacturer:

Elac

Review Date:

July 18, 2021 09:30

MSRP: $999.98/pair - Uni-Fi UBR62 3-way bookshelf speaker, $1,999.96/pair - UFR52 3-way floor-standing speaker, $599.98/each - UCR52 3-way center-channel speaker
First Impression:

Pretty Cool
Elac UBR62 3-way bookshelf speaker
Frequency Response: 41Hz - 35000Hz
Nominal Impedance: 6 Ohms
Sensitivity: 85db
Dimensions (WxHxD): 8.19" x 14.13" x 13.15"
Net Weight: 23.54 lbs each
Elac UFR52 3-way floor-standing speaker
Frequency Response: 40Hz - 35000Hz
Nominal Impedance: 6 Ohms
Sensitivity: 86db
Dimensions (WxHxD): 7.28" x 39.18" x 13.31"
Net Weight: 52.36 lbs each
Elac UCR52 3-way center-channel speaker
Frequency Response: 47Hz - 35000Hz
Nominal Impedance: 6 Ohms
Sensitivity: 85db
Dimensions (WxHxD): 20.75" x 7.28" x 13.15"
Net Weight: 29.04 lbs
Executive Overview
Elac's indefatigable Andrew Jones has been up to his old tricks again, and the company is now shipping its latest line of speakers, the recently-announced Uni-Fi Reference series. This collection is actually the fourth incarnation of Uni-Fi. The original Uni-Fi series launched in 2016, to virtually universal acclaim. For $500, you could get a shockingly capable 3-way loudspeaker with Jones's signature concentric midrange/tweeter combo driver. The price-to-performance ratio was off the charts, and here in the U.S., they sold like hotcakes. But at Elac's headquarters in Kiel, Germany, the powers that be decided that Uni-Fi's stocky, vinyl-clad cabinets would need a makeover in order to please persnickety European customers. Hence, the Uni-Fi Slim range was born. Sonically identical to the originals, Uni-Fi Slim speakers were taller, deeper, and — you guessed it — slimmer than their American counterparts. Gone were the relatively unremarkable vinyl wraps; the svelte Slims featured a high-quality painted finish that looked much more expensive, because it was. But as it turned out, plenty of folks on both sides of the pond were happy to pay a significant premium to get Uni-Fi sound from a designer-friendly package, and the folks at Elac eventually made the Slim series available worldwide. The third incarnation of the Uni-Fi line came less than a year ago with Uni-Fi 2.0, a total clean-sheet redesign that promised (and delivered) even better performance. Uni-Fi 2.0 maintained the Slims' slender, graceful dimensions, but the fit and finish were nothing special — a compromise made in order to keep prices low.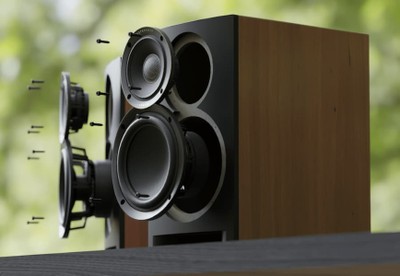 Many Elac fans, myself included, figured that it was only a matter of time before the company offered a souped-up version of the Uni-Fi 2.0 with more glitz and glam. This expectation was amplified by another precedent set by the company: after releasing the 2.0 version of the entry-level Debut series, Elac had launched a series called Debut Reference, which took the Debut architecture to its final form by beefing up the cabinets, tweaking the drivers, and dressing up the whole package in better-looking finishes. Surely, we thought, a similar Uni-Fi Reference series must be in the works. Well, we were mostly right. The Uni-Fi Reference series has indeed arrived, but it's much more than Uni-Fi 2.0 dressed in a fancy suit. The speakers feature all new drivers, crossovers, and cabinets, making Uni-Fi Reference a completely new design from the ground up… again. Doesn't Andrew Jones ever sleep? Like the previous iterations of Uni-Fi, the Uni-Fi Reference series comprises 3 speakers: a 3-way bookshelf model, a 3-way tower, and a matching 3-way center-channel. The UBR62 bookshelf speaker ($999.98/pair) features a newly-designed 4-inch concentric tweeter/midrange combo driver and a new 6.5-inch aluminum woofer (up from 5.25 inches in the Uni-Fi 2.0). The UFR52 floor-standers ($1,999.96/pair) sport the same 4-inch concentric driver for midrange and treble duties, but the lows are provided by a trio of newly-designed 5.25-inch woofers. The UCR52 center-channel speaker ($599.98/each) uses a pair of 5.25-inch woofers, flanking the 4-inch concentric driver.
This new line removes the price limitations of the Uni-Fi 2.0 series along with the technical barriers associated with that price point. The Uni-Fi Reference series offers significant performance improvements such as cast chassis for both the concentric and bass drivers, newly-developed bass and concentric drivers, enhanced bracing, improved crossover design, along with luxury cosmetics.
— James Krodel, Elac's Senior Vice President of Sales
The newly-developed 4-inch concentric driver features a soft-dome tweeter with a wide surround. This design is said to deliver improved frequency extension at both the top and bottom of the tweeter's operating range, resulting in a clear top end and improved blending with the midrange driver. The midrange driver is an entirely new design, featuring a large diameter voice coil and a vented rear spider. The new neodymium magnet allows for higher excursion and improved control of midrange frequencies, according to Elac. The newly-designed cast chassis is said to improve midrange clarity by minimizing reflections back to the cone. The 6.5-inch and 5.25-inch woofers used across the Uni-Fi Reference series both feature a "single piece compound curvature aluminum cone" with a cast chassis and a large rear vented magnet. Elac says these newly-developed bass drivers deliver drastically improved low-end reproduction with improved linearity and better low-frequency response than previous Uni-Fi designs. The drivers are governed by a sophisticated 3-way crossover — also a completely new design. Elac says that the new crossover network improves driver integration and delivers better response linearity, while the speakers' true 6-ohm nominal impedance makes them compatible with real-world AV receivers. (That said, the 85db sensitivity rating suggests that these speakers will probably sound more alive when paired with a powerful amp, so don't skimp on your AVR.)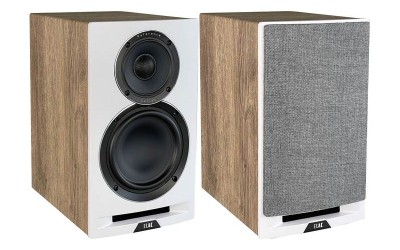 UBR62 bookshelf speaker
For many, the cosmetic upgrades alone will make the Uni-Fi Reference series worth the extra dough over the less expensive Uni-Fi 2.0 series. The "oak" finish, complemented by a satin white front baffle, looks very au courant. But I'd probably go with the "walnut" finish, with its satin black front baffle. In either case, a retro-cool grey heather cloth grill completes the look. If I had to make one complaint about the Uni-Fi Reference series, it would be that they don't really look any more refined or more expensive than the cheaper Debut Reference speakers. In describing the finish options above, "oak" and "walnut" appear in quotes because Elac isn't treating us to real wood veneers. Instead, we're still in imitation-wood vinyl wrap territory. I would have preferred to see the painted finishes carried over from the Uni-Fi Slim series, or even the gorgeous, glossy Ebony Emara wood finish that Elac uses on its powered Navis series. Admittedly, the Navis series is a bit more expensive than the Uni-Fi Reference, but some of Elac's competitors do offer real wood veneers on speakers in this price range. Wharfedale's Evo4 series and Monitor Audio's Silver series are both in this price range, and they both boast high-quality wood finishes that are a clearly a step above what the Uni-Fi Reference has to offer in the aesthetics department. Of course, it's what's on the inside that really counts. Underneath the faux wood, the Uni-Fi Reference cabinets feature full perimeter bracing, which is said to significantly reduce cabinet vibration and the resultant cabinet coloration. Elac says that this extra bracing allows the speakers to be pushed harder without increasing the cabinets' influence on audio quality. The front-firing slot-style ports in the Uni-Fi Reference series not only allow for greater freedom of placement, they also feature a newly-developed dual-flare geometry that includes both internal and external flares. The dual flares "allow for lower noise and higher bass output for improved low frequency dynamics," according to Elac.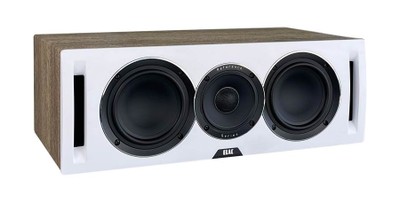 UCR52 center-channel speaker
The folks at Elac say that they don't use the term "reference" lightly. It's "not merely a name, but the defining characteristic of a product that has been refined for maximum performance and style." Clearly, the Uni-Fi Reference series features a number of performance and cosmetic improvements over Uni-Fi 2.0 — so many, in fact, that the Uni-Fi Reference is a whole new beast entirely. While I would have liked to see a higher-quality finish (or even an optional upgrade finish, for a little extra cash), I think the Uni-Fi Reference may represent the sweet spot in Elac's lineup for many style-conscious audio enthusiasts. They'll look and sound substantially better than an entry-level loudspeaker, but they aren't so expensive that they're beyond the reach of normal people living on a budget. I won't be surprised if these are the best-selling Uni-Fi speakers yet.
Visit https://www.elac.com/lp/uni-fi-reference for more information.

Confused about what AV Gear to buy or how to set it up? Join our Exclusive Audioholics E-Book Membership Program!