GoldenEar Packs the Latest Audiophile Tech into their BRX Bookshelf Speaker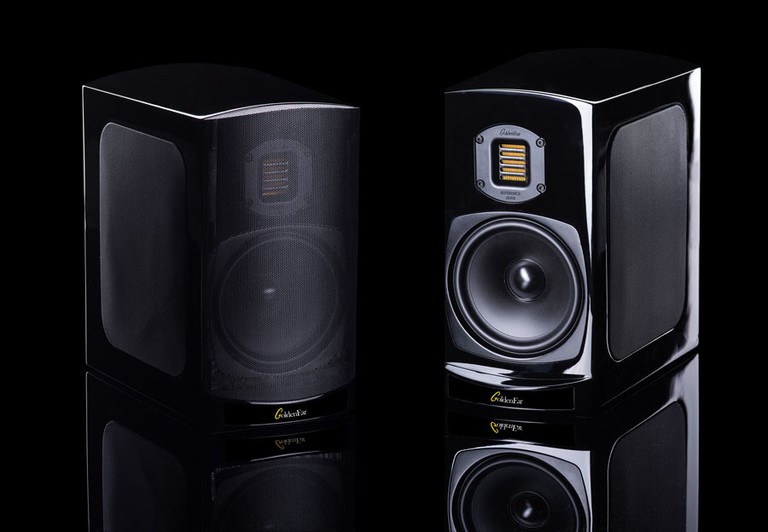 GoldenEar BRX Bookshelf Speaker
Summary
Executive Overview
GoldenEar Technology announced their new ultra-high-performance compact bookshelf/stand-mount loudspeaker, the BRX, at the 2019 CEDIA EXPO. The goal of BRX was to create a gorgeous, luxuriously finished, ultra-compact loudspeaker which would incorporate the latest advanced technology developed for GoldenEar's Triton Reference, Reference One.R  and DA 3, in order to achieve  truly superb sonic performance typical of  larger, much more expensive units.
The BRX is basically a passive version of the DA 3 powered wireless loudspeaker. It incorporates a 6" cast-basket bass/midrange driver with a focused-field magnet structure. The cone is formed with a proprietary curve, from a special formulation of polypropylene, which is said to combine superior internal damping with a high speed of wave transmission through the cone (Young's Modulus). This driver can also be found in the award-winning Triton Reference tower. The tweeter is the Reference High-Gauss High-Velocity Folded Ribbon, the same used in both the Triton Reference and Triton One.R as well as the DA 3 and SPS. The two drivers are perfectly blended with a unique "balanced crossover" with a floating configuration that incorporates high quality film capacitors. New internal speaker wire, which has a unique twist as in the Triton Reference, is utilized. A pair of inertially balanced 6.5" planar infrasonic radiators located on either side of the cabinet, acoustically load the active 6" driver as well as couple the internal bass energy to the room for tight, quick, extended bass response. The beautifully styled 12"H x 8"W x 12.25" D cabinet is luxuriously finished in hand-rubbed piano black lacquer.
The BRX has been engineered to deliver reference level performance for both two channel as well as home theater systems of the highest quality, with extraordinary three-dimensional imaging and high-resolution clarity. BRX has been voiced to match the Reference towers, with a tremendous sense of you-are-there lifelike immediacy according to GoldenEar. Overall frequency response is 40-35 kHz (no tolerences specified), efficiency is 90 dB and recommended associated amplification is 10-250 watts/channel. Projected US retail price is $699 each and delivery is expected in the first quarter of 2020.

Confused about what AV Gear to buy or how to set it up? Join our Exclusive Audioholics E-Book Membership Program!
Recent Forum Posts:
Verdinut posts on September 20, 2019 13:38
lovinthehd, post: 1340853, member: 61636
Hey it least it has a dac. Wouldn't find such a unit useful myself, but it may meet someone's needs at that price point…..
IMO, The Yamaha A-S301 represents a better value with a power rating of 60w/ch both channels driven at 8 ohms with only 0.019% THD from 20-20kHz, for $50 less.
It also has the advantage of featuring Bass-Treble and Loudness controls which is rare on today's Hi-Fi gear:
https://usa.yamaha.com/products/audio_visual/hifi_components/a-s301/specs.html#product-tabs
AcuDefTechGuy posts on September 20, 2019 12:35
The Integra $2,500 11Ch AVP and $2,500 11Ch Amp seem interesting for guys who want 11Ch separates, but without room correction like Dirac.

The Integra MSRP's are a few hundred dollars less than the Yamaha $2,700 11Ch AVP and $2,900 11Ch Amp.

The Monolith $2500 11Ch Amp might be a better deal than both Amps. But the $4,000 Monolith HTP-1 AVP might seem too expensive compared to both, although the HTP-1 does have Dirac which might be a deal-breaker for people who must have Dirac.

The $4,000 Monolith HTP-1 Dirac-AVP seems like a bargain compared to the much more expensive Dirac-AVPs from AudioControl, NAD, and ATI/DataSat, especially when you combine the Monolith AVP with the other Monolith Amps.
lovinthehd posts on September 20, 2019 12:03
Wu-Fer posts on September 20, 2019 11:50
Jon AA posts on September 20, 2019 11:14
Thanks for the video, Gene. Audio Control hadn't been on my radar until now. It looks like their $4600 AVR is the lowest cost of entry to 16 channels I've heard of so far (when you consider it comes with 7 amps built in).
Post Reply