GoldenEar DigitalAktiv 3 Wi-Fi Bluetooth Speaker Preview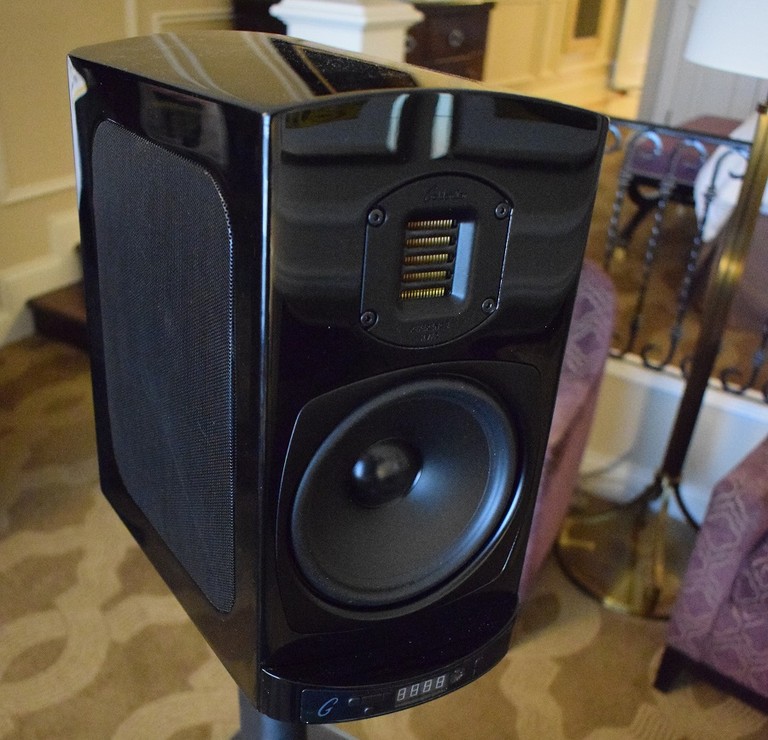 Summary
200W/channel on the woofer, 60 tweeter.
Class AB Amplifier
56 bit dsp, active crossover
Chromecast protocol, plus Bluetooth built in
WISA connects the pairs
Remote included
Sub out

Can be used as a single speaker in mono
Echo industrial design of the Triton Reference
HVF Tweeter and 6" Driver from the Triton Reference speakers
Two 8" passive radiators
Executive Overview
If you're a frequent visitor to the Audioholics website you've probably seen some of our GoldenEar reviews. With founders Sandy Gross and Don Givogue at the helm, GoldenEar consistently offers some of the best speakers for your dollar from their Triton 7 tower speaker to their award-winning top of the line Triton Reference.  Recently at CES in Las Vegas, Nevada, GoldenEar wowed us once again with a sneak peak of their foray into the wireless whole home audio arena dubbed the DigitalAktiv 3 (DA3) Wi-Fi Bluetooth Speaker. 
Although the speaker won't be released until fall 2018, it is an exciting prospect to see what they can do with the wireless speaker market that seems to gain momentum and technology every year.  The DA 3 is designed to be an ultra-high-performance compact bookshelf loudspeaker which is powered and equipped for wireless Wi-Fi and Bluetooth reception. The preliminary cabinetry is exquisite- hand polished piano-black. On the inside the DA 3 incorporates a 6" cast-basket bass/midrange driver, based on the one used in the Triton Reference, along with the same HVFR tweeter also used in the Triton Reference along with two inertially balanced 8" passive radiators to supplement bass response.
Lots of in's and out's for a Wi-Fi Speaker!!
Fully Active & Wireless Without Compromise
The active drivers are biamped with direct-drive of the bass/midrange driven by a 200-watt amplifier and direct-drive of the tweeter with a 60-watt amplifier. Direct–drive of the drivers should reduce distortion and improve control of the drivers for tighter bass and better transient response. In addition, all crossover functions, including frequency response and phase optimization are handled in the digital domain and tailored by a 56-bit DSP engine. Power amplifiers are fed from high-current voltage regulated DC rails, to help achieve zero voltage sag during demanding musical transients. The back of the speaker shows the optical, RCA, PC, and 3.5 mm input, AND a sub out!

The DA 3 comes with built-in Bluetooth technology.  I've seen a LOT of wireless speakers recently and for me, added Bluetooth reception is a must. I'll spend the time later working out the details for the wireless, but when you need a quick setup it's hard to beat Bluetooth. Granted the DA 3 comes with built in Chromecast to handle the Wi-Fi reception which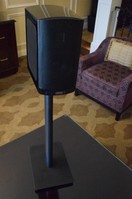 should help.
With the Chromecast, the DA 3 should be able to connect to all your popular streaming services from any Cast capable device such as a smart phone or computer.  The built-in Cast module supports both 2.4Ghz and 5Ghz bands.

When used as a stereo pair, the two DA 3s are wirelessly linked by a high-quality, low-latency WISA radio. In addition, one DA 3 may be used by itself as a single speaker playing stereo program material. This is accomplished via a mono mode feature that digitally sums the channels before sending the signal to the drivers. This is quite a useful feature for those that want distributed sound around a room.
We also like the fact that voice command control is possible utilizing any Google Home device. In addition, multiple independent zones can be setup with separate control of level as well as program material. Since network software updates are supported these speakers should stay up to date on all the latest technology which is good since current pricing looks to be around $2,000/pr.

Based on the advanced driver technology and DSP horsepower employed by GoldenEar, if these speakers sound as good as the numbers suggest they may wind up being the best wireless speaker we've seen in 2018…period. We are eagerly looking forward to doing a detailed review when samples become available so stay tuned...



Unless otherwise indicated, this is a preview article for the featured product. A formal review may or may not follow in the future.