The Wireless Speaker and Audio Association (WiSA)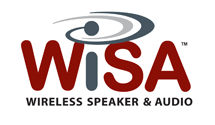 Wireless Speaker and Audio Association (WiSA)
Imagine a world with me, if you will... You buy a set of speakers, plug them into power, and your television or A/V receiver automatically configures them for use. You don't have to lift a finger beyond putting them in the location you want. Or how about this: you buy a soundbar for your TV and it just connects to your TV and works... and then lets you add surround speakers at a later date - all wireless of course.
And what if your TV was made by Sharp, and your front speakers were made by Aperion Audio, and your surrounds were made by Polk Audio... and they all just worked. All wireless, all perfectly connected with no delay issues or interoperability problems.
That was just a pipe dream... Until now.
WiSA™ is the Wireless Speaker and Audio Association. It's an association that specializes in providing secure, reliable wireless high definition audio transmission technology to the home theater environment. And they've got some heavy hitters, including Klipsch, Aperion Audio, Pioneer, Sharp, Polk Audio, Silicon Image (makers of HDMI), and Summit Semiconductor (among others). And these aren't just participating parties, they are the WiSA Association Advisory Board Members.
WiSA is an industry association founded to address the need for a common certification platform that delivers high definition wireless audio in the home theater while ensuring interoperability between any vendor's WiSA certified CE devices. This includes loudspeakers, flat screen televisions, Blu-ray players, gaming consoles, set-top boxes, and even smaller source devices like digital music players.
While wireless audio in home theater isn't necessarily new, we haven't really seen anyone else focus on it as anything other than a "nifty" emerging technology. This is new, and for that reason, WISA has our attention.
Wireless Audio for Home Theater
The organization's goals are simple... well, simple to understand. Implementing them is actually an impressive and monumental task that they seem to be executing on quite nicely to-date. Among their "Charter" tasks, WiSA aims to:
Develop interoperability certification programs for speaker brands, electronics, OEMs, ODMs and DTV manufacturers
Manage and enforce WiSA logo usage and trademark guidelines in accordance with the criteria set out by the Association
Promote WiSA connectivity technology for the home theater market
Connect brands to manufacturing resources
So why WiSA, and why now? Well, it's obvious to anyone that flat screen technology seems to have taken the cake in the home theater. Everyone wants a thin TV. But with thin TVs come "thin" speakers And we're not just talking about form factor - the audio flat out disappoints. So what are consumers to do? Well, some are looking at sound bars - and that's a trend that isn't a bad one. In fact, it's reviving the sense of need for better speakers in the television and home theater rooms. But we can do better than that. With WiSA, the standard high-quality home theater speaker can once again take its rightful place in the home, without requiring experience in running cables. Also, as more and more people experience the benefits of wireless technology in smartphones, TVs, Blu-ray players and tablets, the trend is catching on for other areas as well. That just leaves the issue of reliability and sound quality.
These are huge issues. A majority of the current wireless speaker technology operates in the same "rush hour freeway lanes" as WiFi, microwave ovens, baby monitors, cordless phones, etc. That's a great recipe for dropouts, hiss, noise and other unsavory and anti-climactic elements of a dysfunctional sound system. There's also the issue of latency - something that will make gamers cringe in horror at the thought of wireless technology. The good news is that WiSA enabled products will operate in a different wireless spectrum called the U-NII band which has strict access rules and 24 channels. WiSA products will be the first FCC certified products to operate in this band.
Another challenge with wireless is the universality of the system. You want something, ideally, that's interoperable. No consumer likes proprietary technology if it means they can't mix and match their favorite brands. WiSA works at the level whereby they supply modules for both speaker and electronics manufacturers to integrate them in Master/Slave configurations as appropriate. Then, the slave devices find their way into various speaker brands and the master modules find their way into various electronics manufacturers of televisions, Blu-ray players, A/V receivers, game consoles, etc. By focusing on interoperability, WiSA plans on instilling a sense of consistency across product segments and price points. There will be a common specification, and consumers should be able to know what to expect from WiSA-certified products. This is going to help manufacturers keep costs low as well. How? Well, by keeping a tight spec, they can maintain a common test procedure and ensure less conflicts with varying implementations of the modules.
WiSA as an Organization
WiSA, LLC is, like HDMI Licensing, a wholly-owned subsidiary of Silicon Image, Inc. and is the entity responsible for managing interoperability testing and compliance programs. The structure of the WiSA organization is made up of the WiSA Agent which is then backed by an Advisory Board (manufacturers and industry leaders). The Advisory board is significant in that they are responsible for the actual review of the CTS as well as participating in beta testing and advanced compliance testing. In essence, the Advisory Board will be the group responsible for meeting and leading industry trends and requirements in this area of wireless audio.
Then there are both Associate Members and Members. Members pay an annual fee of $5,000 to have access to the CTS and allow usage of the WiSA trademark and logo. Member products can utilize the associated WiSA hardware and maintain interoperability within the group of members. Members can be design manufacturers, equipment manufacturers, etc. Members will have access to the Compliance Test Specification (CTS) and will take part in product compliance and interoperability testing and certification. This will ensure that any brand of compliant speaker works with any compliant television, etc. Once compliance testing is completed, the member may place the compliance logo on their product. Associate Members pay an annual fee of $3,000 and are typically wholesalers, retailers, and even technology providers (think THX or Dolby) who can benefit from association with WiSA, but may not actually produce hardware themselves.
WiSA Authorized Testing Centers (ATCs) are leveraging Simplay Labs and are currently located in Sunnyvale, California; Korea; Beijing; Shanghai; and Shenzhen. Given this, there is direct and easy access for most major manufacturers to get their products tested and certified within reasonable amounts of time, provided the labs can keep up with demand.
Conclusion
WiSA has a lot of promise. Now that Silicon Image seems to have hit its stride, bringing out a whole new connectivity solution for wireless audio actually begins to make a lot of sense. What we're excited about is the idea that more and more people will be able to integrate full-range 5.1, 7.1, and even larger systems into their homes simply by having access to power and WiSA hardware. And, of course, if WiSA can be manufacturer-specific, then it can also be standalone - meaning it;s only a matter of time before external WiSA-driven amplifiers are on the market to turn ANY speaker system into a wireless one. That's going to open up the concept of wireless home theater audio to a lot of exciting possibilities.
For more information, visit WISA