Focal Adds Bookshelf and Center Channel to its Aria K2 Line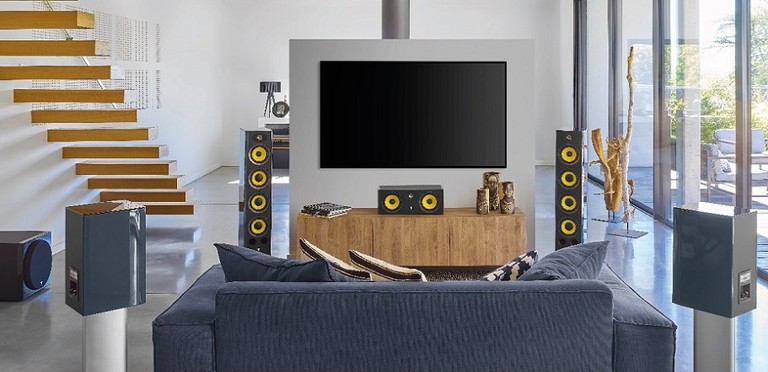 Focal Aria K2
Summary
Aria K2 906 Bookshelf
Speaker drivers 61/2" K2 Bass/Midrange
inverted dome TNF tweeter
Al/Mg 1"

Frequency response (±3dB)55Hz - 28kHz
Low frequency cut-off (-6dB)47Hz
Sensitivity (2.83V/1m)89.5dB
Nominal impedance 8 Ohms
Minimal impedance 4.6 Ohms
Recommanded amplifier power 30 - 120W
Crossover frequency 2,800Hz
Dimensions (WxDxH): 9"x11"x15 3/8"
Weight (with grille): 18.7lbs

Aria K2 Center Channel

Speaker drivers 2 x 61/2" (16.5cm) K2 Bass/Midrange
Inverted dome TNF tweeter
Al/Mg 1"

Frequency response (±3dB)57Hz - 28kHZLow frequency cut-off (-6dB)50Hz
Sensitivity (2.83V/1m) 91dB
Nominal impedance 8 Ohms
Minimal impedance 4.3 Ohms
Recommanded amplifier power 40 - 200W
Crossover frequency 2,800Hz
Dimensions (WxDxH) 21"x9 5/8"x7 7/ 8"
Weight (with grille) 23.15lbs

Executive Overview
If you're an avid visitor to Audioholics you've probably seen reviews of French audio company Focal. James Larson reviewed the Focal Sopra N°1 Bookshelf & Center Speakers back in June 2021 and said,
"I found the Sopra speakers to be more than just living room jewelry as many high-end audio products can be. They actually have the audio performance to back up their opulent looks and extravagant build quality."
Now, Focal has released information on their Aria K2 906 Bookshelf speaker and Center channel designed to be paired with their Aria K2 936 floorstanding speaker that was released last year.
The Aria K2 line is a special edition of the original high-performance Aria 900 range, first launched by Focal in 2013. The Aria K2 906 and Aria K2 Center join the Aria K2 936 in offering a range of Focal innovations, including a next-generation K2 cone. The aramid fiber cone is manufactured in France at the Focal workshop  and is an evolution of the iconic Polykevlar cone featured on classic 1980s JMLab speakers. The original was engineered to improve the balance between weight, rigidity and damping, with the goal of "guaranteeing high-quality audio performance with any musical genre."
Aria K2 Center Design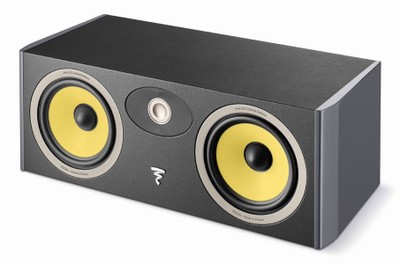 The all-new Focal K2 cone is a new design composed of a very light foam layer, sandwiched between a layer of Aramid fibers and a layer of fiberglass. Complementing the K2 cones are aluminum/magnesium TNF tweeters, with Poron suspension.The Aria K2's feature an ultra-rigid cabinet construction with non-parallel elements to reduce vibrations. All the K2 speakers come in an Ash Grey finish exclusive to Focal. This premium finish - also seen on the company's flagship Utopia products, combines with a leather-effect front panel for added elegance. The $2k/pair K2 906 bookshelf speakers are not as exquisite looking as the $10k/pair Sopra  N°1 Bookshelf speakers, but the price point reflects this. Some may not like the trademark yellow color of the Aria's, but they do come with a magnetic cloth grill if you feel the need to cover them up. The K2 sandwich cone was first revealed by Focal in 1986 and over the years, it has continued to evolve and is used to equip some of Focal's best products.
Aria K2 906 Design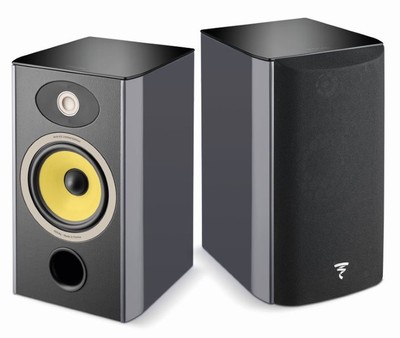 Focal Aria vs the Competition
At just under $2,000/pr the Aria K2 is in a crowded field of higher end bookshelf speakers.Everything has to be 'just right' at this price point. This 2-way loudspeaker showcases all the qualities of the K2 cone: precision, dynamics and high power handling and Focal says that the Aria K2 906 is recommended for rooms from 161.46ft² (15m²) and a listening distance of around 8 ft. It is going up against some heavy hitters like the slightly more expensive $2,400/pr Arendal Sound 1723 Monitor THX Loudspeaker and the $1700/pair Polk Audio's L200.
The new Focal Aria K2 models will be available later this month, with a suggested retail price of $1,990 per pair for the Aria K2 906 and $1,190/ea for the Aria K2 Center. The Aria K2 936 floorstander is available now for $5,990 per pair.
For more information please visit: https://www.focal.com/en/home-audio/high-fidelity-speakers/aria-k2/.

Confused about what AV Gear to buy or how to set it up? Join our Exclusive Audioholics E-Book Membership Program!