Triad Cinema Reference CR-1 Loudspeaker Preview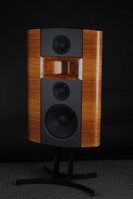 To mark Triad's 30 year anniversary they are releasing the most "capable" loudspeaker they have every made, the Cinema Reference CR-1. The CR-1 is not cheap at $15,000/ea, but it is designed specifically for large screening rooms or home theaters. Triad claims that the CR-1 has ample headroom to handle 15-30 seat rooms. At only 10" deep it is certainly thin to undertake such a large task, but that is because it is made to go behind an acoustic transparent screen or be mounted on the wall. It can also be placed out in the open on an optional stand. It sports a 15" bass driver, dual 8" midrange drivers, and a proprietary Air Motion tweeter. We don't expect the CR-1 to fly off the shelf, but it could be the answer for someone looking for a discrete, large-room speaker with great dynamics. The CR-1 is slated to ship 4th quarter 2012.
To mark their 30th anniversary Triad has released the CR-1, a brand new flagship LCR speaker specifically designed for 15-30 seat theaters.