Snell LCR7 XL 30th Anniversary Bookshelf Speaker
Snell LCR7 XL 30th Anniversary Bookshelf Speaker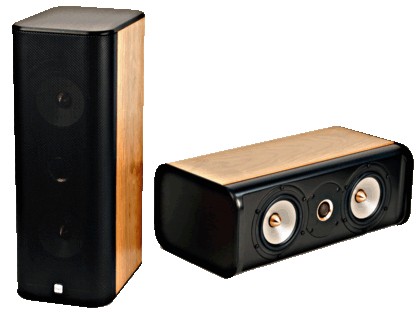 Snell LCR7 XL
Stand-mounted, magnetically shielded, sealed-box, two-way loudspeaker intended for left, right, or center use.
Tweeter: 1" soft-dome tweeter
Woofer: Two 5.25" magnesium-cone woofers.
Crossover frequency: 2kHz
Frequency response: 75Hz–22kHz, ±3dB
Nominal impedance: 4 ohms
Sensitivity: 90dB/W/m
Maximum SPL (pair): 110dB
Dimensions: 19" H by 7" W by 8.75" D
Weight: 26 lbs
Finishes: Cherry veneer or hand-rubbed satin black walnut (most wood and paint finishes available on special order), with silver or black perforated metal grilles and solid aluminum end caps, anodized silver or black.
Pros
Looks
Fantastic high end
Ruler flat midrange
Build quality
Cons
Grills very difficult to remove, damage edges
Pricey
Require sub
Packaging substandard
Introduction
The LCR7 XLs are one of their premier speakers that feature a design by Snell Chief Engineer Joe D'Appolito memorializing the 30th anniversary of Snell Acoustics. Utilizing a D'Appolito array (or Mid-Tweet-Mid, MTM for short, design) and the renown SEAS XL drivers, the LCR7 XL represent the pinnacle of what you can achieve through components and experience. At $6000 a pair, they certainly seem to be sparing no expense. Performance-wise, they are tops with a fantastically clear high end and nearly limitless power handling. These are speakers you can drive practically until your amp gives out since they seem to have no real upper limit.

Confused about what AV Gear to buy or how to set it up? Join our Exclusive Audioholics E-Book Membership Program!
Recent Forum Posts:
mjcmt posts on July 10, 2011 07:59
mjcmt posts on July 09, 2011 18:42
Yes this speaker may be Snells production of the SEAS Froy MkIII but Snells cabinet and front baffle construction plus x-over parts is nothing to look down at.

I built the Froy III into Paragon Radiant cabinets which had the correct internal volume, and have been using them for 7 years and must say they are simply amazing.

Mike
gene posts on June 30, 2009 22:06
Also, from my own personal interest, I love it when significantly less expensive speakers (just 1 or 2) are also included - just as a juxtaposition and to see "how close" the less expensive speakers can get! Maybe throw something like a SVSound MBS-01 into the mix, just to demonstrate what (if any) difference that extra $1500+ gets you!
The MBS-01 was faced off against the Decimos at Dave Phares G2G last year. It wasn't even a close match. The special edition x-ls speaker from AV123 was much more balanced sounding to the panel of listeners than the MBs-01s and was quite a performer for its asking price.
I plan on getting Monitor Audio's top bookshelf speaker with the ribbon tweet, as well as the top Dali bookshelf to face off with the Decimos in a couple of months. That should be interesting.
ratso posts on June 30, 2009 18:41
i find it interesting the difference between the 2 channel 'audiophile' world and the multichannel A/V world. browse over to stereophile or TAS and a $6K pair of speakers would be somewhere toward the middle of the price range, even for bookshelf speakers (they're no $12K focal diablo's). the speakers i am looking at cost $11K new about 10 years ago and aren't even made anymore, but still cost $5K used (wilson sophia's). thinking about spending this kind of money on speakers still shocks me.
lsiberian posts on June 30, 2009 16:16
jamie2112, post: 589431
Way overpriced IMO……………no thanks now the Decimo I would love to hear..Gene where are you I am coming to listen…..
Agreed. There is no reason for the price in this IMO, but it's probably the intro price not the resting one.
Seas drivers are awesome though and with the right cabinets you can blow away a lot of things with them.
Post Reply