Emotiva ER 5.0 Speaker System Review
Emotiva ER 5.0 Speaker System Review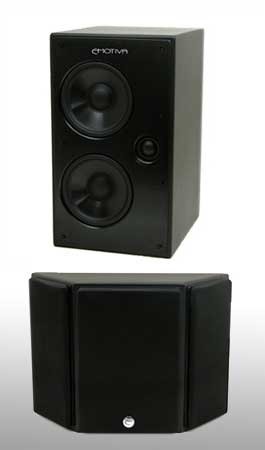 Emotiva ER Speakers
Drivers

2 - 5.25" woofers (1 on ERD-1s)
Proprietary tri-fiber composite cone is light weight and rigid with low resonance
NBR surround for enhanced cone edge termination
Proprietary high performance motor structure
Integrated copper and aluminum shorting rings to reduce distortion and 2nd and 3rd order harmonics
Flat progressive rate spider with venting under spider
Cast aluminum frame
25mm tweeter
Wide surround silk dome diaphragm
High power motor structure
integrated heat-sink mounted on motor structure
Ferro-fluid cooled voice coil
Internally damped, low resonance rear chamber

Precision Crossover

Asymmetrical 4th order Linkwitz Riley crossover
Switchable tweeter level adjustment (+2, 0, -2db) (ERM only)
Switchable boundary effect Compensation (ERM only)
Precision metal film capacitors
Low DCR air core inductors

Additional Features

Dual speaker terminals for bi-amped operation (ERM only)
Selectable bi-pole/ di-pole operation (ERD only)
Critically braced and highly damped MDF cabinet
Milled terminal recess  with integrated milled aluminum 6mm jack plate
6mm milled aluminum low diffraction front baffle plate
Magnetically mounted, acoustically transparent grill
Non-reflective black satin lacquer finish
Frequency response: 80-20Khz +/-2db
Offset array with optimized horizontal and vertical polar response. Speaker can be mounted vertically for left / right main channels or horizontally as a center channel (ERM only)
Sensitivity ERM: 89db (2.83volts @ 1 Meter)
Sensitivity ERD: 87db (2.83volts @ 1 Meter)
Recommended amplifier power: 50-250 Watts RMS

Dimensions

9.5" deep, 7.75" wide, 13.5" tall (ERM-1)
4.25" deep, 13" wide, 9.5" tall (ERD-1)

 
Pros
Clarity of sound
Dipole speaker performance exceptional
Extremely flexible placement
Tremendous off-axis performance
Cons
Lackluster appearance
Center channel performance diminished in-cabinet
Magnetic grills fall off easily
Introduction
Emotiva, the maker of affordable amps and processors, has stepped into the speaker world in a big way. With the help of the famous loudspeaker designer Vance Dickason, they have put together a 5.0 package at a price that seems almost too good to be true. These speakers sound great, the dipole surrounds are amazing, and the boundary and tweeter adjustments mean that they'll fit almost any room. The downside? Just look at them…

Confused about what AV Gear to buy or how to set it up? Join our Exclusive Audioholics E-Book Membership Program!
Recent Forum Posts:
tomd51 posts on November 27, 2008 20:38
The new grills do look much better and the slight accent the 'e' logo adds is a nice touch as well.

I think you're right, most places would charge extra for the new grills, but I'm not surprised Emotiva didn't, doesn't seem their style.

Just something else that makes me pleased with my decision to go with the ERDs… -TD
majorloser posts on November 27, 2008 19:49
New Speaker Grill Design

Emotiva just started sending out new speaker grills for all owners of ERD-1's and ERM-1's. FREE

Not that there was anything wrong with the old grills. They just weren't happy with them. The new grills have a little darker black appearance and don't have the slight sheen of the older grills. They also include a new circular chrome company emblem with the "E".

I received mine last week. They make a great speaker even better.

Most companies would just add a new item to new sales and call it an "upgrade".
But they went through the expense of shipping them to all owner.
tomd51 posts on November 27, 2008 14:55
Slight resurrection from the dead of this thead ("No more rhymes now I mean it!" ). Just wanted to weigh in a little with my take of the ERD-1 surrounds.

Initially, I thought they were very good surrounds for the money, this was back when they dropped the price from $350 to $315. Now that they are selling at $250 a pair, I'd have to say these are an outstanding deal.

My first objective was to compare them to the performance of the Axiom QS8s that I'd previously owned. While they didn't quite seem to measure up to them at the time, I'd have to say after having them for a couple of months now, they more than hold their own for movies and I'd have to say outperform the QS8s with music. I thought the QS8s would be be impossible to best at their price, but the ERDs hold their own and then some. When you see/hear how well the ERDs perform, you'll be amazed at how tremendous a value they really are… -TD
majorloser posts on August 15, 2008 10:31
Davemcc posts on August 15, 2008 09:58
babs, post: 444899
Though I'd certainly never expect the ERM's to hang with B&W 805's at $2k+,
The ERM-1 display many of the qualities I prefer in speakers at any price point. I found them to be clear and detailed without being bright, neutral and without the resonant midrange that I find in a lot of speakers. I think it's an outstanding speaker for the list price, but free is even better. Combined with a good sub, they will be hard to beat (at least to my ears).
Post Reply