Axiom Audio Epic Midi 400 Speakers Review
Axiom Audio Epic Midi 400 Speakers Review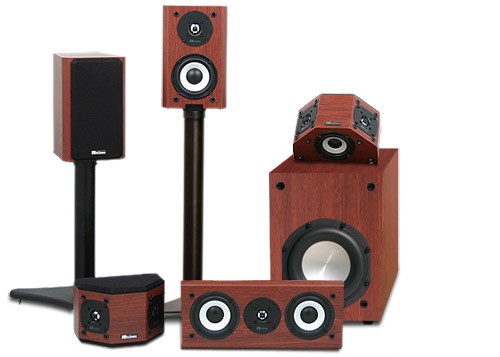 Axiom Audio Epic Midi 400 System
Product Name: Epic Midi 400 System
Manufacturer: Axiom Audio
Performance Rating:
Value Rating:
Review Date: August 25, 2008 08:55
MSRP: $ 1975
M2 v2

Enclosure: Vortex / Reflex
Amp Power (max/min): 150 Watts/15 Watts
Freq Resp +/-3db (Hz): 70 - 22 kHz
Freq Resp +3dB- 9dB (Hz): 60 - 22 kHz
Impedance (Ohms): 8 Ohms
Max SPL (Anechoic/Room): 91 dB/87 dB
X-Over 2.7 kHz
Tweeter: Single 1"
Woofer: Single 5.25"
Dimens. HWD: 11.5" x 7.5" x 8.5" (292 x 191 x 216mm)
Weight: 11.2 lbs (5.1 kg)

QS4

Enclosure: Acoustic Suspension
Amp Power (max/min): 175 Watts/10 Watts
Freq Resp +/-3db (Hz): 100 - 22 kHz
Freq Resp +3dB- 9dB (Hz): 80 - 22 kHz
Impedance (Ohms): 8 Ohms
Max SPL (Anechoic/Room): 94 dB/90 dB
X-Over 4.3 kHz
Tweeter: Dual 1"
Woofer: Dual 4 "
Dimens. HWD: 6.25" x 9.5 " x 6" (159 x 241 x 152mm)
Weight: 9.4 lbs (4.3 kg)

VP100

Enclosure: Acoustic Suspension
Amp Power (max/min): 200 Watts/10 Watts
Freq Resp +/-3db (Hz): 95-22 kHz
Freq Resp +3dB- 9dB (Hz): 65-22 kHz
Impedance (Ohms): 8 Ohms
Max SPL (Anechoic/Room): 93 dB/89 dB
X-Over 2.7 kHz
Tweeter: Single 1"
Woofer: Dual 5.25"
Dimens. HWD : 7.5" x 17" x 7.5" (191 x 432 x 191mm)
Weight: 14.1 lbs (6.4 kg)

EP400

Enclosure: Acoustic Suspension
Max Amp Power: 500 Watts
Cross-over Adjust: 40 - 150 Hz
Phase: 0 & 180
Woofer Size: 8"
DSP Controlled: Yes
Line In and Out: Yes
Balanced Line In and Out: Yes
High Level In: Yes
Room Trim: Yes
Dynamic Power Supply: Yes
Anechoic Resp. +/- 1.5dB: 18 - 150 Hz
Room Resp. + 3dB/- 9dB: 17 - 150 Hz
Max SPL (Anechoic/Room): 106 dB/116 dB
Dimensions HWD: 13.75" x 10.5" x 16.8" (349 x 266 x 422mm)
Weight: 48.55 lbs (22 kg)
Pros
Unlimited finish options
Superb bass
Realistic surround array simulation
Cons
Midrange detail of center channel could improve
Subwoofer is ridiculously expensive
Limited mounting options
Standby mode not obvious on subwoofer (user manual claims it has "instantaneous" 10W mode)
Introduction
Axiom Audio's Epic Midi system is a great "home theater-in-a-box killer" that starts at just $1338 and is built around the small M2 (v2) speakers. To get the most out of it, however, you'd want to opt for the much more sophisticated and powerful EP400 subwoofer - a $600+ premium that lands the system among stiff competition in the ~$2000 5.1 home theater speaker market. While expensive, the EP400 was the most impressive part of this system and stole the show as it certainly outperformed the expectations we had for what an 8-inch subwoofer could do.
fredk posts on December 15, 2008 12:52
Congrats! Let us know how they sound.
Mrdplobrat posts on December 15, 2008 11:42
Got the first part!!

Yes!! I just took delivery of the pair of M2s, pair of QS4s and VP150!!! Now all I need is my VTF-1 subwoofer to complete the setup!! Hopefuully I will be installing the axioms over the course of the week!

Can't wait to try them out!

Thanks to everyone who pitched in to give me some advice!
joabraun posts on December 13, 2008 16:25
fredk posts on December 12, 2008 20:25
Exellent! Let us know how it sounds when you get it all set up.

The EP400 puts our a lot of bass for such a small box!!
MinusTheBear posts on December 12, 2008 19:48
joabraun, post: 496260
Fred, Clint:

I pulled the trigger and went with the Epic Midi 400 system with the M22s. It sounds great, I am happy!
Congratulations joabraun! Us members at AH love people who post pics of their home theatre system. We would love to see yours . If you want to do this you can post pictures of your new system here!
https://forums.audioholics.com/forums/forumdisplay.php?f=13
.
BTW welcome to the forum!
Post Reply
Confused about what AV Gear to buy or how to set it up? Join our Exclusive Audioholics E-Book Membership Program!