Axiom Audio Loudspeakers Factory Tour
Axiom Audio Loudspeakers Factory Tour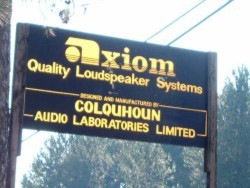 Axiom loudspeakers design philosophies adhere to their rigid scientific measurement standards and psychoacoustical testing protocols of the National Research Council (NRC). Axiom's founder, Ian Colquhoun, was a member of the founding group of researchers and has been involved with the NRC since 1980. The program was guided by Dr. Floyd Toole, a Canadian physicist and psycho-acoustician who received his PhD in England in stereo localization, and continued his experiments at the NRC beginning in 1965. Over the course of more than 20 years, the validity of these measurements have been confirmed by Double-Blind listening Tests (DBT's) conducted in a nearby NRC listening room that approximates the size and furnishings of a typical living room. With the goals of establishing scientifically controlled research and eliminating inconsistencies in speaker design and measurement techniques, Dr. Toole invited several young Canadian speaker designers, including Axiom's Ian Colquhoun , to work with him in evolving new speaker measurements and listening tests (part of the NRC's mandate was to assist Canadian firms in product development).
According to the NRC Research, the goal of an accurate loudspeaker is that it be able to measure with a flat on axis response and with an even but constantly declining (or tilting) polar response. The polar response curve is the summed and weighted average of many curves taken from either a 180 degree or 360 degree palate of curves which are usually either at 10 degree or 15 degree increments through the entire measurement range.
Ian is a firm believer in the family of curves (established by the NRC) to predict and identify loudspeaker performance, which relates to:
On axis frequency response - direct sound, first sound to arrive at the ears for listener seated at sweet spot
Listening Window - average direct sound for listeners seated or standing within a +-15 degrees vertical, and +-15 deg horizontal region directly in-front of loudspeakers
Early Reflections - first axial reflections from room boundaries
Sound Power - Measure of total sound output of loudspeaker independent of direction otherwise known as polar response
Ian informed us that all Axiom speakers are designed first to perform well to these metrics and tweaked only when the sonic results test positively in double blind listening tests.
When I asked Ian about Axiom Audio's "Company Mission" his reply to me was:
"To push the envelope of technology and research by producing the most accurate and high performance products with a high degree of value and usability for the consumer. Axiom is a research company first and uses its research to develop state of the art products."
Spending time with Ian and the folks at Axiom, I quickly realized they meant business as evident by their impressive development, testing and manufacturing facility as well as their current family of products and newest subwoofers additions - the EP500 ($1,150) and the EP600 ($1,750).
Biographies for Senior Axiom Audio Staff
Ian Colquhoun , President & Chief Engineer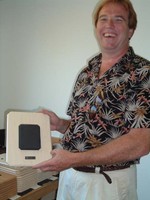 Ian founded Axiom in 1980, and is the driving force behind Axiom's innovations. For 9 years during the 1980s, Ian was one of the principals that studied psychoacoustics at the National Research Council in Ottawa , and is one of the world's experts in loudspeaker sound. He was invited by Dr. Floyd J. Toole to work with him in evolving new speaker measurements and listening tests that changed the way the world measured sound, and he has applied the findings of that research in every product he makes.
Among his many awards, Ian counts winning a C.E.S. Innovation Award for pioneering Aluminum Cone Drivers in 1988 and a Sound & Vision Award for designing one of the first fully timbre matched 5.1 home theater systems in 1985. Ian's corporate vision is an "R & D first" philosophy, capitalizing on building a team of world class engineers that bring years of expertise in the industry to Axiom products.
Axiom Audio Loudspeakers Factory Tour - page 2
Alan Lofft, Technical Writer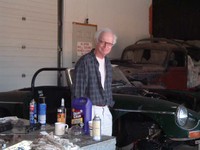 Lofft has been writing about hi-fi and video professionally for over 30 years, ever since his first syndicated newspaper column, "Sound Advice", began appearing weekly in The Toronto Star , Canada's largest-circulation daily newspaper. In the late 1970s, he became a contributing editor, columnist, and equipment reviewer at AudioScene Canada , the leading national consumer electronics magazine at the time.
He also wrote on consumer electronics for Maclean's magazine and made occasional appearances on TV on " Canada AM," the national CTV morning show, and on June Callwood's national afternoon TV talk show.
In 1983, he was appointed editor of Sound Canada magazine, which he relaunched in 1985 as Sound & Vision, incorporating video content and reviews as well as hi-fi and audio features. He also became a contributing editor to Stereo Review in New York , and an audio columnist for Music Express , a Canadian rock magazine.
An audio and electronics enthusiast from childhood, Alan began building vacuum-tube hi-fi gear for his father, who was an audiophile in the 1950s. Lofft's passion for audio continued through college, during which time he hosted and produced "On Campus", a radio show taped on location (on a portable Ampex 650 open-reel recorder) at Wilfrid Laurier University and broadcast locally in Kitchener, Ontario.
After graduation, he entered TV journalism, joining CBC television in Toronto as a production assistant and story editor for "The Day It Is", "TBA", and "The Way It Is", daily and network public-affairs TV shows produced by the late Ross McLean. He continued to work in broadcast journalism until the mid-1970s, including a period as a reporter on an evening news-hour show at CITY-TV, an innovative local Toronto TV station. Lofft moved from broadcast to print journalism with the publication of his "Sound Advice" column by The Toronto Star.
Alan was also one of the regular members of the NRC listening panel through the 1980s.
Tom Cumberland, Electronics Product Development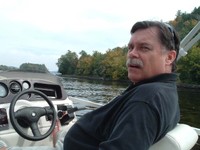 Tom brings more than 23 years of electronics engineering expertise and experience in strategic product development to Axiom. He is in charge of developing Axiom's new electronics products. Born in Tulsa , Oklahoma , Tom earned his Bachelor's and Master's Degrees in Electrical Engineering from the University of Colorado . Some of the familiar brand names Tom has been associated with include the Harman Consumer Group (Director of Strategic Product Development), Alpine Electronics (amplifier design), and McIntosh, where Tom was Director of Worldwide Product Planning. Tom advised a Danish company on the development of the world's first multi-room audio system and, early in his career, was part of a design team that developed a classified device for the US Military.
He has been responsible for, or assisted in the design and engineering of, amplifiers, CD players, remote-control systems, laserdisc players, and a video projector. Tom is member of the Society of Motion Picture and Television Engineers (SMPTE), the Institute of Electrical and Electronics Engineers (IEEE), and the Audio Engineering Society (AES).
Steve Dove, DSP Code Writing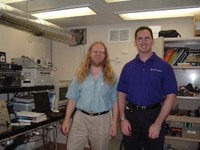 Steve has a long history in the audio industry. He began his career by designing mixing consoles. A native of rural Oxfordshire England , Steve Dove came to professional audio by the curious paths of journalism and pirate radio. An avid constructor in his teens, he found a niche initially as a wireman (until fired for his atrocious soldering), a designer for, and later a director of Alice, a then-major manufacturer of broadcast film and recording consoles.
Through that time he was an integral part of the technical development of the burgeoning UK independent local radio network, while he maintained a parallel career engineering, providing technical and acoustic services for major rock bands, theaters, and studios worldwide. He also is a widely published author in these fields.
An independent consultant in turning everything analog into digital for many years now, his clients have included Sony Broadcast, Sure Brothers, Solid State Logic, Clair Brothers Audio, Commodore Computers, Harmon JBL, Peavey, and Wheatstone Corporation.
He lives in the hills of Eastern Pennsylvania with three cats, two goats, and a textile designer, and is a voracious ham radio operator.
Axiom Audio Loudspeakers Factory Tour - page 3
Production and Quality Control from Start to Finish

A measure of any good manufacturing company is how consistently they can produce a product with exacting specifications that match or exceed the original design prototype with a high degree of reliability. You would be surprised at the lack of quality control many of the allegedly high end loudspeaker companies suffer when manufacturing their products. One may mistakenly think that direct to sales loudspeaker companies like Axiom would fall under this category. However, after personally witnessing what the folks at Axiom do, I can assure potential skeptics that Axiom is not such a company. In fact, they have some of the industry's highest quality control (perhaps another benefit of being affiliated with the NRC).
The following tests are completed on all products and occur during the production phase:
Driver tests +/-.5dB frequency response tests conducted in mini sound chamber using LMS for all woofers, midranges and tweeters.
Final Product (mini anechoic chamber), +/-.75dB for amplitude vs frequency response compared to reference speakers designed at NRC. Most companies run AQL (Acceptance Quality Level) tests, Axiom doesn't since they run since they test 100% all of the time.
DCR check, phase check for drivers, system as a whole.
Air Leak Test: test at resonance of cabinet, at high SPL to ensure no air gaps confirmed audibly, max volume before meltdown.
Buzz test done at high frequency (checking for nonlinearities of drivers) for product as whole.
Endurance test done to every model once per month on each product (not shipped to customer) Max SPL tests for 100 hours. It has been rumored that Black Sabbath's Ironman could be heard from across the US-Canadian border while these tests are running.
According to Ian, their return rate for manufacturing defects is essentially nil!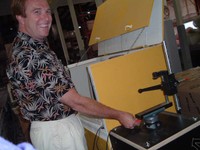 Ian conducting a driver test using a small acoustically inert sound chamber and LMS measuring system.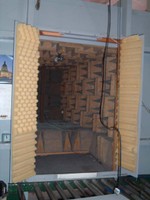 Axiom's mini Anechoic chamber for measuring final product.
| | |
| --- | --- |
| | |
| Axiom cabinets start off as a single sheet of MDF and are precisely machined with all the driver cutouts and linear and cross grooves to miterfold it into a self contained cabinet. All of the cabinets and crossovers are built in-house and the crossover circuit boards are done in Toronto . | Some M22ti's waiting to be stuffed with insulation and drivers. |

Pictured to the right is where the endurance tests are conducted, note the bass traps around the room to keep sound from escaping and disturbing the local animals and Canadian citizens. Although it has been reported by some that Ozzy's Iron man can still be heard across the USA/Canadian border when the M80ti's are being tested.

This is one of the Axiom sound rooms which consists of a curtain that goes in front of the speakers for DBT testing along with various switch boxes and sound panels to change sources and speakers instantaneously. Axiom is working on setting up a mini recording studio with a mixing consol and JAM room furnished with instruments so they can give "Live vs Recorded" demos and determine just how convincingly their speakers are at fooling people into thinking it's the real thing.
Axiom Audio Loudspeakers Factory Tour - page 4
Company Facility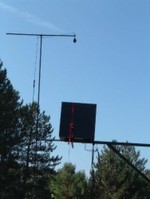 Axiom's developmental and test facilities are equally as impressive as their manufacturing. In addition to their mini anechoic environment for testing production speakers, they are working on building a full sized version and replica of the one found at the NRC. They do all of their subwoofer testing in a 4pi steradians environment (in this case outdoors on a pole above any boundary reflections with the woofers firing up at the sky and the microphone one meter away).
Pictured above is the new EP500 strapped onto a long metal sway arm above the roof of the building firing up at the sky with the measuring microphone placed 1 meter above the acoustic center of the cabinet. This is roughly equivalent to an anechoic environment, but much more practical since a room length of 1130ft/sec/16Hz or 70ft isn't required to validate that the new EP600 truly does play down to 16Hz without influences of room gain or other anomalies.
Editorial Notes on 4pi and 2pi Environments
4pi steradians describes a complete sphere. 2pi steradians describes a half a sphere or hemisphere. Therefore, when we measure outside on a pole we say we're measuring in 4pi steradians . Or if we've got an anechoic chamber with a wire floor so that we are completely surrounded on all six sides by big ole fiberglass wedges we say that's 4pi steradians . If we have a chamber with a hard floor into which we put a baffle and speaker, with the other five surfaces being those fiberglass wedges then that's 2pi steradians . This is one way to measure an in-wall speaker. Similarly, if we go outside, dig a hole and put a speaker-in-a- baffle over that hole and shooting up, then we're measuring in 2pi steradians.
Axiom is fully armed with some of the industry's best test tools including LMS by Linear X, Audio Precision, and even the old classics like the Bruel & Kjear equipment pictured below.
| | |
| --- | --- |
|   | |
| Vintage Bruel & Kjear Test Gear | A magnetizer used for creating loudspeaker magnets for prototyping. All Axiom drivers are first designed, tested and spec'ed at Axiom and then mass produced in China where the raw materials originate. |
Ian scoping out an LMS plot of the EP500 wondering if it's too good to be true?
We ran a series of frequency sweeps from minimal SPL levels, at least 20dB above ambient outdoor noise floor and at max levels the subwoofers were rated to produce. We also combined system sweeps of speakers and the subwoofers to show how typical Axiom products would integrate together, at least anechoically.
> Check out our First Look of the new EP500 & EP600 Subwoofers <