HSU Research HB-1 Bookshelf Speaker Review
HSU Research HB-1 Bookshelf Speaker Review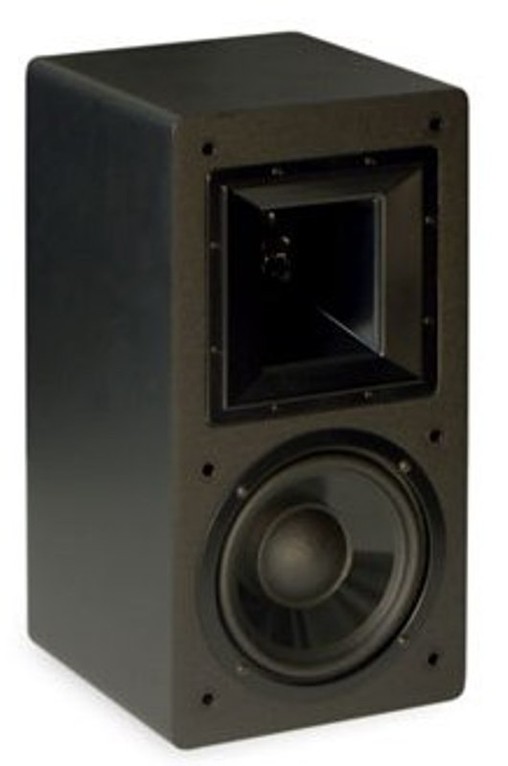 HSU Research HB-1 Bookshelf Speaker
Woofer: 61/2½ treated paper cone woofer with treated cloth surround, flat polycotton spider and high temperature aluminum voice coil
Tweeter: Very high efficiency controlled directivity horn with neodymium magnet and ferro-fluid cooled voice coil.
Crossover: Computer aided, final voicing by Dr. Hsu (i.e., fine tuning by Dr. Hsu to sound good to his ears)
Frequency Range: 60 - 20 kHz
Recommended crossover to subwoofer/mid bass module: 80 Hz
Sensitivity: 92 dB/1m/2.83V rms, half space
Nominal impedance: 6 ohms
Minimum impedance: 4 ohms
Enclosure type: Vented
Enclosure material: 3/4½ MDF
Dimensions: 15½ H x 8½ W x 8½ D
Net Weight: 12.2 pounds, Shipping Weight: 14.5 pounds
Recommended Amplifier Power: 10 - 250 W rms
Pros
Great for large rooms
Good for movies
Excellent price
Cons
Small "sweet" spot
Finicky placement for optimal imaging
Poor aesthetics
Introduction
When a company like HSU Research with a reputation for making quality products (in this case subs) at extremely affordable prices announces a new product, we all sit up at attention. The HB-1 is a horn loaded bookshelf specifically made to fill large rooms. It is designed to be crossed over at 80 Hz which mean that it has the ability to seamlessly blend with a quality subwoofer or two. What we have here is a very good speaker for an entry level system. And by entry level I mean would trounce nearly any other system that people would consider to be "entry". Easy to setup, easy to power, and easy on the wallet. Paired with one of HSU Research's subs and you've got a winning combination.

Alamar posts on September 12, 2007 16:29
audioalexander, post: 307792
Can't we just all get along? (Rodney King) lol
Obviously they can't …
*********************************************************
Back to the topic though … The only thing that confuses me a little bit is that the review makes the speakers sound as if they are quite good for the price. However they seemed to perform quite poorly in the bookshelf speaker shootout. It's not easy for a newb to get a good handle on exactly which perpsective to put more weight in.
audioalexander posts on September 12, 2007 01:43
HB-1, then Klipsch problem rebutle thingy

Can't we just all get along? (Rodney King) lol
westcott posts on May 03, 2007 09:35
Tom Andry, post: 266616
I fear that any more rebuttals from me will just result in more name calling and defensive feelings on your point.
Thats funny. I do not recall any personal attacks on my part but a pure statement of facts and that is what a professional does.
Tom Andry posts on May 01, 2007 12:54
Unprofessional? "Professionals" steal millions from their companies retirement funds. "Professionals" extort their employees through financial and emotional abuse. "Professionals" rape the environment, cultures, and indigenous people for profit. Unprofessional? Thank you.

I fear that any more rebuttals from me will just result in more name calling and defensive feelings on your point. Feel free to joint the I Hate Tom club. I understand they are having their national convention this month. Registration is free but the hotels (that near the center of the earth) are hell to get into.
westcott posts on May 01, 2007 10:24
Tom Andry, post: 264820
It was in 2003 and it is old news. Those fences have long been repaired. The fact that we've done reviews since then is a testament to that fact. You sound like my wife bringing up a fight we had 4 years ago.
I am glad to hear that Audioholics and Klipsch are on good terms again. I did a search and I found three reviews. The iGroove HG iPod, The THX Ultra 2, and the RB35 Bookshelf speaker Face Off. Not exactly an overwhelming number since 2003. Nor, with the exception of the Ultra 2 system, a selection of their best products.
The fact that I remembered the fall out when Gene did not says something. The fact that I did not remember the exact date of the discussion in the forum is hardly unforgivable. Many would aspire to have recall as good. This general lack of coverage by Audioholics could lead one to believe that there were still problems, as my perception proves.
Your last comment was uncalled for and unprofessional.
Post Reply
Confused about what AV Gear to buy or how to set it up? Join our Exclusive Audioholics E-Book Membership Program!