Audioengine 2+ Powered Desktop Speakers Review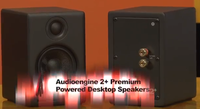 Audioengine has made a name for themselves with small, self-powered desktop speakers whose size defies their sound. The first reaction most people have to Audioengine speakers is "Wow", and it is well deserved. For a lot of people, their first hint as to how much better audio can sound is when they upgrade their computer's speakers. Going from their monitor's speakers to those satellite/bass modules is the first step, but the next is often Audioengine. We recently reviewed the Audioengine 5+ speakers and now it is time to look at the smaller, and more affordable, 2+ speakers.
Review: The Audioengine 2+ desktop speakers may be tiny but they sounded great for the size. They may be expensive, but the sound quality and features easily justify the price.