NHT 2.1 Super Stereo Loudspeaker System Review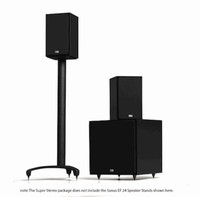 What happens when you add NHT's Super 8 subwoofer to their legendary SuperZero bookshelf speakers? You get the Super Stereo system: a compact, high quality 2.1 setup perfect for small rooms. The best part? The MSRP is a very reasonable $600 and it's currently available for $499. How does this decor & budget friendly system rate with the Audioholics? Keep reading to find out and be sure to watch our Video Review to enjoy the beauty of these babies while also get our take on the listening experience.
Review: The $600 NHT Super Stereo system packs the legendary SuperZero together with a Super 8 subwoofer for a budget friendly, full range 2.1 system. Keep reading to see how this compact rig rates.