Emotiva Pro Airmotiv 5 Speakers Review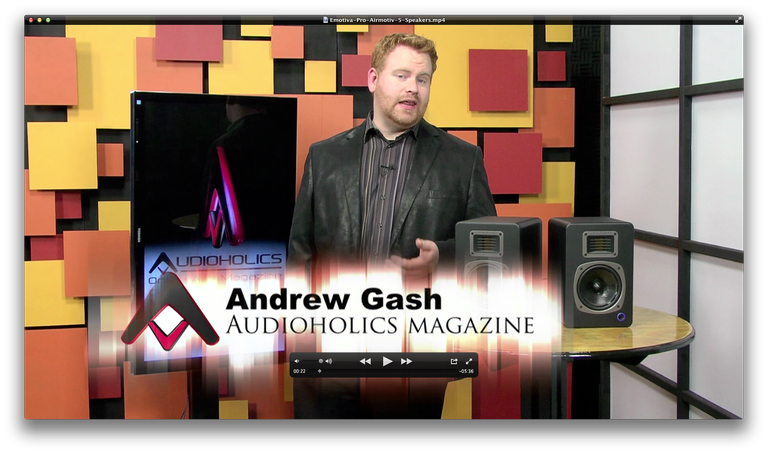 Emotiva Pro Airmotiv 5 Speakers
Summary
Frequency Response
52 Hz to 23 kHz +/- 2 dB
50 Hz to 27 kHz +0 / -6 dB
Input Connectors
One single ended (RCA)
One professional balanced (XLR)
Bass Alignment
Single rear-oriented port (linear taper)
Power Source
120 VAC 50/60 Hz +/- 10% available
230 VAC 50/60 Hz +/- 10% available
(specify at time of order)
IEC standard removable power cord
Size (each)
273 mm high x 180 mm wide x 210 mm deep
(10.7" high x 7.1" wide x 8.3" deep)
Size (pair, packaged)
473 mm long x 291 mm wide x 373 mm high
(18.6" long x 11.5" wide x 14.7" high)
Weight (net):
26.45 lbs. (12kg) per pair
Weight (packaged):
31.5 lbs. (14.3 kg) per pair
Driver Complement
One 26 x 32 mm airmotiv high-frequency folded-ribbon transducer
One 135 mm (5.25 inch) airmotiv low-frequency transducer with Curv® polypropolene composite cone structure
Amplification
Total amplifier power:
100 watts RMS

High-frequency amplifier:
50 watts RMS; S/N > 95 dB; THD+N < 0.05% @ 15W, 10 kHz

Low-frequency amplifier:
50 watts RMS; S/N > 95 dB; THD+N < 0.05% @ 40W, 100 Hz
Adjustments and Calibrations
High frequency tilt control:
4 kHz hinge frequency; 0 (calibrated), +2 dB, -2 dB @ 20 kHz

Low frequency shelving control:
150 Hz turnover frequency; 0 (calibrated), -2 dB, -4 dB @ 20 Hz

HF gain, LF gain, and overall gain calibrated to standard within 1.0 dB
Crossover
Precision multi-pole phase compensated fully active crossover
Crossover frequency: 2700 Hz
Mounting
The airmotiv 5 has mounting points on the bottom for use with our (optional) mounting bracket.
I recently had a small speaker shootout that involved many of the products I had in for review. This included bookshelf speakers, active studio monitors, passive monitors and some towers. That's an eclectic mix, but within that smorgasbord of boxes were the Airmotiv 5's. These are Powered Studio Monitors and they're new from Emotiva Professional.
The Airmotiv 5's are two-way powered speakers that can each receive either an RCA line level input, or a balanced XLR. There are three speakers in the Airmotiv studio monitor series, the 4, 5, and 6. We chose the middle of the pack, which has a single 5-1/4" polypropolene composite cone woofer and a 1" x 1-1/4" high-frequency folded-ribbon transducer. It's the ribbon tweeter that gives the speaker it's unique look and which also gives it it's signature sound. More on that later.
Each speaker is powered by a 50 watt RMS amplifier and, unlike many powered speakers, the left and right are completely identical, each with its own amp. To our disappointment, there was no line level output on the speaker, so you'll need to use a preamp or a Y-cable in order to hook up a sub to fill in the ultra low frequencies.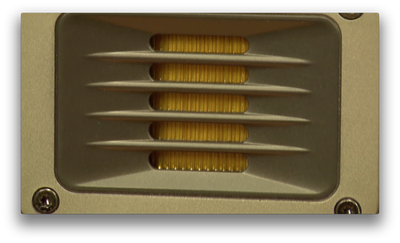 Speaking of frequencies, you can tweak the Airmotiv 5 by utilizing the included High frequency "tilt" control and the Low frequency shelving control. Basically it's a pair of shelf EQs that can raise or lower frequencies by 2dB above 4kHz and drop them 2 or 4 dB below 150Hz - handy when placing them on a table or desk. Each speaker is capable of playing down to 52Hz, which is pretty respectable, given that each cabinet only measures roughly 11 x 7 x 8 inches. That's big sound for a pretty small speaker.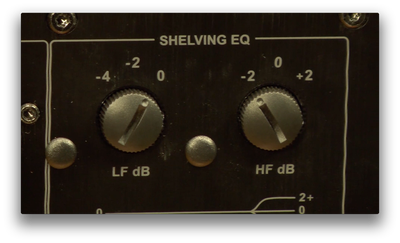 So let's talk about the sound. At first, we didn't think it was all that. The highs were very clear, but the bass was anemic... Until we started adjusting placement. And really, that's the key with these. They're near field studio monitors, so treat them as such. We had them in a big room and then moved them to a desk. You'll want to toe them in slightly and make sure the ribbon tweeters are at ear level. You also want to use the shelving EQs to adjust for any wall or desk placement or to dial down the high frequencies if you feel it's needed. But once everything was configured, we really liked the Airmotiv 5's. They had a lot more finesse than the Audioengine 5+ speakers we were comparing them to, but possibly at the expense of some midrange detail. Bass was a toss-up. Sometimes, we felt the Audioengine speakers won out, other times, the Emotiva's sounded better. Obviously program material made a big difference, and it was more about how the bass interacted with the mids and highs on these speakers.
For listening tests we queued up some older tracks, such as U2's Joshua Tree. The intro to "Where the Streets Have No Name" was excellent in its detail. Bono's voice was a tad smoother and more live on the Audioengines, but with the Airmotiv 5's there was literally a new layer of detail that was almost missed on the other bookshelf speakers and studio monitors we compared them to. Cymbals and hi hats also took on a more pronounced role and we heard upper detail in electric and acoustic guitars that had previously seemed to be lost in the mix. None of this, however, came across as overbearing and the speakers didn't become fatiguing over time - at least not over the countless hours we spent listening to them. And we liked listening to them.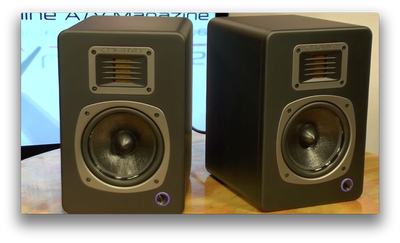 One song that really showed off the detail of the Airmotiv's, perhaps surprisingly, was "Who Are You" by The Who. Besides the ever-present hi-hat, the intro to the song has lots of synth which just punched through with a ton of forward presence. It's these types of multi-layered tracks that gave us a real appreciation for the capabilities of the Airmotiv's ribbon tweeter.
Ok, so let's wrap this up. What's possibly the most impressive part of the Airmotiv 5 package is that you can get a pair for just $449. Yeah. That's it. And if that's too rich, you can sacrifice a little bit of low end and pick up the Airmotiv 4's for $100 less. Of course, the same goes the other way, you can get more extension for $699 with the Airmotiv 6's if you can handle the larger footprint. No matter which way you go, we think these are pretty profound speakers. They present a clear, precise sound that's new to the market for this price as far as we're concerned. There are options, particularly if you prioritize bass or midrange over high end upper-mid detail, but I think that's more preference than "better" if you know what I mean.
OK, this week's question this is: Do you prefer high-end powered monitors or passive speakers and an external 2-channel amp? Let us know by leaving a comment on our YouTube video. And subscribe to our channel so we can continue to bring you more reviews. Also, please Like us at Facebook.com/audioholics and, for up to the minute updates, Follow Us on Twitter.

Unless otherwise indicated, this is a preview article for the featured product. A formal review may or may not follow in the future.