Trends Audio SA-10/R Speaker Preview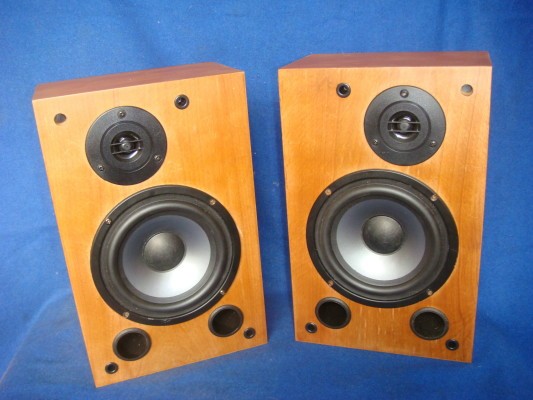 Trends Audio SA-10 Speakers
Summary
Frequency Response: 65-22K Hz
Impedance: 8 ohms
Sensitivity: 88 db
Power Handling: 15-70 watts
Tweeter: Single 1.00" polymer dome and neodymium motor with heat sink
Woofer: Single 5.25" Multi-fibre coated pulped paper cone
Weight: 14.33lbs (Pair)
Dimensions (DxWxH): 5" x 7.67" x 11.8"
Executive Overview
Trends Audio was not a company we were familiar with. They've been making inroads into the audio community with their low cost, low power, "audiophile-grade amps and USB DACs, but they have managed to stay off our radar. When a company is making itty bitty amps, it makes sense for them to put out a speaker that will play nice with them. So, it was not much of a surprise when Trends Audio announced their new SA-10 bookshelf speakers.
The SA-10 speakers come in two flavors - the SA-10 has a tweeter in the middle of the front baffle (equidistant from the sides) while the SA-10R has a tweeter slightly offset. There is no indication from Trends why they are putting out the two versions or if they are designed for different application. Regardless of which version you choose, they cost the same, feature a 1" polymer dome tweeter with neodymium magnets, and a 5.25" Multi-fiber coated pulped paper cone woofer. The SA-10's sport double magnet structures for shielding and increased field strength, something we're not sure is needed in the wake of the death of CRT televisions.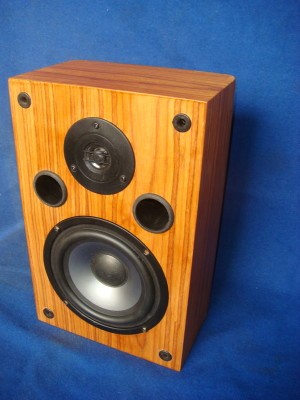 One of the selling points of the Trends Audio amps are their use of a proprietary core inductor instead of the more traditional magnetic-core versions. It wasn't surprising to find that they used their same custom inductors in their crossover for the SA-10 speakers. The speakers are dual front ported for increased bass, and this means they can theoretically also be placed on shelves and nearer to walls without having to deal with the problems of a rear port. The grilles are held on by traditional plastic posts, the finish looks to be a wood grain veneer, and there are 5-way binding posts in the back. The SA-10s are fairly diminutive at 5" x 7.67" x 11.8" (DxWxH) though quite sturdy at a bit over 7 pounds a piece. Our guess is that they are fairly inert in construction and should hold up to their tuning.
As you'd expect with a speaker that is designed to work with small amps, the SA-10s don't require much power. They are 8 ohm nominal and are rated at 88dB efficient. That's pretty good for a non-hornloaded speaker. The speakers are rated down to 65Hz which is impressive given their size and while Trends didn't assign us an output level at that frequency, it seems realistic at practical listening levels.
There are a few things we'd like to have seen with the Trends Audio SA-10 speakers. First, the price is listed at $265 but they don't specify if that is each or for a pair (it's each according to our research). On their website, that have both versions listed at the same price but one has a picture of a single speaker while the other shows a pair. Overall, Trends Audio just needs to work on their communication as there quite a few unanswered questions including finish options, cabinet construction, application for each of the designs, and more. There is no provision for wall mounting the SA-10s though it seems they would be perfect for that application given the front porting. A simple key-hole mount would be enough given the design. 
Conclusion
Given the price, the Trends Audio SA-10 may be a very interesting speaker. Trends is obviously a small company trying to break into audio world and their speaker aesthetics and website design display how bootstrapped they are. But that doesn't mean their speaker won't sound good. We are definitely intrigued by the apparent technology they claim to use in their speaker though we are guessing it will be best utilized in a near-field application like an office. Paired with one of their inexpensive hybrid tube amps, however, you might be looking at an affordable step into high-end audio.
For more information, please visit www.trendsaudio.com.

Confused about what AV Gear to buy or how to set it up? Join our Exclusive Audioholics E-Book Membership Program!
Recent Forum Posts:
zieglj01 posts on December 19, 2011 23:14
zieglj01, post: 848787
Also, I hope it is $265 each - that tweeter does not look like one, that I would want to see on a speaker, costing over $500 a pair.
My bad - I meant to say, I hope it is $265 a pair.
sholling posts on December 19, 2011 22:55
I'd love to read a full review of these but I'll admit a bit of skepticism because of the lack of quantification (+-) of the frequency response spec. But there are enough people interested in near fiend monitors for desktop use that a review is warranted.
zieglj01 posts on December 16, 2011 08:05
I would say mildly interesting - and 15-70 watts power handling - I guess
it may be for nearfield. And, if a speaker is really designed well - then why
should there be a need, for two tweeter placement options. Also, I hope
it is $265 each - that tweeter does not look like one, that I would want to
see on a speaker, costing over $500 a pair.
Post Reply