Polk Audio LSiM703 Bookshelf Speaker Review
Polk Audio LSiM703 Bookshelf Speaker Review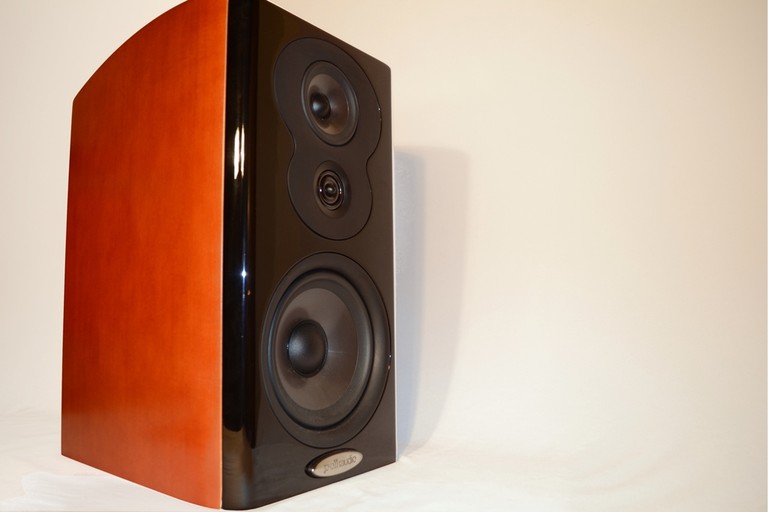 Polk Audio LSiM703 review
Tweeter
Diameter
1" (2.54cm)
Type
Dynamic Balance enhanced ring radiator tweeter
Midrange
Diameter
3 1/4" (8.26cm)
Type
Dynamic Balance driver with super cell aerated polypropylene cone
Mid/Woofer
Diameter
6 1/2" (16.51cm)
Type
Dynamic Balance driver with super cell aerated polypropylene cone
Electrical
Total Frequency Response
36Hz-40kHz
Upper -3dB Limit
30 kHz
Lower -3dB Limit
50 Hz
Nominal Impedance
8 ohms
Efficiency
88 dB
Crossover


Type
Orth crossover design
Tweeter/midrange
Crossover Frequency
2.8 kHz
Recommended Amplifier Power
20-200 watts per channel
Inputs
Dual gold-plated binding posts
Enclosure Type


Mid-High Array Enclosure Type
Sealed
Midwoofer Enclosure Type
PowerPort bass venting
Mounting Options
Shelf; Speaker stand
Product Weight (each)
29.6 pounds
Dimensions


Height
16 3/4" (42.55cm)
Width
8 13/16" (22.38cm)
Depth
14 9/16" (36.99cm)
Pros
Superb build quality
Strong, defined bass
Great overall sound
Cons
Big
Bright presentation on some tracks
Polk Audio LSIM703 Introduction

Polk Audio is one of the most well-known names in the entire audio marketplace. Throughout my years as a home theater installer I saw more people using their old Polk Audio speakers than any other brand, except maybe Klipsch. Over time, Polk has slowly shifted from a focus on two channel systems to a product offering with an emphasis on home theater and price points that appeal to the mainstream consumer. But they have not forgotten about the high-end crowd, even if the high-end crowd has started to dismiss them. When Polk first announced their revamped flagship LSiM lineup in 2011, Tom wrote up a preview article that ended with, "We can't wait to get our hands on a pair to try them out." Well, the wait has been long, but we have finally had the opportunity to sit down with the Polk Audio LSiM703 and give them a full run through. And it was well worth the wait.
Overview & Build Quality
The new LSiM series is a refresh of Polk's previous flagship line, the LSi series. When I say flagship, I'm not talking about products priced into the stratosphere. Polk has kept the prices very low in comparison to most other speaker manufacturers. The most expensive offering is the LSiM707, a large floorstanding speaker for $1999/ea. Although this line is considered "budget" for some, Polk managed to pack much more technology and quality engineering into these speakers than most of the competition typically does at the same price point.
For starters, the top of the cabinet is curved, and the sides taper off towards the back to create a wedge-shape. This helps reduce internal resonance and standing waves, but it also makes the speaker look cool and less "boxy". The enclosure itself is made of MDF with 1" baffles on the sides, ¾" on the back and bottom, and 1 a ¼" thick front baffle. Everything is then finished off with a hardwood veneer, available in such creative names as Mt. Vernon Cherry or Midnight Mahogany. I attempted to take the speaker apart to get a better look at internal bracing, but the only visible screws are on the binding posts…and it's glued in place. So, no internal pictures for this review.
The 703 is a 3-way design with a 6 ½" mid-woofer, 3 ¼" midrange, and 1" ring radiator tweeter. The tweeter and midrange are part of what Polk calls its Dynamic Sonic Engine. Other than having a nifty sounding name, this means there is a single molded piece that holds both the midrange (in its own enclosure) and the tweeter (which also includes the baffle). The Dynamic Sonic Engine (read: tweeter and midrange) is inside an enclosure with 1 ¼" baffles, separating it from the 6.5" mid-woofer. Separating drivers within a cabinet is a great practice, and shows that Polk is serious about these speakers.
The mid-woofer and midrange cones are made of Polk's new Super Cell APP. This is an improvement on their aerated polypropylene (APP) material and is supposed to be more ridged and lighter in weight. Both the mid-woofer and midrange drivers have cast aluminum baskets (another plus), while the mid-woofer has butyl rubber surrounds (and dual spiders) and the midrange has foam surrounds. The tweeter is a new ring radiator design that Polk developed for the LSiM lineup. They extended the frequency response up to 40kHz (only flat up to 20kHz), reshaped the phase plug, moved the tweeter out further on the baffle, and added a host of other changes you can read about here. I was particularly glad to hear about the redesign because I haven't been a big fan of their previous ring radiator tweeters.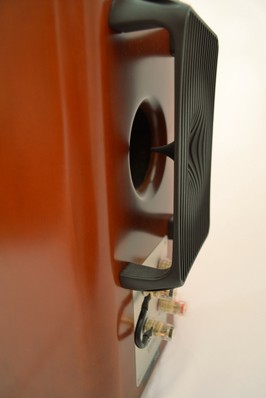 Polk Audio LSiM 703 PowerPort
On the rear of the speaker you will find Polk's proprietary PowerPort technology. PowerPort is a cone that sits at the mouth of the port. Polk claims this reduces port chuffing and has the same effect on bass that a longer port tube would. While I would take that statement with a grain of salt, the bass from these speakers was powerful and clean. Below the PowerPort are two sets of high-quality binding posts that allow the speaker to be bi-amped or bi-wired. Unlike less expensive speakers, these binding posts just ooze quality, and easily held the heft of my giant Monster M2.2s speaker wire.
With three drivers in separate enclosures and a large rear-firing port, you might be wondering how large these speakers are. At nearly 17" high, 9" wide, 15" deep, and 30 pounds, these are some serious bookshelf speakers. I felt safe with them on my Sanus SF26 stands, but this is as large and heavy of a speaker as I would put on them.
The 703's have a rated frequency response of 36Hz-40kHz, but that's not the -3dB point. With a -3dB reference, the 703's will play from 50Hz to 30kHz. This is deeper than most bookshelf speakers, but they are also larger than most speakers in this category. The entire LSiM lineup has a rated sensitivity of 88dB, which is a little low, but the Anthem M1 amps I used are rated at 1,000w 8ohms, so I had no issues driving the 703's well past comfortable listening levels. Those who are trying to play them at extremely high levels in larger rooms might want to have some beefy amps.

Confused about what AV Gear to buy or how to set it up? Join our Exclusive Audioholics E-Book Membership Program!
Recent Forum Posts:
Banu22elos posts on April 21, 2013 03:05
It seems like there's a correlation between Polk's reputation and the number of gray hairs one has.
jcunwired posts on April 20, 2013 22:05
English210, post: 963235
I am SO with you on that!!! 25yr old Kappa's with failing polydomes. The end of an era….'sniff'….I know I should upgrade, but all the listening I've done tells me it's gonna take north of $3K to improve on them, and even that will involve compromises…
I hear ya. Mine were Infinity Interlude, IL60, IL40 and IL36C center (the sub died long ago). I used them for 12 years, and 5 years ago I decided I would upgrade. Every year I would do my pilgrimage to B&M stores to listen, walked away dissatisfied. I ultimately settled in Philharmonic Audio fronts and center, keeping the IL40s (my favorites - great speakers) for surrounds. I gave the others to an old friend who was a bit down on his luck. I gotta say, I was a little verklempt driving away from the UPS store.
Cliff_is posts on April 12, 2013 23:31
jinjuku, post: 963167
Maybe for Polks next round they will bring back a truly large, no holds barred, forget about being skinny speaker. Just charge what you have to charge and make small production runs of it.
Might be a cool idea.
Klipsch has certainly embraced it.
j_garcia posts on April 12, 2013 16:14
Pyrrho, post: 963244
If you don't mind refurbished, you can get LSi speakers direct from Polk starting at $399.99/pair delivered with Polk warranty:

Pair LSI7 Cherry Bookshelf Loudspeakers Polk Audio 047192108671 | eBay
Frys has been known to carry some of their refurb stock as well. I got mine for less than that, and I bought 3 pairs Sold mine, but my brother still has one of those pairs.
-Stan- posts on April 12, 2013 13:22
I purchased my LSiM 703's from Polk ebay. At the time they were having a 20% off sale. That put them at $543 per speaker. The cabinets only had two very small marks on the bottom of each speaker about the size of a grain of rice. The rest of the cabinets are perfect. Of course you only get a one year warranty but speakers usually don't go bad unless you drive the crap out of them. I sold my LSi15's about two weeks after getting the 703's. I really enjoy the 703's more than the 15's for sure but I really recommend having a decent sub to go along. Especially for movies.
Post Reply