Opalum Audio Flow .4810 Speakers Preview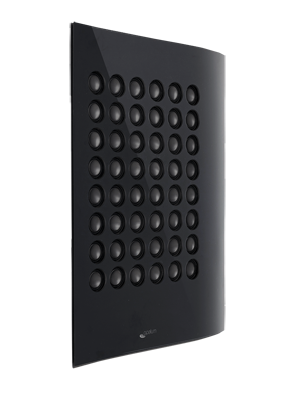 Opalum Audio Flow .4810
Summary
Speaker composition - 48 x 1" point source array
Input - Actiline Digital Link
Amplifier power - Bi-amped, High: 20W, Low: 100W
Dimensions (HxWxD) - 420 x 312 x 38 mm / 16.5 x 12.3 x 1.5 inch
Amplifier type - High PSRR closed loop class-D
Weight - 3.221 kg / 7.10 lb
Front finish - Hi-gloss translucent white or black
Crossover - Actisonic digital active array control
Back finish - Opalum medium grey soft touch
Frequency response - 43Hz – 20kHz
Mounting - On-wall
Put the words "Scandinavian designed" or "Scandinavian inspired" in front of anything, and you know you are dealing with a product with a minimalist design that you have to assemble with an Allen wrench. These are modernist products with very clean lines, dubious longevity, but ultimately very cool aesthetic. Opalum is a Swedish company that is looking to make headway into the US market. When they hired a new US Sales Director and we received a press release about it, we decided to take a closer look at the company.
Currently they have four different speaker offerings on their website, the "flagship" being the Flow .4810 (pictured above). As near as we can tell, the "10" at the end is a model number with the preceding number indicating the number of drivers in each speaker. So, the .4810 has 48 drivers (in this case, 1" in a point-source array). They also have a Flow .1010 (2" drivers in point-source, pic below left), Stream .310 (two 4" woofers and a 1" silk-dome tweeter in a D'Appolito array, pic center), and the Stream .210 (5" woofer and 1" silk-dome tweeter, pic right). The speakers will all wall mount, but the Stream speakers also come with a removable "foot" for shelf-top placement.
What makes these speakers a different from other offerings isn't their looks as much as what is inside. Each speaker has its own internal amplifier. As you might expect, it is a Class-D amp (Opalum labels it a high PSRR closed loop class-D) which is common with such speaker designs. Not common, however, is how the amp gets its power. Rather than requiring a bulk power cord to be attached to a wall, the Opalum speakers use traditional speaker cable that connect to a control unit that has a small number of inputs.
And here is where things get confusing. Check out this diagram: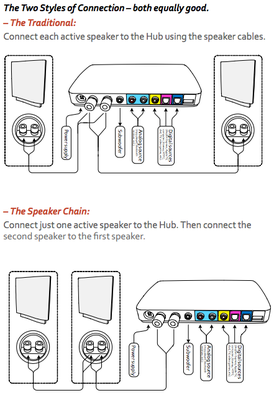 We did a double-take. Yes, you can wire these speakers in parallel or in series. What confuses us is how the speakers know what to play. At first we thought the speakers received their data wirelessly and power only through the speaker cable, but that doesn't seem to be the case. From Opalum:
Furthermore, there is a bit-perfect digital signal superimposed on the same simple cable. This is far cheaper and much more robust than any wireless technology. There is no buffering delay, making it perfect for movies, TV-games and any other media requiring a live audio feed without delay.
That can only mean that there is a switch somewhere on the back of the speaker that lets it know what content to play. It is either that or it is a mono system which we can't believe is the case. The Control Hub (which is due for an upgrade this year) can connect to your wireless network to stream content though it can only receive stereo. Opalum recommends downmixing all multichannel inputs to stereo.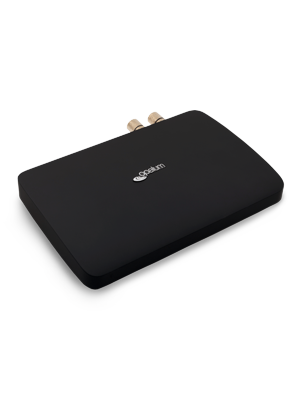 There are four physical inputs on the back of the Control Hub - two optical, one coaxial, and one analogue. Opalum recommends using the digital inputs before the analogue. There is a subwoofer output which Opalum eschews saying, "In most cases the system won't require a subwoofer..." The output is locked into 80Hz with a 24 dB/octave crossover setting. As the entire line of speakers is rated down to 44Hz or lower (which we'll believe when we hear it), this crossover should be more than adequate.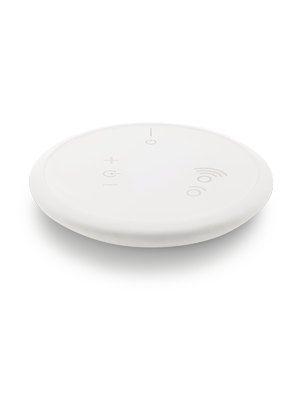 The Opalum remote control is as unique as the reset of the speakers. In the shape of a small saucer, it has a 4" diameter and 0.7" thick. It connects to the Control Hub via RF so walls and other barriers won't be a problem. It also will be a pain to integrate into a whole home system, though we understand that a new Control Hub is on the way that will accept IR, RF, RS-232, and Bluetooth for increased integration and connectivity.
Conclusion
When you think of Scandinavian design, you think either cheap or expensive. There really isn't any in-between. While pricing for the Opalum speakers hasn't been announced, we're betting it isn't going to be cheap. With integrated amps, an unique powering method, and gorgeous looks, we're sure the new Opalum speakers will turn heads. We're just not sure if they will open wallets. Honestly, we'd love to get our hands on a pair to see how they perform. If they sound half as good as they look, that will make them light-years better than many, similarly-styled offerings out there.
For more information, please visit www.opalum.com.

Unless otherwise indicated, this is a preview article for the featured product. A formal review may or may not follow in the future.