Axiom Audio VP160v3 Center Channel Loudspeaker Preview
Summary
Product Name:

VP160 Center Speaker

Manufacturer:

Axiom Audio

Review Date:

February 02, 2012 16:15

MSRP: $570 (includes shipping)
First Impression:

Pretty Cool
| | |
| --- | --- |
| Specs | VP160 |
| Enclosure: | Double Vortex / Reflex |
| Max Amp Power: | 250 Watts |
| Min Amp Power: | 10 Watts |
| Freq Resp +/-3dB (Hz): | 45 - 20kHz |
| Freq Resp +3dB- 9dB (Hz): | 30 - 20kHz |
| Impedance (Ohms): | 8 Ohms |
| SPL in Room 1w/1m(db): | 97 dB |
| SPL Anechoic 1w/1m(db): | 93 dB |
| X-Over | 200 Hz & 2 kHz |
| Tweeter: | Single 1" |
| Midrange: | Single 5.25" |
| Woofer: | Dual 6.5" |
| Dimens. H W D (inches): | 11.5" x 30" x 13.9" |
| Dimens. H W D (mm): | 292 x 760 x 352 |
| Weight (lbs) each | 43.2 lbs |
| Weight (kg) each | 19.59 kg |
Executive Overview
Axiom Audio has added another center channel to round out its comprehensive center lineup.  This makes four center channel models ranging from their VP100v3 ($274), VP150v3 ($434), VP160v3 ($570) and their flagship VP180v3 ($750).
The VP160 is based on the well established W(T/M)W arrangement of drivers which is done to improve off-axis response compared to conventional horizontally mounted MTM designs. This makes two of four of Axiom center channel speakers to employ a single tweeter design. 
See:  Vertical vs Horizontal Center Channel Design
and: Vertical vs Horizontal Center Channel Design - Alternative Perspective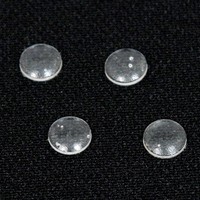 Axiom employs the same magnetic grilles and silver color dust cap aluminum cone drivers found on all of their V3 products.  Designed to place dialogue right in the center of the action, the VP160v3 Center Channel features the identical 6.5-inch woofers, 5.25-inch mid-woofer, and 1-inch titanium tweeter as the M60v3 tower speaker. Axiom claims that using the same drivers gives the listener a seamless soundstage across the front array. In order to match the kind of serious output the M60v3 floor standing speaker can provide, Axiom had to build a "monster" center channel.  The VP160v3 weighs in at an impressive 43 pounds - not for the faint of heart!  Because of its significant weight, the company does not recommend wall-mounting the speaker.  Instead, they suggest putting it on a shelf or the dedicated stand available on their site, the FMS 160. Also included in the speaker are two signature vortex ports. These are corrugated ports exclusive to Axiom Audio and their unique shape is designed to eliminate port noise, allowing for even greater sound output from a smaller cabinet.  They even include some cool gel-like rounded transparent feet which are lower profile and more appropriate than using spikes or metal cones and which also provide isolation from panel resonances if placed inside of an entertainment center. 
In an era where many loudspeaker companies produce smaller and smaller products, Axiom stands out as bucking the trend.
"We relentlessly pursue the most exciting audio experience we can provide. Bigger speakers mean more emotion, more thrills, more explosions, more romance, more excitement.  The bigger the cabinet, and the wider the range of frequencies you can provide to the home theater listener, the more realistic their experience will be." 
- Axiom founder and chief engineer, Ian Colquhoun
With a 45Hz (-3dB point) low frequency extension, its clear that the Axiom VP160 has bass output unmatched by many competitor products, making for a compelling argument to set a lower crossover point in your A/V receiver or processor if you have multiple crossover options for different speaker groupings.
The new VP160v3 center channel speaker is priced at $570, including shipping anywhere in North America (even encompassing Alaska and Hawaii).  It can be special-ordered in an inverted configuration for low placement under the video display (angling the sound up towards the listener) or as an in-cabinet version, for customers who are doing a built-in wall of sound in their installation. The product can be shipped anywhere in the world that FedEx travels, and international pricing is available on their website.
Like all Axiom products, this speaker can be customized to suit almost any décor.  Axiom offers 2 standard finishes (Black Oak and Boston Cherry), as well as over 100 customized finish options.  If customers need a stain or finish that Axiom doesn't carry, they can match a paint sample or wood sample to make a truly customized speaker.  All the speakers are built to order in their factory in Dwight, Ontario, Canada.
Initial Impression
We like the direction Axiom Audio is taking with this new center channel, proving you can have your cake and eat it too.  They built this product on a well established design topology to ensure good on and off-axis performance while also designing it to be a tonal match to their M60v3 floorstanding speakers.  We initially felt the front ports adds too much bulk to the cabinet, but there are some advantages to this approach such as:
easier placement into an enclosed space
allowing the woofers to be more closely spaced together to minimize driver lobing

increased box volume to extend bass response
Perhaps down the road, Axiom may consider offering a sealed or rear firing port version of this product for those that demand a less imposing cabinet.  We estimate placing the ports in the rear would shave 4 inches off the width of the cabinet which doesn't sound like a lot until you attempt to place it in a finite-spaced entertainment center.  Axiom offers so much customization to the fit and finish of their products that offering this option is certainly not beyond their reach.
Initial feedback from forum users on the Axiom website and our forums indicate the VP160v3 is off to a successful start.  Many users have made the upgrade from the VP150v3, claiming MUCH better vocal intelligibility on and off axis.  Some even prefer the VP160v3 to the company's multi-tweeter flagship VP180v3 when sitting off-axis from the speaker.  
Tell us what you think about this new product by commenting in our dedicated forum thread.
For more information visit:  http://www.axiomaudio.com.
Confused about what AV Gear to buy or how to set it up? Join our Exclusive Audioholics E-Book Membership Program!
Recent Forum Posts:
FirstReflection posts on February 04, 2012 22:07
GranteedEV, post: 862385
Axioms speakers will at the end of it all measure decently enough… kind of sad they don't like 3rd party measurements.

Check out NorH speakers:



Now there's a company with something to hide.
Don't worry. Some $16,000/meter speaker cables will fix that right up! Only if you use a $25,000 power cord on your CD player though, of course
MinusTheBear posts on February 03, 2012 13:25
Those Vivid Audio's G2's should get your approval according to the measurements ADTG. The reviewer even puts them in the "Revel" quality of loudspeaker.
AcuDefTechGuy posts on February 03, 2012 13:15
GranteedEV, post: 862385
Axioms speakers will at the end of it all measure decently enough… kind of sad they don't like 3rd party measurements.

Check out NorH speakers:



Now there's a company with something to hide.
Wow, that looks awesome.
kevon27 posts on February 03, 2012 12:30
MinusTheBear posts on February 03, 2012 12:30
gene, post: 862379
I don't think Soundstage is doing measurements at the NRC anymore. I haven't seen any recent reviews done there by them. Also, I do hope Axiom starts allowing 3rd party measurements again but only time will tell.
Feb 2012 Soundstage loudspeaker review with chamber measurements.
Product Review
Vivid Audio Giya G2 Loudspeakers
3rd party measurements
NRC Measurements: Vivid Audio Giya G2 Loudspeakers
Post Reply