KEF LS50 Mini Monitor Preview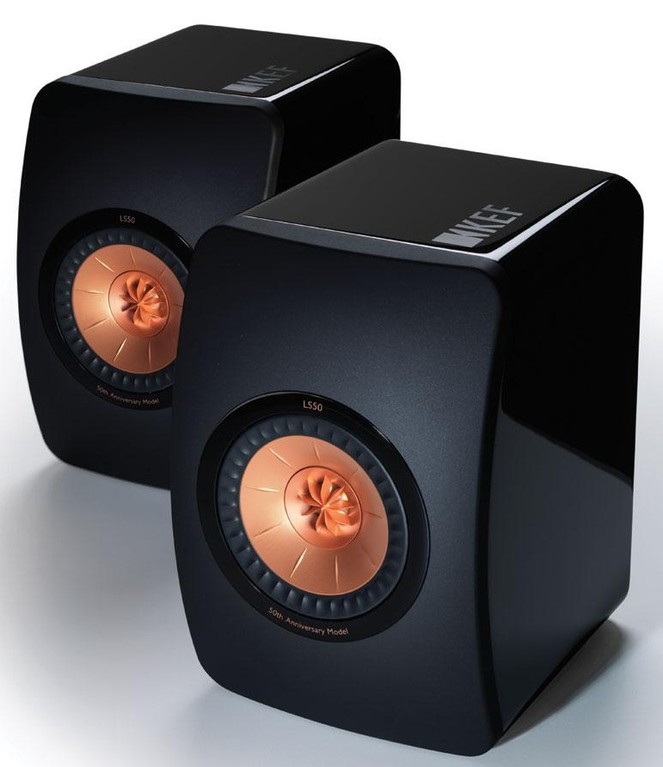 KEF LS50 Mini Monitor
Summary
Design: Two-way bass reflex
Drive units:

HF: 25mm (1in.) vented aluminium dome
MF: 130mm (5.25in.) magnesium/ aluminium alloy

Crossover frequencies: 2.2kHz
Frequency response (±3dB): 79Hz - 28 kHz
Frequency range (-6dB): 47Hz - 45kHz
Maximum output (SPL): 106dB
Sensitivity (2.83V/1m): 85dB
Amp Requirements: 25-100w
Nominal impedance: 8Ω (min. 3.2Ω)
Dimensions (H x W x D): 11.9 x 7.9 x 10.9 in.
Weight: 7.2kg (15.8lbs)
Executive Overview
KEF, the company that brought you the Blade concept speaker, is celebrating their legendary LS3/5a monitor with the release of their new, flagship LS50 mini-monitor. This new speaker features a state of the art coaxial driver and a high end design and aesthetic sure to please any discerning audiophile. KEF has included many of the technologies from the Blade speaker so KEF is really putting their best foot forward with this offering. Unlike the Blade which retail for $30,000 a pair, the LS50s are a much more attainable $1500 a pair.
The KEF LS50 mini-monitors are probably not what you had in mind when you read "mini". While you might have had the image of a speaker small enough to hold in the palm of your hand, the LS50s are 11.9 x 7.9 x 10.9 inches. While not overly large, they would probably more easily be classified as small bookshelf speakers. They do clock in at a fairly hefty 15.8 pounds speaking to the amount of technology (or just bracing) involved in their construction.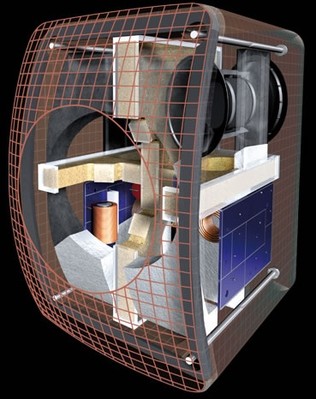 As is clearly visible from the exploded view provided by KEF, the LS50s are, in fact, well braced. A vertical and horizontal brace keeps the cabinet inert with the crossover placed on the two side walls. KEF used computational fluid dynamics to model and design the rear port allowing for greater airflow with less turbulence (reducing port noise/chuffing). The rounded front baffle is designed to smooth on- and off-axis dispersion. The back of the speaker has a pair of five-way binding posts and the entire speaker is wrapped in the ever-popular gloss black veneer.
The real story with the KEF LS50, however, is the driver. The Uni-Q has a rose gold finish (their terminology, I would have described it as copper) and a coaxial design. This places the tweeter at the center of the woofer. The coaxial driver typology allows for a very compact design with a unique look (I think two of them would make me feel like the audio gods had their eyes on me). The woofer features a damped Mg/Al (magnesium aluminum?) alloy metal cone and a rear-vented tweeter. With a driver this unique, there is little reason to hide it behind a grille.
Conclusion

Mini-monitors are designed for near-field listening so the KEF LS50s are probably not going to speakers that you'll place in your home theater. KEF spec's the LS50s down to 79Hz at -3dB and 47Hz at -6dB. This is a pretty amazing response for a mini-monitor. The thing that makes the KEF LS50 mini-monitors so exciting, however, is the price. While $1500 a pair may be a bit extreme for some buyers for a near-field monitor, given the level of technology that has gone into them, the LS50s sound like an absolute steal to us. If you are looking for some high end speakers for your office, den, or other near-field environment, you'd be crazy not to give these a listen.
For more information, please visit www.kefdirect.com.

Unless otherwise indicated, this is a preview article for the featured product. A formal review may or may not follow in the future.
Confused about what AV Gear to buy or how to set it up? Join our Exclusive Audioholics E-Book Membership Program!
Recent Forum Posts:
MidnightSensi2 posts on June 22, 2012 12:38
I'd be interested to hear them.

If they really are a great set of nearfield monitors, that price is actually not high. Most of the nearfields discussed on here aren't professional nearfields, they are pro-sumer, bedroom artist nearfields. That's why $1,500 seems high.

I have some older nearfields that use a driver that uses Kef technology, and they are some of the best nearfields I have ever heard.
Ricardojoa posts on June 17, 2012 15:01
Can someone explain to me what they meant there pretty amazing response?Whats so amazing?
bikemig posts on June 17, 2012 08:16
Well $1500 for a pair of mini monitors might induce exiting rather than excitement for some buyers . . . .
brianedm posts on June 14, 2012 10:25
I really, truly hate to be that guy but…

"The thing that makes the KEF LS50 mini-monitors so exiting, however, is the price."

You mean exciting. Feel free to delete this post once the correction is made
Post Reply