Energy Veritas V-5.1 Bookshelf Speakers Review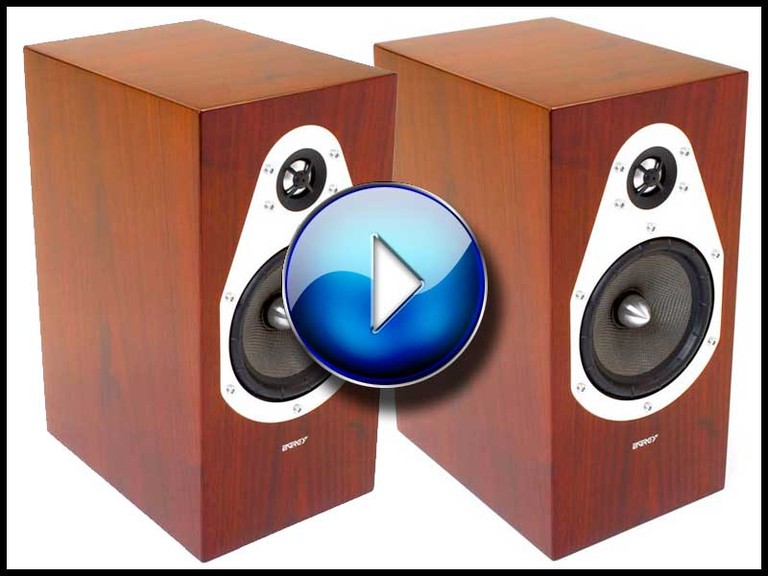 Energy Veritas V-5.1 Bookshelf Speakers
Summary
| | |
| --- | --- |
| System Type | 2 way bookshelf loudspeaker with shielded drivers, rear vented bass reflex design |
| Frequency Response | 50Hz-25kHz ± 3dB |
| Recommended Amplifier Power | up to 175 watts RMS |
| Impedance | 8 ohms nominal; 4 ohms minimum |
| Tweeter | One 1" tweeter with aluminum dome and neodymium motor with heat sink |
| Woofer | One 5.25" woofer with kevlar cone and Ribbed Elliptical Surround |
| Sensitivity (anechoic) | 90dB |
| Crossover Point | 2.5kHz |
| Inputs | Dual 5-way nickel-plated binding posts |
| Overall Dimensions | 13.15" (33.4 cm) H x 6.5" (16.5 cm) W x 9.17" (23.3 cm) D |
| Weight | 12 lbs / 5.5 kg |
| Finishes | Piano Black & Piano Rosenut |
| Included Accessories | Rubber bumpers, port plug, built-in 3/8-16 threaded insert |
Executive Overview
These are... bar none... the most beautiful speakers I've ever seen. While also available in a Gloss Piano Black, the samples we have here are the Piano Rosenut finish and, as you can tell, they are absolutely pristine in terms of the veneer and the gloss coat. Everything about these speakers screams high-end, yet they cost just $400 each. While that's not exactly pocket change, it's a far cry from what many people consider "high-end" and yet most of the audiophile speakers we've seen in our day don't approach this type of build quality and styling.
Let me break it down. The finish, while impressive, is just the start. This speaker is a 2-way bass reflex design. Inset within the front baffle is a custom brushed aluminum inner plate. It unites the 1" aluminum dome tweeter with heat-synched neodymium motor and 5-1/4 inch Kevlar woofer. The woofer is shielded and has a real phase plug and a ribbed elliptical surround. Energy positioned the tweeter close to the woofer to create a near-seamless origination point free of lobing effects.

In terms of performance, the Veritas V-5.1 has a frequency response of 50 Hz to 25 kHz +/- 3dB. It has a sensitivity rating of 90dB at 1 W, 1 meter which is very efficient. You may not be able to drive this speaker with a 9V battery, but it's close. On the back of the speaker is a port - which can be stopped with an included foam plug in the event you have them close to a wall and want to reduce the bass output. The box dimensions are 13 x 9 x 6.5 - a respectable size for a bookshelf, with enough room to handle some really low bass and yet small enough to take on a diminished look in any décor. Weight is around 12 pounds each.
Connecting speaker cables to the Veritas line is easy. On the back you'll find a pair of nickel-plated 5-way binding posts. There's also a standard 3/8-inch threaded insert for mounting the speaker to the wall. For best sound we recommend putting these beauties on a nice speaker stand and showing them off - preferably without the cover.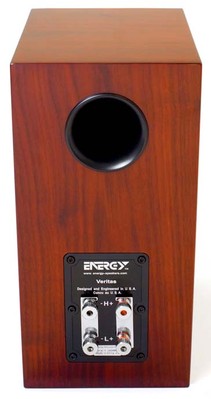 So what do you do with a near-perfect speaker? You tear it open to see what's inside - well, at least, that's what we do. We pulled out the plate holding the dual 5-way binding posts and were greeted with ample stuffing and a high-end crossover design that used high quality air core inductors. The speaker is built like a tank - a fact that explains why it's also one of the best-sounding bookshelf speakers we've heard in the last year. The Veritas V-5.1 lives up to its name - putting forth an accurate soundstage and truly flat response. The speakers have the ability to really disappear into the room and the wide soundstage is natural and free of distortion or any of that boominess you get with speakers that aren't built to play low for real.
These speakers are quite possibly one of the best values in the market today. Still not convinced? The Energy Veritas V-5.1 speakers come with a 5 year manufacturer's parts & labor warranty. If that doesn't push you over the edge, maybe you need a different hobby.

Unless otherwise indicated, this is a preview article for the featured product. A formal review may or may not follow in the future.
3db posts on February 04, 2012 12:39
GO-NAD!, post: 797049
I've never seen an older Veritas speaker before, much less heard one, although I'm aware of their sterling reputation. I mentioned before, that I think Klipsch is just milking the name for whatever they can get out of it, without investing much.

I agree with you. I think Klipsch has totally gutted and ruined what was once one the better speaker manufacturers out there. The engineering that went behind the Veritas line was a tour de force and much better than anything Klipsch has ever put out or ever will put out.
Whetzell posts on February 04, 2012 10:22
Energy V5.1 Monitor

The best bookshelf, I've ever heard. Martin Logan, Bowers & Wilkens, and all the rest. Add a Rel T2 subwoofer, and they're a audiophile stereo system. I use them with Martin Logan ESL's, as a 5 channel stereo system, and it's better than surround.
redbird578 posts on March 02, 2011 13:03
I love them!

I am no sound geek. I am sure there are "better" speakers out there. But I bought the 5.0 version (no sub) and I am very happy with my purchase. They are clearly gorgeous (mine are the piano black - didn't want to be limited decor wise by the rosewood color) and have great WAF. I auditioned these and a set of Klipsch reference series, and the Veritas blew them away. They are crisp, tight, and detailed at low volume. My Denon AVR 1804 drives them just fine (I do need a receiver upgrade). I hear details that did not exist before. I will have these speakers longer than any other piece of a/v gear.
GO-NAD! posts on March 02, 2011 06:58
billy p, post: 796877
The 2.2i was rated down to 40-20kHz @+/- 3dbs with useable bass down to ~35hz and rated 89dbs in room. The 5.1 are rated between 50hz-25kHz @+/-3dbs and ~90dbs in room. The 2.2i mid range and tweeter were self chambered reducing any interaction with other drivers…Although the reviewer talks about the overall fit and finish of the v5.1 and their build qualitly weighing in at 12lbs…as that of a tank don't even come close to the 2.2 which weighted ~30lbs each. Every aspect in their design was thoroughly thought out by the engineering team..IMO….Here is a cut away of the 2.2> https://www.who-sells-it.com/cy/audio-products-international-corp-1386/energy-speaker-systems-veritas-i-series-brochure-5304/page-10-fullsize.html

Check out your local FS but I'm sure the 5.1's will sound very close to your 10's..if you still have them…
I've never seen an older Veritas speaker before, much less heard one, although I'm aware of their sterling reputation. I mentioned before, that I think Klipsch is just milking the name for whatever they can get out of it, without investing much.
I still have the 10's, but they aren't in use right now. I love my Studio 20's, but the difference between them and the 10's certainly isn't night and day. Bass performance would be the most noticeable difference and I would say that at higher spl the difference becomes more apparent. As for value for money - no question, the RC-10's win hands down, because they can be had for far less than MSRP.
I still have the 10's, because it's just so hard to part with them! I do have a potential sale lined up, but I haven't pursued it too vigorously. I have difficulty parting with any of my audio redundant equipment. I still have a pair of Mordaunt Short 902i's that I need to sell also. Then there's the 20-year old pair of Sound Dynamics 200 Ti's - one with a busted tweeter that I can't get a replacement for. They should be disposed of, but I can't bring myself to do it! I need an intervention….:o
But, I digress. I would have to see some comparitive measurements between the new Veritas and the RC, as well as listen to them side-by-side, before I would even
consider
spending more for the Veritas.
Audioholics posts on March 02, 2011 06:35
InTheIndustry, post: 796907
I found it a little unsettling that he got a little flustered in the 1st 20 seconds when describing how beautiful he thought they were. Also, he got awfully dressed up for this video compared to his others. A sport coat?

Nice touch, but I don't think the Veritas are his type.
He was going on a hot date afterwards… lol.
Post Reply
Confused about what AV Gear to buy or how to set it up? Join our Exclusive Audioholics E-Book Membership Program!