Energy Veritas V-5.1 Bookshelf Speakers Review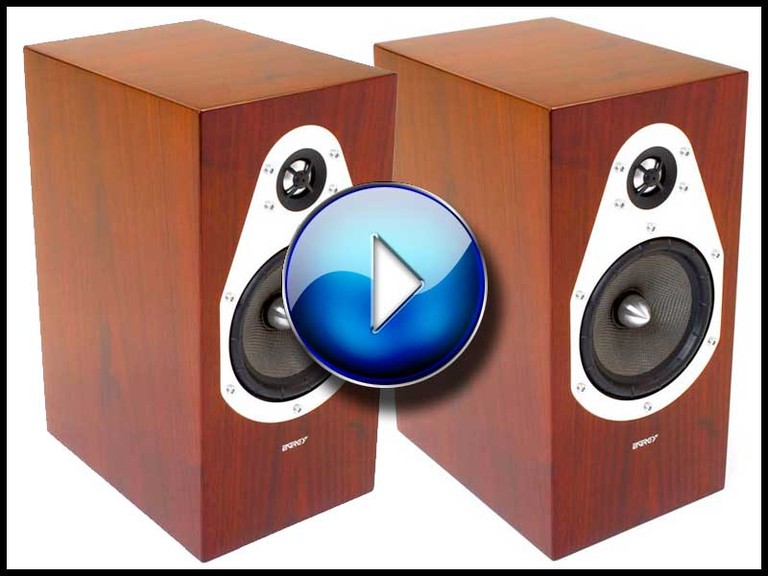 Energy Veritas V-5.1 Bookshelf Speakers
Summary
| | |
| --- | --- |
| System Type | 2 way bookshelf loudspeaker with shielded drivers, rear vented bass reflex design |
| Frequency Response | 50Hz-25kHz ± 3dB |
| Recommended Amplifier Power | up to 175 watts RMS |
| Impedance | 8 ohms nominal; 4 ohms minimum |
| Tweeter | One 1" tweeter with aluminum dome and neodymium motor with heat sink |
| Woofer | One 5.25" woofer with kevlar cone and Ribbed Elliptical Surround |
| Sensitivity (anechoic) | 90dB |
| Crossover Point | 2.5kHz |
| Inputs | Dual 5-way nickel-plated binding posts |
| Overall Dimensions | 13.15" (33.4 cm) H x 6.5" (16.5 cm) W x 9.17" (23.3 cm) D |
| Weight | 12 lbs / 5.5 kg |
| Finishes | Piano Black & Piano Rosenut |
| Included Accessories | Rubber bumpers, port plug, built-in 3/8-16 threaded insert |
These are... bar none... the most beautiful speakers I've ever seen. While also available in a Gloss Piano Black, the samples we have here are the Piano Rosenut finish and, as you can tell, they are absolutely pristine in terms of the veneer and the gloss coat. Everything about these speakers screams high-end, yet they cost just $400 each. While that's not exactly pocket change, it's a far cry from what many people consider "high-end" and yet most of the audiophile speakers we've seen in our day don't approach this type of build quality and styling.
Let me break it down. The finish, while impressive, is just the start. This speaker is a 2-way bass reflex design. Inset within the front baffle is a custom brushed aluminum inner plate. It unites the 1" aluminum dome tweeter with heat-synched neodymium motor and 5-1/4 inch Kevlar woofer. The woofer is shielded and has a real phase plug and a ribbed elliptical surround. Energy positioned the tweeter close to the woofer to create a near-seamless origination point free of lobing effects.

In terms of performance, the Veritas V-5.1 has a frequency response of 50 Hz to 25 kHz +/- 3dB. It has a sensitivity rating of 90dB at 1 W, 1 meter which is very efficient. You may not be able to drive this speaker with a 9V battery, but it's close. On the back of the speaker is a port - which can be stopped with an included foam plug in the event you have them close to a wall and want to reduce the bass output. The box dimensions are 13 x 9 x 6.5 - a respectable size for a bookshelf, with enough room to handle some really low bass and yet small enough to take on a diminished look in any décor. Weight is around 12 pounds each.
Connecting speaker cables to the Veritas line is easy. On the back you'll find a pair of nickel-plated 5-way binding posts. There's also a standard 3/8-inch threaded insert for mounting the speaker to the wall. For best sound we recommend putting these beauties on a nice speaker stand and showing them off - preferably without the cover.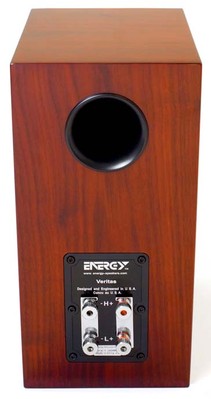 So what do you do with a near-perfect speaker? You tear it open to see what's inside - well, at least, that's what we do. We pulled out the plate holding the dual 5-way binding posts and were greeted with ample stuffing and a high-end crossover design that used high quality air core inductors. The speaker is built like a tank - a fact that explains why it's also one of the best-sounding bookshelf speakers we've heard in the last year. The Veritas V-5.1 lives up to its name - putting forth an accurate soundstage and truly flat response. The speakers have the ability to really disappear into the room and the wide soundstage is natural and free of distortion or any of that boominess you get with speakers that aren't built to play low for real.
These speakers are quite possibly one of the best values in the market today. Still not convinced? The Energy Veritas V-5.1 speakers come with a 5 year manufacturer's parts & labor warranty. If that doesn't push you over the edge, maybe you need a different hobby.

Unless otherwise indicated, this is a preview article for the featured product. A formal review may or may not follow in the future.