Paradigm Cinema Speakers Preview
Paradigm Cinema Speakers
Summary
Cinema 100: 2-driver, 2-way – 1" tweeter, 4" bass/mid driver. EST US MSRP: $299 per pair
Cinema 200 3-driver, 2-way – 1" tweeter, two 4" bass/mid drivers. EST. US MSRP: $249 per speaker
Cinema 400 5-driver, 2 ½ way – 1" tweeter, one 4" bass/mid driver, one 4" bass driver. EST. US MSRP: $399 per speaker
Cinema Trio: 7-driver, 3-channel, 2-way – three 1" tweeters, four 4" bass/mid drivers. EST. US MSRP: $549 per speaker
Cinema Sub: 8" high-excursion driver, 300 watts Dynamic Peak, 100 watt RMS sustained. EST. US MSRP: $349 per speaker
Cinema 100 CT: Five Cinema 100 satellite speakers and one Cinema Sub. EST. US MSRP: $999
Executive Overview
Paradigm's Cinema line of speakers was introduced to complete, price-wise, with big box offerings. Paradigm looked at what was available to customers and said, basically, we can do better for the same price. And they did. The Cinema line has a been a huge success for the company so, for this year's CES, they've decided to upgrade it.
The new line consists of the small Cinema 100 is a Satellite speaker meant to be tabletop or wall mounted. The Cinema 200 is a larger, 2-way speaker with two midrange drivers flanking a tweeter in a D'Appolito configuration. The largest single speaker is the Cinema 400 which features a similar design to the 200 but with the addition of two extra midrange drivers. A Cinema Sub is also offered with an 8" driver. Lastly, the Cinema Trio is a dedicated LCR for use under a flatscreen display with three tweeters and four midrange drivers. The only package deal on the list is the Cinema 100 CT which features five of the small Cinema 100 speakers and the Cinema Sub for $1000. That's a pretty competive price for a speaker system from a name as well known as Paradigm. Let's look at each speaker individually.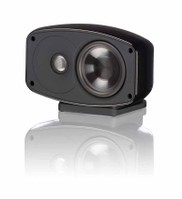 The Cinema 100 is the smallest offering and has a 1" tweeter and a 4" midrange driver. At only 8.38" tall, 4.81" wide, and 6.81" deep, the 4 pound Cinema 100 is easily wall mounted (included hardware) or tabletop (stand included as well). The Cinema 100 can be place horizontally or vertically. The tweeter is constructed out of Paradigms patented S-PAL material (satin-anodized pure aluminum) with a midrange cone featuring mineral-filled polypropylene. The Cinema 100 can be run down to a -2dB point of 125Hz (not sure why Paradigm didn't rate them at least down to -3dB for the extra extension). They have been, of late, using a DIN rating which indicates the -3dB point in a typical listening room. For this, the Cinema 100 his rated down to a much more compelling 85Hz. This, most likely, assumes wall mounting for the added bass response and a small room. The impedance of the speakers is "compatible with 8 ohms) which suggests that they aren't 8 ohms but won't hurt even the most basic of receivers (a good design choice for a speaker at this price point). The Cinema 100 satellite speakers will run $300 a pair and come in a gloss black finish.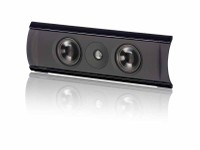 The Cinema 200 is a much larger speakers at 19.9" by 6.3" by 4" and 8.3 pounds. It features the same tweeter but two of the midranges in a D'Appolito configuration. This speaker boasts a -2dB point down to 120Hz (not a great improvement over the Cinema 100's but better than nothing) and is, again, "compatible with 8 ohm speakers. The Cinema 200 (like the 400 and Trio) is designed to be wall mounted and the same "EasyMount" wall mount is included with the 200 speakers. Also, like the others (except for the Cinema 100 speakers), the Cinema 200 speakers feature removable self-aligning magnetic grilles. The DIN rating for the Cinema 200 is 80Hz which is in line with THX and most home theater enthusiasts' recommended crossover point for subwoofers. The Cinema 200 speakers will retail for $249 per speaker.
The last two speakers in the line are the 400 and the Trio. The 400 speaker is similar to the 200 except that it adds another pair of woofers. This makes for a significantly larger speaker at 26.4" by 6.3" by 4" and just under 13 pounds. The Cinema 400 speaker features the same driver types and magnetic grille with the Cinema 200 speakers. This speaker has a -2dB point at 115Hz and a DIN at 75Hz and will retail for $399 each. This is the a largest of the dedicated speakers and promises the best bass response and the best fit for larger rooms. If you want a single LCR (Left, Center, Right) speaker solution the Cinema Trio (MSRP $549) will be for you. This speaker reproduces all three of the font speakers in a single enclosure with a DIN of 85Hz and a -2dB at 125Hz. 
The Cinema line is rounded out by a new and improved Cinema Sub. Featuring an 8" high-excursion reinforced co-polymer driver and a high-velocity, low-turbulence port, this speaker promises an in-room (DIN) performance down to 32Hz (no -2dB point specified). The dual ports are rear-mounted which might make placement a bit tricky since placement near a boundary might generate bass bloat (maybe how they got the low point of 32Hz in the first place). The sub is fairly diminutive at 13.5" by 12.7" by 12.7". At just 21.4 pounds, the sub should be fairly easy to move around. According to Paradigm, the Cinema Sub has "flexible positions" with either the gloss or cloth sides up. From what we can tell, this means that the feet are not attached to the any point on the sub but, instead, are slipped underneath. A novel solution to a problem we didn't know anyone had. This doesn't, we think, reorient the driver at all (seems to be forward firing) so it is purely an aesthetic decision.
The Cinema sub features all the normal controls including variable crossover (35Hz to 150Hz) with a bypass option. There is a volume knob as well as switches for phase (0 or 180) and power (on, off, Auto). The Cinema sub only has RCA line-level inputs and lacks, completely, speaker level inputs. This is to be expected at this price point. The Cinema Sub will retail for a very affordable $349.
Conclusion 
If you went absolutely crazy, you could put together a 5.2 system with nothing but Cinema 400 speakers and two Cinema Subs for $2344. But even we think this would be overkill. In a larger room with a trio of Cinema 400s, and two each of the Cinema 100s and 200s, plus a sub, you'd have a kicking 7.1 system for a dollar less. If you are looking for a first system for a smaller room, the Cinema CT 100 with five Cinema 100 speakers an a Cinema Sub will only set you back $1000. It is clear Paradigm is looking to give consumers on a budget a lot of options. We wish they'd rate their speakers like everyone else (or at least tell us how their "in room" DIN measurement is obtained) but, regardless, the newly improved Cinema speakers are sure to be a hit.
For more information, please visit www.paradigm.com.

Unless otherwise indicated, this is a preview article for the featured product. A formal review may or may not follow in the future.
Confused about what AV Gear to buy or how to set it up? Join our Exclusive Audioholics E-Book Membership Program!