Wharfedale Jade Series Speakers Preview
Summary
Executive Overview
Sound Import, LLC is now the exclusive distributor for Wharfedale speakers in the US. Today we got treated to a preview of the Jade Series loudspeakers which is a fairly robust line with seven models, including the Jade-1 and Jade-3 stand-mounted monitors, the Jade-5 and Jade-7 floorstanding towers, the Jade-C1 and Jade-C2 center-channel speakers and the Jade-SR wall-mountable surround speaker. Jade Series loudspeakers have an interesting pedigree. They are designed and built in the International Audio Group (IAG) ISO9001 facilities using standard CAD techniques, but a Wharfedale acoustic technician individually tests each driver and crossover. Finally, each finished loudspeaker is tested and certified to Wharfedale's reference standards.
The enclosures are beautiful, with a striking, curved rear end that tapers from the front. The contoured enclosures are constructed from Crystalam, formed from laminated wood and composites and designed to reduce enclosure vibration and acoustic leakage to below the threshold of audibility. Wharfedale claims the material is better than conventional MDF enclosures for reducing vibrations.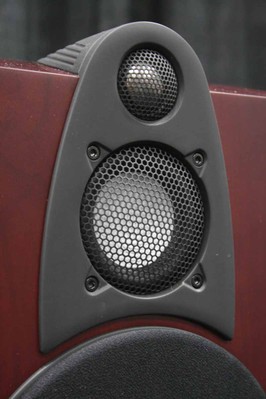 The midrange drivers and woofers are constructed using "Acufiber", a combination of fiberglass and carbon fiber, and they look it when you examine the cone material closely. It's designed to be stiff and produce excellent transient response and they are shaped to help reduce standing waves. Jade Series loudspeakers feature aluminum-dome tweeters complemented by a phase-linear crossover that, while designed using mathematics and computer models, are optimized by ear. The design goal is something we've heard before: to deliver a natural sound and enable the loudspeakers to "disappear" into the room. That's a solid design goal.

Jade Series loudspeakers are available in four different finishes: Black Oak, Vintage Cherry, Rosewood and Piano (gloss) Black. They will be available in the U.S. in October 2011. Prices range from $1,199 to $4,199 per pair in matte finish.
Confused about what AV Gear to buy or how to set it up? Join our Exclusive Audioholics E-Book Membership Program!
Recent Forum Posts:
haraldo posts on May 11, 2013 16:35
Will there be a review?
BoredSysAdmin posts on September 08, 2011 23:50
Wharfedale to me was brand of good value, but high quality, true to their UK roots…
Hard to judge these new speakers without any specs and a benchmark , but their prices seem to be far from being good value …

I wonder if this IAG company will ruin Wharfedale just like they did with Quad (according to Dr. Mark)
Post Reply