RSL Speakers CG24/CG4 Studio Monitor and Speedwoofer 10 Preview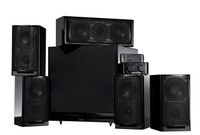 While RSL Speakers are a relative newcomer to the ID race, they have a +40 year heritage in the loudspeaker business. Today we take a peek at two pairs of their compact but potent bookshelf speakers: the CG4 and CG24 as well as their Speedwoofer 10 powered subwoofer. This sub/sat combo looks impressive on paper. Could this be the best affordable speaker brand you've never heard of? We are looking forward to taking these products for a test spin via a formal review in the coming months to find out.
RSL Speakers have a +40 year heritage and offer an impressive array of products sold internet direct including their CG24 and CG4 Studio Monitors and their Speedwoofer 10. A killer sub/sat combo?