Janszen Carmelita Active Speakers Preview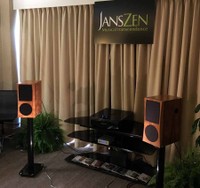 The original Janszen electrostatic loudspeakers were regarded as one of the first truly high-fidelity speakers, and some are still in use almost sixty years later. The new Carmelita Active speaker system sports the latest in driver technology with a high excursion woofer and a robust ESL panel that is built to last. The entire system is active with no passive crossover networks to increase efficiency and optimize driver integration. How do they sound? Check out our thoughts from our first listen at AXPONA 2016.
Janszen's long heritage of high performance ESL speakers lives on with their new Carmelita Active system featuring a high excursion bass driver and durable ESL panel built to last and sound great.