Aperion Audio Allaire Bluetooth Bookshelf Speakers Preview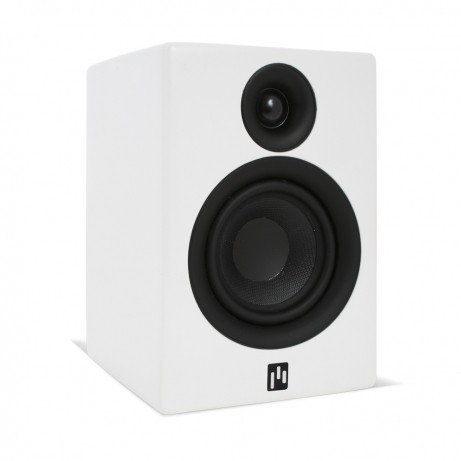 The Aperion Allaire Bluetooth in matte white; magnetic grills are included.
Summary
Frequency Response: 50 Hz to 20 kHz (+/-3 dB)
Wireless Band: Bluetooth 4.0
Recommended Power: 120V – 240V AC
Amplifier Power: 2 x 50watt
Tweeter: 1" dome
Woofer: 4" woven fiberglass
Enclosure Type: Slot ported
Dimensions: 8 5/8" H x 6" W x 6 3/4" D
Executive Overview
Usually when the word "wireless speakers" are put together, we conjure images of single box solutions optimized for portability. While nominally stereo devices, the reality is that the simulated stereo effect these devices produce will rarely (if ever) compete with the real thing. The folks at Aperion Audio have an answer to this problem: their new Allaire Bluetooth bookshelf speakers. Priced at $399/pair, these speakers offer Bluetooth 4.0 connectivity (with aptX compression on supported devices) in addition to an optical digital input and an analog 3.5mm mini-jack (cables are included for both options, as well as a 3.5mm to RCA cable). Available in an attractive matte white or black finish, Audioholics want to know: what does the Allaire bring to the table? Keep reading to find out.


The Particulars
There's little question in our minds that the Aperion Allaire's are a neat pair of compact bookshelf speakers. Sporting a 1" silk dome tweeter and 4" woven fiberglass woofer in a slot ported enclosure, the Allaire's are active loudspeakers, with each speaker receiving 50W of class D amplifier power. In terms of performance/sound quality, we have high expectations given Aperion's history. Frequency response is rated from 50Hz-20kHz (+/- 3dB), which is quite good considering the relatively compact dimensions (8-5/8" H x 6" W x 6-3/4" D). If that's not good enough however, the Allaire also boasts a subwoofer output. Toss in one of Aperion's subwoofers (or look to a subwoofer specialist like SVS, PSA, Hsu, or Rythmik) and you can extend performance into the bottom audible octave for less than $1,000 for the total system.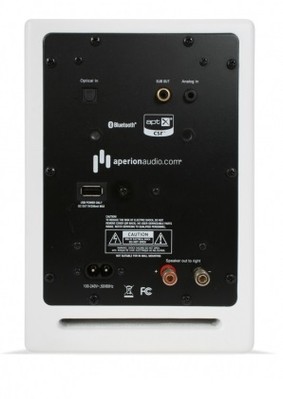 Rear view of the Allaire Bluetooth showing off its slot port and connectivity options.


In terms of actually using the product, setup is a snap compared to dealing with a discrete 2 channel system. Plug the left speaker into a wall outlet, connect the right with an included 9' run of 14AWG speaker wire (terminated with banana plugs for convenience), connect a source or two, and you're ready to start listening. A remote is thankfully included for source selection as well as volume adjustment, as is a USB port for charging your mobile devices while you listen.
The included remote is milled from a single piece of aluminum.

Now Aperion bills this system as an easy to put together stereo system that can go wherever. Want a stereo for your kid's room? The Allaire will get the job done. Would you like a little music while you work in the kitchen? This is the system for you. However, we'd also envision this as being a perfect little alternative to a soundbar on the cheap. The setup isn't significantly more complicated (no receivers or mess of wiring to deal with), and you get true stereo separation and the ability to add a real subwoofer to the mix. Not too shabby for the asking price of $399 in our humble opinion.


Conclusion
If you haven't guessed, we have high hopes regarding the Aperion Allaire's potential. For $399, you get a pair of compact bookshelf speakers, 50W of power X 2 channels, a remote, Bluetooth connectivity, and all the wires needed to get things going. However, the ability to add an outboard subwoofer really takes things to the next level; not only does the Allaire have the capacity to be a competent 2.0 system for wherever you happen to want music, it can be the core of a hard hitting 2.1 system for a second HT setup. Suffice it to say, we'd like to get our hands on a set of these for further evaluation.



Unless otherwise indicated, this is a preview article for the featured product. A formal review may or may not follow in the future.