Emotiva Pro Stealth 6 & 8 Powered Studio Monitors Preview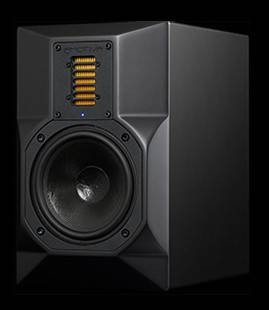 The Emotiva Stealth 6 Studio Monitor
Summary
Emotiva Stealth 6 Studio Monitor Specs
Frequency Response: 39 Hz to 23 kHz + / -1.75 dB; 36 Hz to 32 kHz +0 / -6 dB
Input Connectors: One balanced combination connector (accepts a balanced XLR, balanced 1/4", or unbalanced 1/4" connector)
Bass Alignment: Low-diffraction rear-oriented slot-loaded port
Power Source: 120 VAC 50/60 Hz +/- 10% or 230 VAC 50/60 Hz +/- 10%; IEC standard removable power cord
Size (each): 13" high x 10" wide x 11.5" deep (330.2mm x 254mm x 292.1mm)
Weight (net): 26.1 pounds (11.8 kg)
Driver Complement: One 60 x 32 mm airmotiv™ high-frequency transducer; One 165 mm (6.5 inch) airmotiv™ low-frequency transducer
High-frequency amplifier: 100 watts RMS
Low-frequency amplifier: 110 watts RMS
Maximum Acoustic Output (pair, short term): 109 dB SPL (sine wave, @ 1 meter, on axis, radiating into half space)
Emotiva Stealth 8 Studio Monitor Specs
Frequency Response: 30 Hz to 23 kHz + / -1.75 dB; 28 Hz to 32 kHz +0 / -6 dB
Input Connectors: One balanced combination connector (accepts a balanced XLR, balanced 1/4", or unbalanced 1/4" connector)
Bass Alignment: Low-diffraction rear-oriented slot-loaded port
Power Source: 120 VAC 50/60 Hz +/- 10% or 230 VAC 50/60 Hz +/- 10%; IEC standard removable power cord
Size (each): 16.5" high x 12" wide x 15" deep (420 mm x 305 mm x 380 mm)
Weight (net): 41.5 pounds (19 kg)
Driver Complement: One 60 x 32 mm airmotiv™ high-frequency transducer; One 205 mm (8 inch) airmotiv™ low-frequency transducer
High-frequency amplifier: 200 watts RMS
Low-frequency amplifier: 200 watts RMS
Maximum Acoustic Output (pair, short term): 115 dB SPL (sine wave, @ 1 meter, on axis, radiating into half space)
Executive Overview
Emotiva is a company well known for delivering high powered amplifiers at a budget friendly price. While Emotiva does offer speakers and subwoofers, we don't blame you if they're not the first name that pops into your mind when thinking about reference grade studio monitors. Enter the Emotiva Pro Stealth line; consisting of two models, the Stealth 6 priced at $1,100/pair and the Stealth 8 priced at $1,500/pair, these monitors boast a relatively tight frequency response tolerance of +/- 1.75dB (on axis), active crossovers along with separate channels of amplification for each driver, and several interesting features to help them separate from the rest of the pack. How do these powered monitors stand up to a quick glance by Audioholics? Read on to find out.
What Is A Stealth Monitor Exactly?
So, what exactly goes into making Emotiva's Pro Stealth studio monitors? To start, Emotiva is utilizing a tweeter some might not be familiar with, an air motion transformer (AMT). Originally developed by Dr. Oskar Heil and utilized by ESS back in the 1970s, an AMT operates a bit differently from a conventional dome tweeter; rather than pushing the air forward with the surface of a dome, the air is squeezed between the accordion-like pleats, generating sound waves. Emotiva claims significant improvements in distortion, transient response, and compression versus a conventional tweeter given that the AMT has considerably more effective working area, and thus requires far less motion for any given output level. While AMT's are cool, the Stealth series isn't the first kid on the block to use them. Emotiva's own Airmotiv 5 speakers we reviewed use them, along with the Legacy Focus SE towers and Martin Logan Motion 15 bookshelf speakers. Granted, each company claims to have given the technology their own twist.
The Air Motion Transformer tweeter of the Emotiva Pro Stealth Series.

To handle the lower end of the spectrum, the Stealth monitors use woofers with woven polypropylene cones as well as rear slot ports. The 6.5" woofer in the Stealth 6 is specified to cross over to the AMT tweeter at 2kHz, which should keep the woofer out of the range where it is beaming significantly. The crossover frequency is not specified for the Stealth 8, though it utilizes a larger 8" woofer which would be beaming to some extent by the 2kHz mark. On the low end, the Stealth 6 digs down to 39Hz (+/- 1.75dB) with a +0/-6dB point of 36Hz; the Stealth 8 digs down to 30Hz and 28Hz respectively. In the case of either monitor, the necessity of a subwoofer depends entirely on the material being reproduced; most musical content should fall into the range of the Stealth 8, but even that may not be sufficient for organ notes and synthesized music.
Now we get to the area Emotiva is well known for: power. Both speakers feature active crossovers, and consequently are biamplified. The Stealth 6 receives 100W of amplification to the tweeter and 110W to the 6.5" woofer; Emotiva states this should be adequate for a pair of Stealth 6's to deliver a 109dB peak at 1 meter (half space), which isn't shabby for what is ostensibly a relatively small bookshelf speaker. Meanwhile, the larger Stealth 8 receives 200W for both the tweeter and woofer, allowing a pair to deliver a staggering 115dB peak at 1m (half space). Used near field, either monitor should have adequate output for most requirements.
Last but not least is the enclosure, which Emotiva deems the "Minimum Acoustic Signature" cabinet. The angular front baffle is computer optimized to minimize diffraction, not to mention milled from a solid 2" piece of MDF. Emotiva also states the cabinets of these monitors are very well braced, and a photo of the interior of the Stealth 6 suggests these enclosures should have no trouble passing the knuckle rap test. Combined with all of the above, it appears that Emotiva has some serious hardware here.
Interior view of an Emotiva Pro Stealth cabinet.

Is That All They Do?
With the hardware they're delivering for the money, Emotiva could be content to call it a day. As per their modus operandi however, Emotiva naturally has to show off what these speakers can do for a prospective buyer by freely displaying graphs of on axis frequency response, as well as off axis out to 45 degrees. These graphs also show the effects of the various on board EQ options which can help tailor the response to suit most installations. Frankly, this kind of information is rarely given by manufacturers, so when it is provided, it's a good indication of their confidence in the product. The only real suggestion I'd have for Emotiva here is to note the conditions of the measurements, i.e. where they were taken (indoors, outdoors), distance, smoothing, etc.
Summary
Overall, Emotiva seems to have a pair of solid reference monitors on their hands. Either model should deliver enough output for most uses, though the Stealth 8 has an advantage in both output capability and bass extension. Both appear very well constructed, and it's nice to see that Emotiva has sufficient confidence in their product to post measurements. If you're in the market for a top notch near field listening rig, Emotiva's Stealth lineup looks to worth a very serious look. If you dig the Stealth series but don't want to put down that kind of cash, look at Emotiva's Airmotiv Studies Monitors instead.
Unless otherwise indicated, this is a preview article for the featured product. A formal review may or may not follow in the future.