Audioengine 2+ Premium Powered Desktop Speakers Preview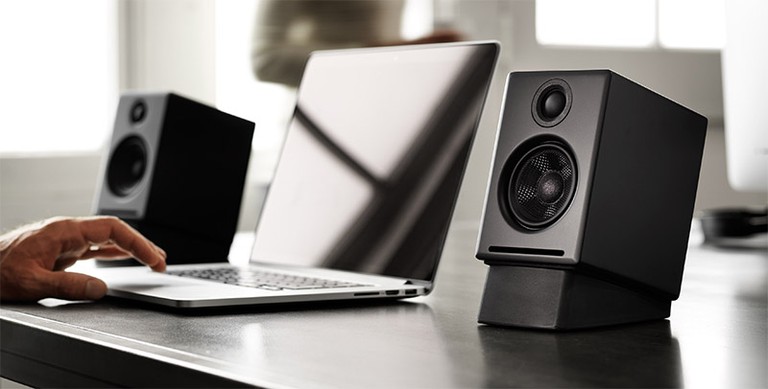 Audioengine 2+
Summary
Type: 2.0 powered (active) multimedia desktop speaker system
Amplifier type: Dual class AB monolithic
Power output: 60W peak power total (15W RMS / 30W peak per channel), AES
Drivers: 2.75" Kevlar woofers, 3/4" silk dome tweeters
Inputs: 3.5mm stereo mini-jack, RCA, USB
Outputs: RCA variable line-out
Main voltages: 110-240V 50/60Hz auto-switching
SNR: 95dB (typical A-weighted)
THD+N: <0.05% at all power settings
Crosstalk: <50dB
Freq. response: 65Hz-22kHz ±2.0dB
Input impedance: 10Kohms unbalanced
DAC: TI/Burr Brown PCM2704C
Input bit depth: up to 16 bits native
Input sample rate: up to 48KHz native
USB device class: type 1.1 or above
Protection: Output current limiting, thermal over-temperature, power on/off transient protection
Dimensions (each): 6"(H) x 4"(W) x 5.25"(D)
Weight (LEFT speaker): 1.6Kg/3.55lbs
Weight (RIGHT speaker): 1.4Kg/3.15lbs
Shipping weight: 4.6kg/10lbs per pair
Shipping box dims: 10.5" (H) x 15" (L) x 7" (W)
Materials and Construction
18mm thick MDF cabinets

3/4" (20mm) silk dome tweeters with neodymium magnets

2.75" Kevlar woofers with advanced voice coils
Included Accessories
Speaker wire, 2 meters (~6.5 feet)

Power supply

AC power cord

Mini-jack audio cable, 1.5 meters (~5 feet)

USB cable, 1.5 meters (~5 feet)

Microfiber speaker bags

Microfiber power supply bag

Microfiber cable bag

Setup guide

Product line brochure
Executive Overview
Audioengine burst on the scene a number of years back and took the audio world by storm. They put out desktop speakers that had high-end sound for very reasonable prices. Obviously, they appealed to a certain segment of the audio community - those that spend a lot of time at a desk, are on a budget, and care about sound quality. Unsurprisingly, this is a fairly huge segment of the audio community. Their vaunted A2 speakers are getting an upgrade with a 25% price bump.
The new Audioengine A2+ speakers should feel familiar to those that have used Audioengine products in the past. They have an amp built into the left speaker with 30 watts (peak) power per channel. The speakers are small (6" by 4" by 5.25") and light (just over 3 pounds for the right speaker, add a half pound to the left for the amp). They have connections for 3.5mm, RCA, and USB which is about everything you'll need for your desktop. You connect the left and right speaker using standard speaker wire. The Audioengine A2+ speakers come in white and black.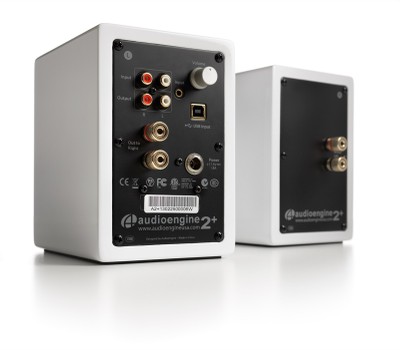 The Audioengine A2+ speakers sport 3/4" silk-dome tweeters and 2.75" Kevlar woofers in a bass-reflex enclosure. The front slot port is located near the bottom of the speaker making placement easy while extending the bass response of the speaker. The enclosure is constructed out of 18mm (0.7") MDF. Audioengine says that while the A2+ speakers are designed for desktop/nearfield listening, they will fill a room. The A2+ speakers are rated down to 65Hz at ±2.0dB which is pretty impressive. We're betting a lot of people are going to be surprised at the bass response of these small speakers.
If you haven't recognized it already, one of the improvements Audioengine made over the A2 speakers is the inclusion of the USB connection. Their TI/Burr Brown PCM2704C DAC can accept up to 16bit/48KHz inputs (which we're guessing someone is going to complain about on the forums even though it is better than what you get on CDs). The A2+ is said to work natively with both Mac and PC computers out of the box without any need for additional drivers. 
Additional improvements include a variable audio output (RCA-style) for connecting a subwoofer or Audioengine's wireless adapter. They've improved the speaker connections, added 1/4" threaded inserts for wall mounts, and upgraded the power supply. All this adds up to a $50 premium over the previous A2 offering. It really doesn't matter, however, as Audioengine already lists the A2 as discontinued on their site. This means if you want the older, cheaper offering with fewer features, you better get it now from one of the many retailers that sell Audioengine products. The new Audioengine A2+ speakers will retail for $249.
Conclusion
If you wanted a direct connection from your computer to your Audioengine speakers, the A2+ have what you need. While they are still lacking a headphone output (maybe they are saving that for the A2++), the USB connection is now available. For those that wanted additional bass out of their A2 speakers, the A2+ now have a variable output for adding a sub. Basically it looks like Audioengine read all the reviews their products have gotten and took the biggest complaints and fixed them with the A2+. That just sounds like good business to us. While we don't expect the A2+ to sound much different than the A2, it really doesn't matter. Sound quality was never a complaint. If you are looking for "real" speakers for your desk and you're on a budget, the A2+ should definitely be on your list.
For more information, please contact www.audioengineusa.com.

Confused about what AV Gear to buy or how to set it up? Join our Exclusive Audioholics E-Book Membership Program!
Recent Forum Posts:
MidnightSensi2 posts on December 10, 2013 08:39
haraldo, post: 1002371
I had Audioengine 2 for a long time, and they're exceptional value for money, bass is not so much there, but otherwise it's surprising how well they perform considering price and size of the speakers
Just keep your eye on the volume control because they start behaving really bad if you run them too hard but what can you expect from a 2.75" woofer

I don't think the 2+ could be any worse in that regards when it comes to cost/value proposition
I found the same. They've become my go to mini speakers. I've used them in trade shows for small POS displays, lobbies wanting inexpensive hidden sound, art installations lol. You name it.
I must have purchased or had someone else purchase 10 pairs by now.. never had one show up bad, and usually the people/companies I show them to end up /at least/ getting some for their desk haha.
haraldo posts on December 05, 2013 07:36
I had Audioengine 2 for a long time, and they're exceptional value for money, bass is not so much there, but otherwise it's surprising how well they perform considering price and size of the speakers
Just keep your eye on the volume control because they start behaving really bad if you run them too hard but what can you expect from a 2.75" woofer

I don't think the 2+ could be any worse in that regards when it comes to cost/value proposition
Post Reply