Genelec G Series Speakers and F Series Active Subwoofers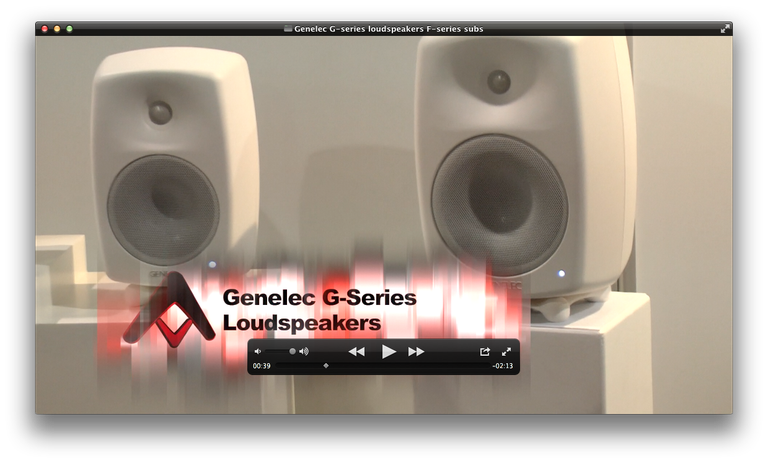 Genelec G Series Speakers and F Series Active Subwoofers
Summary
G Series Driver Complements

G One (Woofer 3" + Tweeter 3/4")
G Two (Woofer 4" + Tweeter 3/4")
G Three (Woofer 5" + Tweeter 3/4")
G Four (Woofer 6.5" + Tweeter 3/4")
F One 6" active subwoofer
F Two 8" active subwoofer
F One Specifications

Maximum sound pressure: 98 dB @ 1 m
Frequency response: 35 - 85/120 Hz (± 3 dB)
Phase correcting: 0 to -270° (90°/step)
Driver: 6 1/2"
Amplifier power: 40 W
Dimensions: Height x Diameter 9.88" x 12.01" (251 x 305 mm)
Weight: 13.89 lb (6.3 kg)
F Two Specifications
Maximum sound pressure: 102 dB @ 1 m
Frequency response: 27 - 85/120 Hz ± 3 dB
Phase correcting: 0 - 270° (90° steps)
Driver: 8"
Amplifier power: 150 W
Dimensions: Height x Diameter 11.81" x 14.25" (300 x 362 mm)
Weight: 21.61 lb (9.8 kg)
G Two Specifications
Maximum sound pressure: 96 dB per loudspeaker @ 1 m
Frequency response: 65 - 21000 Hz (-3 dB)
Drivers: Bass 4" + Treble 0.75" metal dome + DCW
Amplifier power: Bass 20 W + Treble 20 W
Dimensions: H x W x D: 9.53" x 5.94" x 5.59" with Iso-Pod (242 x 151 x 142 mm)
Weight: 8.16" (3.7 kg)
G Three Specifications
Maximum sound pressure: 100 dB per loudspeaker @ 1 m
Frequency response: 55 - 21000Hz (-3 dB)
Drivers: Bass 5" + Treble 0.75" metal dome + DCW
Amplifier power: Bass 40 W + Treble 40 W
Dimensions: H x W x D: 11.77" x 7.44" x 7.01" with Iso-Pod (299 x 189 x 178 mm)
Weight: 12.35 lb (5.6 kg)
G Four Specifications
Maximum sound pressure: 105 dB per loudspeaker @ 1 m
Frequency response: 45 - 21000Hz (-3 dB)
Drivers: Bass 6.5" + Treble 0.75" metal dome + DCW
Amplifier power: Bass 90 W + Treble 90 W
Dimensions: H x W x D: 14.37" x 9.33" x 8.78" with Iso-Pod (365 x 237 x 223 mm)
Weight: 18.96 lb (8.6 kg)
We got to stop off at Genelec's booth at the 2013 CEDIA. This year the company was showing off active loudspeaker and subs, including the popular G series. There are four different models with the G1 being the smallest. The basic specs impressed us and the G1 puts out 91dB SPL at maximum, the G2 does 96 dB SPL, the G3 will play to 100 dB SPL and the G4 outputs a massive (for its size) 105 dB SPL.
Looking at frequency response. The G4 is rated down to 45Hz, which I found to be pretty cool. The colors include black and white and not much else. There are dip switches on the back to roll off either to lows or highs with a shelf EQ in order to compensate for where they are placed in the room. Specialized stands let you tilt the speakers up or down and there are available wall and ceiling mounts that are pre-drilled to fit the speakers perfectly.
The G1 bookshelf speaker starts at just $395/ea, with the G2 coming in at $695, the G3 at $995, and the G4 priced at $1,595.
There are two different models in the F series of subwoofers, the F1 and F2. The F1 has a 6-inch driver with a response tailored between 35Hz to 85Hz, and it also has a 50 watt amplifier. The F2 steps it up with an 8-inch woofer and has a 150W amplifier. The output on this sub extends down to 27Hz. You can pick up the F1 for $795, and $1795 brings home the F2.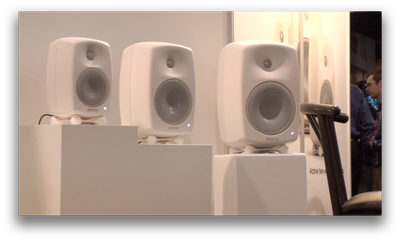 G Series in a nutshell:
G One (Woofer 3" + Tweeter 3/4")
G Two (Woofer 4" + Tweeter 3/4")
G Three (Woofer 5" + Tweeter 3/4")
G Four (Woofer 6.5" + Tweeter 3/4")
F One 6" active subwoofer
F Two 8" active subwoofer

Genelec's G Series active two-way speakers have a seamless design that flows gently from the woofer to the tweeter. Genelec chose the smooth design to reduce acoustic reflections that can interfere, or diffract, the sound. Specifically, the tweeter is surrounded by a Directivity Control Waveguide (DCW), and it's designed to match the frequency response and directivity characteristics of both drivers. The goal is smooth frequency response both on-axis and off-axis.
The new F Series active subs blend well with the G Series loudspeakers. The enclosures are actually metal and the bottom-firing driver lets the sub maintain its clean domed shape. Both models feature connections and bass management for up to 5.1 channels and a comprehensive suite of adjustments for perfect matching to the main loudspeakers and room acoustics.
For more information, please visit www.genelecusa.com.

Unless otherwise indicated, this is a preview article for the featured product. A formal review may or may not follow in the future.