RSL Speakers CG24/CG4 Studio Monitor and Speedwoofer 10 Preview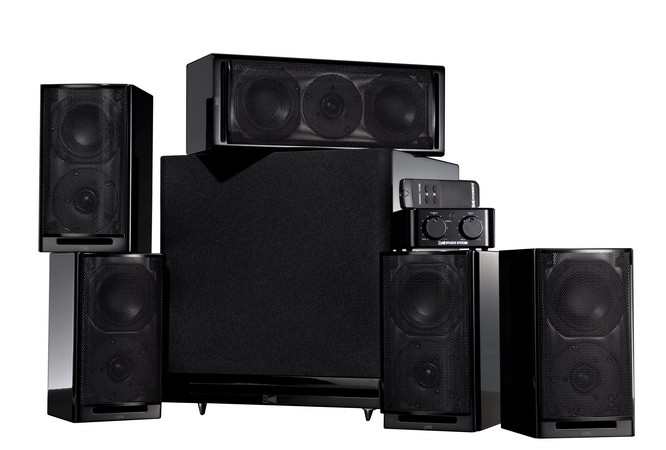 RSL 5.1 Speaker System with Grilles
Summary
CG4 Studio Monitor
Woofer: 4″ with Ferrite Magnet, Polypropylene Cone, and Cast aluminum frame
Tweeter: 1″ Silk Dome, Ferrite Magnet
Frequency Response: 100-25,000 Hz ± 3db
Nominal Impedance: 8 ohms
Sensitivity: 88 db SPL @ 1 watt, 1 meter distance
Recommended Power: 25-125 watts (Please note the following: this rating is for use above 100 HZ. Amplifiers of higher power can be used if care is taken not to operate them at maximum volume)
Crossover Frequency: 2,500 Hz
Crossover Slope: 12 db/octave
Crossover Parts: Air core coil, Polypropylene capacitors, Gold Plated binding posts
Tuning Method: Compression Guide™>
System Resonance: 72 Hz
Weight: 9 lbs.
Dimensions: H: 10 1/2″ W: 6″ D: 6 3/8″ (Without grill 6 1/8″)
CG24 Studio Monitor

Woofers: (2) 4″ with Ferrite Magnet, Polypropylene Cone, Cast aluminum frame.
Tweeter: 1″ Silk Dome, Ferrite Magnet.
Frequency Response: 85-25,000 Hz ± 3db.
Nominal Impedance: 4 ohms
Sensitivity: 90 db SPL @ 1 watt, 1 meter distance.
Recommended Power: 25-125 watts (Please note the following: this rating is for use above 100 HZ. Amplifiers of higher power can be used if care is taken not to operate them at maximum volume).
Crossover Frequency: 2,500 Hz
Crossover Slope: 6 db/octave (First Order)
Crossover Parts: Air core coil, Polypropylene capacitor, Gold Plated binding posts.
Tuning Method: Compression Guide™System Resonance: 68 Hz
Weight: 13 lbs.
Dimensions: H: 16″ W: 6″ D: 6 3/8″ (Without grill 6 1/8″).
RSL Speedwoofer 10™
Frequency Response: 24-180 Hz ± 3db.
Woofer: 10" Cast Aluminum Frame, Massive Ferrite Magnet Structure, rubber surround.
Nominal Impedance: 4 ohms
System resonance: 18 Hz
Dimensions: H: 16 1/2" W: 16 1/2" D: 17 1/4" (Not including spikes).
Feet and Spikes: 4 spikes for carpeted floors and 4 plastic feet for hard floors supplied.
Weight: 64 lbs.
RSL Speedwoofer 10™ Amplifier
Power: 375 W RMS @ 4 ohms
Distortion: <1% at rated power.
Class A/B Full analog amplifier and power supply.
Volume and Crossover Frequency: 40-170 Hz-variable by wireless remote control.
Crossover slope: 12 db
Crossover Low Level Out: 100 Hz 12 db/Octave.
Crossover Hi Level Out: 100 Hz 6db/Octave.
Auto On: Activated by audio signal, shuts off after 20 minutes with no signal.
Phase control – 0 or 180 or Switchable.
Power draw auto on (no signal input): 20 watts.
Power draw standby mode: 14 watts.
Power Input: 115V, 60Hz, 230V 50/60Hz AC.
Fuse 115V: T8.0AL
While RSL Speakers are a relative newcomer to the ID race, they have a +40 year heritage in the loudspeaker business.  If you haven't heard about them before, don't sweat it.  RSL roots are well established in the recording and broadcast industry. The company was sold in the early 90's as it was getting too big for Howard (RSL's owner) to manage. As a result of poor management, RSL went out of business in 1992, after which Howard was able to purchase the company's name back. Howard's oldest son convinced him to re-launch the brand with a new generation of speakers with their focused goal of producing top quality affordable speakers sold direct to consumers.  All of their products ship free within the continental U.S., and international shipping is "heavily discounted." Even better, RSL's 30-day risk free trial means they will pay return shipping if you don't like the speakers.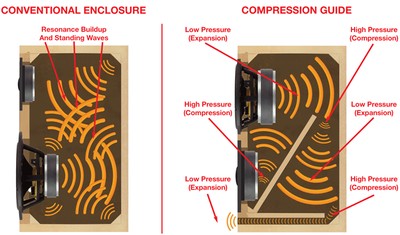 RSL Speakers Compression Guide Enclosure
RSL speakers come standard in piano gloss black and one of their main selling points is their patented Compression Guide technology, which claims to reduce cabinet resonances and standing waves. 
According to RSL: The Compression Guide is our patented tuning method that divides the internal cabinet in sections of high pressure (compression) and low pressure (expansion). As the wave passes through these areas, the effects of cabinet resonance is reduced.  By reducing the effects of cabinet resonance and its associated muddiness, clarity is increased. Also, bass overhang is reduced (listen to the sub especially).
While we haven't yet dug into the patent to validate these claims, one thing is clear, the brace appears to add cabinet rigidity which is always a good thing in our book.  Though the claim of reducing standing waves (a low frequency problem) and illustrating them as tiny waves in the cabinet is unclear as the wavelengths at 100Hz are in themselves over 11 feet long!  Still many companies make similar claims of internal standing wave reduction by utilizing non-parallel walls which again seem questionable.  According to leading Acoustician experts like Dr. Floyd Toole, these type of countermeasures won't  necessarily reduce standing waves like many manufacturers often claim but they can make them more unpredictable.  Whether that is a good or bad thing will ultimately depend on the end result achieved which must be analyzed empirically and subjectively. In addition, it's important to note that any "standing waves" that could exist inside a box are excited only by the woofer that is open to it.  Nothing happens above the woofer crossover.
One thing that drew us to RSL was the family business aspect of the company.  It's a father/son run business that prides itself on employing high caliber components to their products. They don't downplay the importance of using quality parts.  Instead they recognize the value of the product being as good as the sum of its parts.  You won't find any gimmicky Atmos speaker bouncers either. Instead they have a very simple and compact product line sold in the form of the sub/sat concept which offers high WAF and performance/value.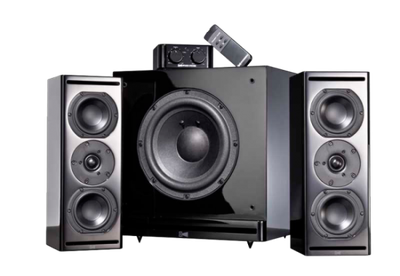 RSL CG24 Studio Monitors with Speedwoofer 10 Subwoofer
The Studio Monitor 2.1 system consists of two of their CG24 speakers (which can be used either horizontally or vertically), and the Speedwoofer 10 subwoofer. We are big fans of vertical MTM's as the dual mid woofers offer higher sensitivity and output in the critical midrange band compared to a conventional MT two driver design using the same woofer element. 
The Speedwoofer 10 is controlled via a wireless remote control and features an external receiver box. The receiver box can allows you to use the remote even when the sub is hidden. It's a relatively compact box (roughly 16" cube) for a 10" driver and RSL claims the driver has a massive motor structure which we have little reason to doubt given the hefty 64 lbs weight of the product.  The Speedwoofer 10 is powered by a 375 watt Class AB amplifier with linear power supply and the system's -3dB pt is rated at 24Hz, though the SPL reference is not indicated.  Their big claim with this sub is it's "speed" as indicated in the product name.  This is something we will have to validate with a group delay measurement and listening tests in a formal review.
The CG24  2.1 speaker combo sells direct for $1400 with FREE shipping (more info).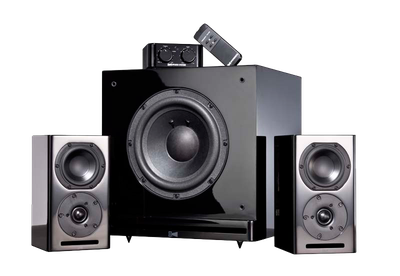 RSL CG4 Studio Monitors with Speedwoofer 10 Subwoofer
If you're more space and budget conscious and looking to fill a small room with great sound, you can check out their 2.1 CG4 system which utilizes all of the same drive components but steps you down to one 4" woofer in an MT configuration.  You lose about 2dB of sensitivity and a little low end output but it's also an easier amplifier load being rated at 8 ohms compared to the 4 ohm CG24s.
The CG4 2.1 speaker combo sells direct for $1250 with Free shipping (more info).  RSL offers a5.1 package consisting of four (4) CG4 satellites,  one (1) CG24 center channel and one (1) Speedwoofer 10 subwoofer for $2075 with free shipping (more info).
You can also order up your own speaker package cocktail by visiting their individual product page category.  For someone looking for a high dynamic output system, we'd recommend CG24's across the front 3 LCR speakers and two pairs of CG4's for the side and back channels with dual Speedwoofer 10's. 
On a personal note, the couple of phone correspondences we've had with Howard and Joe has demonstrated how down to earth and accommodating they are.  The company is easy to get on the phone during normal business hours and their staff is very knowledgeable in home theater.
Could this be the best affordable speaker brand you've never heard of?  We are looking forward to taking these products for a test spin via a formal review in the coming months to find out.

Unless otherwise indicated, this is a preview article for the featured product. A formal review may or may not follow in the future.