Definitive Technology StudioMonitor Series Bookshelf Speakers Preview
Summary
| | | | |
| --- | --- | --- | --- |
| | SM65 | SM55 | SM45 |
| Driver Complement | Two 5-1/4″ BDSS bass/midrange drivers in D'Appolito array, pressure-coupled to one 6″ x 12″ racetrack bass radiator; one 1″ aluminum dome tweeter | One 6-1/2″ BDSS bass/midrange driver pressure-coupled to one 6″ x 10″ racetrack bass radiator; one 1″ aluminum dome tweeter | One 5-1/4″ BDSS bass/midrange drivers in vented enclosure; one 1″ aluminum dome tweeter |
| Height | 16-1/2″ | 13″ | 11-11/16″ |
| Width | 7-7/8″ | 7-7/8″ | 6-3/4″ |
| Depth | 15-3/8″ | 12-5/8″ | 11-11/16″ |
| MSRP | $899/pr. | $599/pr | $399/pr. |
Executive Overview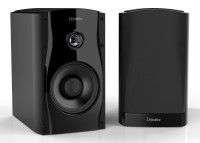 Update: We now have a full review out of the StudioMonitor65 Speakers
Definitive Technology has been making quality loudspeakers for a long time. Their newest bookshelf offerings look to be continuing that trend. The three new StudioMonitor (SM) bookshelf speakers include the SM45, SM55, and SM65 ($399/pair, $599/pair, $899/pair) will be replacing the Studio Monitor 350 and 450 models and are the first new bookshelf offerings from Def Tech in nearly ten years.
Of course, when you haven't put out a new speaker in 10 years, you expect there to be a bit of a redesign. Def Tech has completely redesigned these new SM speakers and have improved everything from appearance to performance. Just glancing at the aesthetics of these speakers reveals that they've already improved on the former, boxy, StudioMonitor offerings. All three sport a high gloss finish with Def Tech's patented Balanced Double Surround System bass/midrange drivers and their latest Pure Aluminum dome tweeter. This promises to increase accuracy, detail, and provide life-like imaging. The two larger speakers (SM55 and SM65) have a top-mounted bass radiator (which means it is unpowered) to augment low-frequency response. This is to be expected with a Def Tech offering from a company known for bi-polar designs.
All three speakers sport a 1" aluminum tweeter but the size, and number, of the woofers is what distinguish them. The smallest, the SM45, has a single 5.25" woofer in a vented enclosure. The speaker is a bit under a foot tall and deep but only 6.75" wide. The SM55 upgrades the driver to a 6.5" one and trades the vent for a 6" x 10" "racetrack" bass radiator. Given that the speaker is just under 8" wide and 12.5" deep, the vast majority of the top must be the radiator (evidenced by the grille on the top). The SM65 has two 5.25″ BDSS bass/midrange drivers in D'Appolito array pressure-coupled to one 6" x 12" racetrack bass radiator (again taking up most of the top real estate. 
A few things come to mind when looking at these speakers. First, we wonder about the structural integrity of the enclosure with such a large driver on the top. We'd love to see how much internal bracing they have. We're also curious as to why they decided to go with traditional grille posts instead of the more popular magnets. At the price (and with a speaker that looks this interesting with the grille off), it certainly seems like magnets would have been a better choice. Lastly, it seems that the port on the SM45 is on the back. This seems at odds with their design choice as they could have top-mounted it (like the bass radiators) with a grille. Perhaps the threat of spills was too much of a concern.
Conclusion
When a company like Def Tech releases a new speaker, it is news. When it is an update to a speaker nearly 10 years in the making, it sets the Internets aflame. Everything from the driver choice to the aesthetics have been changed with the new StudioMonitor offerings. We look forward to hearing these speakers and finding out how consumers react to them.
For more information, please visit www.definitivetech.com.
Confused about what AV Gear to buy or how to set it up? Join our Exclusive Audioholics E-Book Membership Program!
Recent Forum Posts:
WYendor posts on May 07, 2012 16:59
Yes, this looks like a knock-off of the GoldenEar Aon. In their comparable tower speakers, GoldenEars have a clear price advantage over DefTech. In their new bookshelf models, that seems reversed.
The Aon3 is probably the best bookshelf speaker I've ever heard. I'm looking forward to hearing DefTech's less expensive competitor.
jtokach posts on September 12, 2011 10:36
DT vs. GE

Saw the recently announced GoldenEar Aon line over at hometheatermag and would love to see how these compare. They're practically cousins.
Post Reply