Our Top Six $600 Bookshelf Speaker Picks for 2021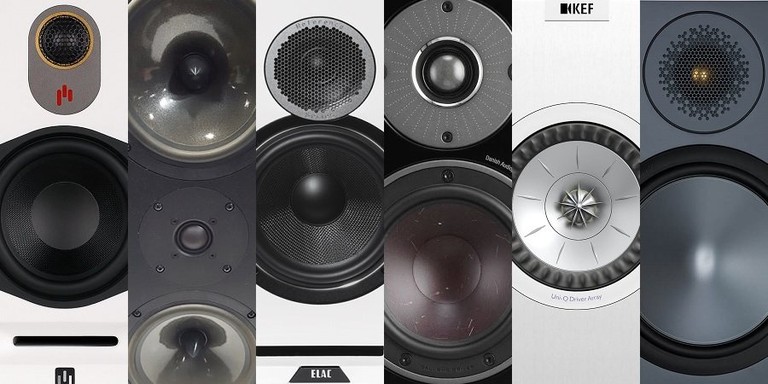 $600 Bookshelf Speaker Roundup
Summary
Product Name:

Bronze 100, DBR62, Q150, CMT-340 SE, Novus 5.25", Oberon 1

Manufacturer:

Monitor Audio, Elac, KEF, Ascend Acoustics, Aperion, Dali

Review Date:

July 27, 2021 12:55

MSRP: $595/pr - Monitor Audio Bronze 100, $599.98/pr - Elac DBR62, $599.98/pr - KEF Q150, $568/pr - Ascend Acoustics CMT-340 SE, Aperion Novus 5.25", $599/pr -$599 - Dali Oberon 1
First Impression:

Gotta Have It!
Executive Overview
In our recent $500 Bookshelf Speaker Round-up, we looked at our top picks for the $500 price range. We had to be pretty strict about what speakers we could allow since there were a lot of good speakers just a bit more expensive, so we hard-capped the MSRP at $500. In this round-up, we look at what happens around the $600 price range, which does open up the field to a bunch more great options. While we were able to narrow the field down to five bookshelf speakers for the $500 round-up, we found six speakers that we would consider in the $600 range. It seems that extra hundred bucks allow manufacturers a lot more breathing room in manufacturing costs to hit their design goals better. Let's now go over our contenders for bookshelf speakers in this price range.
Monitor Audio Bronze 100
Bronze 100 Product Page | Bronze 100 Amazon Page

One manufacturer that returns from our $500 round-up is Monitor Audio. In the $600 price range, they have the Bronze 100, as opposed to the $500/pair Bronze 50 bookshelf speakers. One would think that extra $100 wouldn't make a big difference, but they would be wrong. The Bronze 50s were made for situations that required a small loudspeaker, but the Bronze 100s are for situations where size constraints are relaxed which allows for superior low-frequency performance. The 100s have an 8" woofer which is the largest in our round-up. That moves a lot more air than the Bronze 50's 5.5" woofer, and, in fact, the 8" woofer of the 100s have over twice the surface area- and therefore twice the displacement ability- of the Bronze 50 woofer. That gives it more sensitivity, more extension, more power-handling, and an overall wider dynamic range. We don't see 8" woofers used very often in home audio bookshelf speakers since it requires the speaker to be relatively large, but the Bronze 100s compensate for that by looking quite nice, especially in the white finish. Monitor Audio is a brand that strives for accurate tonality, and available third-party measurements for the Bronze 100s show it to be a fairly neutral loudspeaker. The Bronze 100 brings both good looks and good performance to the table for $600, and it definitely deserves strong consideration for bookshelf speakers shoppers at this price point.
Elac DBR62
DBR62 Product Page | DBR62 Amazon Page

The Elac DBR62 is another celebrated design from renowned loudspeaker designer Andrew Jones at the German speaker manufacturer ELAC. While Jones gained attention for his innovative coaxial designs for TAD and KEF, his success with Pioneer's enormously successful low-cost SP speaker series brought him fame (or as much fame as a loudspeaker engineer can really have). Jones applied his knowledge in getting a lot of performance for minimal cost in ELAC's inexpensive Debut series, and in the Debut Reference series, he shows what can be done with a more comfortable budget. ELAC's Debut Reference DBR62 is Jones' affordable but not super low-cost bookshelf speaker. It uses a 6.5" woofer with a 1" fabric dome tweeter mounted in a shallow waveguide. That is a common recipe for a bookshelf speaker design, but the DBR62 has been shown to be uncommonly good in third-party measurements wherein it exhibits Jones' tendency for neutrality and a smooth off-axis response. It also doesn't hurt that the DBR62 looks quite nice and could tastefully fit in just about any kind of decor. We can see that the $600/pair price point for bookshelf speakers is so much less constrained than the more popular $300/pair price point where it seems like you can have a nice looking bookshelf speaker or good performing one, but not both. At $600, you get to have your cake and eat it too, as the ELAC DBR62 so capably demonstrates.
KEF Q150
Q150 Product Page | Q150 Amazon Page

The KEF Q150 is unique in this list in that it uses a coaxial driver which is where the tweeter is mounted at the center of the woofer. The advantage of this is there is no difference in space between the acoustic centers of each driver, and so there are no cancellation lobes between the drivers at any point off-axis. While coaxial drivers are not rare, they are rarely as well-engineered as can be found in KEF's latest iteration of the Uni-Q coaxial driver. The Uni-Q driver is known for its extraordinarily good directivity control and good axial response. This is a speaker that will have a good sound over a broad area at any angle from the front of the speaker. If you need a speaker that is not picky about angle and placement for a good sound, the KEF Uni-Q speakers are a great choice, and the one that fits our $600/pair criteria is the Q150. One neat attribute that this sort of speaker design carries is that it will perform largely the same when turned on its side as it does standing upright, which would not be true of any other speaker on our list. An advantage of this is that it can also serve as a center speaker for those who need lower profile centers, and it would make a much better center speaker than traditional MTM designs where two woofers flank a tweeter. Along with its good performance, we also think the Q150 looks pretty nice as well. They are available in satin black, satin white, and walnut finishes, so there is something for every decor (although grilles are sold separately). We think that the Q150s are a great choice in this price range, and we are surprised to see that coaxial loudspeakers are not more common after the success that KEF has had with them.
Ascend Acoustics CMT-340 SE
Over the past couple of decades, Ascend Acoustics has carved a place out for themselves as one of the go-to sources for internet direct high-fidelity loudspeakers and has garnered a loyal following for their sound quality and excellent customer service. The CMT-340 SE is one of their more affordable offerings and gives you a lot of speaker for the money. The speaker is rather plain looking aside from the sheer size of it (Ascend calls it a "mini-tower" but it is really just a big stand-mount speaker), and the money is going to performance-related components rather than aesthetics. Indeed, as an MTM speaker, the CMT-340 SE has two 6.5" woofers and a 1" dome tweeter, so it is packing a lot of punch for those interested in wider dynamics, especially when used with a subwoofer. With a 90dB sensitivity and 240-watts rating for continuous power handling, they should be able to get quite loud without running into distortion. The CMT-340 SEs would make for a great choice of relatively inexpensive speakers to place behind the transparent screen in a dedicated home theater room and given an outboard amplifier with plenty of power since they can handle it. If you would rather have wider dynamic range than pretty speakers, these look like a terrific option for the money. These are a $600/pair of bookshelf speakers that can rock pretty hard. 
Aperion Novus N5B
Novus N5B Product Page | Novus N5B Amazon Page

One of the first internet direct loudspeaker manufacturers is Aperion Audio which has been selling speakers online since 2000. They have accumulated many positive reviews since then and have built a reputation for reliably good speakers with top-notch pre and post-purchase support. At the $600 price point, they have the Novus N5B bookshelf speaker. As the name implies, it is using a 5.25" woofer made from aramid-fiber, along with a 1" silk dome tweeter. There are a lot of bookshelf speakers with 5.25" woofers and 1" dome tweeters, but the Novus 5.25" does some things that make them stand out from the rest. One unusual feature is the widely-flared, front-mounted slot port which would seem to be advantageous over traditional slot ports which don't normally use much flaring, and that could help reduce the chances of port turbulence from ruining the low-end. Another seldom seen feature that the Novus N5B" uses is a jumper which can reduce high-frequencies by 3dB. That can take the edge off of the sound for those who prefer a warmer and less fatiguing sound signature. As with other speakers in this segment, the Novus N5B looks quite nice, so you don't need to sacrifice sound quality for better aesthetics as you would in lower price ranges. It's not a large speaker either, so if you need something an aesthetically appealing speaker that other household members can live within a shared space but still provide a good sound, they look like a great choice. You can give them a try at no-risk since they have a very generous 60-day return window with shipping paid both ways.
Dali Oberon 1
Oberon 1 Product Page | Oberon 1 Amazon Page

Acclaimed Danish loudspeaker manufacturer Dali's entry into the $600/pair bookshelf speaker takes the form of the Oberon 1, a modestly-sized speaker using a 5.25" driver and 1.1" dome tweeter. When you examine the size of the tweeter motor used for the Oberon 1, you can see that it is very much overkill for a small bookshelf speaker, but it is the same tweeter used in all of the Oberon speakers and is a defining element of that series. At least it can be safely assumed that the tweeter is in no way the limiting factor of the Oberon 1. That isn't to say that the 5.25" woofer is inadequate, and the technology invested into the motor and cone composition is impressive. One interesting feature of the woofer's motor structure is the use of a special magnet at the cap of the pole piece made from a substance called SMC which is better at directing the direction of magnetic flux than traditional ferrite. Dali claims this greatly reduces odd-order harmonic distortions. The Oberon 1 woofer cone uses a unique structure of paper reinforced with wood fibers that give it a distinctive and stylish appearance, so much so that people who normally prefer their loudspeakers to have grilles might reconsider that preference with these speakers. These are some classy-looking loudspeakers, with or without the grilles. Dali has always impressed us on the occasions that we have heard them, and we think the Oberon 1 would make for a solid choice in its price range.
Conclusion
Picking one speaker from the above six choices isn't an easy task, but the good news is that we don't think you can go wrong with any of them. They each have their strengths and should be selected on that basis. And these are by no means all the good bookshelf speakers at this price point either; these are just the ones that we know about that we have narrowed down the field to based on our own criteria. There may be some great speakers that we missed or some we decided not to include but may fit your own criteria better than our selection. In any case, having too many good choices is not a terrible dilemma to be faced with (a true first world problem). Among these, whatever you end up with, with proper care in setup, you are certain to get a nice sound that you can enjoy for years to come.
Confused about what AV Gear to buy or how to set it up? Join our Exclusive Audioholics E-Book Membership Program!
Recent Forum Posts: