Norway's Sigberg Audio: High-Performance Active Speakers With Style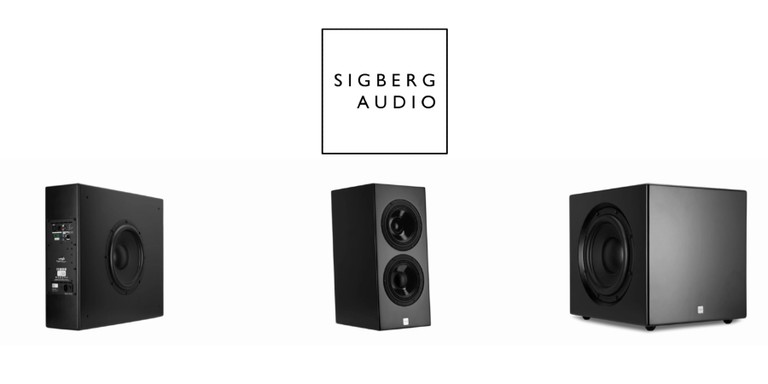 Sigberg Audio
Summary
Product Name:

SBS.1 Active Speaker, 10D Sub, Inkognito 10" Sub, Inkognito 12" Sub

Manufacturer:

Sigberg Audio

Review Date:

February 14, 2022 11:50

MSRP: $7,068/pair - SBS.1 Active Speaker, $4,038 each - 10D Subwoofer, $3,028/each - Inkognito 10" Sub, $3,589/each - Inkognito 12" Sub
First Impression:

Pretty Cool
Executive Overview
When I think of countries that have a rich history in the world of Hi-Fi, I must admit that Norway doesn't pop into my head as quickly as, say, Japan, the UK, or even Norway's neighbor to the south, Denmark. But that has more to do with my own ignorance and biases than with anything approaching reality. There is plenty of cool Norwegian audio gear that simply hasn't become well-known here in the United States (check out the loudspeakers by Forsman Elektronakustikk). But over the years, some Norwegian audio companies have made their mark in the States and around the world. The Norwegian manufacturer Tandberg started making radios, loudspeakers, and microphones in the 1930s, but by the 1950s, was best known for reel-to-reel tape machines. In 1961, President John F. Kennedy brought a Tandberg reel-to-reel recorder and playback system to the White House. In the 1950s, a company called Scandinavian Electro Acoustic Systems (SEAS) was spun off from Tandberg to build loudspeaker drivers. Today, SEAS is a leading provider of loudspeaker components, building drivers for some of the world's most elite audio brands. (One of my favorite speaker manufacturers, Joseph Audio, currently uses state-of-the-art graphene drivers built by SEAS.) In the early 1970s, Electrocompaniet began building amplifiers in Norway, and has maintained a worldwide following in the intervening decades for its high-performance electronics. In the 25 years or so since Hegel began designing audio electronics in Norway, that company has also developed a strong following here in the States and elsewhere. On the music production side of things, the Norwegian audiophile record label 2L has racked up 39 GRAMMY nominations since 2006. Back in loudspeaker land, Arendal Sound burst onto the Norwegian audio scene with its 1723 Series speakers in 2016. Although it took the company a few years to reach the USA, Arendal is now making waves here, as well as in Europe. Back home in Norway, the impressive loudspeakers from Arendal Sound made a big impression on Thorbjørn Sigberg, a veteran of the IT industry and a lifelong audio enthusiast. In an interview with Norway's Lyd & Bilde magazine, Sigberg said that Arendal Sound, among other esteemed brands, inspired him to launch his own audio company in early 2020. Sigberg Audio certainly had some challenging and unforeseen hurdles to deal with as the company got off the ground amidst a global pandemic, but a couple of years later, Sigberg Audio is ready for prime time.
There is no snake-oil and magic involved in our products. Everything we do has a reason and a purpose on the journey towards good sound. Unfortunately we belong to an industry that is becoming increasingly creative in its marketing tactics. We want no part in that. We make honest products developed through both technical measurements and extensive listening sessions. We combine this with a healthy dose of loudspeaker theory and experience. Finally, we have made some choices that are a bit different. Choices that help us reach our ultimate goal.
— Sigberg Audio
What's Sigberg Audio all about?
The premise is simple and compelling. The company builds compact, active loudspeakers designed to be paired with subwoofers. Think M&K Sound, but with its main focus being music, rather than movies. (And while M&K Sound gear is largely designed for dedicated home theaters, Sigberg's offerings should feel right at home in a stylish home environment.) Sigberg uses world-class drivers built by Denmark's Scan-Speak for the subwoofers, an Italian manufacturer called Sica for the speaker drivers, and high-quality amplification from Hypex Electronics in the Netherlands.
The cabinets are hand-made in England by a company that has experience building cabinets for KEF, Bowers & Wilkins, REL, and Meridian. The speakers use digital crossovers, which provide smoother and better frequency response, higher sensitivity, and better dynamics than traditional, passive solutions, according to the company. Sigberg says that its products provide "excellent sound quality, as well as effortless dynamics and realistic sound pressure." The direct-to-consumer business model means that it's relatively difficult to audition the speakers before purchasing, but the company does include free worldwide door-to-door shipping, and all taxes are included in the purchase price. So far, the brand offers three products, with another in development. 
The SBS.1 Active Speaker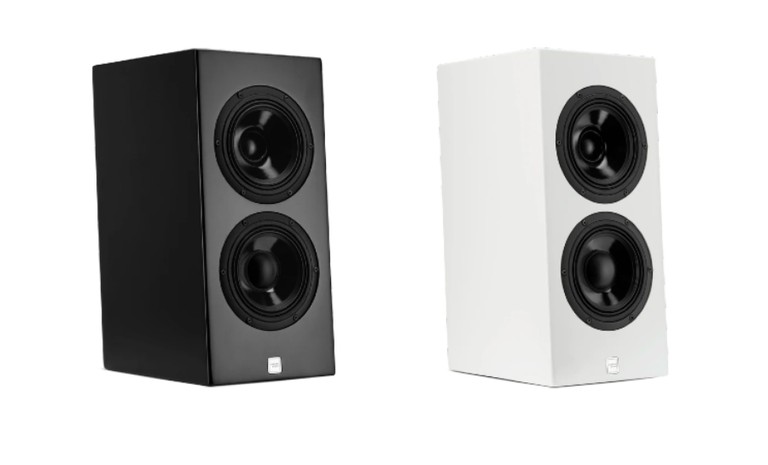 Sigberg describes the SBS.1 active speaker ($7,068/pair) as "the heart of the system." It's currently the only non-subwoofer speaker in the brand's lineup (though that is likely to change soon). The SBS.1 looks like a reasonably compact and very attractive bookshelf speaker with a sealed cabinet, available in a high-quality satin white or satin black finish. Just over 16 inches tall, the SBS.1 is a 2.5-way design with a coaxial driver that places a 1-inch silk dome tweeter inside a 5.5-inch mid/bass driver. An additional 5.5-inch driver reaches down to the speaker's bottom end at around 90Hz, but rolls off at around 400Hz at the high end, allowing the coax driver to handle the blend with the tweeter. Unlike a true midrange driver, which would only play between the top of the woofer's range and the bottom of the tweeter's range, the coaxial mid/bass driver also reaches down to about 90Hz (this is what makes the SBS.1 a 2.5-way design, rather than a 3-way design). Each driver is powered by its own Hypex nCore amp, with a total of 350 watts per speaker. Built-in DSP provides access to a 9-band parametric EQ, allowing the user to correct for in-room deviations from the desired frequency response. EQ presets adjust the tonal balance of the speakers to suit personal preference.
If you're a bass-lover, I know what you're thinking. This speaker costs 7 grand and can only dig down to 90Hz? Most speakers of this size can play quite a bit lower than 90Hz, but the SBS.1 eschews low bass duty on purpose; it actually uses an active high-pass filter at the low end to reduce bass output. This configuration limits driver excursion and distortion, even when the speakers are pumping out high SPLs. Because the SBS.1 is designed to work with a dedicated subwoofer, it can focus on the critical mid-bass region, delivering "sensitivity and dynamics (that) are unheard of for its size," according to Sigberg. The use of dedicated subs means that the 5.5-inch mid/bass drivers in the SBS.1 don't have to work as hard when the speakers are rocking out. And because the SBS.1 uses dual mid/bass drivers, the required excursion for each driver is cut in half. Sigberg says that when paired with one of the company's subs, the SBS.1 can play seriously loud with zero strain. "The result is the soundstage of a large floorstander, perfectly integrated," according to the company. The large soundstage and pinpoint imaging that Sigberg promises can probably be attributed to the point-source nature of the coax driver, which delivers even dispersion characteristics off-axis for a wide sweet-spot. The speakers were designed to sound best with zero toe-in. Sigberg says that "the focus was 95% music" throughout the development of the SBS.1 speakers, but notes that the design team's "relentless pursuit of dynamics and effortless delivery makes them an excellent choice for movies as well. The fact that they are designed to be paired with subwoofers makes them feel right at home in a movie setup." It wouldn't be difficult (nor would it be cheap) to use 5 or 7 SBS.1 speakers, paired to some good subs, in a home theater environment. Ideally, you'd want a preamp/processor with balanced outputs, and the ability to place power outlets discretely around the room. Assuming your room acoustics don't cause too much trouble, using identical speakers for all channels can yield perfect timbre-matching that can be hard to come by any other way. But you'll have to look elsewhere for height-effects speakers.
Our speakers are built to play with subwoofers… (and) there are several reasons for this. But one obvious advantage is that you immediately get control over the critical range from 20-100Hz. You can now easily control the amount of bass with the volume of the subwoofer. This balance is a big factor in perceived sound quality, and this alone is a big step up from stand-alone speakers. Step two is to adjust not only the sound balance in the lower bass, but also further up through the mid-bass and midrange. There is also a lot to be gained from cleaning up uneven response in the lower part of the frequency range. That's why all our subwoofers and speakers have a built-in manual EQ.
— Sigberg Audio
Subwoofers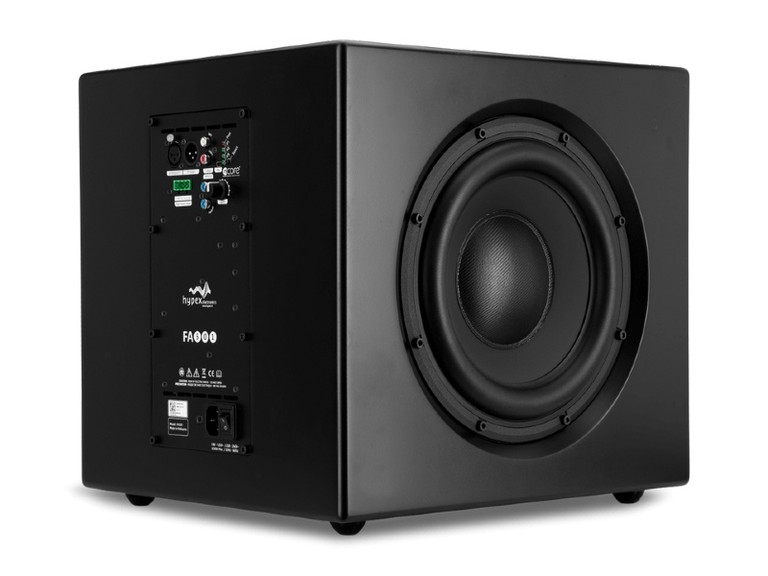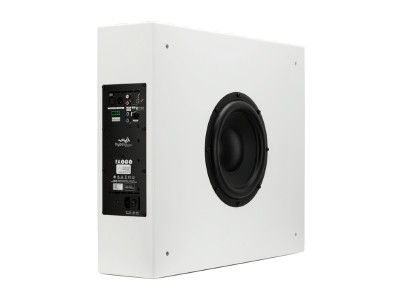 Sigberg says that the SBS.1 can be used with any high-quality subwoofer, but naturally the company would encourage the use of its own designs, which reportedly "provide clean and neutral sound all the way from the deepest bass and far up in the mid-bass range. They are built to compete with expensive floor-standing speakers in terms of precision, realism, and authority." Sigberg currently makes two types of subs. The 10D ($4,038 each) is a sealed, force-cancelling subwoofer with two active 10-inch drivers mounted in a dual-opposing configuration on the sides of the super-compact cabinet. Sigberg says that the 10D is the most compact dual 10-inch subwoofer in the world. Its familiar cube-like shape measures roughly 14 x 14.5 x 16 inches. According to the company, the compact form-factor isn't just an aesthetic benefit; it also allows for a more rigid cabinet, contributing to the 10D's "exceptionally low vibration and clean output" for a sound that is "loud, deep, and precise." A pair of SBS.1 speakers can be used with a single 10D, or with a pair of subs for even higher output and better overall sound. Sigberg claims an impressive in-room frequency response of 19-250Hz.
As you might surmise from the name, Sigberg's Inkognito subwoofer is designed to blend easily into modern living spaces. Available in both 10-inch ($3,028/each) and 12-inch ($3,589/each) versions, the Inkognito's slim, shallow cabinet is less than 7 inches deep, allowing it to be positioned in a variety of ways. It can be laid flat like a pizza box and slid underneath a sofa, or it can be attached to a wall using an optional mount. It can also be placed on the floor in both horizontal and vertical orientations. But unlike other "lifestyle" subwoofers, the Inkognito promises "both high-end sound and realistic sound pressure during music and movies," thanks to heavy-duty drivers (weighing more than 13 lbs each), powerful amps, and clever use of DSP. Sigberg's designers recognized that accepting the natural frequency response of the driver in a sealed cabinet "would have left a lot of bass on the table." Using simulation and DSP, the team was able to maximize cone travel at any given frequency. The result is flatter frequency response, and significantly louder and deeper bass than would be possible without DSP, according to Sigberg.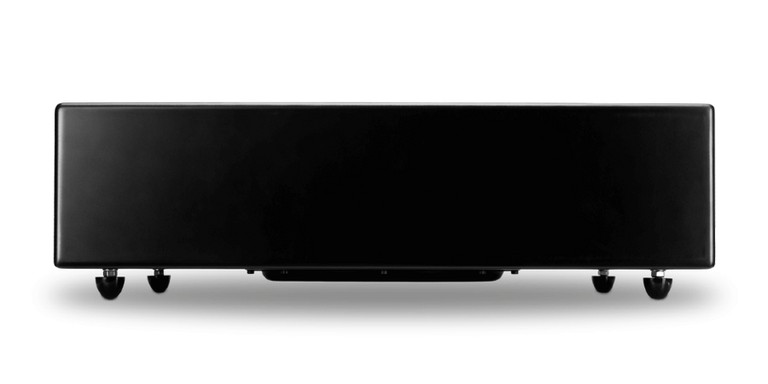 All Sigberg Audio subwoofers also have a built-in, active limiter, which means "you will never experience your subwoofer bottoming out or running out of steam."  Like Sigberg's speakers, the subs feature 9-band parametric EQ which is an invaluable tool to help smooth out in-room frequency response. To access these controls, you must connect a computer directly to the sub via USB.
Coming Soon from Sigberg Audio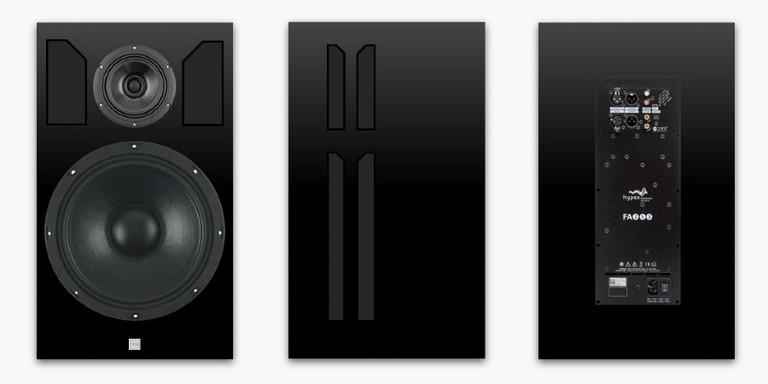 Sigberg is currently working on a larger speaker called the Manta.1 Dual Cardioid Concept (price TBD), which is a 3-way design mating a coax midrange/tweeter driver with a high-power, high-sensitivity 12-inch mid/bass driver in a passive dual cardioid enclosure. The coax driver is installed in a dedicated, vented chamber to reduce reflections from the front and side walls, resulting in improved soundstage, unique vocal performance, and increased clarity during complex musical passages, according to Sigberg. On either side of the coax driver, ports are cut out of the front baffle. This simulates a narrower baffle for the midrange driver, which Sigberg says leads to ideal dispersion characteristics across that critical frequency range. In the bass, the Manta.1 claims to achieve cardioid-like performance all the way down to 100Hz, effectively targeting bass pressure towards the listening position. Like the smaller SBS.1 speakers, the Manta.1 is designed to be paired with one or more subwoofers.
Though not inexpensive, Sigberg Audio's initial crop of products appears to combine high-quality components with intelligent engineering, good looks, and lifestyle-friendly form-factors. While some music-oriented audiophiles might hesitate to embrace a system that utilizes DSP and requires separate subwoofers, home theater enthusiasts know that there are significant performance gains to be realized by separating bass duties from the higher frequencies. This approach gives you the freedom to place the subs where they deliver the best sound for your room, and minimizes resonances and vibrations in the main speakers by removing frequencies below 90-100Hz. I expect that many potential customers will initially be attracted to these speakers simply because they are relatively small and extremely decor-friendly (especially when paired with the Inkognito subs). But Sigberg says that its main goal is simply to build products that sound good, with the ability to provide both "raw, effortless delivery" of dynamics, and goosebump-inducing "silky, soft vocals." Will Sigberg Audio be the next chapter in Norway's high-end audio story? Share your thoughts in the related forum thread below.

Unless otherwise indicated, this is a preview article for the featured product. A formal review may or may not follow in the future.
Confused about what AV Gear to buy or how to set it up? Join our Exclusive Audioholics E-Book Membership Program!
Recent Forum Posts:
Sigberg Audio posts on February 17, 2022 09:22
I've now been back to Seas and their Klippel with a revised configuration (closer to the production crossover configuration).
on-axis + 15 degrees (roughly listening axis) first. Both of these are around +/-2,25dB from 100-20,000hz (15 degrees are rolling off a bit at the top end).
https://www.hifisentralen.no/forumet/attachments/1645106850899-png.792285/
https://www.hifisentralen.no/forumet/attachments/1645106860613-png.792286/
And then 0-90, where it's now more even across the crossover between the midrange and tweeter as opposed to the response shared by @shadyJ :
https://www.hifisentralen.no/forumet/attachments/1645106888717-png.792287/
Sigberg Audio posts on February 16, 2022 16:19
ryanosaur, post: 1540186, member: 86393
(..)

For me, I want to know where the values in this are. What is the story, and why do I care. If they are designed well and the company can thrive, COOL!

But, just throwing premium Drivers in a box does not make a premium Speaker.

I am encouraged by the FR that was posted. I hope we get to see more data, soon. I would love to see an FR plot of how the envisioned system of Speaker+Sub come together, too.

Lastly, I am always excited when I see somebody on the production side join the conversation. We need more of that here at AH.
Thank you for taking the time @Sigberg Audio … I hope you will stick around as you can and join ion the conversation! Good luck!

Thank you for taking time out of your day to read about and learn more about our products. I fully understand that the price range is not accessible to everyone. Expensive amplifiers, drivers, cabinets and lots of R&D adds up. We truly believe the result is worth it for those with the means and interest to spend that kind of money on their system. All products are compromises one way or another, so as any other product it will not be for everyone.
I actually wrote an article explaining the story and design choices behind these speakers:
https://www.sigbergaudio.no/no/blogs/news/the-story-behind-the-sigberg-audio-sbs-1-active-speakers
Something to read perhaps, while waiting for more data. We're going back to Seas and their Klippel tomorrow to get new measurements of the revised (or should I say reverted) tune - will post when they're done.
Developer posts on February 16, 2022 16:18
ryanosaur, post: 1540186, member: 86393
But, just throwing premium Drivers in a box does not make a premium Speaker.

Isn't that what this industry normally does?
ryanosaur posts on February 16, 2022 16:06
I'm confused now.

Don't care. But still confused by all of that.

At the end of the day, There are a great deal of companies making Speakers for almost every occasion and situation. My biggest concern is that too many of them are exclusionary at price point for those not earning at $300K per household.
That said, Premium Drivers are expensive components. I get that, too. Five channels of Scan Speak, Seas, AT, Raal, Morel, Eton, Accuton… (Do I need to keep going?)… is insane. Throw in R&D, building and shipping good quality cabinets…
#Boom-Pow

For me, I want to know where the values in this are. What is the story, and why do I care. If they are designed well and the company can thrive, COOL!

But, just throwing premium Drivers in a box does not make a premium Speaker.

I am encouraged by the FR that was posted. I hope we get to see more data, soon. I would love to see an FR plot of how the envisioned system of Speaker+Sub come together, too.

Lastly, I am always excited when I see somebody on the production side join the conversation. We need more of that here at AH.
Thank you for taking the time @Sigberg Audio … I hope you will stick around as you can and join ion the conversation! Good luck!
Developer posts on February 16, 2022 16:01
I did get the chance to hear the speakers pictured in the opening post. I would use them as reference monitors all day long, but also use them when I wanted to be entertained. I really can not describe the sensation, it is just different. It does not pull the room into the equation, it just "paints the walls black" and makes a soundstage totally independent of the room.
Post Reply