SVS Cuts the Cord with their Prime Wireless Speaker System
Summary
Precision 24bit/192kHz DAC

200-watt (50-watt x 4) amplifier

DTS Play-Fi technology
Bluetooth, Optical and Aux audio inputs
Subwoofer output

Bluetooth with AAC and aptX
Alexa enabled
Six front panel streaming presets
Executive Overview
In 2015 SVS Prime Bookshelf Speakers made our list of Best $500/pair passive bookshelf speakers so when SVS told us they were releasing an active wireless speaker system, of course, we stood up and took notice. SVS is known for their amazing subs and quality speakers at reasonable prices and this new system looks to follow suit. The new SVS Prime Wireless Speaker System can be set up in a variety of ways from a single active speaker, to a pair which includes an active and wired passive, to two active speakers for a multi-room home audio solution.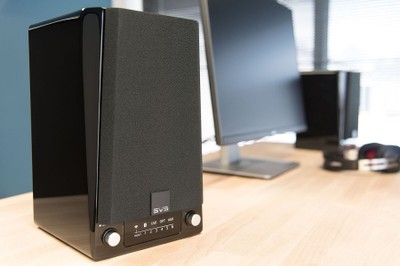 Starting at $399 each, the small system has some features that really make them stand out and demand the price SVS is asking.   Most notably is the powerful 50 watts/4 Class D bi-amplification and a very sophisticated electronic crossover.  For just $100 more ($499) you get a true stereo pair of speakers which includes an active  and a wired passive speaker.
CES 2018 Recap - SVS Prime Wireless Speaker & Soundbase YouTube Video Discussion

The SVS Prime Wireless Speakers look very similar to the original passive Prime Bookshelf Speakers, but there are two retro tuner like knobs on the front of the active speaker.  One knob is used for volume control and the other is used to scroll through six different preset streaming services in case your phone is incommunicado.   We've seen quite a few Wi-Fi, Bluetooth, and small powered speakers jump into the market recently and few have preset streaming services integrated into them. The master speaker also includes an amazing number of input options for a unit this size including RCA, USB, 3.5mm, and even digital optical for your TV, DVD, or CD player. It's no surprise there's also a sub out port because let's face it, it is SVS we're talking about here.
Besides all the inputs, the SVS Prime Wireless Speaker System comes with wireless high-resolution streaming and a precision 24bit/192kHz DAC. Since the Wi-Fi streaming is DTS Play-Fi enabled if your other audio devices are in the Play-Fi world you get seamless multi-room whole home audio.  Although the SVS Prime has plenty of other input options, we'd still like to see Bluetooth technology in active speaker systems. The SVS Prime has it with AAC and aptX so even if your Wi-Fi drops out you can still easily stream music to your system through your phone or tablet.
Another trend we're seeing a lot of lately is integrating digital assistants into the unit or making the unit digital assistant enabled.  The SVS Prime Wireless System is Amazon Alexa enabled which means you can stream music from your Amazon Prime library to your Prime Wireless system using voice commands through Alexa.
The Active Prime Soundbar Alternative

Since we REALLY like SVS's passive Prime Bookshelf Speakers it will be interesting to see how these active ones measure up. They'll be available in late Spring 2018 at $399 for a single active speaker and $499 for one active and a wired passive for stereo aficionados. For that price, and the quality that SVS is known for, this setup may give soundbars a run for their money. With just ONE wire going from the active speaker to the passive speaker and all the inputs of a soundbar you get true stereo separation, multiple streaming options, a sub out, and easy setup and best of all great sound which budget soundbars rarely deliver.


Confused about what AV Gear to buy or how to set it up? Join our Exclusive Audioholics E-Book Membership Program!
See also:
Recent Forum Posts:
j_garcia posts on February 28, 2018 15:37
Wireless elevation speakers around the corner…
slipperybidness posts on February 28, 2018 07:27
gene, post: 1235636, member: 4348
In 2015 we rated SVS' Prime Bookshelf Speakers in our top seven $500/pair bookshelf speakers available. SVS has cut the cord with an active version; the SVS Prime Wireless Bookshelf Speaker System. With a ton of input and streaming options and 50 watts/4 Class D biamplification, this small setup packs a lot of punch for its size with the added convenience of cutting the cord to go wireless. Oh did we forget to tell you, the price is still $500/ pair! Check out our detailed YouTube video interview for even more great details on these new speakers from SVS.

23638

Read: SVS Cuts the Cord with their Prime Wireless Speaker System
Any thoughts about a set of these for wireless surround duty?
gene posts on February 27, 2018 15:17
KZ1Zpg47wOE
gene posts on February 27, 2018 15:12
In 2015 we rated SVS' Prime Bookshelf Speakers in our top seven $500/pair bookshelf speakers available. SVS has cut the cord with an active version; the SVS Prime Wireless Bookshelf Speaker System. With a ton of input and streaming options and 50 watts/4 Class D biamplification, this small setup packs a lot of punch for its size with the added convenience of cutting the cord to go wireless. Oh did we forget to tell you, the price is still $500/ pair! Check out our detailed YouTube video interview for even more great details on these new speakers from SVS.

23638

Read: SVS Cuts the Cord with their Prime Wireless Speaker System
Post Reply