Wilson Audio TuneTot Bookshelf Speaker Small Size, BIG Price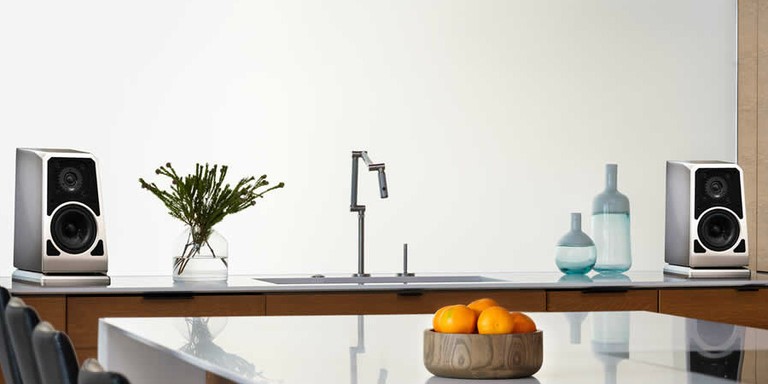 Wilson Audio TuneTot Bookshelf Speaker
Summary
Mid Woofer: 5.75 inches (14.61 cm) - Doped Paper Pulp
Tweeter: 1 inch (2.54 cm) Dome - Doped Silk Fabric
Frequency Response: 65Hz - 23kHz ± 3dBImpedance: 8 Ω nominal, 6.61 Ω minimum
Sensitivity: 86dB @ 1 watt/meter (1kHz)
Dimensions (HxWxD): 14.83" x 8.61" x 10.19"
Weight: 29 lbs
Just over a year ago, Wilson Audio began production on its new flagship WAMM Master Chronosonic, the largest, most complex, and most expensive speaker in the company's history. The new WAMM speakers stand 7 feet tall, include 9 drivers per side, and cost a whopping $685,000 per pair. Go big or go home, right? Not so fast. At the 2018 Munich High-End Show, Wilson unveiled a new speaker called the TuneTot. Not only is it the most compact speaker Wilson Audio has ever built, it's also by far the least expensive in the current Wilson lineup. But at $9,800 per pair, the TuneTot is still a very expensive product that will have to compete in the crowded market of compact, high-performance speakers.

At just 14.83" tall, the TuneTot is a two-way, passive monitor speaker designed to excel in what Wilson calls acoustically "hostile" environments — namely, on a desktop, credenza, bookshelf, or even a kitchen counter. The TuneTot employs a 1" tweeter derived from the Alexia 2, and a 5.75" woofer derived from the Sabrina and Alexx models. The cabinets are made of Wilson's proprietary X-material and S-material. The new speaker was designed by Wilson's Special Application Engineering department, which focuses on products designed to solve a specific installation challenge. This department has its roots in one of the seminal products in high-performance audio, the original Wilson WATT (Wilson Audio Tiny Tot), which owner/founder Dave Wilson built for himself as a portable monitor for making on-location recordings outside a traditional studio environment. Eventually, the WATT became the top portion of the WATT/Puppy, one of the best-selling speakers in the history of audio's upper echelons. But is the TuneTot destined for that kind of success?
Can they Compete with Wireless High-End Products?
For most people, $9,800 is simply too high a price to pay for such a small speaker. For that kind of money, a thrifty audiophile could take home a powerful behemoth like GoldenEar Technology's Triton Reference towers. Even Magico, one of Wilson Audio's main competitors in the ultra-high-end space, now offers a three-way floor-stander, the A3, for $9,800 per pair. Anyone specifically looking for a small and stylish passive speaker has many more reasonably-priced options, such as Monitor Audio's new Studio speakers, which sell for one-tenth the price of the TuneTots, yet leverage driver tech from Monitor Audio's flagship Platinum II range. And of course, passive speakers require the user to supply a source, amplification, and cables. Many will be drawn instead to all-in-one solutions like the KEF LS50 Wireless, which for $2,200 per pair includes digital-to-analog conversion, amplification, and a Roon Ready network streamer built in. Similar all-in-ones from GoldenEar and Elac are also in the pipeline, both expected to sell for around $2,000 per pair.

It remains to be seen whether the TuneTot will succeed with such stiff and more affordable competition. But Wilson Audio has never built speakers for the masses, and seems to be marketing the TuneTot to wealthy audiophiles who already own mega-buck systems. If you own a pair of Wilson's six-figure Alexx or XLF speakers, you might not give a second thought to dropping ten grand on a pair of TuneTots for your desk (or yacht, as the case may be). And there is always the chance that would-be Wilson owners who don't have the money or space for larger Wilsons will be tempted by the TuneTots; the company's Sabrina floor-stander, which is the next cheapest speaker in Wilson's lineup, takes up much more real estate and costs 60% more. Whatever the target demographic, Wilson is touting the TuneTot's unique placement flexibility as the speaker's standout feature.
Will Superb Build Quality and Aesthetics Seduce Audiophiles?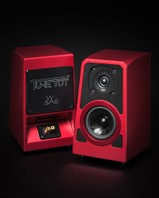 The TuneTots, which despite their compact dimensions weigh a hefty 29 pounds each, are not designed to be placed away from walls and on dedicated stands, as a traditional audiophile speaker would be. Instead, they are meant to be placed close to a surface boundary, such as a wall behind them or a desktop beneath. The ports on the rear of the cabinets can be stuffed with supplied plugs if there is too much bass reinforcement (as might occur if the speakers are placed in a bookshelf). The TuneTots also sit on spikes that allow an adjustable amount of backward or forward tilt, depending on where the speakers are placed in relation to the listener. This adjustability allows the listener to tweak the TuneTot's baffle angle in order to improve performance in the time domain. Finally, Wilson will offer an optional accessory called an ISOBase, which sits between the TuneTot and the surface below. The ISOBase uses constrained layer damping to dramatically reduce mechanical resonances in both directions and promises a significant sonic improvement when the speakers are sitting on a resonant surface, such as a wooden desktop. The addition of the ISOBase also raises the price of the TuneTots to an eye-watering $12,000/pair. 

The last trick up the TuneTot's sleeve is purely cosmetic. Because the speakers are designed to be placed in multi-use spaces such as offices and bedrooms, aesthetics are especially important. Wilson offers traditional speaker grilles but knows from experience that many audiophiles prefer to listen grille-free. With that in mind, the company is offering milled aluminum rings, available in a variety of colors, that attaches magnetically to the speaker's baffle, adding a pop of contrasting color and dimension to the woofer's circumference. Will good looks, good sound, placement flexibility, and the Wilson name be enough to entice buyers to lay out this kind of money for such a small speaker?
Share your thoughts in the related forum thread below.



Unless otherwise indicated, this is a preview article for the featured product. A formal review may or may not follow in the future.